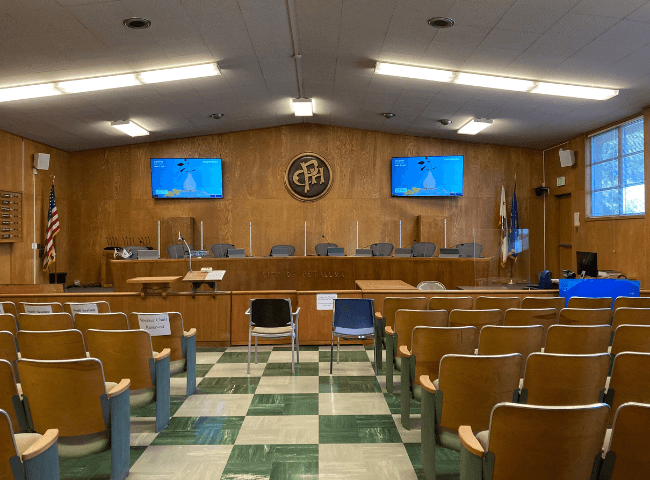 Hello, Petaluma —
Our agenda management tool is currently experiencing technical issues and public meeting agendas are not displaying. We are working with our provider to restore service as soon as possible. We apologize for any inconvenience.
Please see below for information regarding tonight's meeting of the Petaluma City Council/Petaluma Community Development Successor Agency.
When: August 8, 2022 – 6:00pm
CLICK HERE view the agenda.
CLICK HERE to view a live broadcast of the meeting live on our YouTube channel.
How to observe and/or participate and provide public comment:
Attend In-Person: Petaluma City Council Chambers located at 11 English Street, Petaluma, CA. Please fill out a speaker card for each item you wish to speak on, and place in the speaker card box next to the Zoom moderator.
Attend Virtually via Zoom: https://us06web.zoom.us/j/86516756538 (Use raise hand feature to speak) Call- In via Telephone: +1 (346) 248-7799 Meeting ID: 865 1675 6538 (dial *9 to raise hand to speak)
Watch on TV: Comcast channel 28, U-Verse channel 099
Submit written public comment: e-mail comments to [email protected]. Comments that are received before 4:00 p.m. on August 8, 2022, will be distributed to the Mayor and City Councilmembers and placed on the City's website as part of the agenda packet for the meeting. Comments received after 4:00 p.m. will be distributed and posted online following the meeting.
Tips for Attending a Virtual Meeting: https://cityofpetaluma.org/tips-for-attending-a-virtual-meeting/
Closed Captioning/Live Transcription: This meeting will be transcribed live via the Zoom platform. In-person attendees will be able to see the transcription at the bottom of the screens in the Council Chamber and City Hall. Zoom attendees with a Zoom version 5.0.2 or higher will be able to see the transcription at the bottom of their personal zoom screen. Learn more at https://support.zoom.us/.