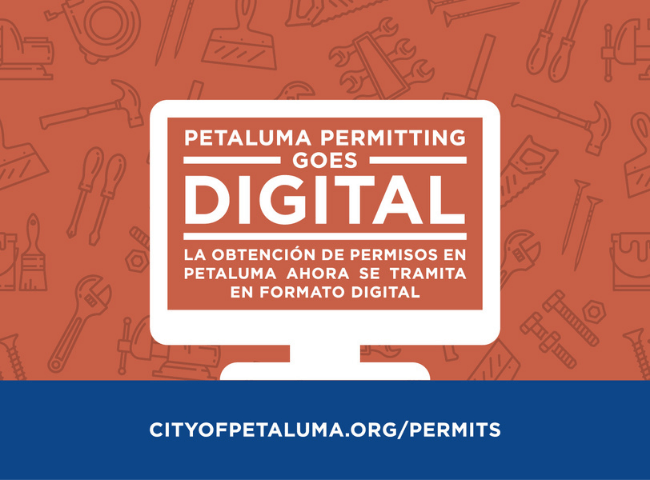 CITY OF PETALUMA LAUNCHES ALL-DIGITAL PERMITS & PLANNING HUB
Highlights
City of Petaluma will launch an all-digital Permits & Planning Hub on September 13, 2021
Benefits: the system will help the City improve efficiency, provide transparency into City processes, and deliver better customer service
No permits will be processed September 8 – 12, 2021, as City migrates data from old system to new system
More info at cityofpetaluma.org/permits
Media contact: Ingrid Alverde, Director of Economic Development & Open Government,

[email protected]
Press Release
August 25, 2021, Petaluma, Calif. – The City of Petaluma is pleased to announce that on September 13, 2021, it will switch to a new digital permitting platform that will help City staff provide better service to the community. This change comes as part of the City's implementation of EnerGov, a permit management software system designed to help the City improve efficiency, provide greater transparency into City processes, and deliver better customer service.
"We are thrilled to be offering this new digital permitting process to our community," explains Petaluma City Manager Peggy Flynn. "Not only will we provide a higher level of service, but our permitting process will be more efficient and transparent to the public. It will also allow us to be paperless and support our environment, a priority for our City as we work toward becoming carbon neutral by 2030."
The heart of the City's new permit process will be the Permits & Planning Hub accessible through the City's website at cityofpetaluma.org/permits. Powered by the EnerGov software, the Hub will offer a single point of contact for land use inquiries, permit records requests, and most City permits, including those offered by the City's Building, Planning, Fire Prevention, Public Works, and Police functions.
Applicants will use the Hub as an online one-stop-shop to find and fill out forms, upload plans and other documents, submit applications and corrections, and message with City staff. On the City side, the portal will be used to take in and track submittals, review plans and enter comments/corrections, and communicate electronically with applicants throughout the process. City staff will the Hub's dashboard to monitor workload and ensure that the City is providing valued services promptly and professionally.
Access to the self-service portal requires a one-time, no cost registration, which will be available starting in mid-August. An email address is required to register. Registration is not required to access permit searches and land development activity query features.
Transition Timeframe and Anticipated Adjustments
The new system will launch on September 13, 2021. No permits will be processed September 8-12, 2021, while the City migrates data and open permits from the previous system into EnerGov.
Please be aware that as the City transitions to this new system, there might be delays in the processing of new applications. Until the system is fully up, inspections for currently open Building permits will continue to be scheduled by calling 707-778-4301 or via email [email protected]. Anyone experiencing problems may contact the Department issuing the permit for additional assistance.  Contact info for City Departments is available on the City's website https://cityofpetaluma.org.
Media outlets interested in understanding this change and how it will benefit the community should contact Ingrid Alverde, Director of Economic Development and Open Government, at [email protected] or 707-778-4549.