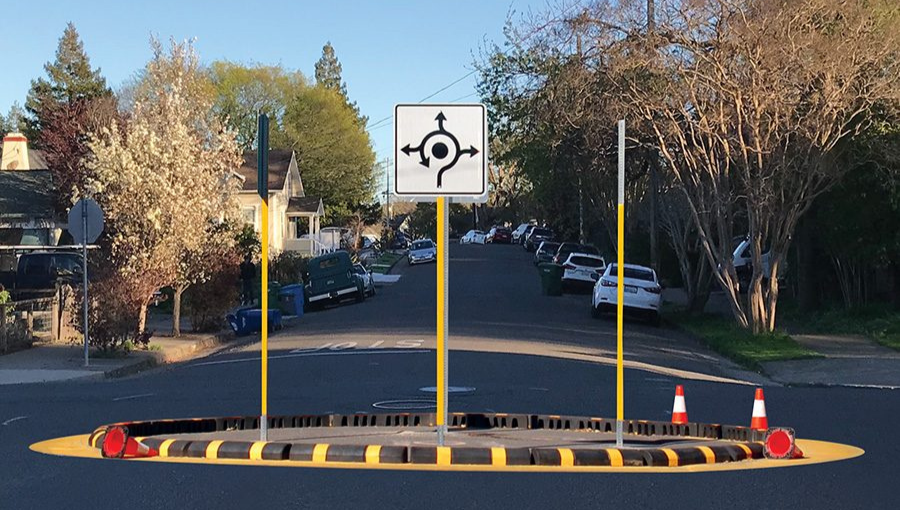 The City of Petaluma is pleased to announce an upcoming new addition to the intersection of Bassett and Upham Streets: a temporary mini traffic circle demonstration. This mini traffic circle demonstration project is designed to help slow traffic and increase safety for all road users. City teams are installing the circle temporarily and, over the next 6 months, will gather feedback from the community to determine how the circle is working for the neighborhood. Installation will occur the week of April 12, 2022. 
"We're so excited to share this new demonstration with the community," said Christopher Bolt, Director of Public Works and Utilities for the City of Petaluma. "One of our main goals is to make Petaluma's streets safer for all who travel them. We believe this mini traffic circle is a step in that direction. But, the best part is, the community will have a chance to try it out and tell us what they think. This "demonstration" approach empowers us to share new solutions and later make more permanent decisions based on feedback we receive directly from the people of Petaluma. The main idea is, these are your streets and we want to hear what you think!"  
The City is committed to creating safer streets, and doing so in a way that best suits the needs of the community. Studies show that traffic circles are a great way to slow down traffic and improve safety.  The temporary mini traffic circle demonstration at Bassett & Upham will be a small "quick build" project, meaning it can be installed and removed quickly and with minimal costs.  
This temporary demonstration approach will give the community a chance to see if a traffic circle is a good fit for the neighborhood. If it is, the City will move forward with a permanent (or "hard") installation, which might include not only the traffic circle but also landscaping and/or painted features to help beautify the public right of way. 
Demonstration projects such as this one give the community a chance to experience a proposed change, then provide feedback. The City can then use this feedback to help determine if it makes sense to move forward with a more permanent solution.  
Why Bassett & Upham? This location was selected due to concerns from local residents regarding traffic speed and the proximity of the location to Petaluma High School, City Hall Park, and St. Vincent's Church Plaza. Over a week-long observation period of this 25mph zone, City teams surveyed 3000 cars, of which 300 traveled at speeds warranting tickets, with top speeds clocked at up to 63mph. This, coupled with complaints received by City regarding high speeds, and identification of Bassett as a recommended walking route by the Safe Routes to Schools Engineering Evaluation, inspired the City to try out the mini traffic circle demonstration at this location. The City's Police and Fire Department have reviewed the project's design and will be monitoring its performance. 
This project exemplifies Petaluma taking strides towards meeting the Vision Zero goals set forth by the County of Sonoma. Vision Zero is a strategy from the County of Sonoma, Sonoma County Transportation Authority (SCTA), and the Sonoma County Department of Health Services, designed to eliminate all traffic fatalities and severe injuries, while increasing safe, healthy, equitable mobility for all. CLICK HERE to learn more about Vision Zero and HERE to view the Vision Zero Data Dashboard, which shows major patterns in crash data from around the County .  
A postcard announcing the installation, and explaining how to give feedback, has been sent to residents living within a 1000 ft. radius of the intersection. A-frame signs are currently on display at the northeast and southwest corners of the intersection. Simply scan the QR code on the sign or postcard, or visit cityofpetaluma.org/bassettuphamcircle to learn more and provide feedback.