Good Evening, Petaluma Business Community –
Welcome to 2021! Though we know many of you are still navigating the challenges presented by the ongoing pandemic and Regional Stay-at-Home Order, please know that help is on the way. The City is working hard behind the scenes on programs to help businesses operate within the new guidance. Additionally, State and Federal relief programs are available to help you weather the storm.
In tonight's email, we'll review potential updates to the Stay-at-Home Order, available relief programs for businesses, ways to support one another through these difficult times, new laws going into effect in 2021, ways to approach workplace exposure, and more.
As always, please feel free to contact us directly for one-on-one guidance and support as you navigate the unusual 2021 landscape.
[email protected]
707-778-4484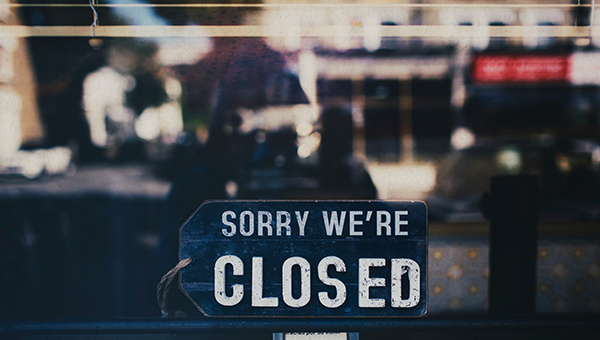 PUBLIC HEALTH ORDER UPDATE
A message from the County of Sonoma:
While the Bay Area's ICU capacity remains below 15 percent, the region will continue to operate under a Stay-at-Home Order. The current order is due to expire on Jan. 9, but Bay Area public health officials do not expect the ICU capacity to rise above 15 percent by then.
Sonoma County Public Health anticipates that the state will extend the Stay-at-Home Order to last several weeks past Jan. 9, especially if we see a surge in cases and hospitalizations as a result of the holidays. As a reminder, once the Stay-at-Home Order is lifted, Sonoma County will still be in the most restrictive purple tier of the Roadmap to Reopening due to widespread COVID cases in the county.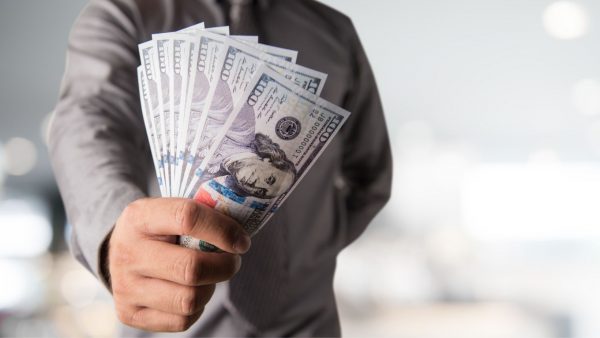 STATE AND FEDERAL RELIEF PROGRAMS
The extended closures of 2020 and 2021 present many small businesses with unprecedented challenges. The Federal and State governments have put together programs to provide support through these times. Please review and take advantage of the programs listed below.
Need help applying for these programs? Contact the Napa Sonoma Small Business Development Center at https://www.napasonomasbdc.org/ or (707) 595-0060.
Tax credits, low interest loans, and a Small Business Grant program are available to small businesses through the State of California. Check out the following resources to learn more.
Click HERE for State Tax Programs
Click HERE for Small Business Grant – Application due Jan 13!
Click HERE for California Rebuilding Fund Loans
Federal Business Relief Programs
The Federal pandemic relief bill that passed last month offers loans, grants, and tax credits to help small businesses and nonprofits. The bill provides money for new and existing business relief programs and changes the programs in areas such as tax liability and eligibility criteria. Some programs are open now while others are still in the process of being rolled out.
Click HERE to learn more.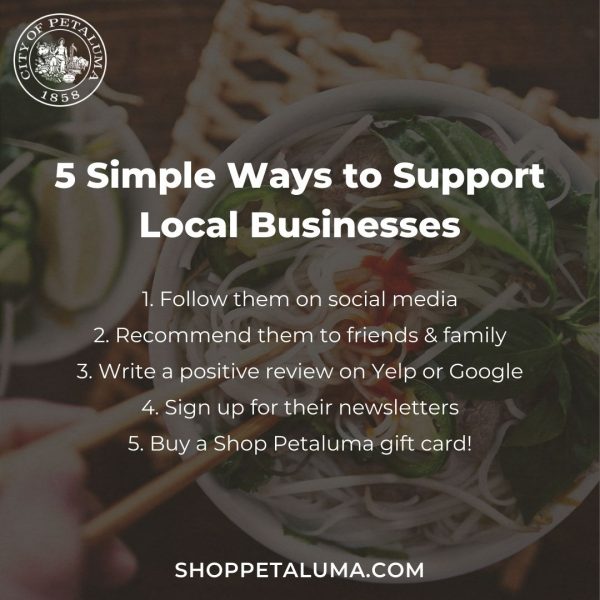 WAYS TO SUPPORT SMALL BUSINESS
Supporting small business matters now more than ever. In the image above we've listed some simple steps we can all take to help one another during these strange times. Read on for more great ways to offer support.
Shop Petaluma
We are proud to report that, to date, $22,750 has been purchased through our Shop Petaluma gift card program. That's nearly $23K in holiday shopping dollars kept local this season! This just goes to show what an impact can be made when we come together to support each other. Go, Petaluma!
CLICK HERE to purchase a Shop Petaluma gift card.
Want your business to be part of the program? It's easy and free! We currently have over 60 Petaluma shops, restaurants, salons, and service providers participating. CLICK HERE to learn more.
25 Days of Local Business Support from Petaluma Park Yoga
Businesses are finding creative ways to support each other. One example is Petaluma Park Yoga's 25 Days of Local Business Support. Starting today, join them in a challenge to show love for local businesses in 2021. CLICK HERE to learn more on their Instagram!
If you are interested in participating in any fundraisers for local businesses, please contact Nancy Sands: [email protected]
NEW STATE LAWS
Numerous California labor and employment laws took effect on Jan. 1, 2021 (we've highlighted a few below). It's important to learn what's changed and understand how it affects your business. Start by reviewing articles by respected sources, then consult with an employment attorney or human resources expert for help.
Click HERE for an overview from the National Law Review.
Coronavirus Exposure Law (AB 865)
This law requires that employers take prompt action in response to COVID-19 incidents. This includes notifying employees of a coronavirus exposure at the workplace within a day of exposure, as well as notifying the public health department if there are three or more COVID cases among your employees. The law also gives CAL/OSHA the ability to quickly shut down worksites for COVID-related reasons.
Click HERE to learn ways to keep your employees safe–and stay in compliance with the law.
Diversifying Executive Boards
As explained by ABC 7 News, a law that went into effect in 2019 already requires all publicly owned companies based in California to have at least one woman on the board. Now, by the end of 2021, any board with at least five members must also now have at least two women, and any board with six members has to have three women. Companies are also given another year to add even more diversity: boards with at least four members need to have two or more directors from underrepresented communities. CLICK HERE to learn more.
Paid Leave Expanded Under the California Family Rights Act
The California Family Rights Act Significantly has been significantly expanded to cover businesses with five or more employees. CLICK HERE to learn more.