Good Evening, Petaluma –
Throughout the events surrounding COVID-19, a focus for us here at the City has been to provide support for our business community. Our local shops and service providers are an integral part of what makes our town so special. In addition to offering top-notch products and services, they employ our children and loved ones, support our schools and charitable organizations, and help shape the Petaluma experience.
Our goal is to support these businesses in every way we can through these unprecedented times. For the past few weeks, we have been sharing our business-focused Tuesday emails with our larger community. Beginning next week, we will be sending this Tuesday Business Update only to those who have signed up to receive business news from us.
If you would like to continue to receive our Tuesday Business Updates, go to the Subscribe page of our website and check the box that says "Business News & Updates." In addition to receiving our business-focused email once a week, you'll continue to receive our community updates as they are published.
As always, please share this information with anyone you think might find it useful.
Thank you!
The City of Petaluma

UPDATES TO FEDERAL RELIEF PROGRAMS FOR SMALL BUSINESS
Recently, updates were made to federal relief programs for small businesses! We have listed some of the main points and links to more information below.
We encourage you to contact the Napa-Sonoma Small Business Development Center for assistance in deciding whether to apply, finding lenders, and completing applications. These opportunities are time sensitive so please don't delay!
EIDL & EIDL Advanced
The US Small Business Administration (SBA) has reopened the Economic Injury Disaster Loan (EIDL) and EIDL Advanced program portal to all eligible applicants experiencing economic impacts due to COVID-19. CLICK HERE to learn more.
Payroll Protection Program
It is not too late to apply for – and benefit from – the Payroll Protection Program! June 30, 2020 is the last date on which a PPP loan application can be approved. If you plan to apply, please hurry!
The program was recently updated to include the following changes:
The period to use PPP funds for loan forgiveness is now 24 weeks instead of 8 weeks
Lower percentage of the loan that needs to be used for payroll (has gone from 75% to 60%)
Loan period has changed to 5 years (up from 2 years) for loans approved after June 5, 2020
CLICK HERE to read the official press release with more details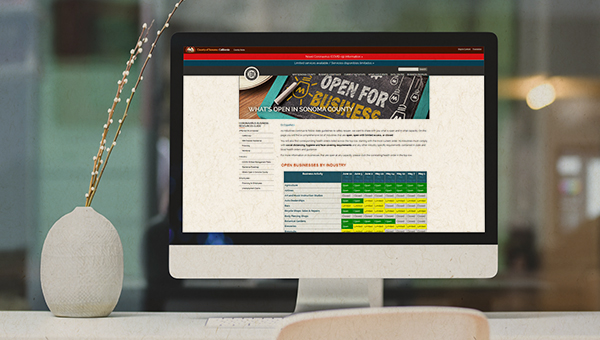 NEXT STAGES OF REOPENING
You may have heard that other counties moved to Stage 3 of the State's reopening plan last week. Here, in Sonoma County, we are currently still in Stage 2. The County of Sonoma will consider a move to Stage 3 on June 22 if the health data indicates it is safe to do so.
CLICK HERE for a list of which businesses are currently allowed to be open in Sonoma County.
We understand this evolving information can be confusing for business owners, employees, and consumers. Please know, we are here to help and are sharing information as it becomes available to us. If you have reviewed the County Health Order and are still confused, please don't hesitate to contact us directly: [email protected]
For the most up-to-date information, please continue to check socoemergency.org

SOCO COVID-19 EMPLOYEE CHECK APP
The County of Sonoma now requires every business to track and monitor employee health. They have created an app called SoCo COVID-19 Check to assist business owners in doing this. The app is currently still being fine-tuned but is able to be used by employees to provide their employer a daily wellness check.
We at the City are currently using the app and it is working well for us. Once it's fully developed and implemented, it will be a simple way to provide the County with information.
At present, reporting health data to County authorities is not mandatory. Once the app is fully available, employers will be provided seven days' notice before reporting will be required. When the app is fully functional, the information collected will be automatically submitted to the County.
CLICK HERE for information on the SoCo COVID-19 Check app.
If the employer prefers to collect employee health statistics using another tool, the County will be providing a method to report the summary statistics to Public Health.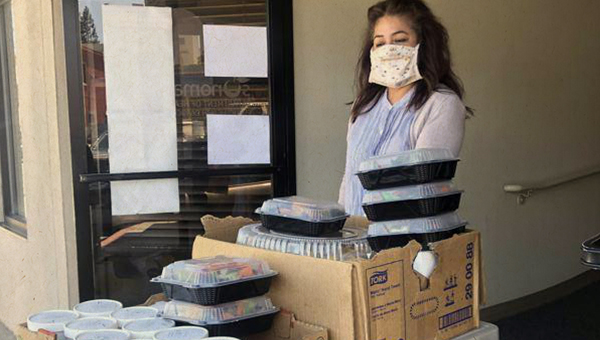 Mazza Catering makes deliveries. (submitted photo – courtesy of Argus Courier)
HOSPITALITY INDUSTRY UPDATE
As a travel destination, Sonoma County has a large hospitality industry that employs thousands from our community. COVID-19, and the events surrounding it, have had a significant impact on business as usual for our hotels, caterers, event planners, and beyond.
If you are a business in the hospitality industry, please review these resources from Sonoma County Tourism to help you prepare for reopening and get your business back on track:
VisitPetaluma is also a wonderful resource. Please check out some of their latest news below.
Contact [email protected] for information on how you can take advantage of tourism-related activities to keep your business going strong.
The significant drop-off in events has been hard on Petaluma caterers. In response, many catering businesses are now offering meals to go for local families. CLICK HERE to learn how caterers have adapted during this unusual time. Petaluma360.com.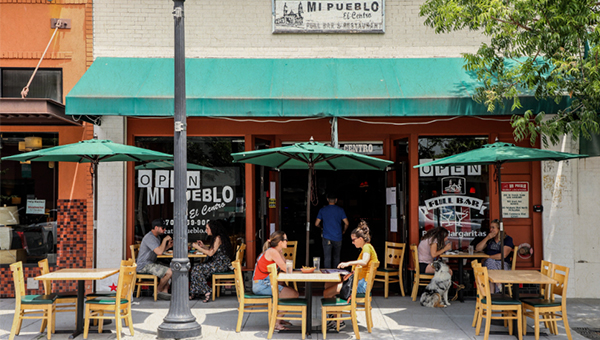 CITY LENDS A HAND TO RESTAURANTS WITH PETALUMA FREE RANGE PROGRAM
Our new Free Range program is designed to address the need for Petaluma eateries and retailers who want to expand their footprint with additional outdoor seating to meet new physical distancing requirements.
We have put together a dedicated team to expedite the permitting process (free of charge), getting businesses up and running with new outdoor space – usually in about one week! We have seen a great response from the community and are so happy to be making al fresco dining a reality for our favorite local spots.
Wonder what the process is like? CLICK HERE for an article featuring the Free Range experiences of Mi Pueblo and Cucina Paradiso.
To learn more and to apply for the Free Range program, please visit: cityofpetaluma.org/petaluma-free-range

REMEMBER TO UPDATE SHOPPETALUMA.COM!
ShopPetaluma.com, the new virtual experience designed to support our local businesses through COVID-19 and beyond, is picking up steam! With 133 businesses listed and Instagram following of over 1k, we are connecting our shops and services to customers each day. We are also running advertising campaigns designed to raise awareness of the site.
If you are currently listed on the site, we encourage you to keep your information current. As more businesses open, we realize your hours of operation, ways to shop, and specials offered may change. Please be sure to keep your information on the site up-to-date by filling out this simple update FORM.
If you would like to join ShopPetaluma.com, please fill out this FORM. There is no charge and it is a great way to ensure your business has a strong online presence.
TAKE THE EDB SURVEY
The Economic Development Board (EDB) has contracted with Dr. Robert Eyler, principal of Economic Forensics and Analytics, to conduct a thorough analysis of the economic impacts of the COVID-19 pandemic in Sonoma County.
To assist in accurately measuring local impact, the EDB is conducting a weekly survey of local businesses. Each of these surveys will be open for seven days. The data collected will be crucial in determining impacts, assessing resources needed, and creating policy for future events. It should take less than five minutes to complete, and will be released indefinitely on a weekly basis to capture effects over time.
CLICK HERE to complete the survey.
The EDB appreciates your candid responses, and can be reached at [email protected] if you have any questions about the survey or questions within.
Do not forget to visit the EDB website for a comprehensive list of resources and benefits for businesses and employees impacted by COVID-19. We hope you stay safe and well during this time.
UPCOMING CITY MEETINGS
The City of Petaluma is hard at work for our community. Please check out our upcoming meetings and click on the links below for more information:
Check for upcoming meetings, agendas, and how to participate on the City's meeting webpage: https://cityofpetaluma.org/meetings/
Help Get the Word Out
Please share this information – online or by phone, of course – with anyone you know who might need help now or at any time during this crisis. To subscribe, click here.