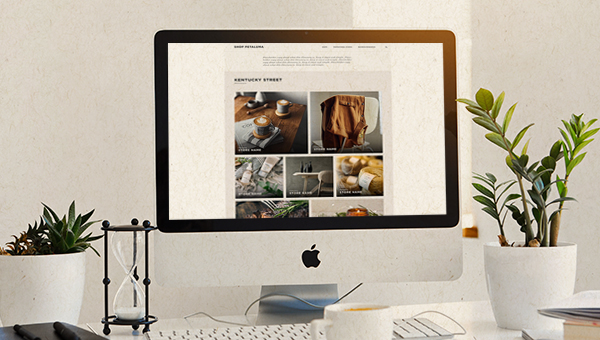 The City of Petaluma, in collaboration with the Petaluma Downtown Association, the Petaluma Area Chamber of Commerce, and local merchants, is excited to announce the launch of a new website: ShopPetaluma.com!
The virtual shopping mall is set to go live Friday, May 8, and will showcase local retail stores and restaurants with detailed descriptions of the goods and services they are currently offering. In the coming weeks, the website will expand to include service providers including salons and spas.
ShopPetaluma is the brainchild of local business owner Jess Brown, of Jess Brown Designs. Her company produces handmade whimsical ragdolls, women's clothing, and home textiles with a vintage twist. "Petaluma is a town that has always supported its vibrant entrepreneurial community," says Brown.  "From amazing food to incredible shopping, the local merchants along with the City have collectively curated a very special downtown."
The web-based shopping forum will help support Petaluma's brick-and-mortar business community, especially during shelter-in-pace, and beyond, by providing easy public access to, and e-commerce opportunities for local businesses offerings in one place.
The site was designed to look like a modern, e-commerce site and offers direct links to merchant social media accounts as well as special COVID 9 service offerings. Many of the small merchants don't have e-commerce websites for their wares, so this site will act as a launchpad for engaging customers through social media.
A webinar series aimed at helping merchants take advantage of social media and internet marketing will also start on May 8, 2020 and will continue for several weeks.
This effort was possible because of the partnership between the PDA, the Chamber, and the City of Petaluma. The PDA had the website domain, the City provided the website development, and the Chamber helped promote the site to their members. This partnership will allow us to work together to reach as many businesses as possible and to cross promote the website to multiple audiences.
Over the coming weeks, the site will expand to offer more merchant offerings as well as shop local gift card options. The City of Petaluma, the Petaluma Downtown Association and the Petaluma Area Chamber of Commerce care deeply about our local businesses and are determined to help merchants get through these unusual times. Our businesses make our City and community vibrant and thriving. If you would like your business listed, or to update your business listing, on ShopPetaluma.com, please fill out the Google form.