Petaluma restaurants have re-opened their doors for onsite dining, but for many, resuming business under the new social distancing guidelines presents a conundrum. With indoor seating reduced by a significant margin to comply with current health mandates, restauranteurs are left with a difficult choice: raise prices to make up for the shortfall, or find a way to seat more customers.
Enter the City's new Free Range Program designed to address the immediate need for local eateries who want to expand their footprint with additional outdoor seating.
The program offers business owners a path to expedited permitting, at no charge, along with hands-on help from City officials to develop a plan for temporary outdoor seating in areas where such seating would not generally be allowed. This includes creating table space on sidewalks, streets, and parking areas with consideration for social distancing and adequate pedestrian thoroughfares.
Interested business owners fill out a simple online application, and then undergo a site review with City officials to determine the best course of action. The permits are currently valid for three months with an option to re-evaluate depending on the public health situation.
Mi Pueblo restaurant owners David & Maria Beatriz found the process of adding additional outdoor seating easy at their Petaluma Boulevard North parking lot. "They (the City) met with us the day after we submitted our application, measured the parking lot, and recommended the best configuration for the additional tables," says David. "We had the permit the next day."
Kentucky Street Mi Pueblo restauranteur Joel Padilla echoed his Uncle's sentiments. Several outdoor tables were added to the sidewalk area outside the main entrance of the restaurant, allowing patrons to enjoy their meal at a safe social distance and even bring the family dog. "People seem to feel more at ease outdoors these days," noted Joel, whose sidewalk cafe tables were all full on the day we visited. "It's a win-win for everyone."
Partners in business and life, Maria Elena Hipolito and Chef Dennis Hernandez of Cucina Paradiso on Petaluma Boulevard were able to add ten tables on the Riverfront Walkway at the rear of their restaurant. As twenty-three year veterans of the local restaurant scene, they have experienced many ups and downs—but never anything like the Covid19 pandemic. "The City was very helpful, and the process was quick," says Hipolito. "We submitted our application on a Thursday, and met with officials that following Tuesday to get input. The permit was issued the next day. We really appreciate that the City is on top of helping us figure things out as we get back to business." Diners at Cucina Paradiso can now dine while enjoying a view of the Petaluma River on their social distance outdoor patio.
All three business owners were complimentary of the City's support and willingness to partner with them to find viable, quick solutions. If you're a Petaluma business owner who would like to expand your business outdoors, please contact Nancy Sands at 707-778-4484, or by email at [email protected] to discuss your plans.
More info about the Free Range program and a survey can be found on our Free Range website.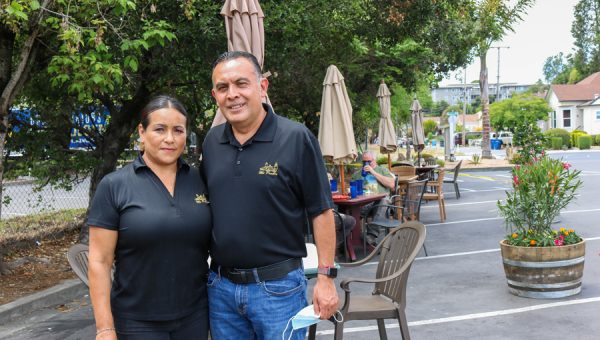 Mi Pueblo on Petaluma Blvd. N owners David & Maria Beatriz.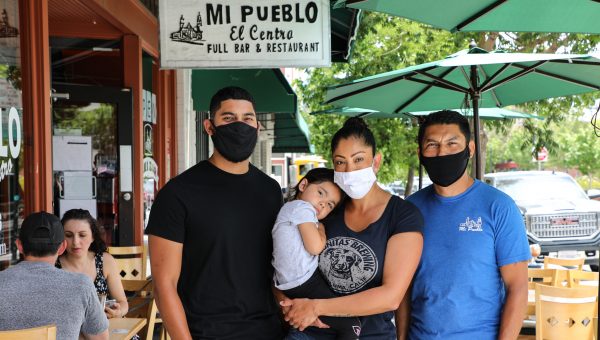 Mi Pueblo on Kentucky Street, (left to right) Marco Padilla (son of Joel), Elisa (holding Maya), and owner Joel Padilla.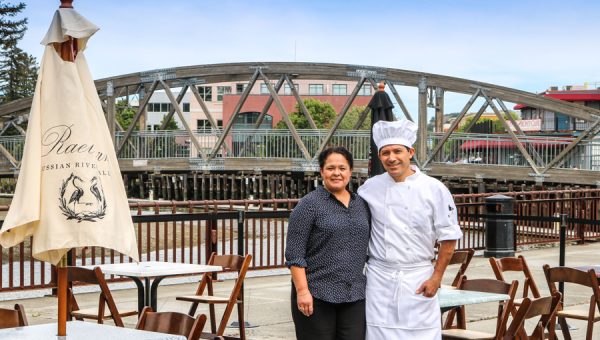 Cucina Paradiso owners Maria Elena Hipolito and her husband, Chef Dennis Hernandez.