*New Workshop*
We will hold a workshop on February 22, 2020 where you will find out how your City is working for you, what has been accomplished in the last year, and what is planned for 2020. It will be a great opportunity for you to give us feedback!
9am-2pm
Herzog Hall
Gnoss Concourse, Petaluma, CA
Food and activities for children will be provided. Translation will also be available.
If you can't join us, check out the progress we've made and a video of the workshop that will be posted following the meeting on this webpage: www.cityofpetaluma.org/goals.
Workshops Inform Goals & Priorities
The City Council Goals and Priorities for the fiscal years 2019 - 2020 and 2020 - 2021 were developed with extensive community input and discussion.  We held a workshop on April 6, 2019  and offered a survey, to gather the community's ideas about City priorities over the next two years.
After that workshop, staff collected all the feedback from both the survey, the workshop, and thorough input received prior to and following the workshop, and created the next draft version of the City's goals and priorities for the next two years.
We then drafted the goals, collected community input, and presented them to the City Council on July 1, 2019. The Council provided additional feedback, and the Goals and Priorities were finalized. These will be our guide posts for how to prioritize and focus our work in all of the City Departments.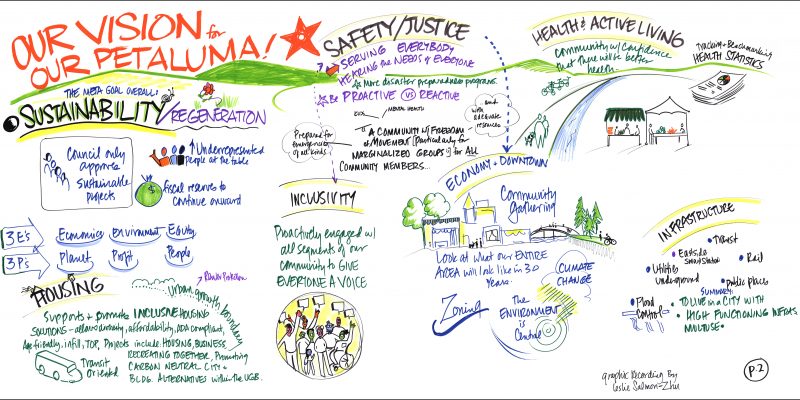 GOALS AND PRIORITIES WORKSHOP - GRAPHIC SUMMARY