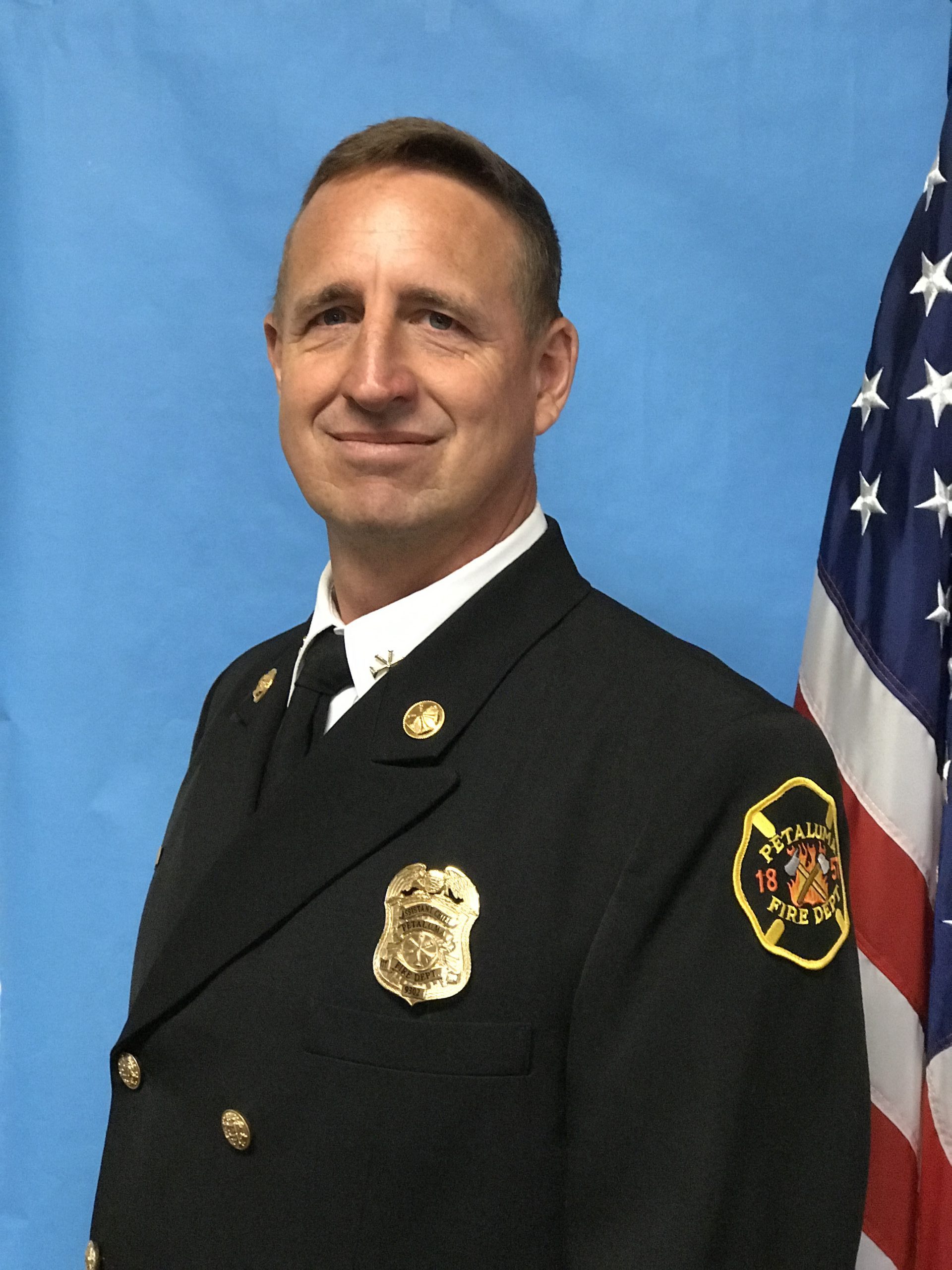 The City of Petaluma is delighted to announce that Petaluma's interim Fire Chief Jeff Schach has been selected as the City's next Fire Chief. Jeff has worked for the Petaluma Fire Department for the past 22 years, serving in virtually every capacity within the Department, from Firefighter through interim Fire Chief, during his career. Schach takes over the department following the retirement of former Chief Leonard Thompson at the end of 2021. 
"We are excited and grateful that Chief Schach is permanently stepping into this role as our Fire Chief," said Peggy Flynn, Petaluma City Manager. "Jeff has a deep connection to our community and has demonstrated steady, visionary leadership for the Department as well as strong, collaborative partnerships within our County and region. We feel very fortunate to have had such a strong candidate from within our own ranks, and I am confident that Jeff is the right leader at the right time." 
A Sonoma County native, Jeff is a graduate of Sonoma State University as well as the Fire and Paramedic Academies at Santa Rosa Junior College. He started his fire-service career as a volunteer at Rancho Adobe Fire Protection District and as a seasonal firefighter for CDF, now known as Cal-Fire. He began with the City of Petaluma in 2000, having served in a variety of progressively more responsible roles, including as the City's Emergency Operations Manager. Jeff has also worked as a rescue paramedic on the Sheriff's helicopter, Henry-1, and served 8 years as a combat medic in the Army Reserves. 
Jeff resides in Cotati with his wife and son. He also has two older children that live locally, and he has recently become a grandfather. 
"I am excited about the current direction of our Fire Department and honored to serve the City in this role," said Schach. "With the community support in the recent passage of Measure U, the support of City Council, and an amazing City team, my focus is to build and enhance the Department's facilities, equipment, and staffing to enable our dedicated personnel to continue to provide exceptional service to our community." 
The Petaluma Fire Department is an "all-risk" department, responsible for the prevention and extinguishment of fires and for the medical treatment and transport of the sick and traumatically injured; for the extrication and rescue of victims; and for the overall mitigation of emergency-related events impacting the Petaluma area. The Department provides fire, rescue and emergency medical services within the Petaluma city limits, Southern Sonoma County and a portion of Marin County. Including its ambulance response area, the Fire Department covers 184 square miles and a population of over 70,000 people. The Department is on track to respond to over 8,000 calls for service this year and is proud to be celebrating its 165th year of service to the community.