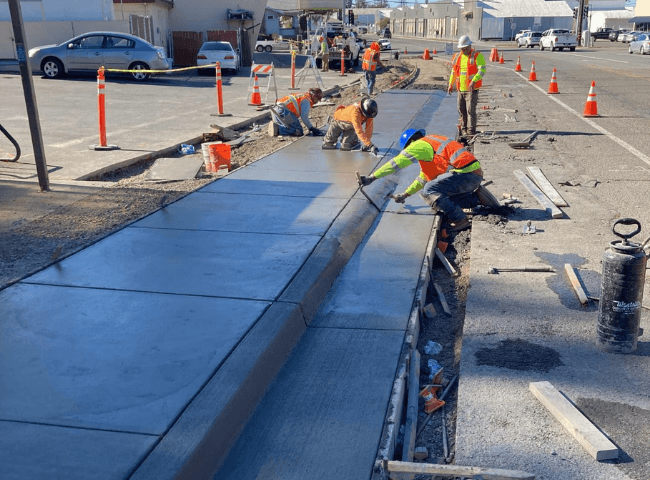 Hello, Petaluma –  
This weekend promises to be a busy one in our little city with the return of both the Butter & Egg Days Parade and the Spring Antique Fair! It brings us such joy to see these beloved events on our calendars again. Please read on for event information, as well as details on street closures and transit options. 
This week we are also pleased to share news of impactful happenings around town including visioning for the future of our Fairgrounds, work on our streets, ways we are addressing climate change, and more. 
Please enjoy, share with friends, and have a lovely weekend. We hope to see you at Butter & Eggs on Saturday! 
HYBRID MEETINGS ARE HERE!
Throughout the pandemic, the health and safety of our community has been our top priority. It has been our pleasure to make public meetings available virtually so that Petalumans can safely engage in our civic process. As COVID cases decrease and we continue down the path back to "normal," we are committed to returning to in-person meetings safely and effectively.  
Next month, we will begin our transition to hybrid City Council meetings. We are working to be able to offer Petalumans the choice to attend virtually or in-person. Our Council chambers have undergone renovations and technology upgrades to make hybrid attendance a reality. This hybrid model offers a great option for those who wish to participate in public meetings from the comfort of their homes. We see this ability to engage virtually as a silver lining of the pandemic and we intend to continue to make it available for years to come. We aim to have our first hybrid meeting open for the public to attend May 2. 
We look forward to this next step toward welcoming our community back to in-person meetings. We appreciate your patience as we work through the technology and safety protocols.  
THE PETALUMA FAIRGROUNDS ADVISORY PANEL HAS BEEN SELECTED!
Last Wednesday, Healthy Democracy, the organization leading our Fairgrounds visioning process, held a live lottery selection event where the 36 person Petaluma Fairgrounds Advisory Panel was selected! The Advisory Panel will spend over 100 hours considering the future of the Petaluma Fairgrounds.
The Panel was selected through a democratic lottery, a process that is anonymous and randomized, but selects a Panel representative of the community's demographics. The 7 demographic categories considered are age, gender, race and ethnicity, location of residence, housing status, educational attainment, and experience of a disability. If you're interested in learning more about democratic lotteries, check out this short explainer video. 
Visit healthydemocracy.org/petaluma to see a graphic summary of each demographic category.
Remember to sign up for weekly updates from Healthy Democracy to stay up-to-date on the latest in the Fairgrounds visioning process. 
WILL WE SEE YOU AT BUTTER & EGGS THIS WEEKEND?
Petaluma's biggest event weekend is here! The Butter & Egg Days Parade and Festival is this Saturday, April 23. Based on pre-pandemic attendance, this year's parade & festival could bring 40,000 people to the downtown area. Many streets in the downtown area – including Petaluma Blvd – will be closed to vehicle traffic as early as 5am. to 6pm.  
View a list of event road closures HERE. 
We're encouraging everyone to bike, walk, or take public transportation to the event. As in years past, rides on Petaluma Transit, and other regional transit lines are FREE all weekend! New this year is a bicycle valet parking service on B Street between 4th & 5th Streets.  
CLICK HERE for more parade info. 
VISIT THE WATER CONSERVATION BOOTH AT BUTTER & EGG DAYS
This Saturday from 10am-5pm the Water Conservation team will have a booth in the A Street parking lot as part of the Butter & Egg Days festivities! Visit their booth to pick up free water-saving devices (shower buckets, faucet aerators, hose nozzles, + more!), as well as information on current water use restrictions and ways to conserve water in and around your home. All those resources can also be found at cityofpetaluma.org/conserve. 
IMPORTANT REMINDER! Petaluma is still in a drought emergency. Water use restrictions are still in place, including a limited outdoor watering schedule. Please limit outdoor water use, and if you need to irrigate your landscape, only do so: 
Overnight Tuesday and Saturday between 7pm-8am 
The full list of water use restrictions can be found at cityofpetaluma.org/savewater. Thank you for continuing to do your part to save water with us.  
THE SPRING ANTIQUE FAIR IS BACK
The fun continues on Sunday, April 24, with the Spring Antique Fair. This open-air marketplace stretches across several blocks (Western, A Street Parking Lot, & 4/Kentucky streets) and draws antique dealers & shoppers from around the region. From campaign buttons and postcards to heirloom artwork and armoires, there's something for everyone. Shop early…the Fair opens at 8am and closes at 4pm.  
View a list of event road closures HERE. 
Click HERE for info about the Antique Faire.  
PETALUMA HONORS EARTH DAY YEAR-ROUND
It's almost Earth Day, Petaluma! 
The City of Petaluma is committed to preserving our environment for generations to come. In fact, we've committed to becoming a carbon neutral city by the year 2030! 
 Show your support for our planet by marching with our Climate Action Commission in the Butter and Egg Days Parade this Saturday, April 23, noon-2pm. Contact Rhianna Frank, Climate Action Manager, for details: [email protected] 
Visit CityofPetaluma.org/ClimateReady to learn more about our goals and the impactful plans we have in store for the coming months and years. In fact, this spring and summer we're launching a Climate Ready campaign full of impactful strategies and ways to get involved. Check out the following in the month of May: 
May 14 – Community Bike Ride

 
May 20 – Bike to Work/Wherever Event

 
To learn about more upcoming events and our climate action efforts, please visit: cityofpetaluma.org/climateready 
NORTH BAY TRANSIT AGENCIES SUPPORT EARTH DAY WITH FARE-FREE RIDES
In celebration of Earth Day, four North Bay Public Transit Agencies are joining forces on April 23, 2022, to encourage residents and visitors to Go Green and ride fare-free. Hop on public transit fare-free on April 23, and ride with Marin Transit, Petaluma Transit, Santa Rosa CityBus, and Sonoma County Transit.
For more information on the April 23, 2022, fare-free day, as well as other reduced fare programs visit or call:  
Sonoma County Transit www.sctransit.com, 1-800-345-7433
Marin Transit www.marintransit.org, 415-455-2000  
Petaluma Transit www.transit.cityofpetaluma.net, 707-778-4460
Santa Rosa CityBus www.srcity.org/CityBus, 707-543-3333
CLIMATE ACTION UPDATE
This week, our Climate Action Commission shared the following: 
How much energy powers a good life? Less than you're using, says a new report: Americans use nearly four times the energy Stanford researchers say is needed to live a happy, healthy and prosperous life. Read about it or listen to a 3-minute summary in NPR. 
Green Builder Media features Sustainability Symposium 2022: Roadmap to Decarbonization. Symposium presenters will explore landmark topics like getting to net zero carbon, the electrification revolution, the ESG imperative, and the CarbonTech explosion. Register for free here: Sustainability Symposium 2022: Roadmap to Decarbonization. 
Electrify your yard! Consumer Reports lists "5 Reasons to Choose Battery-Powered Lawn Tools" and names some top-rated models. The State will require electric equipment in 2024, but spring gardening is a great time to switch to these cleaner, quieter, lighter-weight tools. If you have a maintenance company, ask them to switch to electric, and ask retailers to show you electric models. 
CHECK OUT OUR MARCH 2022 MONTHLY UPDATE
Here at the City, we are always working hard to make Petaluma the best it can be for our community – and we want to share our progress with you! Each month, we publish a report featuring some key projects and initiatives our staff is working on.  
Each of these projects featured are significant in impact and importance to our community, and reflect specific Council priorities in our Council's Goals and Priorities. 
Some of the new projects and initiatives in our March edition include: 
Advanced Metering Infrastructure Project

American Association of Retired Persons (AARP) Chess Table Project

Amy's Kitchen Downtown Corporate Office

Climate Ready

Community Art Grant Program

Fine Balance

Oyster Cover

 
Check out our latest Monthly Update and sign up to receive more at cityofpetaluma.org/monthlyupdate. 
PROGRESS BEING MADE ON PETALUMA BOULEVARD SOUTH 
The Petaluma Boulevard South Complete Streets Project continues to move forward.  The new sidewalk installation stretching from Mountain View Ave to the Crystal Lane roundabout is complete.  Sidewalk, driveway, and curb ramp repairs are continuing at the intersection of Petaluma Boulevard South and Mountain View.  Please continue to travel with caution through the work zones as traffic control measures are still in effect.  Overall, the project is on schedule, with paving activities anticipated to begin in May.   
Feel free to contact City staff with any questions, concerns, or further details regarding the construction activities at 707-331-2316.  
Visit cityofpetaluma.org/blvdsouth to learn more about the project. 
PHASE 2 PAVEMENT RESTORATION SET TO BEGIN
The City of Petaluma is preparing to begin phase two of the slurry seal project. Slurry sealing involves applying a thin layer of pavement over the existing road surface.  This layer serves to smooth the road surface, help minimize water intrusion, and slow the natural wear and tear process.    
The City's contractor, DRYCO is scheduled to begin work the week of April 25 (weather permitting). Residents in areas where this is occurring will be notified 48 hours in advance of the activities, with a notice that includes detailed instructions regarding the project.  Detailed maps and schedules will be posted online throughout the duration of the project.   
Please feel free to reach out to City staff anytime (707-331-2316) with questions, concerns, or scheduling conflicts.  
CLICK HERE to learn more.
JOIN OUR PETALUMA TEAM!
The City of Petaluma is looking for talented people to join our team! Please click the links below for more information about our open positions. CLICK HERE for a full list of career opportunities. 
Firefighter/Paramedic – Lateral 
Police Officer (Current Academy Attendees & Graduates) 
Public Safety Dispatcher- Entry Level
Public Safety Dispatcher – Lateral
UPCOMING MEETINGS
The City of Petaluma is hard at work for our community. Please check out our upcoming meetings and click on the links below for more information:
April 26, 6:30pm – Youth Commission
April 27, 7pm – Technology Advisory Committee
April 28, 6pm – Public Art Committee
Check for upcoming meetings, agendas, and how to participate on the City's meeting webpage: https://cityofpetaluma.org/meetings/