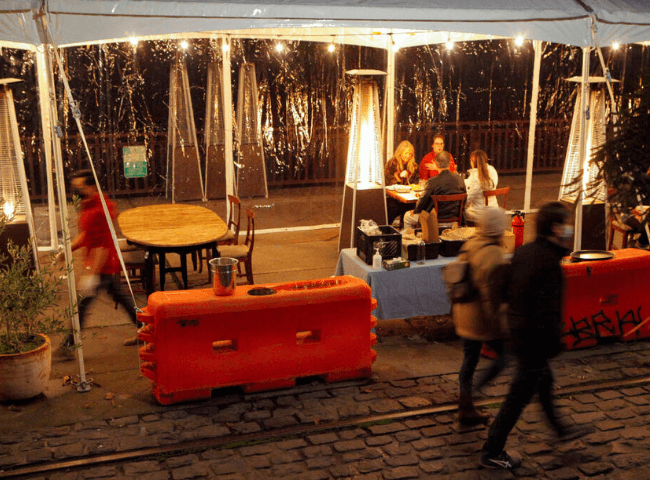 Hello, Petaluma –  
The sun is shining and temperatures are expected to rise significantly tomorrow. We hope you enjoy these little tastes over summer this spring is bringing. Tomorrow, we will be extra thankful for the coastal breezes and cool evenings Petaluma is known for – natural air conditioning at its finest! 
In this evening's Update, we'll share news of exciting happenings around town, including a way to help plan the future of our Fairgrounds, the completion of our transition to District Elections, a new bikeshare program, and more.  
Please share with friends and have a lovely evening. We'll see you in your inbox next week! 
FDA & CDC AUTHORIZE SECOND BOOSTER FOR SOME
Per the County of Sonoma, The Food and Drug Administration (FDA) and the Centers for Disease Control (CDC) have authorized a second COVID-19 booster shot for those 50 and older and the immunocompromised.  
Both the Pfizer and Moderna vaccines are approved for those 50 and older and those 18 and older with compromised immune systems. Immunocompromised people 12 to 17 can only get a second booster of Pfizer vaccine.  
According to the FDA, a second booster shot may be administered four months after the first booster. 
Learn more HERE. 
HELP PLAN THE FUTURE OF THE FAIRGROUNDS
It's the final countdown! If you are one of the 10,000 randomly selected households who received an invitation mailer to participate in the Petaluma Fairgrounds Advisory Panel (a special panel that will discuss the future of our fairgrounds) there are only a few days left to respond!  You have until April 10 to sign up online. 
The Advisory Panel will run from May through July with 90+ hours of deliberation and consider the future of the Petaluma Fairgrounds. Panelists will be paid $20 an hour for their time in deliberation. Panelists will also be provided with any accommodations they need to participate fully in the process, such as child/elder care, transportation costs, laptops and tech support, and comprehensive language access services (interpretation and translation).  
Visit healthydemocracy.org/petaluma for more information or to sign up for Panel updates.  
To watch the Live Lottery Selection Event on April 13th, 2022 at 6pm Pacific, tune into Healthy Democracy's YouTube Channel.  
THE TRANSITION TO DISTRICT ELECTIONS IS COMPLETE!
Big news! Petaluma has completed the transition to district elections. Thank you to everyone who provided input throughout this process. At their April 4, 2022 meeting, City Council adopted the District Elections ordinance which includes the final map and specifies which three districts will be the first to elect district representatives in 2022, and which three districts will elect district representatives in 2024. 
As you will see, Petaluma has been mapped into six districts of nearly equal population. Voters in each district will vote for one eligible candidate to represent them on the City Council. As outlined in the ordinance, Districts 1, 2, 3 will be the first three districts to elect district representatives in 2022. Districts 4, 5, 6, will then elect district representatives in 2024.  The Mayoral seat will continue as an at-large seat, and be elected in 2022. 
To find your address on the final map and learn which district you are in, CLICK HERE. You will input your address into the search bar at the top right and it will pinpoint it on the map. Use the + and – tool in the top left to zoom in for a closer look and use your curser to move the map around as needed. 
More information about this transition can be found on our District Elections webpage. 
WATER CONSERVATION BOOTH AT WISEMAN PARK TREE PLANTING EVENT
The City of Petaluma will have a Water Conservation booth at the Wiseman Park Tree Planting event hosted by ReLeaf Petaluma and Rebuilding Together Petaluma on Saturday, April 9 from 9am-1pm. At the booth, City staff will be answering questions and handing out free water-saving devices. 
The Wiseman Park Tree Planting project is funded by a CalFire TreeCovery grant provided by California Climate Investments. The grant targets specific native tree species which have the highest greenhouse gas reduction factor and helps play a part in funding California's long term carbon neutral strategy. The Wiseman Park planting will include over 150 native trees that will be sustained by recycled water. 
Volunteer opportunities are full, but the Water Conservation booth is open to the public. Drop by and get your water-saving devices and learn about the City's Water Conservation Programs. We hope to see you there! 
You can also pick up free water-saving devices at various City facilities – click here to learn more.  
CLIMATE ACTION UPDATE
This week, our Climate Action Commission shared the following: 
Climate Action Application:  Climate Action Now has made it easier to take action at all levels – from city to county to state and federal levels. Contact influencers and take climate action in just minutes right from your phone. Every action you take earns points, and when you earn enough points, Climate Action Now will plant a tree on your behalf. Download the app on your phone and get started right away. 
Interested in INDUCTION cooking? If you're ready to try out induction cooking – or help your friends and colleagues try it out, if you've already switched – check out the countertop induction reviews from the New York Times. These single-burner units are a great way to get familiar with induction! 
Multi-solving Insights! Watch an inspirational webinar (passcode: .yU&EF78) on "multi-solving," the concept of focusing on solutions that address multiple problems. One example is electric school buses (coming soon to Petaluma!), which simultaneously eliminate toxic diesel exhaust at school sites, reduce greenhouse gas emissions, and can serve as mobile resiliency hubs during power outages. 
FREE RANGE OUTDOOR COMMERCE UPDATE  
The City's Free Range program–which issued temporary permits for outdoor operations in parking lots and other non-traditional spaces–has been extended through October 31, 2022.
This decision was made in consideration of community members who do not feel comfortable eating indoors, due to concerns about COVID transmission, and business owners still recovering from COVID restrictions.  Thank you for continuing to support Petaluma restaurants!  
BIKESHARE IS COMING TO PETALUMA!
Our Bikeshare program will make bicycles available to rent for short-term use in Petaluma. Come learn more about the Bikeshare program, proposed bike hub locations, pricing and opening dates. 
The Bikeshare Subcommittee of the Petaluma Transit and Pedestrian and Bike Advisory Committees will be meeting on Wednesday, April 13th from 6:30-8pm.  
The meeting can be viewed by Zoom. CLICK HERE to visit the City's meeting webpage and access the agenda once it is posted.
BASSETT UPHAM TEMPORARY MINI TRAFFIC CIRCLE
We are excited to share an upcoming new addition to the intersection of Bassett & Upham Streets: a temporary mini traffic circle demonstration. This mini traffic circle demonstration project is designed to help slow traffic and increase safety for all road users. We are installing the circle temporarily and, over the next 6 months, will gather feedback from the community to determine how the circle is working for the neighborhood. Installation is scheduled for the week of April 11, 2022.
To learn more and give feedback, please visit: cityofpetaluma.org/bassettuphamcircle.
HOUSING ELEMENT PUBLIC WORKSHOP (VIRTUAL)
Thursday, April 7, 2022 – 6:00 PM  
Zoom Link: CLICK HERE 
The Housing Element Community will be the third in a series of three community meetings to learn about and shape our community's approach to the 6th Cycle Housing Element, Petaluma's plan to provide needed housing and increase housing equity over the next eight years.  
The community meeting will be both educational and provide input for our approach to the 6th Cycle Housing Element. Similar to the March GPAC Session and presentation to the Planning Commission, it will begin with a presentation sharing background on the role of the Housing Element, reviewing community input on housing received thus far, and highlighting current efforts. After this, we will hold small group discussions to explore housing goals, sites, policies, and programs. 
The input from this public workshop, the March GPAC Session, and the Planning Commission presentation and discussion, will help the 6th Cycle Housing Element reflect the community's priorities.
JOIN OUR PETALUMA TEAM!
The City of Petaluma is looking for talented people to join our team! Please click the links below for more information about our open positions. CLICK HERE for a full list of career opportunities. 
Associate/Senior Civil Engineer 
Firefighter/Paramedic – Lateral 
Part Time Climate Action Intern – CLOSING SOON
Police Officer (Current Academy Attendees & Graduates) 
Public Safety Dispatcher – Lateral
UPCOMING MEETINGS
The City of Petaluma is hard at work for our community. Please check out our upcoming meetings and click on the links below for more information:
April 11, 6:30pm – Pedestrian & Bicycle Advisory Committee – SPECIAL MEETING 
April 12, 4pm – Historic and Cultural Preservation Committee 
April 12, 6:30pm – Youth Commission 
April 13, 6:30pm – Regular Joint Transit Advisory and Pedestrian & Bicycle Advisory Subcommittee 
April 14, 4pm – Regular Joint Transit Advisory and Pedestrian & Bicycle Advisory Subcommittee 
April 14, 6:30pm – Climate Action Commission
Check for upcoming meetings, agendas, and how to participate on the City's meeting webpage: https://cityofpetaluma.org/meetings/