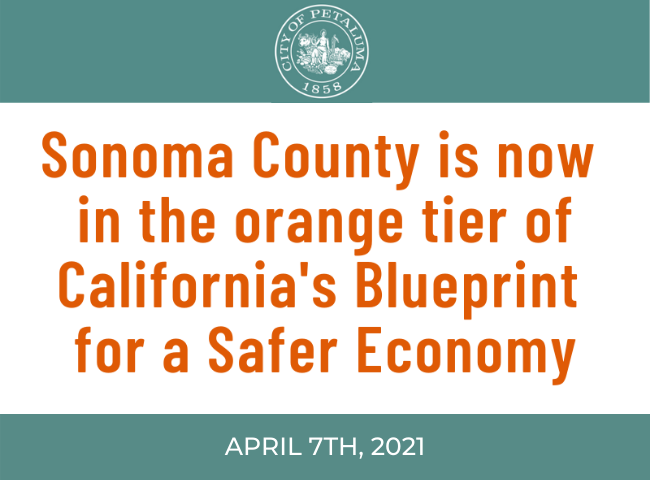 Good Evening, Petaluma –
With Sonoma County's move today into the Orange tier, widespread vaccinations, and news of complete reopening June 15, it's beginning to look like things will be getting back to normal more quickly than we may have once thought. The light at the end of the tunnel is shining closer and brighter, and we are feeling the energy around us.
While we are all chomping at the bit to get back to our beloved activities, it's important to stay vigilant in our safety efforts so we keep moving in the right direction. Please keep wearing those masks and practicing social distancing. We are so close – let's keep up the good work until we're out of this thing!
In tonight's update we'll share COVID-19 updates from the County of Sonoma, information on a new rental assistance program, news from around town, and more. Please enjoy, share with friends, and have a lovely evening. We'll see you in your inbox next Wednesday!
COVID-19 UPDATE
Please take a moment to check out these important COVID-19 resources and updates from the County of Sonoma:
Sonoma County Has Entered the Orange Tier!
On Tuesday, April 6, the State announced that it reached the Governor's goal of administering 4 million COVID-19 vaccine doses in the 400 ZIP codes that have been hardest hit by the pandemic. As part of this health equity milestone, the state has announced the minimum case rate for the transition to the Orange tier ("moderate risk") has changed from 4 to 6 cases per 100,000 for those counties still in the red tier ("substantial risk").
The new guidelines qualify Sonoma County to move to the Orange tier beginning at 12:01 a.m. on Wednesday, April 7.
While this is a significant step forward, the County reminds everyone to continue to do their part – masking, practicing social distancing, and getting tested – to keep improving the County's metrics so we can move into the even less restrictive Yellow tier.
CLICK HERE for more information about what is allowed in the Orange tier.
New Vaccine Eligibility Issued by the State
As of April 1, all California residents 50 and older became eligible for the vaccine. On April 15, all residents 16 and older will be eligible for vaccination. Governor Newsom made this announcement last week after the State was told by the Federal government to expect significant increases in the number of doses.
To find out if it's your turn to receive the vaccine, please visit: MyTurn.ca.gov
The County has arranged to provide COVID-19 vaccinations to adults 16 and older who are homebound for a variety of medical reasons and have difficulty getting to a clinic. CLICK HERE for more information.
New Guidance for Gatherings Beginning April 19
On April 2, the California Department of Public Health announced new guidelines for indoor and outdoor gatherings and events beginning on April 15. More information can be found HERE (look at the guidance for the Orange tier).
RENTAL ASSISTANCE PROGRAM FROM THE COUNTY OF SONOMA
The County of Sonoma has announced they will be providing support to households impacted by COVID-19 through the Emergency Rental Assistance Program (ERAP) starting on April 19. The program will provide payment assistance for tenants who are behind on rent and utilities. ERAP additionally provides options for landlords to participate and
receive financial assistance.
This program is open to all County residents, regardless of immigration status, who are renters or landlords requiring rental assistance.
CLICK HERE to learn more.
ENGAGING THE LATINX COMMUNITY IN PETALUMA
Did you know nearly 20% of Petaluma residents identify as Latino/Latina? We are working hard to reach and engage these valued members of our community – and we'd love your help!
We want to make sure every voice in our community is heard and that each person is able to access important information from the City. We are currently working on a year-long project to find out what media, communication channels, and relevant content Latinos and Latinas in Petaluma are using, all for the purpose of strengthening communication between the City and the Latinx community. The goal is to generate inclusive strategies, inspire people to get involved, and give everyone access to the information, benefits, and activities that our City offers.
If you are a resident of Petaluma and identify as Latino(a) and would like to be a part of the discussion, we would like you to join us. Please send us an email to [email protected] and we will connect with you!
DO YOU HAVE A JUNIOR HIGH OR HIGH SCHOOL STUDENT?
If your child attends Kenilworth Junior High School, Casa Grande High School, Petaluma Junior High School, or Petaluma High School – we want to hear from you! Petaluma Transit understands these are challenging times and is working hard to understand the transportation needs of our community for the school tripper service this spring.
Please take a couple of minutes to complete the following survey so we can better serve you. Your participation is greatly appreciated.
CLICK HERE to fill out the survey.
IT'S MORE IMPORTANT THAN EVER TO SAVE WATER
As a region, we are experiencing a second consecutive dry year, with rainfall and water storage well below average. In fact, we just experienced the third driest water year (October 2019 – September 2020) on record over the last 127 years!
Making simple changes to our everyday habits can have a huge impact on eliminating water waste and preserving our water supply.
The images above show a snapshot of rainfall and current water shortages for our two main reservoirs, Lake Sonoma and Lake Mendocino.
CLICK HERE to learn more about our water supply and ways you can help.
Visit cityofpetaluma.org/conserve for water saving tips and rebate programs from the City of Petaluma.
PLEASE CONSIDER DONATING BLOOD TO THOSE IN NEED
Vitalant Blood Donation (formerly Blood Bank of the Redwoods) will be holding a blood drive April 14 and 15, 10am-3pm, in Showcase Hall at the Sonoma Marin Fairgrounds, 175 Fairgrounds Drive, Petaluma.
Blood donation is essential to provide blood needed for patients in area hospitals. Be sure to eat a good meal and drink plenty of water before donating and bring your photo ID. Appointments are strongly recommended.
To schedule an appointment, please visit www.vitalant.org and click "donate". Enter zip code: 94952 or enter sponsor code: FAIRGROUNDS or call 877-258-4825.
HELP SHAPE PETALUMA'S CLIMATE READY 2030 INITIATIVE
Join the Climate Action Commission April 8 and help shape the Climate Ready Petaluma 2030 initiative! The meeting will start with a discussion of educational programs from the cities of San Francisco and Portland with guest speaker Donnie Oliveira, Deputy Director of the Portland Bureau of Planning and Sustainability. Get a sneak peek on the upcoming All-Electric for New Construction code updates coming to the City Council next month, and stick around for a preview of upcoming Commission meeting themes and plans for the Climate Ready Petaluma 2030 initiative.
More information about the meeting can be found HERE.
REMINDER: PG&E ROLLING OUT CHANGES IN APRIL
Beginning April 1, as part of a multi-year, statewide effort to create a cleaner energy future for California, PG&E will transition approximately 2.5 million eligible residential electric customers to a Time-of-Use rate plan by geographical region between April 2021 and March 2022. The Time-of-Use (Peak Pricing 4-9 p.m. Every Day) rate plan features lower prices for electricity for 19 hours a day and higher prices from 4-9 p.m., seven days a week. The prices are lower when demand is lower and renewable energy is more readily available. Customers on this Time-of-Use rate plan are encouraged to shift and reduce usage during the peak demand time between 4-9 p.m. each day.
Customers can choose to try out Time-of-Use or choose another rate plan, including their current tiered rate plan, at any time. Customers who automatically transition to this Time-of-Use rate plan will automatically receive risk-free Bill Protection for the first 12 months.
CLICK HERE to learn more about the transition to Time-of-Use.
WE'RE HIRING
The City of Petaluma is looking for talented people to join our team! Please click the links below for more information about our open positions. CLICK HERE for a full list of career opportunities.
Neighborhood Preservation Coordinator
Part Time Assistant City Attorney
Part Time Transit Division Intern
Police Officer (Current Academy Attendees & Graduates)
UPCOMING MEETINGS
The City of Petaluma is hard at work for our community. Please check out our upcoming meetings and click on the links below for more information:
April 7, 6:30pm – Pedestrian & Bicycle Advisory Committee
April 8, 6:30pm – Climate Action Commission
April 13, 6:30pm – Youth Commission
April 13, 7pm – Planning Commission
April 14, 6:30pm – Animal Service Advisory Committee
April 14, 6:30pm – Regular Joint Transit Advisory and Pedestrian & Bicycle Advisory Subcommittee
April 15, 4pm – Airport Operations / Master Plan Subcommittee
April 15, 6:30pm – General Plan Advisory Committee
Check for upcoming meetings, agendas, and how to participate on the City's meeting webpage: https://cityofpetaluma.org/meetings/