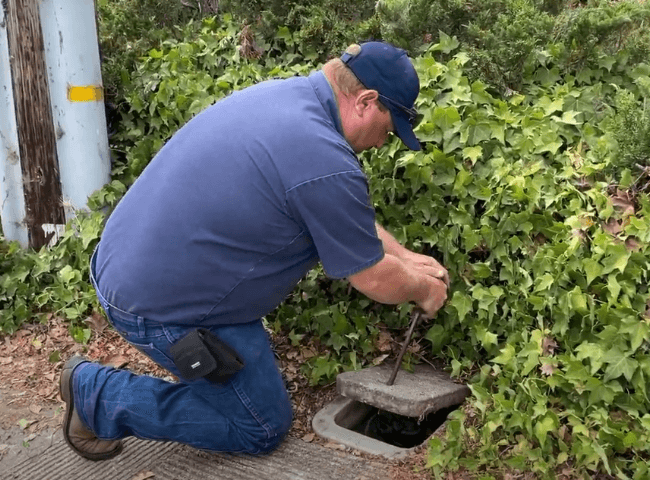 Happy Wednesday, Petaluma —
We hope you're all spending time outdoors, getting fresh air, enjoying the sun, and staying hydrated. As we enjoy the summer, please keep in mind that our region is still in a drought emergency and water is, as always, a precious resource. We are so grateful to those in our community who are doing all they can to save water and help our city navigate these historic drought conditions. Finding new ways to conserve water, even if they feel small, is a big help. We love to see our residents stepping up as they always do!  
If you're interested in ways to save more water at home, check out cityofpetaluma.org/savewater for tips, resources, and the updated water restrictions.
Tonight we'll be sharing information regarding a new public art installation, a recap from recent City Council meetings, an update about the proposed Oak Hill Well project, and more. Please enjoy, share with friends, and have a wonderful evening. We'll see you in your inbox next Wednesday!
LOVE PETALUMA? RUN FOR OFFICE!
Participating in City government is a wonderful way to give back to the community you love and help chart the course of Petaluma's future.  
The nomination period for the upcoming November election opened on Monday, July 18. Those interested in running for Mayor, Councilmember, or the School Board, can contact the City Clerk's Office to schedule an appointment to pull and file nomination papers. The final day to file nomination papers is Thursday, August 11.
New this year: Under our new District model, one Councilmember will be appointed to represent each of the 6 districts in Petaluma. Districts 1, 2, 3 will elect district representatives in 2022. Districts 4, 5, 6 will elect district representatives in 2024.
To learn more about the election process, how to run, and to find your district, please visit: cityofpetaluma.org/elections.
RECENT CITY COUNCIL MEETING RECAP
The City Council meeting on August 1 was jampacked with presentations, considerations, and decision-making. Among the Council actions were a resolution accepting completion of the City's Biomass to BioFuel project; the adoption of a new water shortage plan and drought-related water restrictions; acceptance of an updated Local Road Safety Plan; and the adoption of a proposed tenant protections ordinance. Click HERE to view a recording of this Council Meeting.
The Council Meeting and workshop on August 8 included a presentation by the American Institute of Architects (AIA) Sustainable Design Assessment Team (SDAT). This team of experts shared their vision of Petaluma based on tours of our city, discussions with stakeholders, and a community meeting. Click HERE to view a recording of this presentation. 
Our next City Council meeting is September 12, 2022. Click HERE to find out how to participate, access the agenda and related materials, and view recordings of past public meetings.
SCHOOL STARTS NEXT WEEK FOR MANY
Many schools around Petaluma are preparing to welcome students back next week for the 2022-2023 school year. Visit your family's school district and the Sonoma County Office of Education website, scoe.org, for important back-to-school information. 
As school reopens, please be mindful of students traveling to & from school by foot, bicycle, scooter, or motor vehicle. Traffic will likely look different as everyone settles into the new school year, so be patient and use caution, particularly around schools. 
IS YOUR EMERGENCY PLAN READY?
Disaster can strike unexpectedly and move fast. Planning ahead for yourself, your loved ones, and your neighbors is a crucial step in making it through the unexpected safely. 
After Disaster Strikes 
Planning plays an equally important role in the wake of a disaster. OK, you survived the earthquake or the fire or the flood. Now what? How do you gather loved ones (including pets) and help them stay safe? How do you get food, water, and electricity if the power goes out? How will you afford to rebuild or keep your business going? 
Take the time now to have a discussion with family, co-workers, and neighbors regarding potential needs after disaster strikes.  
Visit cityofpetaluma.org/emergencyprep for more resources on how to be prepared for an emergency – before, during, and after.
PLEASE JOIN US TO DISCUSS THE PROPOSED OAK HILL WELL PROJECT
We appreciate everyone who has submitted feedback and asked questions about the project. We have compiled a list of the most common questions we've received and have published the answers in a Frequently Asked Questions section at the bottom of the project webpage. View the FAQs here.  
Join us this Thursday, August 11 for our community meeting at Oak Hill Park. During this meeting, we will be:  
Providing details of the proposed project

 

Listening to concerns/feedback

 

Addressing questions and concerns

 
Please join us to learn more and share your input. 
Where: Oak Hill Park (picnic tables near the playground)
When: August 11, 2022 – 6:00 – 8:00 PM  
If you have questions, feedback, or concerns in advance of the meeting, please call or email project manager, Dan Herrera: [email protected], 707-778-4589. 
Learn more at cityofpetaluma.org/oakhillwell 
CLICK HERE to learn more about our water supply. 
LOWER YOUR CARBON EMISSIONS AT CLIMATE-FRIENDLY COMMUNITY EVENTS!
We are in a climate crisis and, like many other cities across the world, Petaluma is taking action. We are committed to achieving greenhouse gas carbon neutrality for the City of Petaluma by 2030. We are proud to be working with our community in acting decisively, joining and inspiring others, and initiating a movement to rehabilitate ecological balance, restore economic stability, and achieve our goal of carbon neutrality in our city.  
During this first phase of our plan to achieve carbon neutrality, we are tackling transportation and encouraging our citizens to make a difference by choosing active transportation methods such as walking or biking when they can. Join us for community events where you will have the chance to enjoy time with friends and community members, get active, and help lower the greenhouse emissions in our city, like the Community Bike Ride this Saturday, August 13 from 9:30 AM – 11:30 AM sponsored by Bike Petaluma!  
Visit cityofpetaluma.org/climateready to learn more and view a list of upcoming events. 
HELP SHAPE THE FUTURE OF THE FAIRGROUNDS
How do you envision the future of the Fairgrounds? What are your memories or experiences of the property? Please join in on our ongoing community engagement efforts to ensure your voice is heard! 
Attend Our Community Workshop 
Join us Saturday, September 10 for the Fairgrounds Community Workshop! Stop by the Petaluma Library anytime between 10 AM and 1 PM to talk with City Staff, Friends of the Fairgrounds, Fairgrounds Site Experts, and more! Learn about the property's existing conditions, the next steps in the process, and share your voice to shape the future of the property.  
There will be a raffle for Shop Petaluma gift cards, art activities, and free tours of the Fairgrounds. Spanish translation will be provided. 
Learn more at www.cityofpetaluma.org/fairgrounds 
Share Your Fairgrounds Memories 
Our Fairgrounds storytelling exhibit is coming to life with stories shared by over 30 community members so far. Visit petalumafairgroundstories.com to view what has been shared so far and add your story.
HOW TO USE YOUR WATER METER TO CHECK FOR LEAKS
Did you know water leaks contribute to 12% of household water use? Follow along with Dan in this video to learn how to read your water meter and check for leaks. Step-by-step instructions are also on our website at cityofpetaluma.org/watermeter.
After reviewing those resources, you are welcome to schedule a FREE Water-Wise Housecall where a trained water conservation technician will visit your home or business to evaluate your water use. Our technicians can teach you how to: 
Program your irrigation timer to follow the limited watering schedule

Identify overspray or leaks in your irrigation system

Read your water meter and check for leaks

Assess your eligibility for Mulch Madness

Provide guidance on how to use water more efficiently

Share information on high-efficiency toilet and washing machine rebates

Provide free water conservation devices like aerators, showerheads, and more

 
To schedule a Water-Wise HouseCall, please call (707) 778-4507 or email [email protected].
POOL & SPA PERMITS IN PETALUMA
Due to the following Stage 3-4 drought restrictions (see below) the City of Petaluma will no longer be accepting NEW POOL permits until the restrictions are lifted.  Current water use restrictions can be found on the City's Drought webpage – Water Use Restrictions – City of Petaluma 
If you need a pool repair permit please contact us at [email protected] or 707-778-4301.   
On August 1, City Council decided on the following updates to the current Stage 4 water use restrictions on pools, spas, and landscaping – 
Pools/Spas 
The prohibition on filling new pools and spas has been lifted

 

There is now a

moratorium on the issuance of permits to build new pools and spas

. This moratorium on pool/spa permits will be in place until the Stage 3-4 drought restrictions are lifted.
GUN BUYBACK EVENT AUGUST 13 AT PETALUMA FAIRGROUNDS
Do you have guns you no longer want in your home? The Petaluma Police Department will host a gun buyback event Saturday August 13, 2022,at the Petaluma Fairgrounds. Turning in guns you no longer want or need helps reduce the risk of gun violence, accidental discharges, domestic violence, gun theft, and suicide in our community.
When: Saturday, August 13, 2022 – 9am-1pm
Where: Petaluma Fairgrounds, 175 Fairgrounds Drive, Petaluma
Please note the following guidelines for this event:
Drive-up only. Firearms must be unloaded and in the trunk.

The event is open to residents living in area codes 94952, 94954, 94953. Transactions are anonymous and there will be no questions asked.

$100 for handguns, rifles, shotguns.

$200 for assault weapons.

Firearms must be functional. Limit 3 firearms per person. All guns collected will be destroyed.

No ammo accepted.
Click HERE for more information.
LYNCH CREEK TRAIL TEMPORARILY CLOSED FOR ART INSTALLATION
Lynch Creek Trail from Water Street North to Lakeville Street will be temporarily closed on Saturday, August 20 from 8:00 A.M to 5:00 P.M. The City is working with local artist David Best to complete the installation of the River Arch. For the public's safety, pedestrian and bike access will be rerouted as a detour along Petaluma Boulevard North to avoid this section of the trail.  
This new public art piece will offer a beautiful entrance to the popular Lynch Creek Trail and celebrate the artistry of Petaluma's nature. The City will also be hosting a public unveiling ceremony for the River Arch at 5:00 P.M. on Saturday, August 20. For those planning to attend, walking and biking are encouraged, but limited parking will be provided at the neighboring Hunt & Behren's lot. Please join us in welcoming Petaluma's newest public artwork, the River Arch by David Best.
JOIN OUR PETALUMA TEAM!
UPCOMING MEETINGS
The City of Petaluma is hard at work for our community. Please check out our upcoming meetings and click on the links below for more information: