Good Evening, Petaluma –
This week is a big one for many families in our community as children return to school. With our continued place on the State Watch List, students in Sonoma County will be engaged in "distance learning" – a new frontier for kids, families, and teachers. We know this virtual school setting presents a unique set of challenges, and we're here to help! In tonight's email, we'll share a range of resources to help with back-to-school needs, including educational content, free tutoring services, and more.
Tonight, we'll also take a look at the new Black Lives Matter mural, check in to see how our new Streets Team is doing, explore our local Farmers' Markets, and more. Please enjoy and share with friends!
As time marches on and the "new normal" begins to feel more familiar, please remember to keep health and safety in mind. We are still in the midst of a pandemic, so please:
Wear your mask as directed
Wash and/or sanitize your hands
Maintain 6 feet of distance with those outside your household
Don't attend gatherings!
Please note: Beginning next week, we will be sending our Community Update emails on Wednesdays only. We look forward to bringing you news from our amazing community on a weekly basis!
We will continue to send our weekly Business Updates on Tuesdays. To sign up to receive those please CLICK HERE.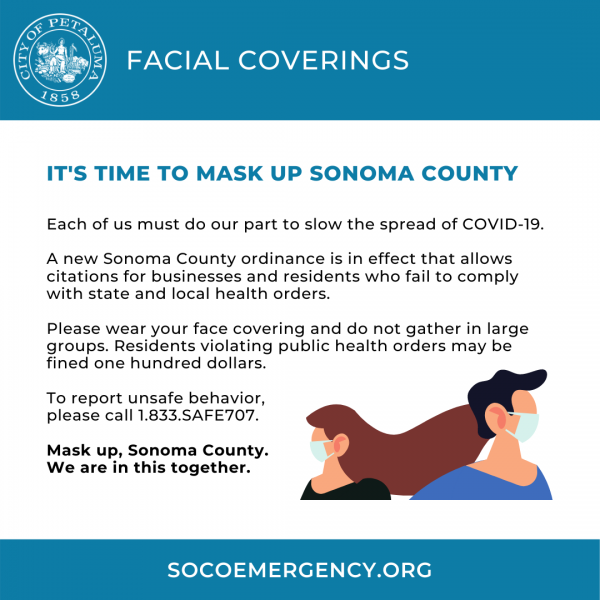 CLICK HERE for more information on Health Order Enforcement in Sonoma County.

BACK-TO-SCHOOL RESOURCES
School is back in session, and families across Sonoma County are preparing to engage in distance learning. This new educational setting is very different for all involved. We know it can be challenging, but we encourage you to remember that it is new for everyone, and we are all learning together.
The Boys & Girls Club of Sonoma-Marin is expanding their services to help families deal with distance learning, giving school-aged students (ages 5 through graduation) a place to log into online instruction, do homework, and interact with peers.
The Sonoma County Library has put together an excellent suite of resources that can support your distance learning journey. Click the links below for more information!
Educational eBooks, eAudiobooks, movies and more including always-available diverse reads for kids and diverse reads for teens
Free tutoring for students of any age at Tutor.com
Student OneCard partnership provides access to library resources using student ID numbers.
Learn how to earn your high school diploma online with Career Online High School
Learn at home with the Great Courses collection including 200 expertly-produced audio and video courses by professors such as Neil DeGrasse Tyson
Your library card gives you access to Lynda.com, an online learning services that teaches business, technology, and creative skills through video tutorials
Mango Languages is a fun and easy-to-use tool to learn a new language or brush up on one you're already familiar with
CLICK HERE for more eResources from the Sonoma County Library.
For specific information on your child's school, please visit the school or school district website. You can access a directory of Sonoma County schools HERE.
BLACK LIVES MATTER MURAL
The City's Public Art Committee recently facilitated the installation of a street mural in support of Black Lives Matter. We are so proud of the local artists, community members, and business partners who worked together to make this vision a reality. A big THANK YOU to Peterson's Paint store, which donated all the paint for the project. The end result is bright, vibrant, and a true celebration of inclusivity in our community.
Check out the amazing drone footage of the mural from local videographer Vegar Abelsnes in the video above.
For more information about how and why this mural came to be, please read through our FAQs page HERE.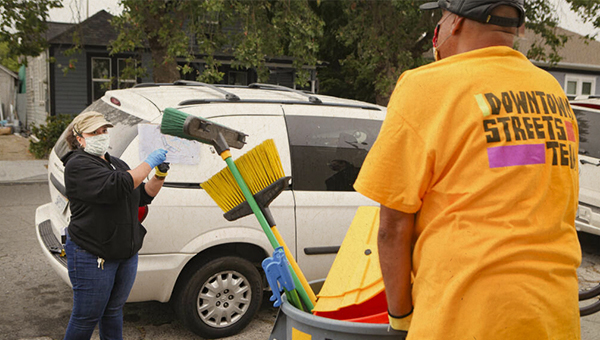 Photo credit: Crissy Pascual/Argus-Courier Staff
NEW STREETS TEAM MAKING A DIFFERENCE
Downtown Streets Team (DST) is a program through which volunteers who are homeless, or at risk of becoming homeless, work to beautify our community in exchange for gift cards to help with basic needs and access to employment and case management services to support them in achieving their goals.
Recognized in 2018 as one of five Evidenced-Based Practices in Ending Homelessness in California, and named a "Top 50 Innovation in American Government" by the Ash Institute at Harvard's Kennedy School, DST is now in 16 Bay Area cities. The Petaluma DST program officially launched in July.
DST participates in weekly calls with other Petaluma organizations addressing homelessness such as the Petaluma Police Department, COTS, and the Petaluma Health Center.
CLICK HERE to learn more.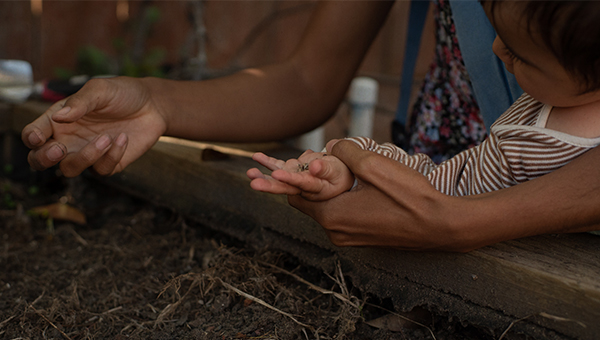 CLIMATE ACTION SURVEY
Petaluma is taking action against climate change – and so can you! Please take a few moments to fill out THIS SURVEY, which will help influence the development of the City's Climate Emergency Framework. This document will determine the City's program and policy priorities.
CLICK HERE to learn more.
CELEBRATING OUR LOCAL FARMERS MARKETS
One thing we love about living in Petaluma? There are some really amazing local products! Another thing we love? Purchasing these products at one of our three weekly farmers' markets. Not only do farmers' markets support local business, they are a great place for safe, socially distant shopping. Plus, getting your shopping done while getting some fresh air kills two birds with one stone!
Want to learn more? Check out the new Faces of the Market from the Farmers' Market LIFE Collaborative.
Don't forget to stop by the Downtown Farmers' Market each Thursday evening, the Walnut Park Farmers' Market each Saturday morning/afternoon, and the Eastside Farmers' Market Tuesday mornings/afternoon at the Community Center parking lot.
CLICK HERE for more information on local markets and safety measures that have been put in place.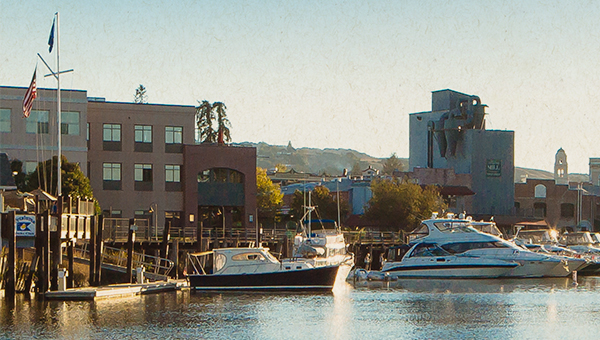 WE'RE HIRING!
The City of Petaluma is looking for talented people to join our team! Please click the links below for more information about our open positions. CLICK HERE for a full list of career opportunities.
Assistant City Attorney
Associate/Senior Civil Engineer
Deputy Director of Environmental Services
Police Officer (Current Academy Attendees & Graduates)
Police Officer – Lateral
UPCOMING CITY MEETINGS
The City of Petaluma is hard at work for our community. Please check out our upcoming meetings and click on the links below for more information:
August 19, 3:30pm – Tree Advisory Committee
August 19, 5pm – Airport Projects Subcommittee
August 19, 7pm – Recreation, Music and Parks Commission
August 20, 4pm – Airport Operations / Master Plan Subcommittee
Check for upcoming meetings, agendas, and how to participate on the City's meeting webpage: https://cityofpetaluma.org/meetings/
POLL RESULTS
Last week we asked how you have been keeping busy during the pandemic. Below are your responses:
10.6% – Online fitness programs
11.5% – Learning new skills/hobbies
37.5% – Outdoor activities
40.4% – Reading/watching TV