FOR THE LATEST INFORMATION ON CURRENT WILDFIRES VISIT SOCOEMERGENCY.ORG
Good Evening, Petaluma –
Over the past few years, wildfires have, unfortunately, become an annual event in Sonoma County. While we had anticipated fire season beginning a little later, this week we find ourselves in thick of it again. We want to reassure you that, at this time, there is no fire threat to Petaluma. However, we have learned from past fires that conditions can shift rapidly and it is extremely important to be prepared.
In tonight's email, we'll share information on our Emergency Operations Center and ways the City is responding to the regional emergency. We will also review tips to prepare for potential evacuations and emergency water conservation measures, along with best practices for the current heat wave and possible power outages.
We realize facing these fires after months of being in emergency mode for the pandemic can feel overwhelming. As always, we are here to provide support in every way we are able. If you find yourself feeling emotionally uneasy, call the Sonoma County Warm Line at (707) 565-2652 for free and private support, seven days a week from 10 a.m. to 7 p.m. Service in Spanish is also available as well as telephone interpretation for other languages.
As always, we are #PetalumaProud of our community for the ways we support each other and our Sonoma County neighbors. We will get through this together!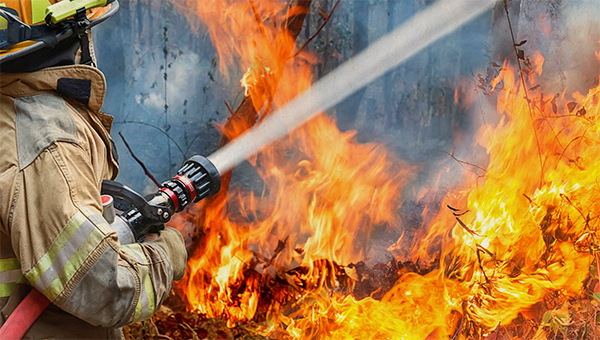 SONOMA COUNTY FIRE UPDATE
The 13-4 wildfire that is burning West of Healdsburg near the Austin Creek State Recreation Area has caused the evacuation of thousands of Sonoma County residents. The City of Petaluma has sent Police and Fire personnel to assist with evacuations and fire fighting. We have also opened our Emergency Operations Center so that we are prepared to open evacuation centers or provide other support to the County if needed.
While there is currently no threat of fire to Petaluma, we know from experience that things can change very quickly and it is important to stay informed. Check the following resources below frequently:
For the most up-to-date information on the Sonoma County fire, evacuation zones, and open shelters, please check SoCoEmergency.org or call 2-1-1.
CLICK HERE for a current map of the fire incident, including evacuation orders and shelter locations
We may see a need for disaster relief volunteers in the coming days.
BE PREPARED
As we navigate another fire season, being prepared is an essential piece of keeping yourself, your loved ones, and your pets safe. Please follow the advice below from the County of Sonoma.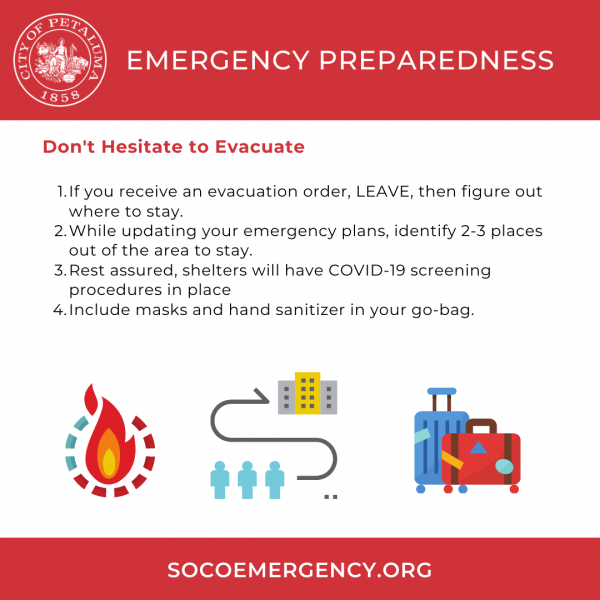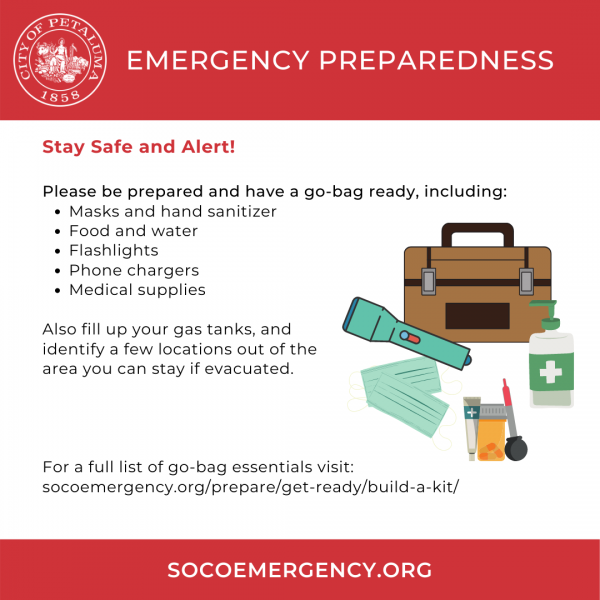 EMERGENCY WATER CONSERVATION
A message from the Sonoma County Water Department:
The wildfires currently burning in Sonoma County could threaten the source of our water that comes from the Russian River. The more water we can store for domestic and fire fighting purposes, the better prepared we will be during this emergency.
The Sonoma County Water Department is urging the following steps be taken immediately:
Turn off all outdoor water for irrigation (Irrigation accounts for a large portion of water usage in summer)
Reduce indoor water use as much as possible (Take fewer and shorter showers, flush toilets only for solids, postpone laundry washing, wait to run the dishwasher until it's full)
Postpone washing of vehicles and other outdoor water uses
Turn off auto-fill valves to pools, spas, decorative fountains and ponds, or delay adding water manually
Set water softening systems to bypass auto-regeneration cycles for the duration of the emergency
Use a bucket to catch and reuse water when washing fruits and vegetables and when waiting for hot water from faucets, showers, and tubs. Use for watering potted or in-ground plants inside or outside your home, or for toilet flushing by pouring into the toilet bowl.
Now, more than ever, our water is precious. Help us conserve every drop!
For more information, visit Sonomawater.org/fire.
For Sonoma County Emergency information, visit www.socoemergency.org
To find out more about Sonoma Water's system, visit www.sonomawater.org/water-supply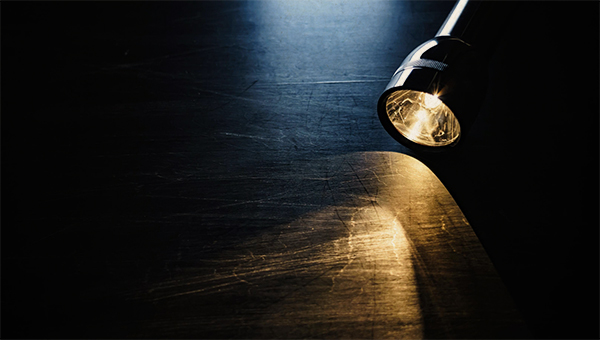 HEAT WAVE & POTENTIAL POWER OUTAGES
This week, California is facing a historic heatwave that is putting pressure on our energy grid. In order to avoid electricity shortages, businesses and residents are being urged to reduce energy usage in order to prevent service interruptions. It's especially important to limit energy usage from 3 pm to 10 pm, especially air conditioning, electric car charging and other energy intensive technology.
Rotating power outages are estimated to last 1-2 hours. For more information, visit PG&ECURRENTS.com.
Please do the following to help prevent power outages:
Pre-cool your home at 72° overnight & in the morning
Turn your A/C to 78° or higher from 3-10pm
Avoid major appliance use from 3-10pm
Turn off all unnecessary lights
Learn more at FLEXALERT.ORG.
TAKE CARE OF YOURSELF IN THE HEAT
Heatwaves, like the one we are currently experiencing, can have a significant impact on your health Heat-related diseases are preventable. Know the symptoms, check on family and neighbors, and take precautions.
CLICK HERE for information on how to prepare for extreme heat.
Use the chart below to learn how to identify heat exhaustion and heat stroke, and what to do if it occurs.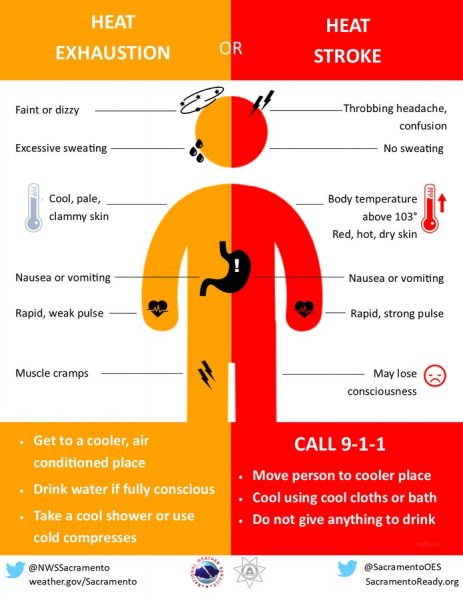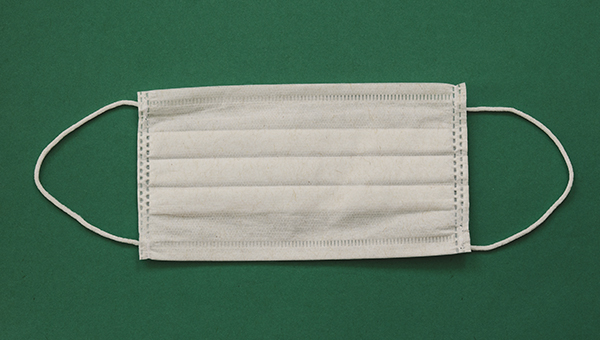 REMEMBER TO PRACTICE SOCIAL DISTANCING
Though fires are top of mind for many this week, we are still navigating a pandemic and must be vigilant in our efforts to keep our local case numbers down. For the safety of our community, please avoid gatherings with those outside of your immediate household. Remember to follow mitigation measures anytime you leave your home:
Stay at least 6 ft away from anyone not living in your household
Clean/wipe any commonly used surfaces
Wear a face covering in any public place
Bring hand sanitizer with you, wash your hands for at least 20 seconds
If you feel sick, stay home and call your doctor
Get tested (​CLICK HERE for more information on testing)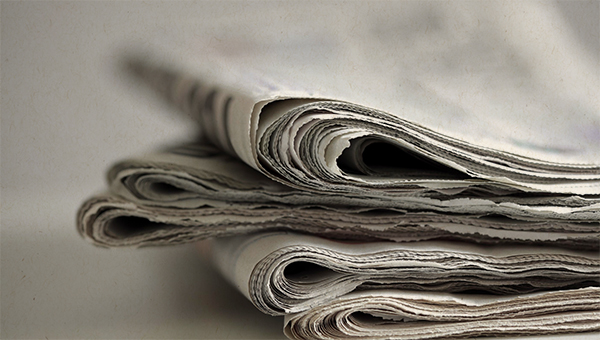 STAY INFORMED
Extreme events like fires and pandemics make the importance of access to information very clear. The San Francisco Chronicle, Sonoma Index-Tribune, and many more newspapers have been added to the Sonoma County Library's Expanded Digital Resources page. Check it out today to stay up-to-date on the latest local, national, and global news.