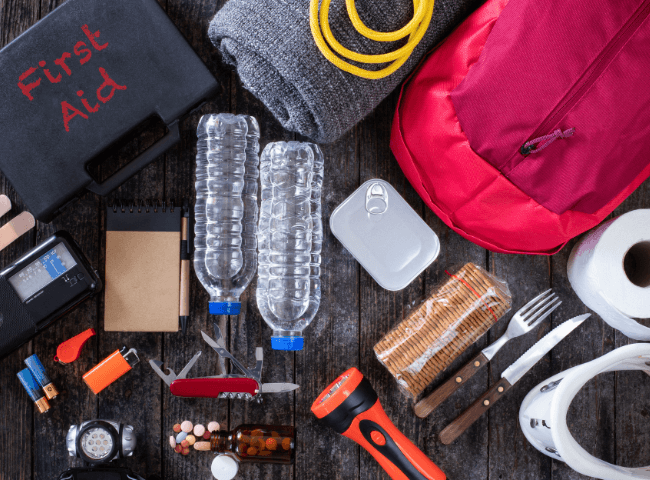 Happy Wednesday, Petaluma! 
With school back in session, we're happy to see our residents exercising caution when driving and being patient with traffic increases. As many settle into their back-to-school routines, we appreciate your care for our community and your fellow neighbors!
In today's update, we'll be sharing information about ways to get involved and share input on City projects, an upcoming business webinar, the completion of the Petaluma Boulevard South project, emergency preparedness tips, potential tax credits, and more.
Please enjoy, share with friends, and have a wonderful evening. We'll see you in your inbox next Wednesday! 
WANT TO GET INVOLVED IN COMMITTEES, COMMISSIONS, AND BOARDS?
Looking to become more involved in all things Petaluma? Applications for Committees, Commissions, and Boards are now being accepted for open positions. For more information, head to: cityofpetaluma.org/committees-commissions-boards/ 
JOIN US FOR A FAIRGROUNDS COMMUNITY WORKSHOP SEPTEMBER 10!
Please join us to help shape the future of the Fairgrounds! We are holding a Community Workshop Saturday September 10 to share information and hear feedback from the community about this iconic Petaluma place. Your input will inform the City Council as they determine next steps for the Fairgrounds property.
Visit the Petaluma Regional Library, located at 100 Fairgrounds Drive in Petaluma, Saturday September 10 anytime between 10am – 1pm to:
Learn what is currently happening on the property – from existing uses to site studies

 

Share what the Fairgrounds means to you through the Community Storytelling Exhibit

Help shape the future of the Fairgrounds

 
There will be a raffle for Shop Petaluma gift cards, art activities, and information booths. 
Spanish translation will be provided.
Learn more at cityofpetaluma.org/fairgrounds.
WHAT DO YOU THINK OF THE CHANGES ON RAINIER AVENUE?
Thank you to all who took the time to provide input on our Rainier Avenue Traffic Calming Upgrades. Rainier is an important road in Petaluma and our goal is to make it the best it can be for all users and residents. The upgrades are being installed as a temporary demonstration project, which allows us to gather feedback from the community prior to implementing permanent changes.
We are currently installing temporary elements like paint and vertical posts to realign traffic lanes, create protected bike lanes, and improve crosswalks. This demonstration project is designed to help slow traffic and increase safety, which is crucial in this area that connects the neighborhood to schools, parks, shopping, and more.
What's been done so far: 
4-to-3 traffic lane conversion

 

Addition of buffered bike lanes

 

Parking lane moved to protect bicycles and pedestrians

Improved sight lines

Dedicated left turn lane
Still to come: 
Left turn arrows in the 2-way left turn lane

Red curb on south side of the street from Maria to Rushmore

Vertical posts where each block begins
Please let us know what you think of the changes. We will review your feedback and determine if refinements are needed prior to the repaving of the street. The intent of the final project will extend the improvements to Sonoma Mtn. Parkway, so the entire corridor from McDowell Blvd to Sonoma Mtn. Parkway will be consistent, repaved and including the lane conversions and other improvements demonstrated in this first temporary quick-build installation.
To learn more and share your feedback, please visit cityofpetaluma.org/rainierpaving or call 707-776-3672. 
SPANISH SPEAKERS: CONNECT WITH THE CITY OF PETALUMA
Stay up to date with city happenings by connecting with us on our Latinx social media channels! Follow the links below or visit cityofpetaluma.org/espanol for more details.
WHATSAPP – 707-285-7267 
Visit:

bit.ly/CityPetalumaWhatsApp

Choose Continue to Chat

Send us a 'Hello' to connect with us.
INSTAGRAM – @ciudaddepetaluma 
instagram.com/ciudaddepetaluma/
FACEBOOK – @ciudaddepetaluma 
NEXTDOOR – City of Petaluma 
nextdoor.com/pages/city-of-petaluma
City of Petaluma's Social Media Policy: cityofpetaluma.org/politica-de-redes-sociales/.
Have any questions? Reach out here: [email protected].
JOIN US FOR THE DISADVANTAGED BUSINESS ENTERPRISE WEBINAR
One way the City helps women- and minority owned businesses is through its Disadvantaged Business Enterprise (DBE) program. This program is a condition of receiving funds from the Department of Transportation (DOT) and is designed to ensure our transportation contract bidding process is equitable and non-discriminatory.
This program is being updated, and we would like your input. Please join us at a Zoom webinar on August 31, 2022, from 2:00 to 3:00, to learn about the program and share your thoughts or questions. No need to register – just join us at https://us06web.zoom.us/j/85727524222.
Click HERE to learn more about Department of Transportation requirements and our DBE program. 
FOLLOW THE 5 P'S OF EVACUATION
Disaster can strike at any time and it's important to be prepared for anything. With the high heat and dry weather, wildfires can break out without warning, requiring residents to evacuate for their safety. In the event of an evacuation, follow instructions from authorities and leave the area immediately. Those who opt to remain in their home often sustain serious injuries or end up needing rescue – diverting vital first responder resources.
Always remember the 5 P's as you prepare to leave: 
People and Pets

Prescriptions

Papers

Personal needs

Priceless items
For more information on how you can be prepared for an emergency evacuation, visit: https://cityofpetaluma.org/emergencyprep/.
PETALUMA BOULEVARD SOUTH COMPLETE STREETS PROJECT FINISHED
We are excited to announce the completion of the Petaluma Boulevard Complete Streets project! This road work has transformed the Boulevard South from Crystal Lane into our downtown business district, providing increased safety, mobility, and access for all road users. The previous four lanes of traffic have been reduced to two, making room for bike lanes and improved pedestrian safety.
This federally funded project included full pavement restoration, ADA improvements, safety upgrades, new curb ramps, traffic signal upgrades, and new striping. The work was completed over a 7-month period with construction beginning in January of this year. The finishing details of the roadway include signage and striping, and traffic light electrical work, which were all completed in the early part of August.  
GET MONEY BACK FOR GOING ELECTRIC WITH THE INFLATION REDUCTION ACT
The Inflation Reduction Act of 2022 is a piece of legislation that invests $369 billion towards clean energy and energy security, representing the largest investment in U.S. history towards the goal of combating climate change.
The bill uses tax credits to incentivize the installation of solar power and battery storage systems, and rebates for electrifying the home to reduce fossil fuel usage. Check out this calculator to help you determine how much money you can get to go electric with the Inflation Reduction Act. You can read more about the Inflation Reduction Act here.
JOIN OUR PETALUMA TEAM!
UPCOMING MEETINGS
The City of Petaluma is hard at work for our community. Please check out our upcoming meetings and click on the links below for more information:
August 25, 6:00pm – Public Art Committee
September 1, 6:00pm – Airport Commission
September 7, 6:30pm – Pedestrian & Bicycle Advisory Committee
September 8, 8:30am – Senior Advisory Committee
September 8, 4:00pm – Transit Advisory Committee
September 8, 6:30pm – Climate Action Commission
Check for upcoming meetings, agendas, and how to participate on the City's meeting webpage: https://cityofpetaluma.org/meetings/