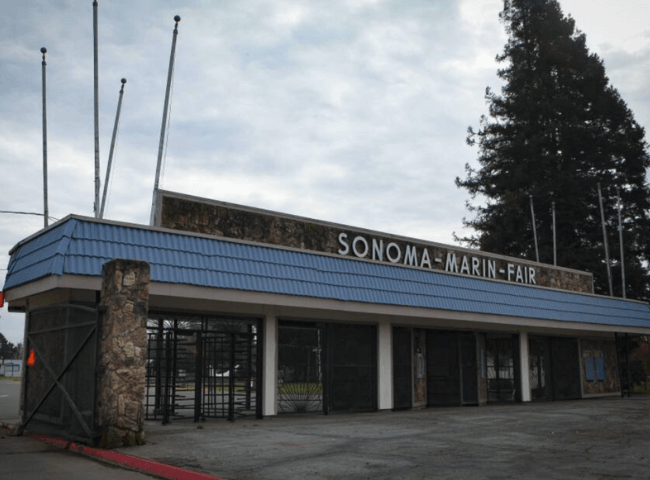 Photo Credit: Petaluma 360
Hello, Petaluma —
We hope you are all making the most of the hot weather as we enter August. We love seeing our residents coming together to enjoy each other's company in the sunshine. Petaluma is filled with energized, intelligent, friendly people – we are lucky to be part of this incredible and unique community! Thank you all for what you do to make our city a special place. 
In tonight's update, we'll be sharing information regarding an upcoming event at the fairgrounds, opportunities for getting involved in city government, an update from our Climate Action Commission, and more. We encourage you to attend our monthly public meetings to learn about Petaluma happenings and ways you can get involved to make a difference in our community. Head over to cityofpetaluma.org/meetings for an ongoing list. 
Please enjoy, share with friends, and have a wonderful evening. We'll see you in your inbox next Wednesday! 
LOVE PETALUMA? RUN FOR OFFICE!
Participating in City government is a wonderful way to give back to the community you love and help chart the course of Petaluma's future.   
The nomination period for the upcoming November election opened on Monday, July 18. Those interested in running for Mayor, Councilmember, or the School Board, can contact the City Clerk's Office to schedule an appointment to pull and file nomination papers. The final day to file nomination papers is Thursday, August 11. 
New this year: Under our new District model, one Councilmember will be appointed to represent each of the 6 districts in Petaluma.  Districts 1, 2, 3 will elect district representatives in 2022. Districts 4, 5, 6 will elect district representatives in 2024. 
To learn more about the election process, how to run, and to find your district, please visit: cityofpetaluma.org/elections. 
DROUGHT WATER USE RESTRICTIONS UPDATED AT THIS WEEK'S COUNCIL MEETING
On Monday, August 1, City Council approved amendments to the Water Shortage Contingency Plan, including updates to the current water use restrictions. The amendments were based on public feedback and City staff recommendation. The key updates are highlighted below and all water use restrictions can be found on our Drought webpage. 
UPDATED WATER USE RESTRICTIONS
The restrictions listed below were updated on August 1, 2022.
For the full list of water use restrictions, click here.
Residential water customers are now permitted to plant, including food gardens (with the below exception)

 

Installation of high-water use turf is not permitted

 

Planting is not encouraged during the summer months

 

Additional planting restrictions for Commercial, Industrial, and Institutional (CII) customers:

 
No planting or replanting allowed that requires potable water

 
Additional planting restrictions for new development:

 
Planting is permitted between November 1 and April 30.

No operating non-recirculating ornamental water fountains and water features, including decorative lakes and ponds.

 

Moratorium on the issuance of permits for new pools and spas.

 

Homeowners Associations are prohibited from penalizing homeowners who reduce or eliminate the watering of vegetation or lawns during a declared drought emergency, and from requiring a homeowner to reverse or remove water-efficient landscaping that has been installed in response to a drought emergency once a drought emergency is concluded.

 
GUN BUYBACK EVENT AUGUST 13 AT PETALUMA FAIRGROUNDS
Do you have guns you no longer want in your home? The Petaluma Police Department will host a gun buyback event Saturday August 13, 2022,at the Petaluma Fairgrounds. Turning in guns you no longer want or need helps reduce the risk of gun violence, accidental discharges, domestic violence, gun theft, and suicide in our community.
When: Saturday, August 13, 2022 – 9am-1pm 
Where: Petaluma Fairgrounds, 175 Fairgrounds Drive, Petaluma 
Please note the following guidelines for this event:
Drive-up only. Firearms must be unloaded and in the trunk.

 

The event is open to residents living in area codes 94952, 94954, 94953. Transactions are anonymous and there will be no questions asked.

 

$100 for handguns, rifles, shotguns.

$200 for assault weapons.

Firearms must be functional. Limit 3 firearms per person. All guns collected will be destroyed.

No ammo accepted. To properly dispose of ammunition and gunpowder, contact the Sonoma County Sheriff's Department at (707) 565-2650.
Click HERE for more information. 
SIGN UP FOR EMERGENCY ALERTS
Want to find out about wildfires, floods, power shutoffs and other emergencies as quickly as possible? The best way is to register with the emergency alert notification systems used by the City of Petaluma (Nixle), the County of Sonoma, and PG&E. 
Be sure to register yourself and anyone else in your family (kids, elderly parents, etc.) who would benefit from emergency notifications. 
CLICK HERE to learn more. 
Click HERE to download and print a list of Emergency Alert contacts to keep in your Go Bag. 
HELP SHAPE THE FUTURE OF THE FAIRGROUNDS
How do you envision the future of the Fairgrounds? What are your memories or experiences of the property? Please join in on our ongoing community engagement efforts to ensure your voice is heard! 
Share Your Fairgrounds Memories 
Our Fairgrounds storytelling exhibit is coming to life with stories shared by over 30 community members so far. Visit petalumafairgroundstories.com to view what has been shared so far and add your story. 
Attend Our Community Workshop 
Stay tuned to our Community Update emails, social media channels, and cityofpetaluma.org/fairgrounds for information on an upcoming community workshop. 
PLEASE JOIN US TO DISCUSS THE PROPOSED OAK HILL WELL PROJECT 
Thank you to all in our community who took the time to share your concerns around the proposed Oak Hill Well project.  
We will be hosting a community meeting at Oak Hill Park to: 
Provide details of the proposed project

 

Listen to concerns/feedback

 

Address questions and concerns

 
Please join us to learn more and share your input. 
Where: Oak Hill Park (picnic tables near the playground) 
When: August 11, 2022 – 6-8pm  
If you have questions, feedback, or concerns in advance of the meeting, please call or email project manager, Dan Herrera: [email protected], 707-778-4589. 
Learn more at cityofpetaluma.org/oakhillwell 
CLIMATE ACTION UPDATE
This week, our Climate Action Commission shared the following: 
The Watson Institute's Climate Solutions Lab has launched a new interactive website called the Climate Opportunity Map that allows users to enter any zip code to learn about the benefits that could occur in their area should the United States actively pursue a net-zero energy policy. 
The brainchild of Dr. Alexander Gard-Murray, a postdoctoral fellow with the Climate Solutions Lab (CSL), the Climate Opportunity Map analyzes publicly available data from government and academics through a Python computer program he wrote. The Climate Opportunity Map offers journalists, activists, and policy-makers invaluable estimates of energy jobs created, reduced commuting delays, lives and labor hours saved, and reduced electricity costs that could be realized if America gets serious about decarbonization. 
HELP US CREATE STRONG, VIBRANT, CONNECTED NEIGHBORHOODS
Good News – Our town won a grant worth $180K of design assistance from the American Institute of Architects (AIA) Sustainable Design Assessment Team (SDAT)!  
The AIA will be visiting Petaluma in August with their team of experts to help us to explore ways to transform our neighborhoods into thriving, interactive hubs where people of all ages and abilities have safe access to most of their daily needs within just a short walk or bicycle ride. This is sometimes referred to as a "15-minute Neighborhood". 
You are invited to participate in a community-led design workshop at Bianchi Barn (outdoor venue) Sonoma-Marin Fairgrounds, 175 Fairgrounds Drive, on Friday, August 5, from 5:30 to 8:30 pm. A light dinner will be provided.  
Please RSVP for this event. Go to www.localuma.com. 
The AIA SDAT Team has created a short survey to learn more about what the community would like to see in the creation of strong, vibrant and connected neighborhoods. CLICK HERE to take the survey.
JOIN OUR PETALUMA TEAM!
UPCOMING MEETINGS
The City of Petaluma is hard at work for our community. Please check out our upcoming meetings and click on the links below for more information: