Good Evening, Petaluma –
We hope this email finds you well. Thank you for taking the time to read these emails and for sharing them with your network of friends and family. Our goal is to offer information and resources that can help our community through this unprecedented time – and we appreciate your help in spreading the word!
Tonight, we'll look at a technical issue that has caused an underreporting of COVID-19 cases and what it means for those who test positive. We'll also take a closer look at why Sonoma County remains on the State watch list, explore testing and COVID-related leave options for employees, review what's open at Petaluma Parks, and more.
Have a great weekend. We'll see you back in your inbox Monday!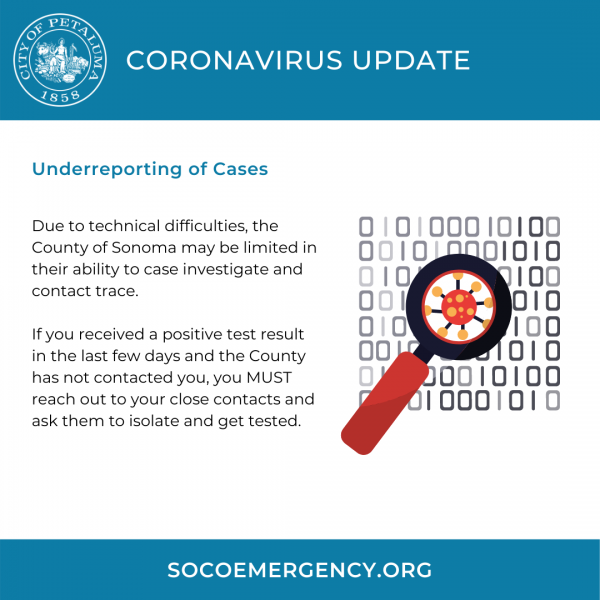 UNDERREPORTING OF CASES
Per the County of Sonoma, due to technical difficulties with the electronic laboratory reporting system, the California Department of Public Health has discovered an underreporting of COVID-19 cases. This has resulted in a delay of information reported to SoCoEmergency.org.
Labs are still providing test results to patients, however the County may not receive all lab reports which may limit the ability to case investigate and contact trace.
IMPORTANT: If you received a positive test result in the last few days and the County has not contacted you, you must reach out to your close contacts and ask them to isolate and get tested.
To address this issue, the State has taken the following actions:
Deployed a team from the Department of Technology to assess the technical issue with reporting
Engaged local public health officers to ensure they have the necessary information.
Instructed all laboratories in California to manually report all positive cases to local public health departments.
There is currently no estimate as to when this issue will be resolved. Please continue to check SoCoEmergency.org for updates regarding this matter.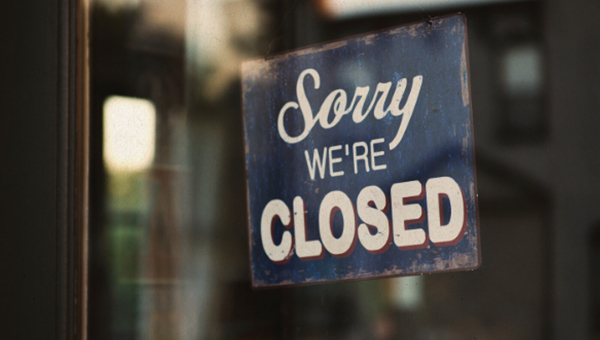 STATE RESTRICTIONS REMAIN IN PLACE
A message from the County of Sonoma:
Regardless of having completed 3 weeks on the State monitoring list, the State has determined that Sonoma County will remain on the list until the State Health Officer determines otherwise based on public health conditions.
Sonoma County is out of compliance with State COVID-19 mitigation requirements as of August 3, 2020 on several indicators including:
COVID-19 hospitalizations are still above State threshold with more than 20 hospitalizations occurring in one single day over the past two weeks.
ICU bed availability is at 12.2%, below the State's 20% requirement.
Residents can track additional key indicators on the County's Roadmap to Reopening.
This situation is not exclusive to Sonoma County. On July 13, the State issued a statewide order with additional restrictions, which is also in place until the State Health Officer takes further action.
For a full list of what is open in Sonoma County, visit the What's Open page.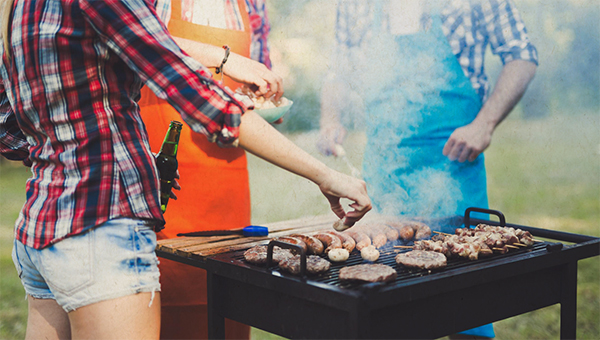 HELP STOP THE SPREAD: REFRAIN FROM GATHERING!
The State health order prohibits indoor activities that bring residents into prolonged contact with people who are not members of their own household. ​These gatherings have been identified as helping spread the coronavirus.
For the safety of our community, please avoid gatherings with those outside of your immediate household. Remember to follow mitigation measures anytime you leave your home:
Stay at least 6 ft away from anyone not living in your household
Clean/wipe any commonly used surfaces
Wear a face covering in any public place
Bring hand sanitizer with you, wash your hands for at least 20 seconds
If you feel sick, stay home and call your doctor
Get tested (​CLICK HERE for testing information)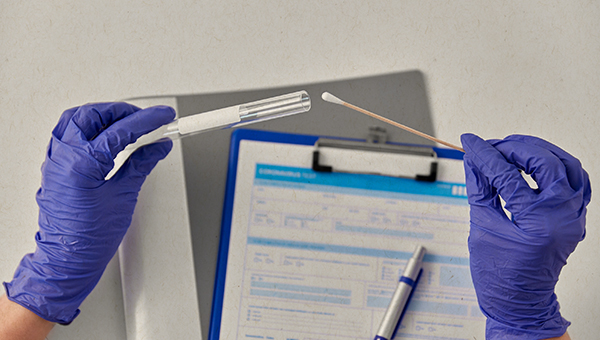 CAN EMPLOYERS REQUIRE COVID-19 TESTING?
Wondering if your employer can require you to be tested for COVID-19 before returning to work? Under the FEHA, an employer may mandate a medical examination when it is "job-related and consistent with business necessity." Applying this standard in light of present guidance from the CDC, and consistent with guidance from the Equal Employment Opportunity Commission, employers may require employees to submit to viral testing but not antibody testing before permitting employees to enter the workplace.
To learn more about this and other topics related to COVID-19 in the workplace, we suggest reviewing The Department of Fair Employment and Housing Employment Information on COVID-19. CLICK HERE to view the full document.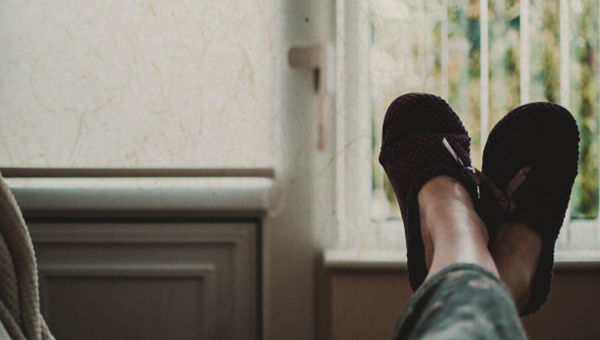 COVID-RELATED LEAVE OPTIONS
Many in our community are wondering what options are available to them should they test positive for COVID-19, be required to self-quarantine, care for a family member who falls ill with COVID-19, or care for a child due to school closures. Even if these situations are not currently affecting you, it never hurts to be prepared. Check out the links below for useful guidance on how to approach these situations:
FAQs on Laws Enforced by the California Labor Commissioner's Office
Department of Fair Employment & Housing Information on COVID-19
Side by Side Comparison of COVID-19 Paid Leave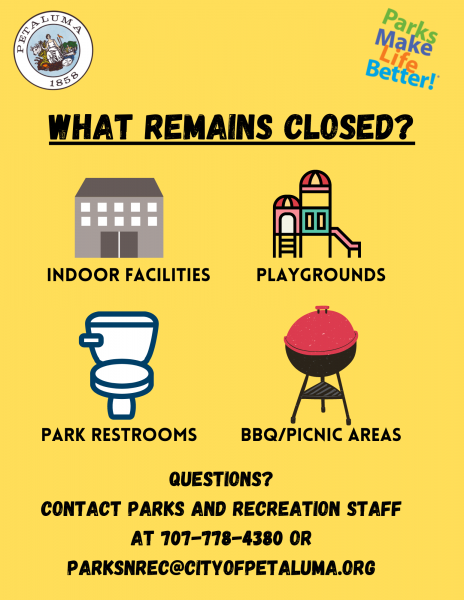 PETALUMA PARKS UPDATE: WHAT'S OPEN & WHAT'S CLOSED
The Parks and Recreation team has been getting questions about what is open and what remains closed, so they have created the graphic above to help answer these questions.
Indoor facilities, such as the Petaluma Community Center, Petaluma Senior Center, Kenilworth Teen Center, and Petaluma Historical Library and Museum, remain closed.
All playgrounds in parks remain closed.
Most park restrooms remain closed, with the exception of Shollenberger Park (daily) and Walnut Park (Saturdays only).
All picnic/BBQ areas in parks remain closed.
Questions? Contact Parks and Recreation staff at 707-778-4380 or [email protected].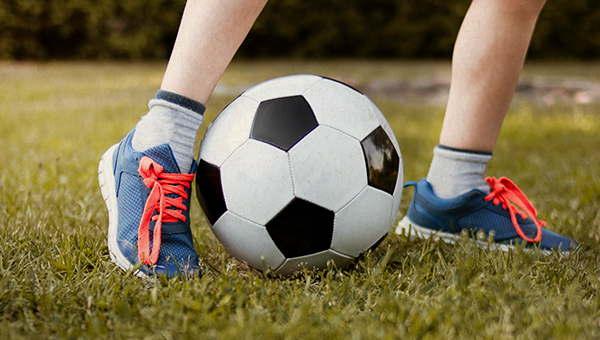 YOUTH SPORTS GUIDELINES
As we make our way through summer and head toward fall, youth sports are on the minds of many families in our community. The guidance for youth sports provides guidelines for all youth sports programs, including school-based, club, and recreational programs.
Review the guidance and prepare a plan to support a safe environment for players, coaches and trainers, families, spectators, event/program/facility managers, workers, and volunteers.
Please click the links below for more information: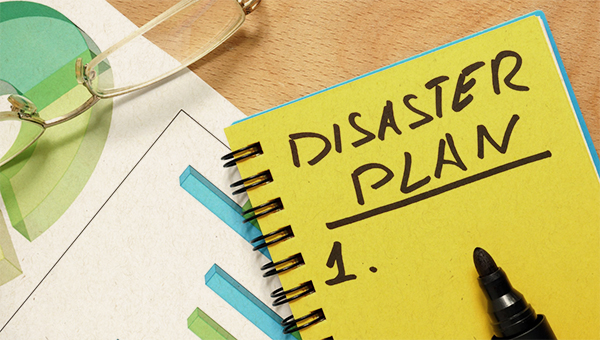 LEARN THE BEST WAYS TO PREPARE FOR EMERGENCIES
Over the past couple of years, Sonoma County has learned the importance of being prepared for disaster. Wildfires, power shut offs, global pandemics – we are navigating some pretty epic events lately! Sonoma County's Department of Emergency Management (SC DEM) Community Preparedness Program Manager, Dr. Nancy Brown, hosts a number of preparedness webinars that provide up-to-date, relevant, useful information for Sonoma County residents.
CLICK HERE to view.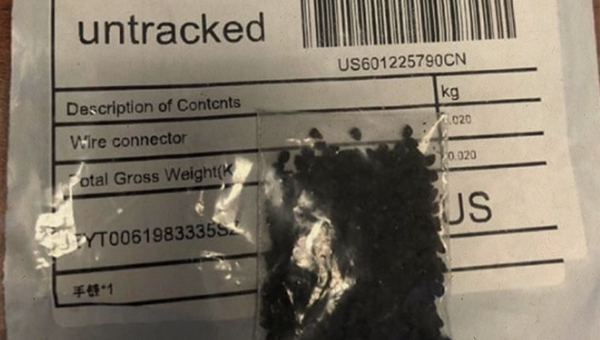 SEED SCAM – WHAT TO DO IF YOU RECEIVE THESE IN THE MAIL
A message from the Petaluma Police Department:
The Petaluma PD is being notified that local community members are receiving unsolicited packages of seeds sent from China in the mail. Per the California Department of Food and Agriculture recommendations, community members are instructed not to open or plant the items and to contact local authorities.
In Sonoma County, community members are encouraged to contact the office of the Agricultural Commissioner at their phone number 707-565-2371 or by email at [email protected] to report this activity.
To learn more about this topic, please CLICK HERE to follow the CDFA link.
Thank you for your diligence in this matter.
POLL RESULTS
Last week we asked what type of support you find most useful during the pandemic. Below are the answers we received:
55.8% – Phone or video calls with loved ones
29.9% – Communications from the City of Petaluma
14.3% – Online communications/online activities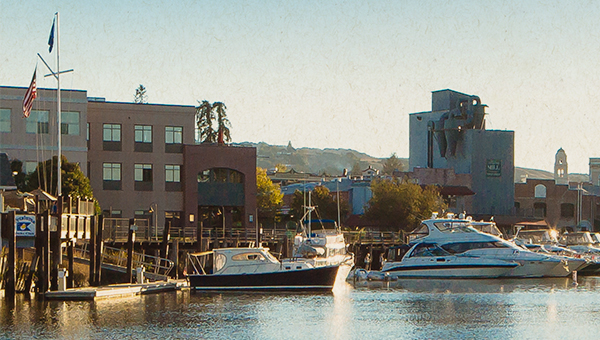 WE'RE HIRING!
The City of Petaluma is looking for talented people to join our team! Please click the links below for more information about our open positions. CLICK HERE for a full list of career opportunities.
Associate/Senior Civil Engineer
Police Officer (Current Academy Attendees & Graduates)
UPCOMING CITY MEETINGS
The City of Petaluma is hard at work for our community. Please check out our upcoming meetings and click on the links below for more information: