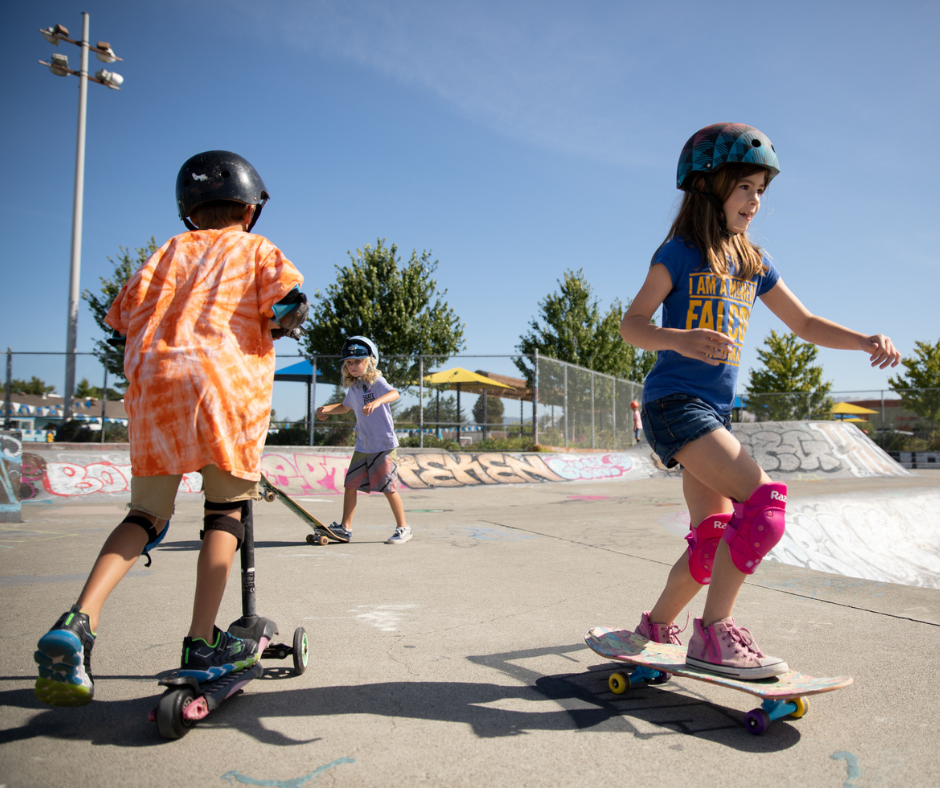 Happy Thursday, Petaluma – 
The holidays are in full swing, and we've loved seeing our community out and about partaking in festivities and events! Make sure to mark your calendars for local happenings the whole family will enjoy. You can see a full list of upcoming activities by visiting: visitpetaluma.org/events.
And if you're still looking for the perfect gift – look no further than a Shop Petaluma Gift Card! Perfect for anyone who wants to support local, the Shop Petaluma Gift Card is an eGift Card that can be used at over 130 participating shops, restaurants, and service providers around town. Visit shoppetaluma.com for more information.
This evening, we're sharing news about the newest City of Petaluma Team Member, an opportunity to get involved with the Petaluma Skate Park redesign, an update on N. McDowell Boulevard improvements, how you can stay safe this holiday season, and much more. Please enjoy, share with your friends, and have a wonderful evening. We'll see you in your inbox next Wednesday!
WELCOME JAMIESON AS NEW COMMUNICATIONS PROGRAM MANAGER!
The City of Petaluma is delighted to welcome Jamieson Bunn as Communications Program Manager. Jamieson joins the City from Committee on the Shelterless (COTS), where she was the Chief Development & Communications Officer. There, she developed a passion for engaging the community around the important, and sometimes difficult, issues facing those experiencing homelessness and finding new ways to highlight the incredible work of the COTS team. 
Jamieson says, "Through COTS, I was able to see the best of Petaluma – where deeply compassionate community members would leap to any request for donations and expert staff constantly worked to improve the services they offered. In my role there, I was lucky to be able to partner with the City of Petaluma around communications for People's Village and Studios at Montero. I saw firsthand how committed the City team was to providing the resources needed to end homelessness. I'm so excited to join the City team myself now and play a new role in sharing everything on the horizon for our community – from City service to the major infrastructure improvements that are on the way."
Jamieson started her career as a museum assistant and fundraiser, working at the Metropolitan Museum of Art and Museum of Fine Arts, Boston. She then moved to San Francisco, where she furthered her fundraising career at San Francisco Day School and the Urban School. Through these roles, she learned every aspect of constituent services and how to communicate with diverse stakeholders, a skill she brings to the City's communications department. She hopes to expand the City's audiences and find new ways of showing how the City functions for everyone.
Jamieson graduated from Brown University and has an MA in Museum Studies from New York University and an MFA in Writing from the Vermont College of Fine Arts. She lives in Petaluma with her husband, two young children, and extra-large dog. In her free time, Jamieson enjoys baking, quilting, and spending time outdoors with friends.  
JOIN US TO REDESIGN THE SKATE PARK!
The Petaluma Skate Park was built in 1997 and is one of the oldest active skate parks in California. In fact, this vintage park has a passionate group of followers within the skating community and can be seen in many professional skate videos! We are excited to announce the City of Petaluma will be working with Grindline Skateparks, Inc. to join us in updating this iconic Petaluma park while retaining the energy and inspiration it's brought to Sonoma County skaters for nearly 30 years.
We want to hear what rails, ramps, runs, and gnarly features you would like to see! Skatepark enthusiasts, riders, and grinders are wanted – come share your vision for a reimagined skatepark and a look ahead at the future of skating in Petaluma. 
Head over to cityofpetaluma.org/skateparkredesign to learn more and sign up for project updates.
Our first community workshop is scheduled for Tuesday, January 17, 2023, at the Petaluma Community Center. Additional activities to gather community feedback will take place through June 2023, all of which will inform a report that will be presented to City Council for consideration over the summer of 2023. 
We look forward to working with you to update this beloved community park! 
MCDOWELL IMPROVEMENTS SET TO BEGIN NEXT WEEK
Work has begun on the much-anticipated North McDowell Improvement Project, designed to create a smoother roadway with safety improvements that benefit all users. Upon completion, our community can expect to enjoy the following when traveling North McDowell Boulevard from Sunrise Parkway to Old Redwood Highway: 
Safer, smoother roadway with traffic-calming elements

Enhanced sidewalks and curb ramps

New and improved pedestrian crossings

Upgraded bike lanes and paths

Better access to transit

Improved traffic flow, efficiency, and safety
The project will begin with concrete work which includes improvements to:
Sidewalks

 

Americans with Disabilities (ADA) ramps

Some driveways
Visit cityofpetaluma.org/mcdowell to learn more and sign up to receive project updates. 
PROTECT YOURSELF FROM PACKAGE THEFT
You know that cool gift you got for your mom that she really wanted? Well, the Grinch wants it too. With the holidays right around the corner, the Petaluma Police Department has seen an uptick in porch theft. Please remember to check your deliveries often and store packages in a secure location. Plus, did you know you can help us fight crime by registering your security camera? Check out survey123.arcgis.com or scan the QR code to get started. 
ARE YOU EMERGENCY READY?
The holiday season should be filled with joy, cheer, and relaxation – not preventable home fires. A house fire will undoubtedly take the joy out of celebrating the holidays, so take appropriate precautions to ensure the safety of your home and your guests. Check out the tips below to make sure you are prepared. 
Practice Proper Home Fire Safety This Holiday Season 
Santa will be coming down the chimneys in Petaluma soon to deliver presents, so ensure yours is properly maintained! An unsafe chimney is not only dangerous for Santa, but for your whole family. Even if Santa won't be coming down your chimney, consider these critical steps for staying safe and preventing house fires.
Follow these simple practices in your home to prepare your family for a fire emergency: 
Be certain the damper or flue of your fireplace is open before starting a fire; this will draw smoke out of the house. Do not close the damper until the embers have completely stopped burning.

 

If your family prefers real trees, be sure to water your tree every day. Dry needles and wood catch fire more easily.

Test all Christmas Tree lights and electrical decorations for faulty wiring before use.

Install smoke alarms and carbon monoxide detectors on every level of your home, inside bedrooms, and outside sleeping areas.

If a fire occurs in your home, GET OUT, STAY OUT and CALL FOR HELP. Never go back inside for anything or anyone.

 
To learn more about proper home fire safety, visit: cityofpetaluma.org/home-fire-safety. 
SAVE WATER NOW, SAVE MONEY YEAR-ROUND
Wintertime water conservation can lower your water bill year-round.
Monthly wastewater rates for residents are based on the average amount of water used during the winter months or actual water usage, whichever is lower. This means, the more you conserve during the winter, the less your wastewater bill will be throughout the year!
To learn more, visit: cityofpetaluma.org/waterbill
With lower temperatures and occasional rain, we encourage you to turn off your irrigation system and water only when needed. Watering may occur only within the restricted watering schedule: overnight Tuesday and Saturday from 7 PM – 8 AM. 
LAST CITY COUNCIL MEETING OF 2022
The City Council will be meeting this coming Monday, December 19, 2022, for the last time this year. Join us as we honor the Councilmembers that will be leaving us after many years of dedicated service. Click here for the Agenda and details on the items the City Council will discuss. Some topics the Council will discuss on Monday include:
An annual assessment for the Downtown Business Improvement District

 

A project to install a floating solar array on one of our water ponds at the Ellis Creek Water Recycling Facility 

 

A new law to require safe storage of firearms

An update to our building codes
We can't wait to see you there!
RIVER ACCESS IMPROVED
Boats have better access to the Turning Basin and the Marina thanks to two dredging projects completed in 2022. Learn more here. 
CAN'T MISS HOLIDAY EVENTS
From Shakespeare to a gelt drone drop, Petaluma's holiday events offer something for everyone. Go to vistpetaluma.com to learn more. 
WINTER READING PROGRAMS
Join Sonoma County Library's Winter Reading and Mock Caldecott programs for a season full of fun for all ages, including the chance to win a limited-edition bookmark! Learn more here.
JOIN OUR PETALUMA TEAM!
The City of Petaluma is looking for talented people to join our team! Please click the links below for more information about our open positions. CLICK HERE for a full list of career opportunities.
UPCOMING MEETINGS
The City of Petaluma is hard at work for our community. Please check out our upcoming meetings and click on the links below for more information: