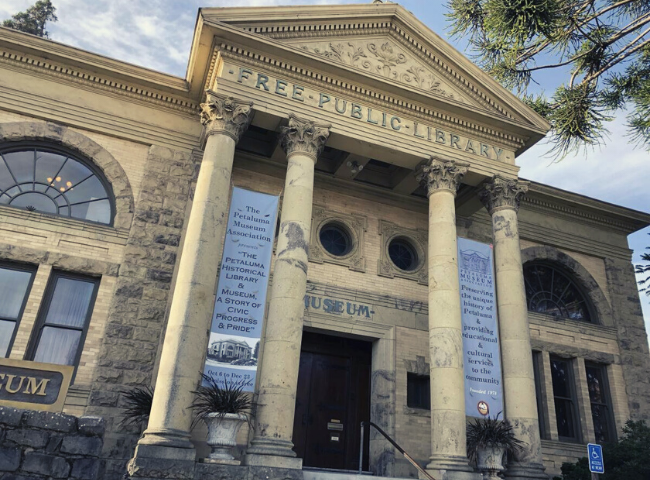 Hello, Petaluma –
As we approach the end of another year, we are reminded what a truly special community we have. Nearly two years of pandemic living has shown us, time and again, the heart, compassion, and care Petalumans bring to all that they do.
2022 has changes in store for our community – a transition to district elections, improvements to our roads, plans for the future of our fairgrounds, an update of our General Plan, and much more. As we embark together on these impactful processes, we want to thank you for the passion and commitment you show making Petaluma an even better place to live, work, and play in. We are heading into 2022 #PetalumaProud as ever!
In tonight's email we'll review important updates around COVID-19. We urge you to continue to practice caution as we head into a time traditionally ripe with holiday gatherings. Please soak up the holiday spirit with friends and loved ones, but do so safely. Read on for some helpful guidance from the County of Sonoma and the CDC on how to keep one another safe while still enjoying all the holidays have to offer.
This will be our final Community Update for 2021! We look forward to seeing you back in your inbox January 5, 2022!
COVID-19 UPDATE
Please take a moment to check out these important COVID-19 resources and updates from the County of Sonoma:
New Mask Mandate
The California Department of Public Health has enacted a new statewide mask mandate requiring masks to be worn in all indoor public settings, irrespective of vaccine status, December 15, 2021 through January 15, 2022. There are no changes to the current masking policies in Sonoma County.
CLICK HERE to learn more.
CDC Recommendations for Gatherings
If you are attending or hosting a gathering this holiday season, the Centers for Disease Control (CDC) encourages you to think about the steps you need to take to protect yourself and your loved ones from COVID-19.
CLICK HERE to view their recommendations for small and large gatherings.
Testing
Per the County of Sonoma, if you know that you will be traveling or gathering this holiday season, it is ideal to take a PCR test three days before your event, and then a rapid test on the day of the event to confirm your status. And be vaccinated and boosted, of course.
COVID-19 PCR testing is widely available throughout Sonoma County. Residents are encouraged to make use of testing before family and other gatherings over the holidays. PCR test results are often available in 24 hours.
Local residents are being urged by county public health and other medical professionals to make use of rapid COVID-19 tests during this time of holiday gatherings and travel. The county is working to increase the availability of rapid tests. Rapid tests are widely available at pharmacies.
CLICK HERE to learn more and find a testing site near you.
Omicron Variant
Looking for information on the Omicron variant? According to the Centers for Disease Control (CDC), as of December 20, 2021, Omicron has been detected in most states and territories and is rapidly increasing the proportion of COVID-19 cases it is causing.
They have put together a webpage with what is currently known about the variant along with answers to frequently asked questions and concerns. CLICK HERE to learn more.
HAVE YOU TRIED OUR DISTRICT MAPPING TOOL?
Petaluma is moving to a district election model to ensure that voices from all corners of our community are heard. This is a significant change in how Petalumans will vote for city council representation — and we need your input to shape the new districts.
We offer two ways to collect feedback from the community on how the districts should be formed:
Draw proposed district lines on a printable map and drop it off at City Hall or email/mail it to us.
Draw proposed district lines using our online mapping tool.
Visit cityofpetaluma.org/districtmaps to draw yours today!
HERE COMES THE RAIN AGAIN
Heads up, Petaluma! According to the National Weather Service, a pattern of wet weather will arrive in our area today and will stay through the end of the month. A total of 2-4 inches of rain is expected over 7 days. There is a chance of thunderstorms Wednesday, December 22.
Our crews will be patrolling the city to make sure all storm drains are clear and will be on call to address any issues that may arise during the wet weather. As with all storms, we recommend motorists, pedestrians, and bicyclists use caution when traveling on the roadways. Drivers should not pass road closure or flooding signs.
The City has set up sand and sandbags to the right of the entrance to Prince Park. This is a lighted site, is self-serve, and will be open throughout the event. Please bring your own shovel. If you have questions, concerns, or need sandbags, please call 707-778-4546.
It is possible storm-related power outages will occur. Please CLICK HERE to view the PG&E outage map or call 1-877-660-6789. CLICK HERE for a list of what to do if you see a fallen power line (don't touch it!). If you encounter a stop light that has lost power, please treat it as a 4-way stop.
To stay updated on storm-related and other emergency events, please sign up for emergency alerts HERE.
PLEASE REMEMBER TO TURN OFF YOUR IRRIGATION
With lower temperatures and occasional rain, plants do not require as much water during fall and winter months. We ask that you turn off your irrigation and water only when needed.
Please be mindful that the restricted watering schedule is still in place – please only water (if needed) during these times: Tuesday and Saturday overnight 7pm-8am.
Learn more: cityofpetaluma.org/savewater
CLIMATE ACTION UPDATE
This week, our Climate Action Commission shared the following:
Ever wonder how developed cities contribute to the world's biodiversity? Download this report, "Making Nature's City" to learn about how to support nature and biodiversity in our cities while making them more livable and resilient.
If you own a commercial or multi-family building and want to install an electric vehicle charger on your property you may be able to access grant funds to help cover the costs. Also, non-profits, government agencies, and service providers who want to install vehicle chargers may be eligible for funds. Petaluma's goal is to increase our electric vehicle charger infrastructure to help reduce green house gas and meet our carbon neutral goals. If you want to learn more, go HERE.
WHAT ARE YOU DOING NEW YEAR'S EVE?
Have you purchased your tickets for the Petaluma Historical Museum's New Year's Eve Concert yet? Remember that you have two showtimes (3:00pm and 5:00pm) to choose from this year.
CLICK HERE for more information, including how to purchase tickets.
SHOP PETALUMA THIS HOLIDAY SEASON
Petaluma is home to an amazing array of shops, restaurants, and service providers. Let's keep showing them love this holiday season! The City of Petaluma has partnered with the Petaluma Downtown Association to make supporting local simple and convenient through our Shop Petaluma website and gift card program.
The Shop Petaluma gift card can be used at any participating business – empowering holiday shoppers to support local while giving the gift of variety (cards are accepted at 100+ locations around town!).
Learn more at shoppetaluma.com!
IS YOUR BUSINESS HIRING? LIST POSITIONS HERE
Petaluma is home to an amazing array of shops, restaurants, service providers, brands, and manufacturers. Check in with us each week for a list of featured jobs with local companies.
Looking for work? Check out:
If your company is hiring and you'd like to advertise with us free of charge, please email [email protected] with a link to your jobs page. Info received by Tuesday will be included in that week's Community Update email and social media posts.
COME JOIN OUR PETALUMA TEAM!
The City of Petaluma is looking for talented people to join our team! Please click the links below for more information about our open positions. CLICK HERE for a full list of career opportunities.
Deputy Chief Building Official
Police Officer (Current Academy Attendees & Graduates)
Public Safety Dispatcher – Lateral
Have questions about working for the City? Please reach out to [email protected].
UPCOMING MEETINGS
The City of Petaluma is hard at work for our community. Please check out our upcoming meetings and click on the links below for more information:
December 28, 6:30pm – Youth Commission
Check for upcoming meetings, agendas, and how to participate on the City's meeting webpage: https://cityofpetaluma.org/meetings/.