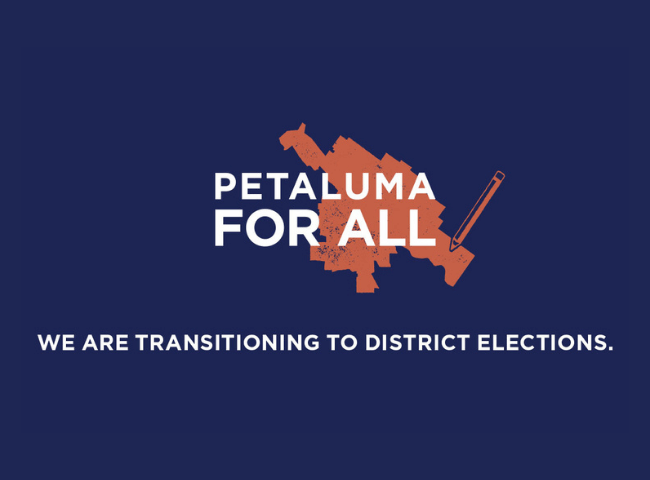 Hello, Petaluma!
These colder temperatures are making it clear we are well into December. What's more, much needed rain is headed our way this weekend! Read on to learn about the upcoming weather event and what our City crews are doing to prepare.
In tonight's email, we'll share information on the Omicron variant, updates on important City initiatives like our district elections transition and General Plan update, an upcoming workshop to review recommendations to City Council from our Ad Hoc Community Advisory Committee, and much more.
Please enjoy, share with friends, and have a lovely evening. We'll see you back in your inbox next Wednesday!
COVID-19 UPDATE
Please take a moment to check out these important COVID-19 resources and updates from the County of Sonoma:
Omicron Variant
Looking for information on the Omicron variant? The California Department of Public Health has put together a fact sheet that addresses frequently asked questions and concerns. CLICK HERE to view it.
Testing
Wondering if you should get tested for COVID-19? Testing is widely available throughout Sonoma County. Residents are encouraged to make use of testing before family and other gatherings over the holidays. PCR test results are often available in 24 hours.
CLICK HERE to learn more and find a testing site near you.
JOIN US FOR THE AHCAC WORKSHOP, DECEMBER 13
The City Council will hold a workshop to receive the final report and consider the recommendations of the Ad Hoc Community Advisory Committee, created to provide guidance and recommendations to the City Council on race relations and policing and how best to improve diversity, equity, and inclusion in the City of Petaluma.
Join us December 13 for a virtual City Council workshop to learn about recommendations made in the following areas:
Police and the Community
Diversity in Schools
Multicultural Center / Restorative Justice
Diversity in City Hiring and Appointments
Visit cityofpetaluma.org/meetings for information on how to attend.
COMMUNITY SHAPING TRANSITION TO DISTRICT ELECTIONS
Petaluma is transitioning from "at large" to "district" elections. This is a significant change in how Petalumans will vote for council representation — and we need your input to shape the new districts.
A big thanks to those of you who visited our booth at the Kentucky Street Holiday Marketplace. We had wonderful conversations with community members about what district elections are and how to help shape the process.
Community input is a crucial piece of this transition. Please join us for upcoming events and be sure to fill out the Community of Interest form to help us understand who needs to be represented in this new model.
Join our virtual open house December 15, 5:30-7:30 pm, to ask questions about the transition and learn how to:
Map the districts you'd like to see
Complete the Community of Interest form
Help share this information to your networks, colleagues, and friends
CLICK HERE for details.
Want to learn more?
Visit: cityofpetaluma.org/districtelections
Email: [email protected]
Call: 707-778-4321
RAIN IS ON THE WAY!
Heads up, Petaluma! Much needed rain is expected to come our way in the form of an atmospheric river beginning Sunday December 12. While this weather event is anticipated to be mild, we are prepared should we experience heavy rainfall. Our crews will be patrolling the city to make sure all storm drains are clear and will be on call to address any issues that may arise during the storm.
As with all storms, we recommend motorists, pedestrians, and bicyclists use caution when traveling on the roadways. Drivers should not pass road closure or flooding signs.
It is possible storm-related power outages will occur. Please CLICK HERE to view the PG&E outage map or call 1-877-660-6789. CLICK HERE for a list of what to do if you see a fallen power line (don't touch it!). If you encounter a stop light that has lost power, please treat it as a 4-way stop.
The City will set up sand and sandbags to the right of the entrance to Prince Park. This is a lighted site, is self-serve, and will be open throughout the event. Please bring your own shovel. If you have questions, concerns, or need sandbags, please call 707-778-4546.
To stay updated on storm-related and other emergency events, please sign up for emergency alerts HERE.
PLEASE TURN OFF YOUR IRRIGATION
The rain headed our way this weekend is a great reminder to turn off irrigation. With lower temperatures and occasional rain, plants do not require as much water during fall and winter months. We ask that you turn off your irrigation and water only when needed.
Please be mindful that the restricted watering schedule is still in place – please only water (if needed) during these times: Tuesday and Saturday overnight 7pm-8am.
Learn more: cityofpetaluma.org/savewater
CLIMATE ACTION UPDATE
This week, our Climate Action Commission shared the following:
Please join us for the Climate Action Commission meeting this Thursday, December 9th at 6:30pm. Tanya Narath, Director of Climate Programs Sonoma County Regional Climate Protection Authority will be presenting a program overview from the Bay Area Regional Energy Network (BayREN), which includes residential energy upgrade rebates.
Additionally, the City of Petaluma's Planning team and Raimi and Associates will present initial ideas for a series of adaptation strategies to confront climate hazards, followed by a discussion of these ideas. This discussion will help the project team better understand the parts of the climate story that resonate, shape the adaptation pathways, and identify strategies/topics for additional consideration. Info on how to stream the meeting can be found HERE.
Of potential interest, here is a thought-provoking read offering a more holistic view of climate change mitigation from William E. Rees, Professor Emeritus, University of British Columbia.
Are you ready for a zero waste and mindful holiday? Please join Daily Acts Thursday Dec. 16, 5:30-7pm, for a free webinar to learn how we can practice zero waste during the holidays and still celebrate abundance! Learn more HERE.
GENERAL PLAN UPDATE 2021 OVERVIEW
Petaluma is in the midst of an exciting period of planning for the future through our General Plan Update, a roadmap of City goals, policies, and actions regarding future growth, development, and change. Our city is facing new challenges and opportunities, and the General Plan Update provides us with the ability to create a plan that reflects our values and provides guidance for actions that will serve the needs of our community for the next 20 years.
We have made important progress that lays the foundation for our plan through community participation, extensive research, and collaboration across City Government and community actors. CLICK HERE for an overview of recent efforts.
All participation and research is part of the intentional process we are holding to help Petaluma plan to rise above important challenges such as the impacts of climate change and the housing crisis.
Community participation is crucial in this process – this is your city and we want it to work for you! Please learn more about the General Plan Update and sign up for our mailing list HERE to stay involved and share your input!
SHOP PETALUMA THIS HOLIDAY SEASON
Petaluma is home to an amazing array of shops, restaurants, and service providers. Let's keep showing them love this holiday season! The City of Petaluma has partnered with the Petaluma Downtown Association to make supporting local simple and convenient through our Shop Petaluma website and gift card program.
The Shop Petaluma gift card can be used at any participating business – empowering holiday shoppers to support local while giving the gift of variety (cards are accepted at 100+ locations around town!).
Learn more at shoppetaluma.com!
DOWNTOWN HOLIDAY HAPPENINGS
Looking to brighten up your weekend? The Holiday Lighted Boat Parade returns this year, giving the Petaluma River a chance to shine! Join us Saturday December 11, 6-8pm, at the Petaluma River Turning Basin. More details can be found HERE.
CLICK HERE to learn about other upcoming events.
IS YOUR BUSINESS HIRING? LIST POSITIONS HERE
Employees are hard to find and we want to make it easier! Beginning this month, our weekly Community Updates will include a list of local companies that are hiring.
If your company is hiring and you'd like to advertise with us free of charge, please email [email protected] with a link to your jobs page. Info received by Tuesday will be included in that week's Community Update email and social media posts.
COME JOIN OUR PETALUMA TEAM!
The City of Petaluma is looking for talented people to join our team! Please click the links below for more information about our open positions. CLICK HERE for a full list of career opportunities.
Deputy Chief Building Official
Environmental Services Supervisor
Firefighter/Paramedic – Lateral and Entry-Level
Police Officer (Current Academy Attendees & Graduates)
Public Safety Dispatcher – Lateral
Have questions about working for the City? Please reach out to [email protected].
UPCOMING MEETINGS
The City of Petaluma is hard at work for our community. Please check out our upcoming meetings and click on the links below for more information:
December 8, 6pm – Public Art Committee
December 9, 4pm – Transit Advisory Committee
December 9, 6:30pm – Climate Action Commission
December 9, 7pm – Technology Advisory Committee
December 13, 6pm – Meeting of the Petaluma City Council and Petaluma Community Development Successor Agency
December 14, 4pm – Historic and Cultural Preservation Committee
December 14, 6:30pm – Youth Commission
December 14, 7pm – Planning Commission
December 15, 3:30pm – Tree Advisory Commission
December 15, 5pm – Airport Projects Subcommittee
December 15, 7pm – Recreation, Music, and Parks Commission
December 16, 4pm – Airport Operations / Master Plan Subcommittee
December 16, 6:30pm – General Plan Advisory Committee
Check for upcoming meetings, agendas, and how to participate on the City's meeting webpage: https://cityofpetaluma.org/meetings/.