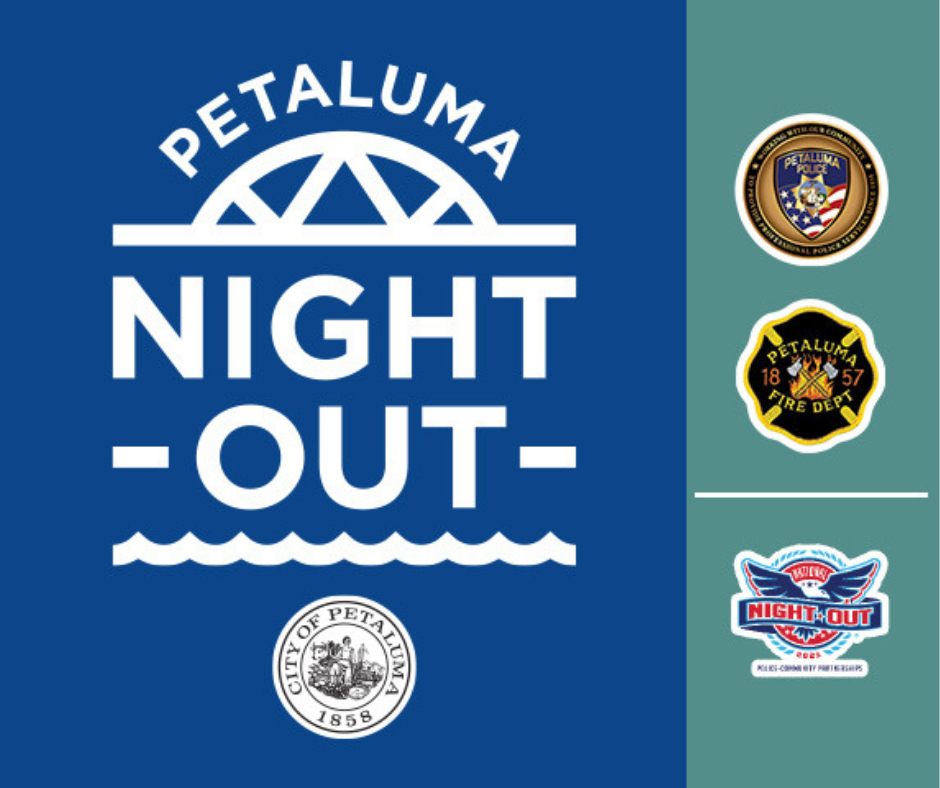 Hello, Petaluma —
We hope you found ways to stay cool during the soaring temps earlier this week! Summer is in full swing and we have some fun events to share with you!
Read on for upcoming event details, important emergency prep tips, an update on the future of our Fairgrounds, a sneak peak at our Local Road Safety Plan draft (with an opportunity to give input), and more.
Please enjoy, share with friends, and have a lovely evening. We'll see you in your inbox next week!
WHEN SHOULD YOU TEST FOR COVID-19?
According to the County of Sonoma, you should test for COVID-19:
If you have symptoms

– Vaccinated or not, get tested immediately if you're feeling any

COVID-19 symptoms

. If you are experiencing symptoms and test negative by antigen test (such as a home rapid test), then you are encouraged to retest with a PCR test especially if you've had close contact with someone diagnosed with COVID-19.

 

If you were exposed

– Test within 3-5 days after last exposure and wear a well-fitting mask around others for a total of 10 days, especially in indoor settings and when near those at higher risk for severe COVID-19 disease.

If you travel

– Do not travel until a full 5 days after your last close contact with the person with COVID-19. It is best to avoid travel for a full 10 days after your last exposure. If you must travel during days 6 through 10 after your last exposure: Get tested at least 5 days after your last close contact.
CLICK HERE for more testing information from the County of Sonoma. 
ARE YOU EMERGENCY READY?
Disaster can strike unexpectedly and move fast. Planning ahead for yourself, your loved ones, and your neighbors is a crucial step in making it through the unexpected safely.  
Know Your Zone
The County of Sonoma manages a county-wide evacuation map that is used to help identify areas that are under threat either by fire, flood, earthquake, or power outage. This is essential information if evacuation warnings and orders are issued.  
Find your zone using the online tool HERE. Simply type your address in the field at the top left of the map.   
A printed version of the map was recently sent out in our July water bill. You can use the link above to help find your specific zone, then fill it in on the printed form to keep in your Emergency Go Bag for easy reference. Click HERE to download and print this map. 
If you have questions, please call 707-778-4390 or email [email protected]. 
THE FUTURE OF THE PETALUMA FAIRGROUNDS
On Monday, July 11, the Petaluma Fairgrounds Advisory Panel presented their recommendations for future uses of the Fairgrounds property. The recommendations were reached after weeks of study and discussion to gain an in-depth understanding of our Fairgrounds and envision a future for this beloved Petaluma property. CLICK HERE to view a recording of the meeting and/or to view the recommendations in written report form.
How do you envision the future of the Fairgrounds? What are your memories or experiences of the property? Please join in on our ongoing community engagement efforts to ensure your voice is heard!
Share your fairgrounds memories with us! Our Fairgrounds storytelling exhibit is coming to life with stories shared by over 30 community members so far. Visit petalumafairgroundstories.com to view what has been shared and add your story.
Stay tuned to our Community Update emails, social media channels, and cityofpetaluma.org/fairgrounds for information on an upcoming community workshop. 
SMART AND CITY OF PETALUMA ANNOUNCE MORE THAN $13M RECEIVED FOR MAJOR TRANSPORTATION IMPROVEMENTS IN PETALUMA
Big news! The City of Petaluma and SMART together will receive more than $13 million in grant funds from the California State Transportation Agency's State Transit and Intercity Rail Capital Program. These grant dollars will fund the following projects: 
SMART – Petaluma North infill station and North McDowell Blvd. crossing upgrades ($10,100,000)

Petaluma Transit – Bus Fleet Replacement and Electrification ($1,728,000)

Petaluma Transit – Transit Facility Improvements (Electrification) – Phase 2 ($940,000)

Petaluma Transit – Bus Stop Improvements ($412,000)

 
This grant is a part of a larger tranche of funds awarded to Sonoma County Transportation Authority with Petaluma Transit, Santa Rosa CityBus, Sonoma County Transit, SMART and Mendocino Transit Authority receiving project specific allocations. 
CLICK HERE to learn more. 
LET US KNOW WHAT YOU THINK OF OUR LOCAL ROAD SAFETY PLAN DRAFT
Thank you to all in our community who took the time to provide input on the safety of our roads via our online tools and virtual community workshop. We have integrated your feedback into a draft of our Local Road Safety Plan. 
Please visit cityofpetaluma.org/lrsp to review our current Local Road Safety Plan draft and let us know what you think. Your input is an essential piece of making our roads safer for all who travel them. 
JOIN US SUNDAY, JULY 17 FOR CICLOVIA!
Gather the whole family and join the City of Petaluma and the Sonoma County Bike Coalition this Sunday, July 17 from 10am to 2pm for Petaluma Ciclovía to experience Petaluma Boulevard without any cars! 
Head downtown on foot, bike, skateboard, or scooter to traverse town via the Lynch Creek Trail with tons of fun activities and performances along the route. Check out the new bicycle infrastructure on Petaluma Boulevard South, and support our local businesses on this day of fun!  
For the schedule of activities and more info, visit bikesonoma.org/ciclovia. 
VISIT THE WATER CONSERVATION BOOTH AT CÍCLOVIA THIS SUNDAY
This Sunday, July 17 from 10am-2pm the Water Conservation team will have a booth in Walnut Park as part of Petaluma Ciclovía! Visit their booth to pick up free water-saving devices (shower buckets, faucet aerators, hose nozzles, + more!), as well as information on current water use restrictions and ways to conserve water in and around your home. All those resources can also be found at cityofpetaluma.org/conserve. 
IMPORTANT REMINDER! Petaluma is still in a drought emergency. Water use restrictions are still in place, including a limited outdoor watering schedule. Please limit outdoor water use, and if you need to irrigate your landscape, only do so: 
Overnight Tuesday and Saturday between 7pm-8am 
The full list of water use restrictions can be found at cityofpetaluma.org/savewater. Thank you for continuing to do your part to save water with us. 
JOIN US FRIDAY FOR MOVIES IN THE PARK!
Our Parks & Recreation Department is excited to be hosting their second Movies in the Park event of the Summer this Friday, July 15th at Lucchesi Park, featuring "The Little Rascals" 
The movie will begin at approximately 8:30pm (once the sun goes down) but be sure and arrive early for pre-movie entertainment and fun! 
CLICK HERE for more information. 
Remember to come early to the show to learn how to make natural paint pigments from everyday spices starting at 7:30pm. Also, Bike Petaluma will be hosting bike valet to encourage community members to travel by bike instead of car.
JOIN US AUGUST 2, 2022 FOR PETALUMA NIGHT OUT!
Come get to know your city and all the ways we can work together to keep Petaluma safe. 
Enjoy FREE food, music, prizes, kid's activities and have a chance to learn about the amazing local organizations that work every day to protect and serve Petaluma. Tour first-responder vehicles, pet animals from North Bay Animal Shelter and enjoy the jumpy house. Perfect for the entire family!
Date: August 2, 2022
Time: 4pm – 7pm⁠
Location: Sonoma-Marin Fairgrounds, Petaluma⁠
CLICK HERE to visit the Petaluma Police Department Facebook Page to learn more. 
JOIN OUR PETALUMA TEAM!
Part Time Police Property Technician
UPCOMING MEETINGS
The City of Petaluma is hard at work for our community. Please check out our upcoming meetings and click on the links below for more information: