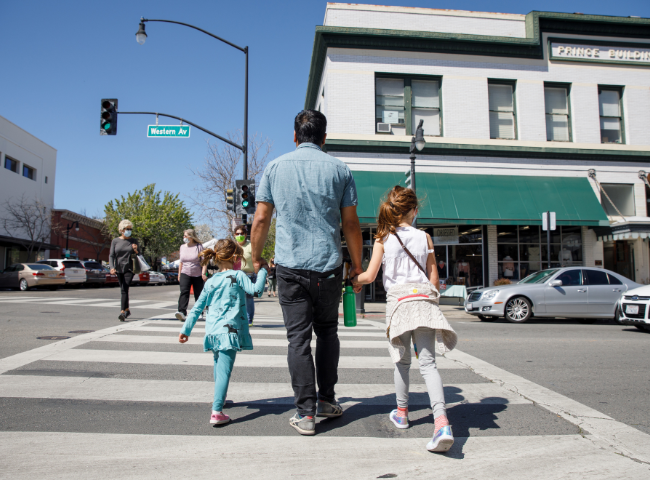 Hello, Petaluma —
Summer is in full swing and our hearts are happy as we see our community out enjoying the sunshine. Petalumans are enthusiastic, involved, well-informed, and the main ingredient in what makes our city such a special place to be. Thank you for all that you bring to our community!
Read on for ways to share your input and become involved in things like road safety, public office, proposed projects, the future of the Fairgrounds, and neighborhood transformation. As always, we encourage you to attend our many monthly public meetings to keep up-to-date on Petaluma happenings and ways you can make a difference. Stay tuned to
cityofpetaluma.org/meetings
for an ongoing list.
Please enjoy, share with friends, and have a lovely evening. We'll see you in your inbox next week!
COVID-19 RESOURCES AND INFORMATION
Per the County of Sonoma, daily U.S. COVID-19 cases are averaging 124,683, up 24% in two weeks, according to a New York Times database.
CLICK HERE to access COVID-19 information from the County of Sonoma including:
Daily case counts in Sonoma County

 

Information about testing and vaccines

 

Isolation and quarantine information

 

Resources like financial assistance, food, housing, and more

 
LOVE PETALUMA? RUN FOR OFFICE!
Participating in City government is a wonderful way to give back to the community you love, and help chart the course of Petaluma's future.
The nomination period for the upcoming November election opened on Monday, July 18. Those interested in running for Mayor, Councilmember, or the School Board, can contact the City Clerk's Office to schedule an appointment to pull and file nomination papers. Deadline to file is August 12, and for the Mayoral seat, August 17.
New this year: Under our new District model, one Councilmember will be elected to represent each of the 6 districts in Petaluma.  Districts 1, 2, 3 will elect district representatives in 2022. Districts 4, 5, 6 will elect district representatives in 2024.
To learn more about the election process, how to run, and to find your district, please visit: cityofpetaluma.org/elections.
WHAT DOES THE FAIRGROUNDS MEAN TO YOU?
How do you envision the future of the Fairgrounds? What are your memories or experiences of the property? Please join in on our ongoing community engagement efforts to ensure your voice is heard! 
Share your fairgrounds memories with us! Our Fairgrounds storytelling exhibit is coming to life with stories shared by over 30 community members so far. Visit petalumafairgroundstories.com to view what has been shared so far and add your story. 
Stay tuned to our Community Update emails, social media channels, and cityofpetaluma.org/fairgrounds for information on an upcoming community workshop. 
On July 11, the Petaluma Fairgrounds Advisory Panel presented their recommendations for future uses of the Fairgrounds property. The recommendations were reached after weeks of study and discussion to gain an in-depth understanding of our Fairgrounds and envision a future for this beloved Petaluma property. CLICK HERE to view a recording of the meeting and/or to view the recommendations in written report form. 
OAK HILL WELL PROJECT UPDATE – NEW SCHEDULE FOR PROJECT REVIEW
Thank you to all in our community who took the time to share your concerns around the proposed Oak Hill Well project. City Council has postponed discussion of the project to allow more time for community outreach. We now plan to present the item to the City Council on September 12 rather than August 1. 
This later date will allow us to gain a better understanding and address the concerns of the community, especially those living in the area around Oak Hill Park. We will be holding a community meeting at Oak Hill Park Thursday, August 11, from 6-8pm, during which we will share details of the proposed project, address questions we have received so far, and listen to additional concerns and feedback. 
We encourage all interested members of our community to attend. A postcard with further details will be mailed to residents living in the area around Oak Hill Park. Stay tuned to our website, Community Update emails, and social media channels for more details about the upcoming meeting. 
If you have questions, feedback, or concerns in advance of the meeting, please call or email Project Manager, Dan Herrera: [email protected], 707-778-4589 
ARE YOU EMERGENCY READY?
Disaster can strike unexpectedly and move fast. Planning ahead for yourself, your loved ones, and your neighbors is a crucial step in making it through the unexpected safely.  
Equipment Use Safety  
Equipment-caused fires are one of the top three causes of wildfires in Sonoma County. In many cases, improper equipment was used to cut dry grasses in open fields.  
Please do your part to avoid sparking a wildfire: 
Do not use a residential lawnmower to mow tall grass.

 

Avoid weed abatement and mowing altogether during excessively hot, dry, and windy days.

 
Do all weed abatement and mowing of seasonal grasses before 10am.

 

Remove rocks in the area before operating any equipment – a rock hidden in grass or weeds may spark a fire when struck by a metal blade.

 
CLICK HERE for more great tips from Sonoma County Fire Prevention Officers. 
CLICK HERE to learn more great tips for using equipment safely from CAL FIRE. 
SAVE WATER WITH US
The drought emergency in our region continues to be very serious which means we have to reduce our water usage citywide. Petalumans have made remarkable conservation efforts so far – thank you! We now ask that if you have relaxed any of your water-saving practices this year, please join us as we continue to save water. 
One of the best ways to save water is to limit your outdoor irrigation. We ask that all residents and businesses follow our current limited watering schedule – overnight Tuesday and Saturday from 7pm-8am. 
Don't know what else to do? For additional resources, visit our Drought webpage. 
CLIMATE ACTION UPDATE
This week, our Climate Action Commission shared the following: 
Join Us for Zero Waste Week! 
Clothing Swap  
Zero Waste Petaluma, an education and action group of 350 Petaluma, is hosting a communal clothing swap at Grand Central Coffee shop on July 27th from 5pm to 7pm. Please bring gently used clothing and your own bag to participate in the fun. Please do not bring any tattered clothes or undergarments. Find more information here. 
Produce & Pantry Food Share 
Wanted! Your surplus homegrown produce or unexpired pantry goods to share. Help eliminate food waste and support our community! Feel free to trade for items you don't have or simply take what you will eat. All leftover food will be donated to local food recovery organizations. 
Co-sponsors: 350 Petaluma and the Petaluma Regional Library.
Location: Petaluma Regional Library, 100 Fairgrounds Drive, Petaluma
Dates & time: Last Saturday of the month (July 30, August 27, September 24, October 29) from 10 to 11 am. (At the August food share, we will provide special information about food preservation and safety.) Find more information here. 
LAST SUNDAY THE COMMUNITY GATHERED FOR CICLOVIA
Big thanks to all the community members who joined us last Sunday for the inaugural Petaluma Ciclovia! We biked, walked, scooted, and skated along Petaluma Boulevard without any cars while enjoying a range of community activities. This event wouldn't have been possible without the collaboration of multiple City departments and our partnership with the Sonoma County Bicycle Coalition.  
We hope to make this an annual event but, until then, get out of your cars when you can and move through Petaluma on foot, bike, or bus! The climate will thank us. To learn about additional upcoming events that are part of the Climate Ready campaign, click here.  
LET US KNOW WHAT YOU THINK OF OUR LOCAL ROAD SAFETY PLAN DRAFT
Thank you to all in our community who took the time to provide input on the safety of our roads via our online tools and virtual community workshop. We have integrated your feedback into a draft of our Local Road Safety Plan. 
Please visit cityofpetaluma.org/lrsp to review our current Local Road Safety Plan draft and let us know what you think. Your input is an essential piece of making our roads safer for all who travel them. Deadline to submit feedback is Monday, July 25.  
HELP US CREATE STRONG, VIBRANT, CONNECTED NEIGHBORHOODS
Good News – Our town won a grant worth $180K of design assistance from the American Institute of Architects (AIA) Sustainable Design Assessment Team (SDAT)! 
The AIA will be visiting Petaluma in August with their team of experts to help us to explore ways to transform our neighborhoods into thriving, interactive hubs where people of all ages and abilities have safe access to most of their daily needs within just a short walk or bicycle ride. This is sometimes referred to as a "15-minute Neighborhood". 
You are invited to participate in a community-led design workshop at Bianchi Barn (outdoor venue) Sonoma-Marin Fairgrounds, 175 Fairgrounds Drive, on Friday, August 5, from 5:30 to 8:30 pm. A light dinner will be provided. 
Please RSVP for this event. Go to www.localuma.com.
JOIN US AUGUST 2, 2022 FOR PETALUMA NIGHT OUT! 
Come get to know your city and all the ways we can work together to keep Petaluma safe. 
Enjoy FREE food, music, prizes, kid's activities and have a chance to learn about the amazing local organizations that work every day to protect and serve Petaluma. Tour first-responder vehicles, pet animals from North Bay Animal Shelter and enjoy the jumpy house. Perfect for the entire family! 
Date: August 2, 2022                                                                                           
Time: 4pm – 7pm⁠ 
Location: Sonoma-Marin Fairgrounds, Petaluma⁠ 
For more information, please visit the Petaluma Police Department Facebook Page. 
FIND FUN FESTIVALS AND EVENTS IN PETALUMA THIS SUMMER!
It's event and festival season in Petaluma! Check out visitpetaluma.com/events to see what's coming up. We appreciate your support of our local businesses and community organizations that sponsor these events!  
JOIN OUR PETALUMA TEAM!
Part Time Police Property Technician
UPCOMING MEETINGS
The City of Petaluma is hard at work for our community. Please check out our upcoming meetings and click on the links below for more information: