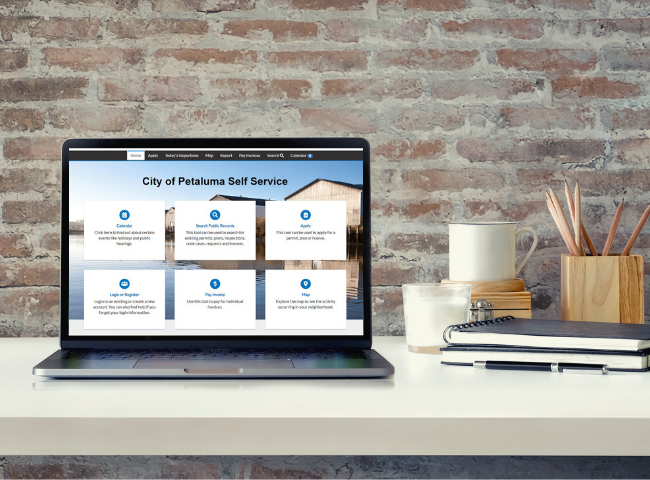 Good Evening, Petaluma –
We hope this email finds you well! Though much of life has opened back up to us, we are continuing to see an increase of the new COVID-19 Delta variant throughout Sonoma County. Per the County of Sonoma, there has been a recent increase in cases, hospitalizations, and deaths. This is not fun news to share, but we do so in an effort to encourage you to continue to work to keep yourselves, your loved ones, and our community safe.
Both the County of Sonoma and the CDC now recommend fully vaccinated individuals join the unvaccinated in wearing masks in public indoor settings. Please keep this in mind as you go out and about in the coming days and weeks.
Our wish for you, Petaluma, is that you are able to enjoy your summer while remaining safe, happy, and healthy. We've come a long way, and we will continue to get through these strange days together. #PetalumaProud
Please share the information below with friends and have a lovely evening. We'll see you in your inbox next Wednesday!
COVID-19 UPDATE
Please take a moment to check out these important COVID-19 resources and updates from the County of Sonoma:
CDC Aligns with County's Masking Recommendation
The Centers for Disease Control (CDC) has updated their guidance to recommend fully vaccinated people begin wearing masks in public indoor settings in areas of substantial or high transmission. According to their COVID Data Tracker, Sonoma County is one of these areas.
This recommendation supports the County of Sonoma recent recommendation that everyone wear masks indoors in public places as we continue to see cases of COVID-19 rising and increased circulation of the highly transmissible Delta variant.
Sonoma County Health officials say the County is continuing to follow California Department of Public Health (CDPH) guidance on masking: People who are unvaccinated must continue to wear a mask indoors in public settings to protect themselves and others.
CLICK HERE to view the CDPH guidance on masking.
Recent Increase in County COVID-19 Cases, Hospitalizations, and Deaths
Per the County of Sonoma, Sonoma County is experiencing COVID-related cases and hospitalizations at the highest rates since March of this year. County Health officials say this increase in cases coincides with the arrival of the Delta variant.
Younger, unvaccinated residents now account for the majority of new cases in the county. Dr. Sundari Mase, the County's health officer, says residents who are fully vaccinated have very little to worry about. Those who are not vaccinated are putting themselves and others at risk, particularly given how contagious the Delta variant is.
CLICK HERE to view the latest data on COVID-19 cases in Sonoma County.
Looking to Get Vaccinated?
Every Californian 12 years and older is eligible to receive the COVID-19 vaccine. Learn more about eligibility and where to get a vaccine HERE.
The County's vaccine website, SoCoEmergency.org/Vaccine continually updated, giving the public information about the vaccination rollout, safety and how the vaccine is being disseminated in Sonoma County.
Residents who need help making an appointment are encouraged to call the County COVID-19 hotline at 707-565-4667 in English and Spanish.
BROWN IS THE NEW GREEN – SAVE WATER WITH US!
During this period of historic drought, modifying the way we water plants and landscapes can have a huge impact on conserving our water supply.
The City of Petaluma is using a combination of conservation, recycled water, and reduced watering strategies in our parks and public landscapes. Our goal is to conserve as much water as possible while protecting trees and active play areas.
There are some simple ways you can help us save water:
Follow the new mandatory watering schedule (tip: water when it's dark!):
Irrigation only allowed overnight on Tuesday, Thursday, and Saturday from 7pm – 8am.
Swap grass for mulch:
We offer qualified residents FREE sheet mulching supplies (plus FREE delivery) to convert lawns. Learn more at cityofpetaluma.org/mulchmadness
Explore our programs and rebates:
Over 10K Petaluma residents are already taking advantage of our programs, rebates, and resources to help our community save water.
Visit cityofpetaluma.org/conserve to learn more.
STRUGGLING TO PAY RENT? HELP IS AVAILABLE
We are proud to partner with COTS and Petaluma People Services Center (PPSC) to help those in our community struggling with paying their bills during the pandemic.
COTS can pay up to 6 months of graduated rental assistance and utility payments to qualified households. No history of homelessness or housing insecurity required. COTS is here to serve YOU! Please contact Kristen Holmes at 707.340.5699 or [email protected] with questions or to determine eligibility. CLICK HERE to learn more about the program.
PPSC provides rental assistance to those in need with qualifying household incomes. To learn more about the program, please contact PPSC at 707-765-8488 or [email protected].
CLICK HERE to learn about more City and County-funded rental assistance programs.
PETALUMA PERMITTING IS GOING DIGITAL!
Get ready, permit applicants! The City of Petaluma is moving to an all-digital permitting process beginning in late August, 2021. The self service portal will be available via desktop, mobile, and other devices, making it a convenient way for applicants to complete permit activities.
This change comes as part of the City's implementation of EnerGov, a permit management software system designed to help the City improve efficiency, provide greater transparency into City processes, and deliver better customer service.
You can use the portal to:
Get Land Use & Zoning Answers
Find Forms
Submit Applications with Plans
Get Input & Submit Corrections
Check Status
Pay Fees
Schedule Inspections
Communicate with Staff
On the City side, the portal will be used to take in and track submittals, review plans and enter comments/corrections, and communicate electronically with applicants throughout the process.
CLICK HERE to learn more.
JOIN US AUGUST 3 FOR PETALUMA NIGHT OUT!
Come get to know your City and all the ways we can work together to keep Petaluma safe. Enjoy food, music, prizes, and a chance to meet the people that work every day to protect and support Petaluma. Plus, explore firetrucks, and police vehicles up close!
Date: August 3, 2021
Time: 4pm – 7pm
Location: Sonoma-Marin Fairgrounds, Petaluma
CLICK HERE to learn more.
CHANGES AT THE FIRST AND D STREET INTERSECTION
The City of Petaluma recently installed ADA-compliant curb ramps downtown designed to improve accessibility for those with disabilities, make navigating strollers easier and safer, and provide pedestrians more room to stand on the corner and safely cross the roadway.
In response to concerns received from community members regarding these improvements and the changed conditions they have created at the intersection of First and D Streets, the City has installed warnings to increase driver awareness and has modified the new ramp to ensure safety.
As always, the safety of our residents and visitors is the City's top priority. Thank you for your patience and understanding as we work to make Petaluma safe and accessible for all.
HELP BUILD A GREAT COMMUNITY TOGETHER
Would you like to help guide our community by giving input on decisions around technology, senior services, youth issues, Measure U funds, and more? The City is now accepting applications to fill vacancies on the following committees and commissions:
Senior Advisory Committee
Youth Commission
Measure U Oversight Committee
CLICK HERE to learn more.
WE'RE HIRING
The City of Petaluma is looking for talented people to join our team! Please click the links below for more information about our open positions. CLICK HERE for a full list of career opportunities.
Director of Public Works & Utilities
Police Officer (Current Academy Attendees & Graduates)
Senior Transit Planner/Grants Manager

UPCOMING MEETINGS
The City of Petaluma is hard at work for our community. Please check out our upcoming meetings and click on the links below for more information:
July 28, 7pm – Technology Advisory Committee
August 2, 5pm – Meeting of the Petaluma City Council and Petaluma Community Development Successor Agency
August 3, 6pm – Vehicle Miles Traveled (VMT) Technical Advisory Committee #4
August 4, 6:30pm – Pedestrian & Bicycle Advisory Committee
August 5, 6pm – Airport Commission
Check for upcoming meetings, agendas, and how to participate on the City's meeting webpage: https://cityofpetaluma.org/meetings/.