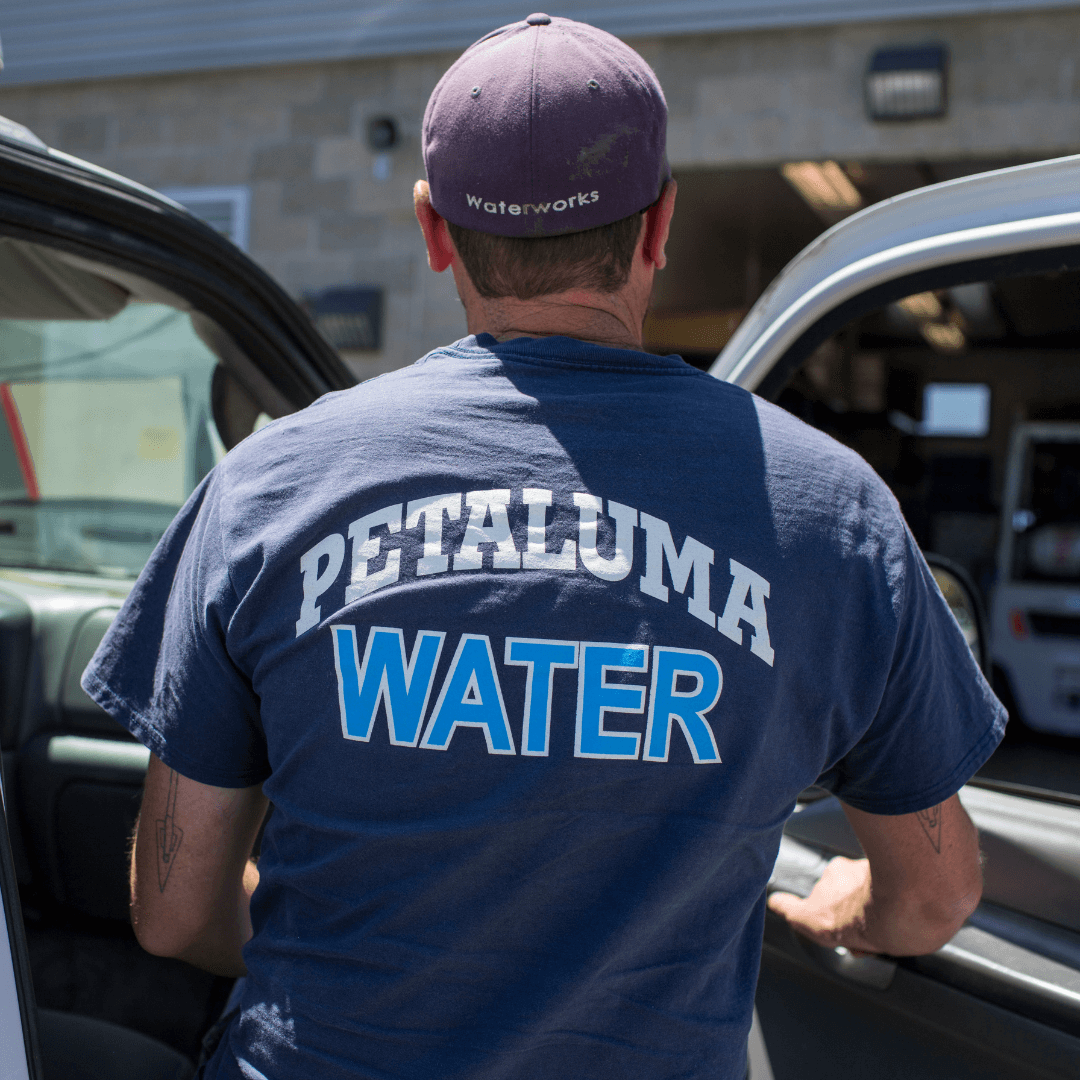 Happy Friday, Petaluma!
Every July, we celebrate National Parks & Recreation Month here at the City. In Petaluma, we are so lucky to have an amazing and dedicated team keeping our parks beautiful and planning events, activities, classes and programs that enrich our lives. As Rachel Beer, Recreation Supervisor says, "Here at Petaluma parks and recreation, our goal is to create community through our people, parks, and programs, and enrich the lives of every community member we come into contact with. We believe that Parks Make Life Better, and we are committed to upholding this motto through all avenues of our work."
We have a lot of exciting updates in progress — in our parks but also on our roads and in our water department — which you can read more about below. Thanks as always for reading, and we'll see you in your inboxes next month!
ONE STEP CLOSER TO THE LUCCHESI SKATE PARK! LET US KNOW WHAT YOU THINK
Thanks to our dedicated skating community who attended last week's workshop to provide input on Grindline's latest conceptual layout for the proposed 23,000 square foot Lucchesi Skatepark! For those who missed the workshop, you'll definitely want to check out their presentation, as it includes several major changes based on feedback received on the first iteration.
 Grindline is seeking your feedback on the revised design until August 6. While the design received broad support from those in attendance, the shape of the pool bowl was a topic of discussion. This is your opportunity to tell Grindline what type of pool bowl you'd like to skate! 
Thanks for your continued involvement in this exciting project. To learn more and sign up to receive project updates, please visit: cityofpetaluma.org/lucchesiskatepark.
PLAYING FIELDS TO BE DISCUSSED AT AUGUST 16 RMPC — COME ON DOWN!
The all-weather playing field at Lucchesi Park has gone beyond its 10-year lifecycle and is in need of replacement. 
Please join us at the upcoming Recreation, Music, and Parks Commission meeting August 16, 2023 to learn more and help shape the future of the Lucchesi playing field. There will also be an opportunity to share your questions, concerns, and input with the Commission.
Where: August 16, 2023, 6pm
When: City Council Chambers at City Hall, 11 English Street, Petaluma
Visit cityofpetaluma.org/lucchesifield to learn more about the project and how to make your voice heard.  
Thank you for helping us make Petaluma playing fields the best they can be! 
JOIN US AUGUST 2 FOR PETALUMA NIGHT OUT!
Sonoma-Marin Fairgrounds
Wednesday, August 2nd, 4:00pm-7:00pm
Petaluma Night Out is almost here! Join your local first responders and surrounding public safety organizations at the Sonoma-Marin Fairgrounds on Wednesday, August 2nd  from 4:00pm-7:00pm.
Our annual public safety festival will host a multitude of safety and not-for-profit organization booths, city departments, and your local California Highway Patrol, Petaluma Police Department, Sheriff's Office, Petaluma Fire Department, and Red Cross to name a few.
Each booth will offer safety activities, swag and resources. Enjoy tours of emergency vehicles and observe safety scenarios. Free snacks, music and prizes available to guests. See you there!
SHAPE PETALUMA'S VISION FOR WALKING & BICYCLING!
The City of Petaluma is updating our Active Transportation Plan, which will identify and prioritize efforts needed to make walking, bicycling, and rolling safe and accessible for people of all ages and physical abilities. A key element of the Plan is the project map, which identifies specific infrastructure improvements (such as new or improved trails, sidewalks, crosswalks, and bike lanes). The City has prepared an interactive draft project map that allows you to view the existing and proposed infrastructure and add your comments and ideas directly to the map. Alternatively, you may email your comments to Bjorn Griepenburg, Project Manager at [email protected].
LINKS:
Interactive Draft Project Map: tinyurl.com/3ch462fx
Interactive Draft Project Map Tutorial: tinyurl.com/44aeetsz
Plan Background & Overview: tinyurl.com/3uwezr4z
Plan Webpage: cityofpetaluma.org/active-transportation-plan/
Additional community engagement efforts will follow, so be sure to subscribe to updates at cityofpetaluma.org/active-transportation-plan/.
HARD AT WORK ON OUR ROADS
We are working hard to make Petaluma's roads safer and smoother for all who travel them. Check out updates on a couple of our current projects below!
FINAL PHASE OF PAVING TO BEGIN ON N. MCDOWELL
Great news, Petaluma! The final phase of paving for the N. McDowell Improvement Project will be happening in the next 2 weeks. Once this phase is complete, the community can expect to return to a more normal flow of traffic along this important corridor.  
Traffic control measures are currently in place however delays should be expected during heavy commute hours. We suggest taking an alternate route when possible. Thank you for your continued patience as we work to create a smoother, safer roadway surface for everyone to enjoy! 
As we move into late summer and fall, we will be putting the finishing touches on the project. This will include some utility work, striping the roadway designed to support safety for all road users, connecting traffic signals, and more.  The project is expected to be complete by late fall 2023. 
To learn more and sign up to receive project updates, please visit: cityofpetaluma.org/mcdowell.
PAVING ON GARFIELD DRIVE
Upgrades are underway for the street, sidewalks, and underground water services pipes on Garfield Drive.
"Concrete work" (upgrades to sidewalks, curb ramps, and driveways) is complete and pavement work began this week. Construction is expected to last through the end of August 2023.  During construction, traffic control measures will be implemented for safety.
Garfield Drive Neighbors, please note: Driveways may be temporarily blocked for periods of up to 9 hours (between 7am and 5pm) while we pave the street in front of homes. Residents will be notified via a notice on their front door 2 days prior to any blockages and emergency access will always be provided. Please plan ahead and consider parking on side streets on the days noted for closure.
Visit cityofpetaluma.org/garfieldpaving to learn more and sign up for email updates. 
WATER & WASTEWATER SERVICES UPDATES
There's a wild world flowing just beneath the surface here in Petaluma — our water service system! Pipes throughout town make it possible for this precious resource to journey to your homes — and for your used water to make it back to our treatment facility for proper processing. Read on for some upcoming events intended to help us provide excellent service now and into the future.
JOIN US JULY 31 TO LEARN ABOUT PROPOSED WATER RATE INCREASES 
Water and wastewater service affects everyone's daily life here in Petaluma. The City of Petaluma is proposing an increase in rates to help provide the best service possible to our community. The funds will help support infrastructure, enhance drought resiliency efforts, and improve our recycled water program. 
PLEASE JOIN US FOR A VIRTUAL MEETING MONDAY JULY 31 TO: 
Learn about the proposed increase 

Review what the money would be used for

Share your feedback and questions 
When: Monday July 31, 6:30pm
Where: Zoom – CLICK HERE to join the meeting
Visit cityofpetaluma.org/waterbill to learn more and access the meeting link. 
Spanish interpretation services are available by request. To request interpretation, please email [email protected] by 12pm July 31.
UPCOMING WATER/SEWER WORK IN PAYRAN MADISON NEIGHBORHOOD — LEARN MORE AUGUST 1
Providing clean, safe water and sewer services to our community requires us to upgrade underground pipes when they get old and stop working optimally. The pipes in  the Payran/Madison area of town are currently in need of repair. We plan to replace and upgrade them in the coming months — which will involve digging in the backyards of certain properties in the area.
Join us Tuesday August 1 at 6pm on Zoom to learn more about the project, discuss how it might impact you, ask questions, and share concerns with the project team.
When: Tuesday August 1, 6pm
Where: Zoom – CLICK HERE to access the meeting
Visit cityofpetaluma.org/payranmadison to learn more and sign up to receive project updates.
Spanish interpretation services are available by request. To request interpretation, please email [email protected] by 12pm August 1.
PETALUMA MUSIC FESTIVAL
Sonoma-Marin Fairgrounds (175 Fairgrounds Drive)
Saturday, July 29, 11:30 a.m. – 9:30 p.m.
The 16th Annual Petaluma Music Festival is a fundraiser supporting music education programs in our Petaluma area public schools. The event will feature 14 fantastic bands on 3 stages, including nationally recognized artists, plus a variety of specialty food, merchandise, and local business vendors, including beer from Lagunitas Brewing Company and Two Rock Brewing Company. Buy tickets and learn more about the event, including VIP seating options, at their website HERE.
Volunteer to help make the festival a Zero Waste event HERE.
NORTH BAY ANIMAL SERVICES 5TH ANNIVERSARY CELEBRATION
840 Hopper St
Saturday, August 5, 12-4 p.m.
To celebrate five years of service to Petaluma's animal community, North Bay Animal Services is hosting an Open House at our local shelter. Everyone is invited for fun, food, and floofs!
JOIN OUR PETALUMA TEAM! 
The City of Petaluma is looking for talented people to join our team! Please click the links below for more information about our open positions.CLICK HERE for a full list of career opportunities.
Associate/Senior Civil Engineer
Finance Director/Deputy City Manager
Police Officer (Current Academy Attendees & Graduates)
Public Safety Dispatcher – Entry Level
Public Safety Dispatcher – Lateral
Water Resources and Conservation Manager
UPCOMING MEETINGS
The City of Petaluma is hard at work for our community. Please check out our upcoming meetings and click on the links below for more information:
July 27, 6:00pm – Public Art Committee Meeting
Aug 1, 4:00pm – Historic & Cultural Preservation Committee Meeting
Aug 2, 6:30pm – Pedestrian & Bicycle Advisory Committee Meeting
Aug 3, 6:00pm – Airport Commission Meeting
Aug 7, 6:30pm – City Council/PCDSA Regular Meeting
Aug 8, 6:00pm – Planning Commission Meeting
Aug 10, 9:00am – Senior Advisory Committee Meeting
Aug 10, 4:00pm – Transit Advisory Committee Meeting
Aug 10, 6:30pm – Climate Action Commission Meeting
Check for upcoming meetings, agendas, and how to participate on the City's meeting webpage: https://cityofpetaluma.org/meetings/