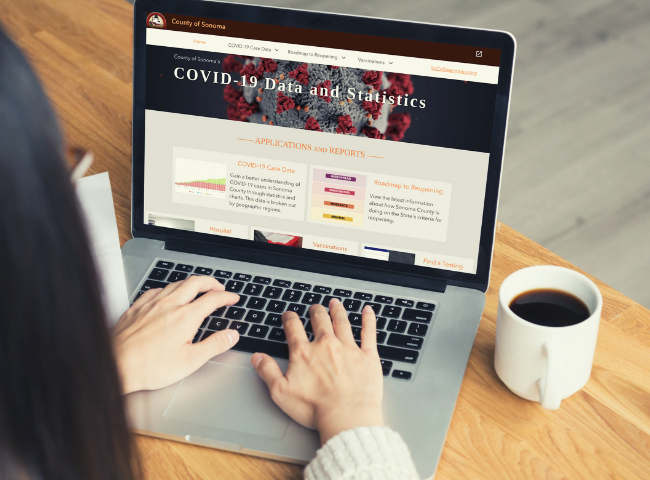 Good Evening, Petaluma –
Between mountain lion sightings, drought conditions, and fire safety, there has been a lot to keep us on our toes this past week. On the bright side, we loved sharing our City-sponsored firework show with you on the 4th, and are impressed by how many of you are taking water-saving measures to help our region through the drought. Through the ups and downs, our community stays together and supports one another. Such a special gift!
In tonight's email, we'll review some important COVID resources and updates from the County of Sonoma, take a look at happenings around town, share some great water-saving tips and programs, and more.
Please enjoy, share with friends, and have a wonderful evening. We will see you in your inbox next Wednesday!
COVID-19 UPDATE
Please take a moment to check out these important COVID-19 resources and updates from the County of Sonoma:
Over 325,000 Sonoma County Residents Vaccinated
Last week, the County of Sonoma reported over 325,000 residents have received at least one dose of COVID-19 vaccine. As of July 2, 2021, 75% of Sonoma County's 434,000 residents age 12 and older have received at least one dose of vaccine while 67% have been fully vaccinated with either Pfizer, Moderna, or Johnson & Johnson.
In total, Sonoma County has administered 597,219 doses and continues to outpace the state and national averages in the rate of vaccine doses administered.
To learn more about COVID-19 vaccinations, including how and where to receive a vaccine, please visit: SocoEmergency.org/Vaccine or MyTurn.ca.gov
Looking for Data? Visit the Sonoma County COVID Dashboard
Curious about COVID-19 case numbers, vaccine stats, ICU capacity, and more in our area? Visit the County of Sonoma COVID-19 Data and Statistics dashboard for the latest data.
CLICK HERE to visit the dashboard.
HISTORIC DROUGHT – SAVE WATER WITH US
Did you know over 10,000 Petaluma residents are already taking advantage of our free water conservation rebates and resources? The City of Petaluma offers many programs, rebates, and resources to help our community save water. Some of these include:
Toilet and Washing Machine Rebates
DIY Leak Kit
Free Water Conservation Devices
Water Wise House Calls
Mulch Madness
Pre-rinse Valve Rebates for Restaurants
Commercial Business Toilet + Urinal Rebates
For information or to request items, please call 707-778-4507 or email [email protected]
Visit CityofPetaluma.org/Conserve to learn more.
HARD AT WORK ON OUR ROADS
Our crews continue to be hard at work making our roads and trails smoother and safer for our community. Here are some highlights from this week:
The Americans with Disabilities Act (ADA) curb ramp work has been completed in the downtown area providing safe passageways for wheelchairs and strollers.
The Lynch Creek Trail paving work at Payran has been completed and is now open (yay!).
Pavement restoration work is taking place around town. CLICK HERE for information on which streets are receiving attention this week.
Ongoing paving work will be listed on our website and we will always provide businesses and residents that may be impacted 24-72 hours advance notice.
Thank you for your patience as we work to make our roads smoother and safer for our community!
CITY HALL OPEN FOR LIMITED IN-PERSON SERVICES
City Hall has opened its doors for in-person services for certain departments during limited times (Tuesdays & Thursdays, 10am-2pm). These hours will be in addition to our current virtual services.
Throughout the pandemic, all City services have been fully available virtually – and they continue to be! We have also had the opportunity to bring our public meetings to a virtual format. Though this was quite a shift, we are happy to have more access options available for our community.
Learn more about ways to access City services at CityofPetaluma.org/Reopening.
MARK YOUR CALENDARS FOR PETALUMA NIGHT OUT!
Join us August 3 for Petaluma Night Out! Come get to know your City and all the ways we can work together to keep Petaluma safe. Enjoy food , music, prizes, and a chance to meet the people that work everyday to protect and support Petaluma. Plus, explore firetrucks and police vehicles up close!
Date: August 3, 2021
Time: 4pm – 7pm
Location: Sonoma-Marin Fairgrounds, Petaluma
PETALUMA BIDS FAREWELL TO SLOW STREETS PROGRAM
In May of 2020, the City of Petaluma introduced Slow Streets, a new program designed to create more safe outdoor space for children and families to enjoy during the restrictions of the pandemic. Since then, a total of 5 miles have been designated "Slow Streets".
As our County has now reopened, we will be phasing out the Slow Streets program in the coming weeks. We will email key residents and make information available on the City's website.
The public input we received around this and other street safety programs has been invaluable. Thank you, Petaluma, for your commitment to the betterment of our community! We are currently developing a "tool-kit" of Petaluma-specific traffic calming measures to help create safer streets for all who live here. Stay tuned!
DON'T MISS THE DRIVE-IN MOVIE JULY 16!
Did you know that tickets are still available for next Friday's (July 16) showing of "Shrek" at the Sonoma-Marin Fairgrounds & Event Center?
This will be the first of four Drive-In Movies being shown this Summer and Fall by our Parks and Recreation Department.
LIBRARY NOW OPEN
Sonoma County Library locations are now open six days a week with expanded service hours. Vaccinated patrons are not required to wear masks and visitors are not required to observe physical distancing requirements. Unvaccinated patrons are required to wear masks, and no person with COVID‐19 or COVID‐19 related symptoms may enter a library facility.
Beginning July 5, in-person services hours are as follows at all regional libraries:
Monday, Tuesday: 12-7 p.m.
Wednesday, Thursday, Friday, Saturday: 10 a.m. – 5 p.m.
(Central Santa Rosa Library only) Sundays: 1-5 p.m.
Sonoma County Library continues to offer extensive services by telephone and online. Sonoma County Library resources are online 24/7 at sonomalibrary.org, including thousands of films, TV shows, eBooks, databases, magazines, classes, videogames and more.
WE'RE HIRING
The City of Petaluma is looking for talented people to join our team! Please click the links below for more information about our open positions. CLICK HERE for a full list of career opportunities.
Police Officer (Current Academy Attendees & Graduates)
Senior Transit Planner/Grants Manager
UPCOMING MEETINGS
The City of Petaluma is hard at work for our community. Please check out our upcoming meetings and click on the links below for more information:
July 7, 6:30pm – Pedestrian & Bicycle Advisory Committee
July 8, 8:30am – Senior Advisory Committee
July 8, 4pm – Transit Advisory Committee
July 8, 6:30pm – Climate Action Commission
July 12, 6:30pm – Meeting of the Petaluma City Council and Petaluma Community Development Successor Agency
July 13, 4pm – Historic and Cultural Preservation Committee
July 13, 7pm – Planning Commission
July 14, 6:30pm – Regular Joint Transit Advisory and Pedestrian & Bicycle Advisory Subcommittee
July 15, 4pm – Airport Operations / Master Plan Subcommittee
July 15, 6:30pm – General Plan Advisory Committee
Check for upcoming meetings, agendas, and how to participate on the City's meeting webpage: https://cityofpetaluma.org/meetings/.