Good Evening, Petaluma –
The warm weather is back and it's feeling more and more like summer! We hope you are taking time to enjoy the outdoors and the late evening light.
In today's email, we're sharing an update from our Parks and Recreation Department (hint: your dogs are going to love it!), a video from County Supervisor Chair Susan Gorin, information on activities and resources for seniors in our community, details on an upcoming meeting regarding traffic impacts, a message from the County of Sonoma on COVID-19 antibody testing, and more. Please enjoy – we'll see you back here Friday!
CORONAVIRUS UPDATE
This past Monday, Susan Gorin, Chair of the Sonoma County Board of Supervisors, shared a coronavirus update for our County. In the video above, Chair Gorin discusses important statistics, information about the updated Health Order, and more. Please take a few minutes to watch and share with your network.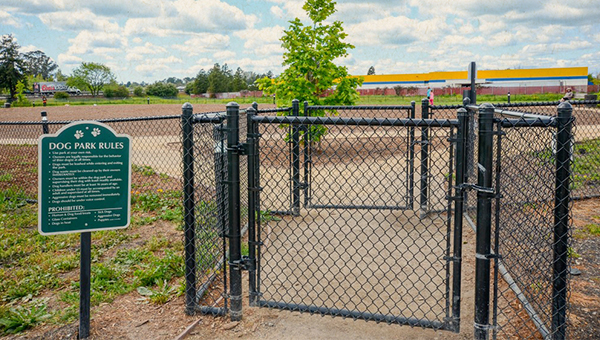 ADDITIONAL ACTIVITIES PERMITTED AT PETALUMA PARKS
This past weekend's updated Health Order has some significant changes coming to Parks and Recreation here in Petaluma. Please see below for what you can expect starting this week:
Dog parks have reopened. Please adhere to all posted signage.
The Petaluma Skate Park will be reopening. Please adhere to all posted signage.
Use of athletic fields and sports courts will be permitted for leagues or activities that submit a Social Distancing and Safety Protocol Plan for Outdoor Recreation Activities. Contact Recreation Coordinator Kevin Hays to request the plan at 707-778-4519 or khays@cityofpetaluma.org.
For more information, contact Parks and Recreation staff at 707-778-4380 or parksnrec@cityofpetaluma.org.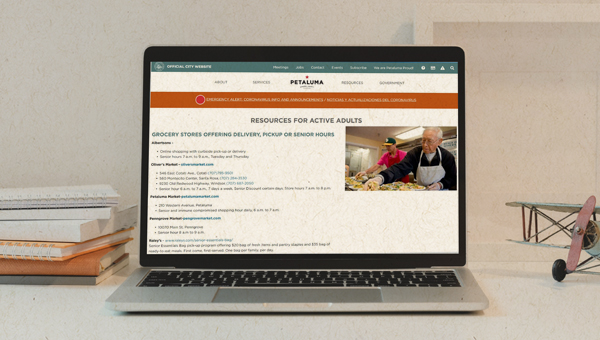 ACTIVITIES FOR SENIORS
The City of Petaluma cares about our senior community and we have been working hard to provide activities and resources throughout the pandemic to support them.
Our Senior Center team has been checking in on members since the start of Shelter-In-Place, offering resources on the Virtual Recreation page, meals through the Petaluma People Services Cafe (CLICK HERE for the June 2020 menu), a Senior Summer packet (coming soon!), and email blasts with important information through Civic Rec.
Today, Senior Center staff will be celebrating member Joe Graveman's 97th birthday by attending a social distancing party (complete with facial coverings) his neighbors are throwing.
Check out some great upcoming programs and webinars for seniors below!
If you would like to sign up to receive emails from the Petaluma Senior Center, please contact: skraus@cityofpetaluma.org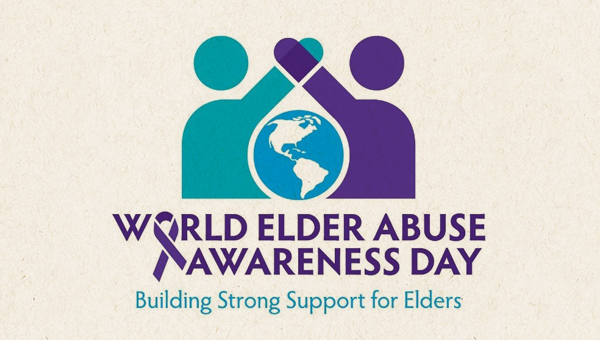 ELDER ABUSE AWARENESS DAY
Every year, an estimated 5 million (or 1 in 10) older Americans experience elder abuse, neglect, or exploitation. Monday June 15, 2020 is Elder Abuse Awareness Day, an occasion that provides an opportunity for communities around the world to promote a better understanding of the abuse and neglect of older persons.
Join Supervisor Shirlee Zane for a virtual Town Hall dedicated to supporting our older adult community. Supervisor Zane will be joined by experts from the Sonoma County District Attorney's Office, Human Services Department's Adult & Aging Division, and local non-profit organizations, including Elece Hempel, Executive Director of Petaluma People Services Center. They will explore ways to work together to support older and dependent adults and prevent elder abuse.
When: Monday, June 15, 6pm-7pm
CLICK HERE to register
If you have questions, please call 707-565-1778 or email AAA@schsd.org
Update your Facebook profile for Elder Abuse Awareness Day! 
Show support for the cause by updating your Facebook profile picture:
CLICK HERE to begin
Choose a WEAAD Frame
Set to apply frame until June 15, 2020
Click "Use as Profile Picture" to save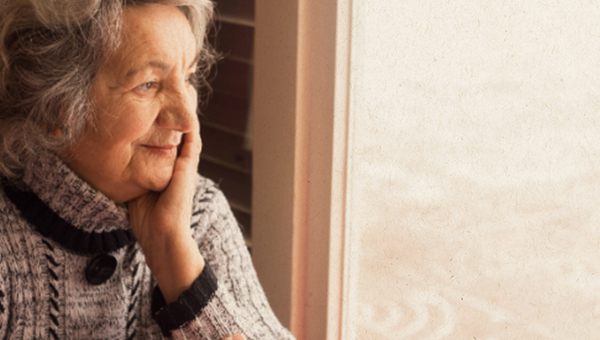 YOU ARE NOT ALONE
Petaluma People Service Center volunteers are here to help if you, or someone you know, is feeling lonely or anxious during the coronavirus outbreak. Sign up for their You Are Not Alone program and a screened volunteer will call every day to talk about anything you want to and/or provide updates on the most current information we have on the virus.
This program is open to anyone in Sonoma County 60+ years of age or those who suffer from a compromised immune system.
For information, please call or email Petaluma People Services Center:
707-765-8488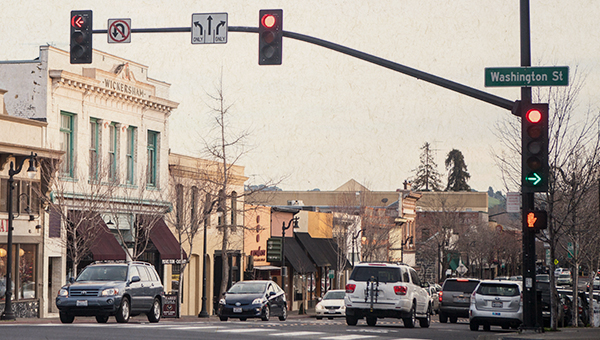 VMT & ENVIRONMENTAL REVIEW
If you want to get involved or learn more about how we at the City analyze traffic as it relates to new development, join us for our Vehicle Miles Traveled (VMT) & Environmental Review! This meeting is a great view into this highly technical process.
The State of California has changed the rules about how traffic impacts are analyzed. In the past, project related traffic impacts were assessed based on how new traffic would increase wait times at local intersections. Now, we are required to look at traffic differently.
When: June 18th, 6pm
How to Participate: Zoom Meeting
 Login Information: https://zoom.us/j/96845854215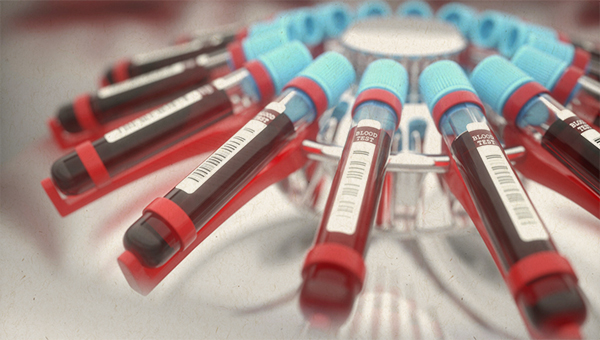 COVID-19 ANTIBODY TESTING
A message from the County of Sonoma:
Beginning Saturday, June 6, 2020, the County of Sonoma will test certain individuals for antibodies to COVID-19.
Testing at this time is for first responders, recovered cases, and their close contacts.
Testing will be performed daily at the Public Health Lab in Santa Rosa, with plans for strategically expanding this service at select hospitals and health centers in the County.
The new antibody testing is part of a larger surveillance effort to better understand the spread of the virus.
We initially plan to perform approximately 110 antibody tests per day with the goal of testing 3,500 people within the next four weeks as all testing sites become operational.
Data from the antibody testing will be used to evaluate the County's efforts to slow the spread of the coronavirus and help inform decisions around reopening.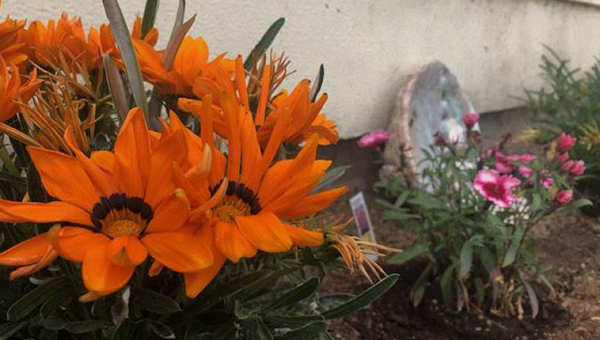 PETALUMANS LEARN USEFUL SKILLS DURING QUARANTINE
Many in our community made the most of the time spent at home over the past few months: learning new skills, cleaning closets, reading, and more. The Argus Courier wondered how local folks have been spending their days and asked the community to share. Turns out, Petalumans have some pretty interesting pastimes!
CLICK HERE to learn more at Petaluma360.com.
UPCOMING CITY MEETINGS
The City of Petaluma is hard at work for our community. Please check out our upcoming meetings and click on the links below for more information:
Check for upcoming meetings, agendas, and how to participate on the City's meeting webpage: https://cityofpetaluma.org/meetings/