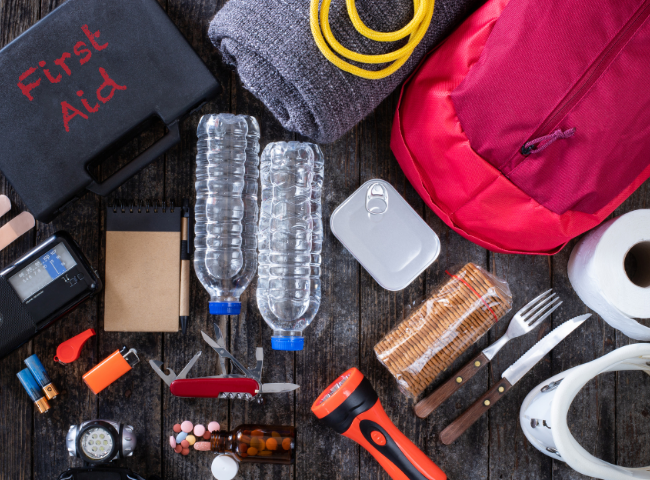 Good Evening, Petaluma –  
We hope you are enjoying some of the new freedoms afforded us with the reopening of California last week. It's been a long road and it's exciting to see the changes that are happening. As we continue on the path toward a new normal , we are reminded to treat each other with respect and compassion. There are different levels of comfort for each member of our community; we never know what someone may be dealing with in their health or at home. We are so proud Petaluma is a place that honors and makes space for these differences. Thank you for the spirit you give our community. 
In today's email, you'll see a lot about signing up for emergency alerts, planning for emergencies, etc. These are important steps in making sure our community is ready and updated with essential information (such as evacuation orders, instructions on what to do, etc) should a disaster occur. We've been through a lot (and learned a lot!) the past few years. Now is the time to put our knowledge into practice to be ready to keep ourselves and each other safe. 
With that, we wish you a lovely evening and week ahead. Please enjoy the following information and help spread the word by sharing with friends and family. We'll see you in your inbox next week! 
COVID-19 UPDATE
Please take a moment to check out these important COVID-19 resources and updates from the County of Sonoma: 
Reopening Update 
The State of California has moved beyond the Blueprint for a Safer Economy and its color-coded activity tiers. The entire state entered this new phase as a whole. This includes Sonoma County. 
Businesses are open fully for outdoor and indoor service. This includes all restaurants, bars, wineries and breweries.

 

Movie theaters, gyms, places of worship, museums, and family entertainment centers are open fully without limits.

 

No more limits on private gatherings at your home, park or business.

 
As reported by the Press Democrat, Sonoma County is now following the new statewide Health Order from the California Department of Public Health.  
CLICK HERE to view the full Health Order, which includes details on what is now permitted. 
The California Department of Public Health released full guidance on May 21 in this memo regarding the June 15 reopening. The state also provided this Beyond the Blueprint Q&A. 
Masking Update 
When it comes to face coverings, per the California Department of Public Health, all individuals must follow the requirements in their Guidance for the Use of Face Coverings. Sonoma County is fully aligned with the State and CDC guidance. 
New masking guidance includes: 
Vaccinated people do not have to wear masks except in settings where masks are required for everyone (public transit, indoors at schools, childcare, and youth activities, healthcare facilities, correctional facilities, shelters, and cooling centers)

 

Masks are required for unvaccinated people in indoor public settings and businesses (retail, restaurants, theaters, etc.)

 

Businesses can choose to require customers to wear masks or show proof of vaccination

 
CLICK HERE to view the current guidance for face coverings. 
New Workplace Requirements 
Employers and employees are required to follow the Division of Occupational Safety and Health (Cal/OSHA) revised COVID-19 Prevention Emergency Temporary Standards. These Standards outline masking requirements, vaccination status documentation requirements, and more. 
CLICK HERE to learn more, including answers to frequently asked questions. 
SAVE WATER WITH US
A drought emergency has been declared in Sonoma County. In fact, we just experienced the third driest water year in the last 127 years.  
Petaluma has a multi-stage Water Shortage Plan ready to go when drought conditions, like those we are experiencing now, arise. We are now in Stage 3 of this plan, designed to reduce our city's water usage by 25% through mandatory water use restrictions. These include:\ 
Only water landscaping: Tues. 7pm – Wed. 6am, Thurs. 7pm – Fri. 6am, Sat. 7pm – Sun. 6am.

 

No washing down pavement or cars at home.

 

Turn off water features and fountains.

 

No filling new pools and spas.

 
To view the full list of mandates and learn simple ways to reduce your water use, please visit CityofPetaluma.org/SaveWater 
SIGN UP FOR ALERTS NOW
During emergencies, staying informed is essential. Sign up for alerts today! 
BE EMERGENCY READY
Fires, blackouts, heat waves, earthquakes, pandemics – life in California is anything but boring these days. It's important to take steps to be prepared for anything that comes our way. Check out the following resources for tips and tricks to get your home and family ready: 
The Earthquake Warning for California systems use science, state-of-the-art ground motion monitoring, and new and existing alerting methods to deliver warnings to people via cell phones before the strong shaking begins. 

CLICK HERE

 to sign up today.

 

Learn the best ways to prepare for an earthquake from the California Office of Emergency Service 

HERE

.

 

PG&E offers advice to prepare for Public Safety Power Shutoffs, as well as where to sign up for updates and alerts, 

HERE

.

 
For more information, visit our Emergency Prep & Response page: CityofPetaluma.org/Emergency. 
STAY UPDATED WITH TEXTS FROM THE CITY OF PETALUMA
You can now be updated on all things Petaluma via text message! Text "Petalumanews" to (844) 470-0367 for City news and updates via text message to your phone. 
WHY DID PETALUMA BAN PUBLIC USE OF FIREWORKS & WHAT ARE PLANS FOR THE 4
th
 OF JULY HOLIDAY
Use of fireworks by the public (including those previously considered legal) is banned in Petaluma. The threat of wildfires, extremely dry conditions and high winds of this year, plus the dangers of illegal fireworks, presented too great a risk to our community. While we understand fireworks are a beloved tradition for many, our top priority is to keep our residents and properties safe.  
PLEASE BE ADVISED: Local property owners are responsible for any firework activity that occurs on their property regardless of who possesses or lights the fireworks. Violations are subject to a $1,000 fine. 
On the bright side, we are excited to announce the return of Petaluma's City-sponsored fireworks show! This year, the show will take place higher in the skies so more residents can view it from the comfort of their neighborhoods. The show will begin around 9:30pm on July 4 – simply look up and enjoy! Please note: the fairgrounds will not be open for viewing the show. 
CITY HALL REPOPULATES FOR LIMITED IN-PERSON SERVICES NEXT WEEK
Beginning June 28, the City will open its doors for in-person services for certain departments at City Hall during limited times (Tuesdays & Thursdays, 10am-2pm). These hours will be in addition to our current virtual services. We will provide more specific information as we near the June 28 reopening date. 
Throughout the pandemic, all City services have been fully available virtually— and they continue to be! We have also had the opportunity to bring our public meetings to a virtual format. Though this was quite a shift, we are happy to have more access options available for our community. 
Learn more about ways to access City services at CityofPetaluma.org/Reopening. 
CITY COUNCIL NEWS: RECAP & UPCOMING ITEMS
This past Monday, the City Council an investment of $850,000 to upgrade and strengthen our support for community members experiencing homelessness. These included contracts with COTS, the Downtown Streets Team, and providing a mobile shower program.   
The City Council also approved a new formula for estimating traffic impacts for new development.  The new formula focuses on the amount of car mileage (Vehicle Miles Traveled/VMT) created by development instead of car trips which was the model used in the past.  
CLICK HERE to watch a video of the Council meeting.  
This coming Monday, June 28, 2020, the City Council will review and prioritize Goals and Priorities for the City.  This session will present the work we have completed since the Council spearheaded this community driven effort in 2018. It will also propose a work plan for the upcoming year.  Please visit CityofPetaluma.org/Meetings for information on how to attend and participate in the meeting. 
TAKE CARE ON THE WATER THIS SUMMER – TOXIC ALGAE ALERT 
WE'RE HIRING 
The City of Petaluma is looking for talented people to join our team! Please click the links below for more information about our open positions. CLICK HERE for a full list of career opportunities. 
Director of Public Works and Utilities 
Police Officer (Current Academy Attendees & Graduates) 
Senior Transit Planner/Grants Manager 
UPCOMING MEETINGS
The City of Petaluma is hard at work for our community. Please check out our upcoming meetings and click on the links below for more information: 
June 23, 7pm – Technology Advisory Committee 
June 24, 6pm – Public Art Committee 
June 28, 6pm – Meeting of the Petaluma City Council and Petaluma Community Development Successor Agency 
July 1, 6pm – Airport Commission 
Check for upcoming meetings, agendas, and how to participate on the City's meeting webpage: https://cityofpetaluma.org/meetings/