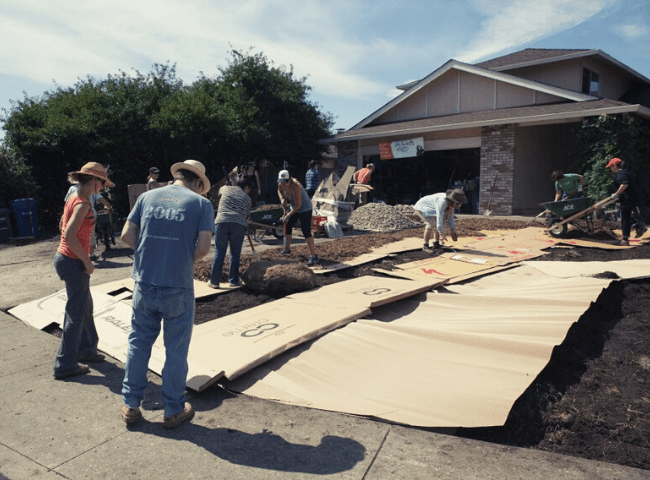 Hello, Petaluma —
We're excited to celebrate the upcoming 4th of July holiday with you! This year we'll be offering a unique way to honor the spirit of the 4th with an advanced laser light display in the skies over Petaluma and choreographed to music. Please remember, the personal use of ALL fireworks is prohibited in Petaluma in an effort to keep our community safe as we navigate extreme drought and dry conditions.
Read on for more information on our new 4th of July celebration, fireworks ban, COVID-19 vaccines, tips to save water, emergency prep ideas, and more.
Have a wonderful holiday weekend. We'll see you in your inbox next Wednesday!
JOIN US FOR A NEW 4TH OF JULY CELEBRATION!
Petaluma will celebrate the 4th this year with an advanced laser light display, designed to be viewed and enjoyed in the sky over the city. While we are disappointed to not be able to offer our annual fireworks display this year due to contractual and supply chain issues, we look forward to celebrating the spirit of Independence Day as a community with this unique offering.
The Show: 
Colorful beams of light projected throughout the skies across Petaluma

Will begin at approximately 9:30pm on July 4, 2022

Will be choreographed to music, broadcasted on 103.3 FM radio station
The show is designed to project from the downtown area to Sonoma Mountain. We have been told by the laser technicians if you are able to see downtown or have views of Sonoma Mountain, you will be able to see the show!  
Visit cityofpetaluma.org/july4lightshow to learn more. 
PLEASE REMEMBER – FIREWORKS ARE NOT ALLOWED IN PETALUMA
Petaluma has a ZERO TOLERANCE POLICY on the personal use of ALL fireworks, including those previously considered legal. While we understand fireworks are a beloved tradition for many, our top priority is to keep our residents and properties safe. The threat of wildfires, exceedingly dry conditions, high winds, and historic drought, plus the dangers of illegal fireworks, present too great a risk to our community.  
Property owners will be held responsible for firework activity that occurs on their property and will be cited accordingly, regardless of who possesses or lights the fireworks. Violations are subject to fines of $1,000 or more. 
While anyone found using fireworks may receive a fine, there will be no fines, citations, or questions for anyone willing to surrender their fireworks prior to the 4th. If you would like to turn in your fireworks, please contact the Petaluma Fire Department at (707) 778-4390.
Thank you to everyone who opted to surrender their fireworks at our recent Firework Turn-In event. Nearly 20lbs of fireworks were collected.  
CLICK HERE to learn more. 
COVID-19 VACCINES NOW AVAILABLE FOR CHILDREN 6 MONTHS OLD AND UP
A message from the County of Sonoma:
With Federal and State regulators having now approved the use of COVID-19 vaccines for children ages 6 months to 4 years old, Sonoma County began vaccinating the roughly 21,000 children in this age range through primary care providers and health centers this week. 
Parents who have health care coverage are encouraged to reach out to their primary care provider to find a vaccination appointment for their children as soon as possible. Vaccinations for those ages 6 months and up will also be available starting Tuesday, June 21 at the County's fixed vaccination clinic at the Roseland Community Center, 779 Sebastopol Road, in Santa Rosa. 
Appointments for pediatric vaccinations also can be made on myturn.ca.gov beginning on Tuesday, June 21. 
More information is available through the county's vaccine clinic page or through the myturn.ca.gov website. 
ARE YOU EMERGENCY READY?
Disaster can strike unexpectedly and move fast. Planning ahead for yourself, your loved ones, and your neighbors is a crucial step in making it through the unexpected safely. Put
a plan in place ahead of time so you can spring into action should the need arise. 
Go Bag Checklist 
Be prepared to hit the road in a moment's notice with basic survival necessities that you can grab and go. Create one bag for each member of your household (don't forget your pets!). Click HERE to download the printable checklist. 
Visit cityofpetaluma.org/emergencyprep to learn more. 
SHARE YOUR FAIRGROUNDS MEMORIES!
The Fairgrounds Community Storytelling Exhibit is coming to life! Featuring colorful collages, historic newspaper clippings, captivating videos, oral histories, and more, over 25 community members came and shared their favorite Fairgrounds memories this past weekend. View these special stories told by the community on the Community Storytelling Exhibit webpage at PetalumaFairgroundsStories.com/gallery  
Weren't able to share your story this weekend? Stop by one of the upcoming Storytelling Events at the Petaluma Library:  
Tuesday, July 12th,  2:00 PM – 6:00 PM

Saturday, July 16th, 10:00 AM – 2:00 PM
Saturday, August 6th, 10:00 AM – 2:00 PM
Tuesday, August 9th, 2:00 PM – 6:00 PM

 
Can't make it to an in-person event? You can always submit your story online! For instructions on how to capture your story at home and submit online visit the exhibit webpage at PetalumaFairgroundsStories.com 
CLIMATE ACTION UPDATE
This week, our Climate Action Commission shared the following upcoming events. Check them out! 
Mark your calendars and join us on Sunday, July 17 from 10 am – 2 pm for Ciclovía! 
Organized by the City of Petaluma and the Sonoma Bike Coalition, Ciclovía is a day for outdoor fun for the whole family! Experience Petaluma Boulevard without any cars, traverse town on the Lynch Creek Trail, and see some of the new infrastructure that has been developed to make Petaluma safer for bicyclists. There will be a variety of activities & performances along the route and in surrounding parks. 
Come downtown for a chance to support our city, local businesses, and community organizations – all while being friendly to our planet. We can't wait to see you there! 
For a map of the event and more information, visit bikesonoma.org/ciclovia.
MULCH MADNESS IS BACK! SCHEDULE A FREE WATER-WISE HOUSECALL
The City of Petaluma is serious about water conservation and our Mulch Madness Program is proof of that. Mulch Madness is a free turf conversion program for residents and businesses who want to transform their water thirsty lawns to a drought tolerant mulched landscape. This program includes free sheet mulching supplies (compost, cardboard, mulch) and delivery, as well as irrigation conversion kits for residential accounts.
For information on how to qualify, visit our Mulch Madness webpage: cityofpetaluma.org/mulch 
The Benefits of Sheet Mulching 
Saves money on your water bill.

Sheet mulching the average 1,000 sq. ft. lawn could save between 12,000 and 25,000 gallons of water per year!

Suppresses weed growth.

Reduces labor and maintenance costs.

Improves nutrient and water retention in the soil and improves soil

structure.

Encourages favorable soil and microbial activity.

Improves plant vigor and health, often leading to improved resistance

to pests and disease.

 
JOIN OUR PETALUMA TEAM!
The City of Petaluma is looking for talented people to join our team! Please click the links below for more information about our open positions. CLICK HERE for a full list of career opportunities. 
Administrative Assistant (Limited Term) 
Assistant Engineer I/II & Associate Civil Engineer 
Firefighter/Paramedic – Entry Level 
Firefighter/Paramedic – Lateral 
Police Officer (Current Academy Attendees & Graduates)
Public Safety Dispatcher – Lateral 
UPCOMING MEETINGS
The City of Petaluma is hard at work for our community. Please check out our upcoming meetings and click on the links below for more information: 
July 6, 6:30pm – Pedestrian & Bicycle Advisory Committee 
July 7, 6pm – Airport Commission 
July 12, 4pm – Historic and Cultural Preservation Committee 
July 12, 7pm – Planning Commission 
July 13, 6:30pm – Regular Joint Transit Advisory and Pedestrian & Bicycle Advisory Subcommittee 
July 14, 8:30am – Senior Advisory Committee 
July 14, 4pm – Transit Advisory Committee 
July 14, 6:30pm – Climate Action Commission 
Check for upcoming meetings, agendas, and how to participate on the City's meeting webpage: https://cityofpetaluma.org/meetings/