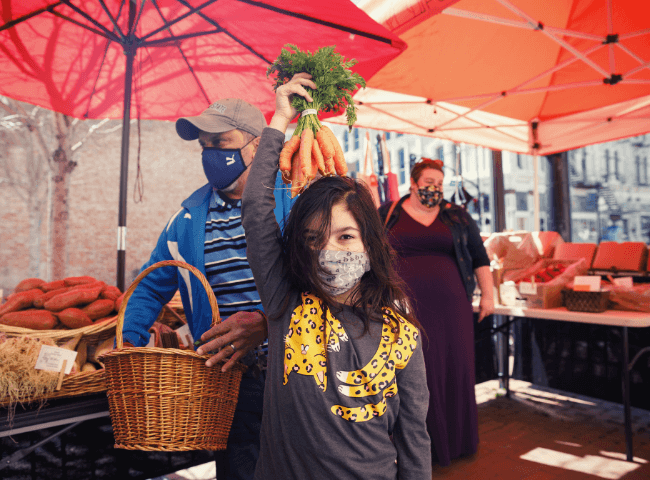 Good Evening, Petaluma –
Next week, California will move beyond the Blueprint for a Safer Economy tier system put in place for COVID-19 safety. The past 15-months have been not only unprecedented, but life changing for many in our community. As we move into this next phase of the pandemic, we would like to take a moment to commend each and every one of you for your strength in the face of adversity, your courage in charting unknown waters, and your integrity in taking actions to keep your loved ones and neighbors safe. Though we are not completely out of the woods, it is refreshing to see some aspects of life taking on an air of normalcy again. Please, continue to mask and social distance as recommended. We are still, as always, in this thing together!
In tonight's email, we'll review the upcoming June 15 COVID-19 safety transition, honor Pride month, share some exciting news about fireworks, tell you where to get free water saving supplies, and more. Please enjoy, share with friends, and have a lovely evening. We'll see you in your inbox next Wednesday!
COVID-19 UPDATE
Please take a moment to check out these important COVID-19 resources and updates from the County of Sonoma:
June 15 Transition
June 15 is the day that Gov. Newsom says California intends to do away with the Blueprint tier
system and reopen most of the economy, if two criteria are met:
There is enough vaccine supply for all eligible Californians to be vaccinated.
Hospitalization rates remain stable and low.
At that time, the state will move beyond the Blueprint for a Safer Economy and its color-coded activity tiers. The entire state will move into this new phase as a whole
The California Department of Public Health has updated the Beyond the Blueprint Framework for California's June 15 reopening. On June 15, all industry and business sectors listed in the current Blueprint Activities and Business Tiers Chart may return to usual operations with no capacity limits or physical distancing requirements, with limited exceptions for mega events.
CLICK HERE to learn more about the Beyond the Blueprint Framework.
Masking Update
Per the County of Sonoma, California will keep existing mask guidance in place until June 15, at which time it will align with the newly released CDC guidance.
After June 15, fully vaccinated people in California can resume activities without wearing a mask or physically distancing, except where required by federal, state, local, tribal, or territorial laws, rules, and regulations, including local business and workplace guidance. Unvaccinated people will still be urged to wear masks.
All residents in California 12 and older are now eligible for vaccination. If you haven't been vaccinated yet, find a vaccine HERE.
PETALUMA PROUDLY PROCLAIMS SUPPORT OF PRIDE MONTH
On Monday June 7, the City of Petaluma officially issued a proclamation of recognition and support for Pride month. Throughout the month of June, you will see rainbow flags being flown at our City offices and community buildings to honor this important month and show solidarity with the amazing LGBTQ community. A video of the proclamation being read by Mayor Barrett can be viewed HERE.
CLICK HERE for a list of Pride events taking place in Sonoma County.
DROUGHT DROP BY EVENT THIS WEEKEND
Looking for ways to save water during this historic drought? The City of Petaluma has partnered with the Sonoma-Marin Saving Water Partnership for a Drought Drop By event.
Simply stop by the Petaluma Community Center's parking lot (320 N. McDowell Blvd) on Saturday June 12th between 9am-1pm for curbside pick up of a FREE water-saving kit that includes:
A bucket to catch water for reuse
WaterSense labeled low flow showerhead
5-minute shower timer
WaterSense labeled low flow faucet aerator
Toilet dye test tablets
Self-closing garden hose nozzle
Kits are available while supplies last. Limit one per household.
CLICK HERE to learn more.
ENGAGING THE LATINX COMMUNITY IN PETALUMA
Did you know nearly 20% of Petaluma residents identify as Latino/Latina? We are working hard to reach and engage these valued members of our community – and we'd love your help!
We want to make sure every voice in our community is heard and that each person is able to access important information from the City. We are currently working on a year-long project to find out what media, communication channels, and relevant content Latinos and Latinas in Petaluma are using, all for the purpose of strengthening communication between the City and the Latinx community. The goal is to generate inclusive strategies, inspire people to get involved, and give everyone access to the information, benefits, and activities that our City offers.
If you are a resident of Petaluma and identify as Latino(a) and would like to be a part of the discussion, we would love you to join us. Please send us an email to martincruzriva[email protected] and we will connect you with the consultant team.
WANT FASTER INTERNET?
Help Sonoma County expand broadband needs, such as funding and infrastructure, by testing your broadband speed at home.
Take the test and learn more at SonomaEDB.org/Broadband
On a related note: The City's Technology Advisory Committee (TAC) is also exploring how to improve high speed internet access city-wide. The Committee is partnering with the County, providers, and other community members to understand the issues and make recommendations. By taking the County survey, you'll help the TAC in these efforts! Learn more about the TAC HERE.
WE'RE HIRING
The City of Petaluma is looking for talented people to join our team! Please click the links below for more information about our open positions. CLICK HERE for a full list of career opportunities.
Director of Public Works and Utilities
Part Time Transit Division Intern
Police Officer (Current Academy Attendees & Graduates)
Senior Transit Planner/Grants Manager
UPCOMING MEETINGS
The City of Petaluma is hard at work for our community. Please check out our upcoming meetings and click on the links below for more information:
June 9, 6:30pm – Regular Joint Transit Advisory and Pedestrian & Bicycle Advisory Subcommittee
June 10, 4pm – Transit Advisory Committee
June 10, 6:30pm – Climate Action Commission
June 14, 6pm – Meeting of the Petaluma City Council and Petaluma Community Development Successor Agency
June 15, 6pm – Ad Hoc Community Advisory Committee
June 16, 3:30pm – Tree Advisory Committee
June 16, 5pm – Airport Projects Subcommittee
June 16, 7pm – Recreation, Music, and Parks Commission
June 17, 4pm – Airport Operations / Master Plan Subcommittee
June 17, 6:30pm – General Plan Advisory Committee
Check for upcoming meetings, agendas, and how to participate on the City's meeting webpage: https://cityofpetaluma.org/meetings/