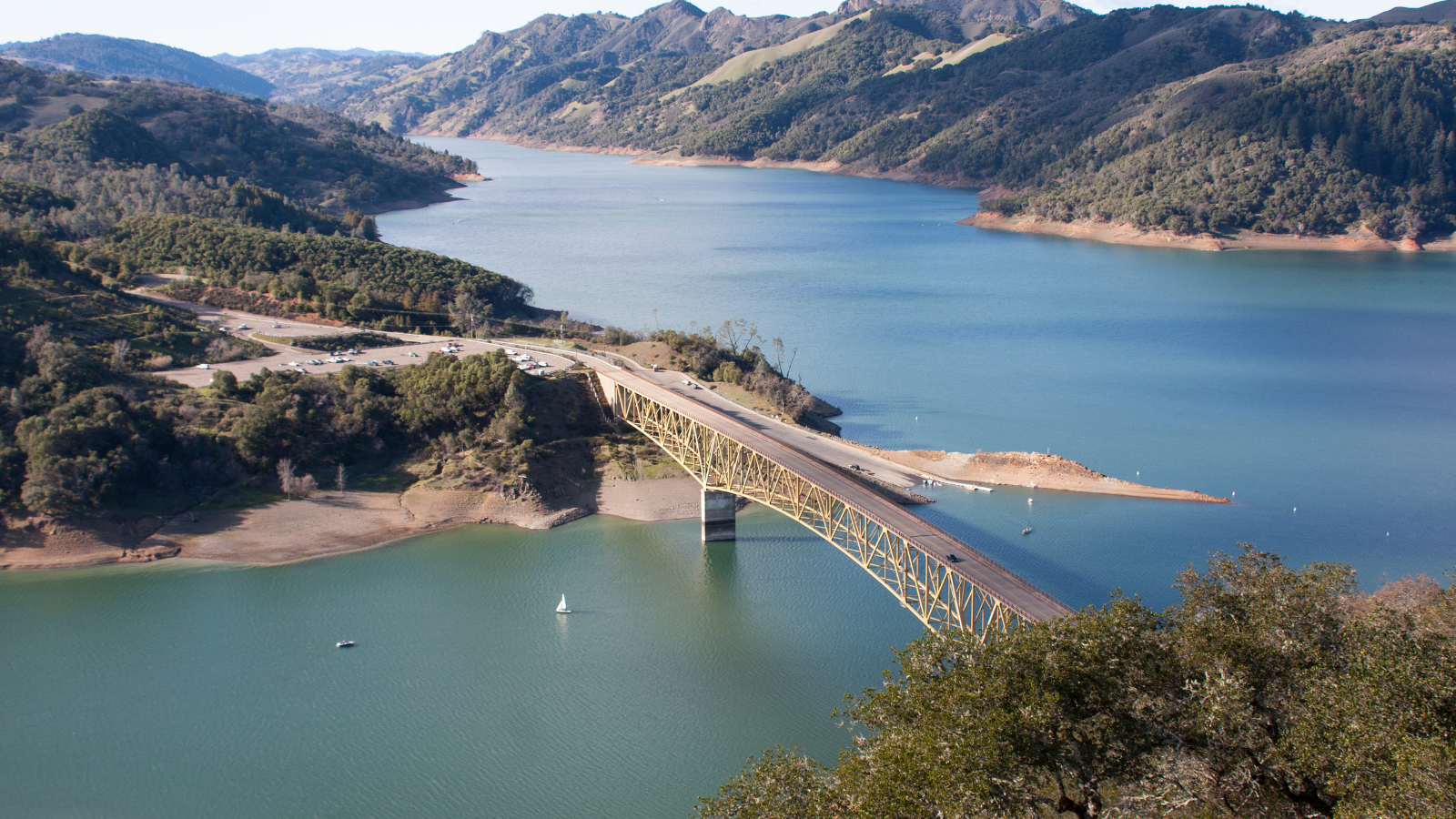 Happy Thursday, Petaluma!
This issue of our Community Update is all about water. After years of drought, we're all glad for the continued rain… but the inclement weather doesn't mean we can stop being water-wise in Sonoma County. Below you'll find updates on when we'll be reassessing our drought stage, plus ways to keep saving water AND money when the next dry year comes along.
In the meantime, we hope you get out and enjoy Petaluma's beautiful green hills this St. Patrick's Day, and keep a pot of gold in your bank account the next time your water bill comes around. We'll see you in your inbox in two weeks!
DROUGHT UPDATES
Good news, Petaluma! Water supply in local drinking water reservoirs, Lake Mendocino and Lake Sonoma, have recovered after reaching historically low levels following three years of severe drought. The current water use restrictions that were previously established in response to the drought are set to be re-assessed at the April 17, 2023, City Council meeting.
The City of Petaluma is thankful to our community for working together to save water during this historic drought and for your continued efforts to use water wisely. Over the last 18 months, Petaluma has reduced water use by 26% and has saved almost 1 billion gallons of water (991 million gallons of water saved).
Even with these achievements, recurring droughts due to climate change are a way of life in Petaluma, and so is water conservation. The City of Petaluma offers free water-saving devices, rebates, Water-Wise HouseCalls, resources, and tips year-round to help our community save water. All resources can all be found on our Water Conservation webpage at cityofpetaluma.org/water-conservation
If you have questions regarding water conservation, please email [email protected] or call the Water Conservation line at (707) 778-4507.
FIX A LEAK WEEK
In recognition of the EPA WaterSense Program's Fix a Leak Week, March 20 – 26, 2023, the Sonoma-Marin Saving Water Partnership is encouraging residents to find and fix leaks by sponsoring the Dye Tab Challenge through March 31, 2023. Toilet leaks are often silent and can waste hundreds of gallons of water per day, making the toilet the number one cause for a high-water bill. That is why it is important to test your toilet annually, anytime you hear water running, or experience ghost flushes (when a toilet refills on its own without being flushed) that might indicate a toilet leak.
Take the challenge today at https://www.savingwaterpartnership.org/challenge/
LEARN MORE ABOUT ADVANCED METERING INFRASTRUCTURE (AMI) WATER METER TECHNOLOGY UPGRADES
The City of Petaluma is upgrading to Advanced Metering Infrastructure (AMI), a new water meter technology designed to help you save water!
WHEN: Tuesday March 21, 6pm – 7:30pm
WHERE: Zoom – CLICK HERE to join
Join us to find out:
What AMI is and how it works
How AMI can help you save water
All about our new online portal
To learn more about the AMI upgrade and sign up to receive updates, visit cityofpetaluma.org/ami
COMING SOON: REPAVING & SAFETY UPGRADES ON GARFIELD DRIVE
The pavement on Garfield Drive is over 50 years old and in visibly poor condition. We are pleased to announce the City will be repaving a 1.5 mile stretch of Garfield Drive between East Washington Street and Cross Creek Street in Spring/Summer 2023, following completion of a Water Services Replacement Project.
With any paving project, the City looks for opportunities to improve safety and accessibility for all road users. Improvements that will be incorporated in this project include:
New or improved curb ramps and crosswalks
Parking prohibition near intersections and crosswalks to improve visibility
Roadway striping or signage elements that slow traffic, increase road users' awareness, and make roadway operations more intuitive
To learn more and sign up to receive project updates, including information about an upcoming public meeting, please visit: cityofpetaluma.org/garfieldpaving
WOMEN IN PUBLIC SAFETY
Want to help keep Petaluma safe during the next emergency? The Santa Rosa Fire & Police Departments invite you to attend the free Women in Public Safety Day this Saturday, March 18, from 10 a.m. to 2 p.m. at SRFD's Training Tower located at 2126 W. College Avenue in Santa Rosa, CA. This educational career expo offers LIVE demonstrations and networking opportunities to encourage more women and girls to enter the public safety field, such as law enforcement, fire, emergency medical services, and other life safety services. CLICK HERE TO RSVP NOW.
CITY COUNCIL GOALS & PRIORITIES
Last Monday, the City Council heard updates from staff on their progress towards the Councils top ten Goals & Priorities. Learn more about our work and how we're reaching our milestones at https://cityofpetaluma.org/city-goals-and-priorities/
ReLeaf ANNUAL MEETING
ReLeaf Petaluma is hosting its Annual Meeting tonight! Join one of Petaluma's Climate Ready 2030 partners this evening, Thursday March 16, at Mary's Pizza from 5:00-7:00 p.m. for updates on this seasons' accomplishments, as well as providing information on upcoming plans.
CITY BUDGET WORKSHOP
Save the Date! Wednesday, April 19, from 5:00 – 7:00 p.m., the City of Petaluma will be hosting a virtual workshop to bring residents into our annual budget process. You'll learn how we allocate funds for the many projects happening around the city and look ahead to fiscal year 2024. Stay tuned for more information on how to participate.
FREE TAX PREP
Households making under $70,000 may qualify for free tax preparation through the United Way's Earn It! Keep it! Save it! Program. Click HERE to learn more.
BUTTER & EGGS – NEW DATE!
Mark your calendars! This year's Butter & Egg Days Parade will take place on April 22, to be followed by the Antique Faire the following weekend on April 30. Click HERE to learn more.
JOIN OUR PETALUMA TEAM! 
The City of Petaluma is looking for talented people to join our team! Please click the links below for more information about our open positions. CLICK HERE for a full list of career opportunities.
Code Enforcement Officer/Senior Code Enforcement Officer
Firefighter/Paramedic – Lateral 
Police Officer (Current Academy Attendees & Graduates) 
Public Safety Dispatcher – Entry Level
Public Safety Dispatcher – Lateral 
Senior Management Analyst – Community Development 
Transit Specialist (Marketing & Communications) 
UPCOMING MEETINGS
The City of Petaluma is hard at work for our community. Please check out our upcoming meetings and click on the links below for more information: 
March 20, 6:30 p.m. – CITY COUNCIL/PCDSA REGULAR MEETING
March 21, 5:00 p.m. – Measure U Oversight Meeting
March 22, 7:00 p.m. – Technology Advisory Committee Meeting
March 23, 6:00 p.m. – Public Art Committee Meeting
March 28, 7:00 p.m. – Planning Commission Regular Meeting
Check for upcoming meetings, agendas, and how to participate on the City's meeting webpage: https://cityofpetaluma.org/meetings/