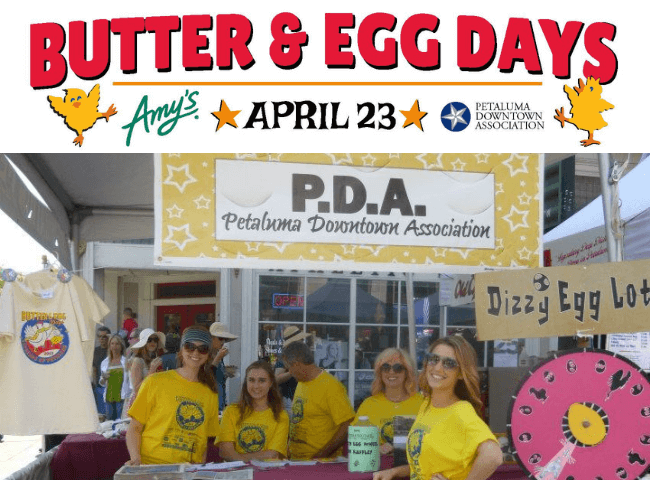 Hello, Petaluma –  
Things are certainly heating up this spring! We hope you made it through yesterday's elevated temperatures comfortably. Spring is a favorite here in Petaluma as we get to enjoy sunshine and flowering trees while still being surrounded by green hills. And, as an added bonus, this year we welcome the return of the Butter and Egg Days Parade! CLICK HERE to learn more about the return of this beloved Petaluma tradition. 
In tonight's email we'll share news of important happenings around town, ways to save water (yes, we are still in a drought emergency), and more. Please enjoy, share with friends, and have a lovely evening. We'll see you in your inbox next Wednesday! 
COVID-19 UPDATE
Please take a moment to check out these important COVID-19 resources and updates from the City of Petaluma and the County of Sonoma: 
City Hall Hours 
Effective March 21, 2022, various in-person services at City Hall will be open to the public Monday-Thursday, 10am-2pm. All City departments are open and accessible virtually Monday-Thursday, 8am-5pm. 
Learn more HERE. 
Masking 
Masks are no longer required for unvaccinated individuals in California, but are strongly recommended for all individuals in most indoor settings. As of March 11, 2022, in schools and child care facilities, masks are not required but are strongly recommended (please contact your school district for masking requirements at your child's school).  
CLICK HERE to view updated masking guidance from the California Department of Public Health (CDPH). 
HELP SHAPE THE FUTURE OF THE FAIRGROUNDS
Have you received your letter yet? The Petaluma Fairgrounds Advisory Panel needs you!  
The Panel will help shape the future of the Petaluma Fairgrounds. Check your mail to see if yours was one of the 10,000 households randomly selected to apply to join the Panel. If you've received the invitation, remember to have all eligible people either mail their reply by April 5th, or reply online by April 10th. Panelists will be selected in a live Lottery Selection Event on April 13th. 
This week, another group, the Informational Advisory Committee, will be selected to identify and share information with the Advisory Panel.  That committee will be made up of representatives of community groups, such as recreation groups and property neighbors, that have an interest in, and a perspective about, the future of the Fairgrounds.  
For questions about the Panel or to watch the IAC Selection livestream on March 24th, tune into healthydemocracy.org/petaluma 
DISTRICT ELECTIONS MAP APPROVED BY CITY COUNCIL
Big news! Petaluma is nearing the end of the transition to district elections. Thank you to everyone who provided input throughout this process. At their March 21, 2022 meeting, City Council approval a final map: Map Draft Plan 2 – Idea Consolidation 2 (Updated). As you will see, Petaluma has been mapped into six districts of nearly equal population. Voters in each district will vote for one eligible candidate to represent them on the City Council. The Mayor will continue to be elected at-large by all City voters. 
At this week's meeting, City Council also introduced the District Elections ordinance which specifies which three districts will be the first to elect district representatives in 2022, and which three districts will elect district representatives in 2024. Council is scheduled to adopt the ordinance on April 4, 2022. Adoption of the ordinance will be the final step in completing our District Elections transition.  
To learn more about the sequencing of the districts, please visit our District Elections webpage.  
HOW TO USE YOUR WATER METER TO CHECK FOR LEAKS
Did you know water leaks contribute to 12% of household water use? Follow along with Dan in this video to learn how to read your water meter and check for leaks. You can also visit cityofpetaluma.org/watermeter to learn more. 
After reviewing those resources, you are also welcome to schedule a FREE Water-Wise Housecall where a water conservation expert will visit your property to help address any/all of the below: 
Program your irrigation timer to follow the restricted watering schedule

 
Adjust sprinklers to avoid overspray/water waste

 

Help you check for water leaks

 

Advise on ways to save water indoors and outdoors 

 
To schedule a Water-Wise HouseCall, please call (707) 778-4507 or email [email protected].  
HOUSING ELEMENT PUBLIC WORKSHOP (VIRTUAL)
Thursday, April 7, 2022 – 6:00 PM  
Zoom Link: CLICK HERE 
The Housing Element 101 Community Workshop will be the third in a series of three community meetings to learn about and shape our community's approach to our next Housing Element, Petaluma's plan to provide needed housing and increase housing equity over the next eight years. 
The community meeting will include a presentation on the purpose of a Housing Element, a discussion of community input on housing received to date, and will highlight current City efforts. The key to this workshop is small group discussions to explore housing goals, sites, policies, and programs. 
The input from this public workshop will ensure the community's priorities are reflected in the Housing Element. 
BUTTER & EGGS IS BACK! TAKE PART IN THE ACTION
It takes a small army to put on Petaluma's beloved Butter & Egg Days parade, which brings 30,000 people into downtown Petaluma. Here's your chance to become a part of the action by volunteering to help with this year's Parade, scheduled for Saturday, April 23, 2022. 
There are several areas where volunteers are needed, including as safety monitors, banner carriers, parade logistics, and more. Volunteers will receive training, a commemorative t-shirt, and an invitation to a volunteer thank you party. 
CLICK HERE for more info and to sign up. 
UPCOMING E. WASHINGTON OFF-RAMP CLOSURE
Heads up, Petaluma! As part of the Petaluma Widening Project on U.S. Highway 101 in Sonoma County, Caltrans will close the off-ramp from southbound Highway 101 to E. Washington Street between 9:00 PM, Friday, March 25 to 3:00 PM, Saturday, March 26, 2022. The ramp will be closed again from 9:00 PM, Saturday, March 26, until 7:00 AM, Sunday March 27, 2022. 
The closures will allow Caltrans to demolish and realign the E. Washington Street off-ramp, make upgrades to adapt to the newly widened freeway, and maximize traffic flow. 
Caltrans is widening Highway 101 by adding a carpool lane in each direction. 
For 24/7 traffic updates, go to 511.org. You can also get real-time information on all State Highways in California on our Caltrans Quick Map HERE. 
WE WANT TO GET TO KNOW YOU BETTER!
The City of Petaluma wants to improve the way we communicate with our Spanish-speaking community. If you live in Petaluma, are part of the Latinx community, and use primarily Spanish to communicate, please fill out our survey to help us create a more inclusive community. 
CLICK HERE to take the survey. 
CLIMATE ACTION UPDATE
 This week, our Climate Action Commission shared the following: 
Calling Petaluma Cyclists and Skaters!! Join Climate Ready Petaluma in the upcoming Butter and Eggs Parade on April 23rd.  Climate Ready would like to highlight all forms of active transportation in the upcoming Butter & Eggs Parade. Bring your bike, e-bike, skateboard, or other form of active transportation and join Climate Ready as we ride and dance our way through the parade. Costumes welcomed and encouraged! Please email Rhianna Frank at [email protected] to register. 
Ride & Drive Clean Webinars: Learn the basics of how you can make the switch from a gas car to an EV or Ebike, even when charging is not available at your apartment or condo. 3/23, 5pm – EV Charging Solutions for Apartments and Condos,  learn about different e-options on 3/26, 10am, EV 101: Electrify Your Ride Webinar.
PARKING STUDY SESSION DISCUSSION SERIES KICK-OFF!
Join us virtually for Study Session #1: Private Off-Street Parking Standards  
Monday, March 28, 2022 at 6:00 PM on Zoom 
Petaluma is working to become carbon neutral by 2030. To do this, we will have to reduce our dependence on vehicles and the amount of land that is dedicated to parking. We will be working with the community to update our parking requirements to better align with broader city goals and community values. The Bicycle and Pedestrian Advisory Committee, Planning Commission, and City Council will come together in a joint meeting to kick off a Parking Study Session series. Please join us to learn about off-street private parking standards and share your voice in this important discussion.
To learn more about the Parking Study Session Series, how parking standards shape our city, and for the Zoom Meeting information please access the project website at 
cityofpetaluma.org/parkingstandards
.
This meeting is open to the public and available through Zoom, Granicus, and Petaluma Community Access Television. All interested community members and stakeholders are encouraged to get involved in the process to share their lived experiences and knowledge.
TSUNAMI PREPAREDNESS WEEK
March 21-25 is #TsunamiPreparednessWeek. If visiting or living near the California coastlines, it's important to  know the hazards and how to keep your family safe.  
Be counted among people and organizations worldwide by registering your 2022 tsunami preparedness activities and "know your zone" by visiting www.tsunamizone.org.  There are numerous events, exercises, educational forums and more happening throughout the state. You can find out about all the various activities HERE.  
Although rare, tsunamis are among the most devastating disasters in the world. Learn more about the threats of tsunamis and other natural hazards, including earthquakes, floods, and wildfires, and how to reduce risks at myhazards.caloes.ca.gov.  
California's first-in-the-nation earthquake alert system MyShake app now includes life-saving tsunami safety info. Learn what to do before, during and after an earthquake to protect yourself and your family from a tsunami. 
JOIN OUR PETALUMA TEAM!
The City of Petaluma is looking for talented people to join our team! Please click the links below for more information about our open positions. CLICK HERE for a full list of career opportunities. 
Associate/Senior Civil Engineer 
Firefighter/Paramedic – Lateral 
Part Time Climate Action Intern
Police Officer (Current Academy Attendees & Graduates) 
Public Safety Dispatcher – Lateral 
Water Recycling Plant Operator Trainee/I/II/III  
UPCOMING MEETINGS
The City of Petaluma is hard at work for our community. Please check out our upcoming meetings and click on the links below for more information: 
March 24, 6pm – Public Art Committee 
March 28, 6pm – Joint Meeting of the Petaluma City Council, Pedestrian and Bicycle Advisory Committee and Planning Commission 
April 4, 6:30pm – Meeting of the Petaluma City Council and Petaluma Community Development Successor Agency /Petaluma Finance Authority/Petaluma Public Financing Corporation
Check for upcoming meetings, agendas, and how to participate on the City's meeting webpage: https://cityofpetaluma.org/meetings/