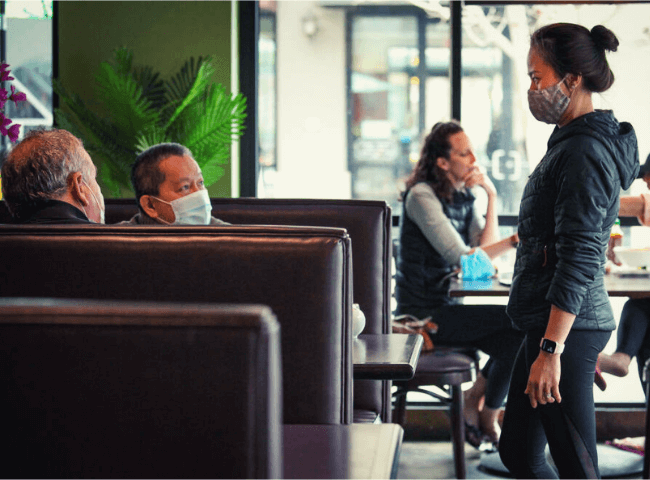 Photo Credit: Argus Courier
Good Evening, Petaluma,
Happy spring! As case numbers decrease and more of our community receives vaccinations, we are enjoying the ease in restrictions but remaining vigilant in our mitigation efforts. Please continue to wear your mask and practice social distancing to keep us heading in the right direction!
In tonight's update we'll share some COVID-19 news from the County of Sonoma, update you on our community advisory group for diversity, equity, & inclusion, review what our downtown has been up to since the pandemic hit, pass along an important message from PG&E, and more.
Please enjoy, share with friends, and have a lovely evening. We'll see you back in your inbox next Wednesday.
COVID-19 UPDATE
Please take a moment to check out these important COVID-19 resources and updates from the County of Sonoma:
Vaccinations: To find out if it's your turn to receive the vaccine, visit: MyTurn.ca.gov
Testing: Please continue to follow safety protocols including FREE, confidential testing. CLICK HERE to learn more.
What is the Red Tier?
Sonoma County officially moved into the Red tier of the State's Blueprint for a Safer Economy on March 14. Wondering what that means? Click the links below to learn more:
SCHOOL REOPENING UPDATE
 The Sonoma County Department of Health Services and Sonoma County Office of Education are working closely to ensure that teachers, students, and families can reopen safely and return to in-person learning with confidence.
CLICK HERE for more information from the County of Sonoma.
BUSINESS RESOURCES
There are a variety of federal and state programs aimed at helping businesses through the Covid-19 crisis. If you're a business owner having trouble navigating these programs — or know someone who is, here are some resources:
Napa Sonoma Small Business Development Center (SBDC) – Call 707-256-7250 or click HERE to learn more.
The Inclusivity Project 
Connecting $100 Million dollars in capital and provide lifetime business mentorship to 1000 black entrepreneurs and black-owned small businesses. Click HERE to learn more.
Back2Business Grant Program
$10K grant program for black and minority owned businesses. Application is due March 29! Click HERE to learn more.
Rx Business Review
An intensive business review to help uncover opportunities (regularly $500, currently FREE for eligible small businesses). Click HERE to learn more.
DIVERSITY, EQUITY, & INCLUSION COMMUNITY ADVISORY GROUP UPDATE
The City Council appointed 28 members to the newly formed Ad Hoc Community Advisory Committee (AHCAC). This Committee will study and discuss issues contributing to community members not feeling safe or welcome in Petaluma and develop recommendations to improve diversity, equity, and inclusivity in Petaluma. Those recommendations will then be considered when the City Council reviews citywide and police policies.
The Committee's first meeting will take place on April 20, 2021, at 6:30 pm.  Anyone may attend the zoom meeting.  Visit the City's Meetings page to find the Agenda and get the zoom link to attend the meeting.
Visit https://cityofpetaluma.org/ad-hoc-community-advisory-committee/ for information about the Committee's guiding principles and proposed agenda items.
DOWNTOWN PETALUMA HAS BEEN BUSY!
 As we move along the road to recovery, Petalumans and visitors are once again enjoying our shops, services and restaurants. We are elated to see our beloved downtown coming back to life.
Our downtown merchants saw some challenging days with COVID-related restrictions, but they came together to make the most of their situations and accomplished some pretty impressive things! Please take a moment to check out our 2020 Downtown Annual Report to see how our businesses came together last year to take care of our outdoor spaces, our shelterless population, and one another.
CLICK HERE to view the 2020 Downtown Annual Report.
There are many ways our City works to keep our downtown and tourism strong, and one of these is our Business Improvement District (BID). Each year, businesses can pay to be part of the BID, and the City also invests in it. The Petaluma Downtown Association uses the funds for marketing, clean up, and beautification campaigns to ensure our downtown is the best it can be.
GET CLIMATE READY WITH US!
 As part of the City of Petaluma's Climate Ready 2030 commitment, we have pledged to become a carbon neutral* city by the year 2030 – and you can help! Taking small actions like conserving water, recycling, composting, or biking to work can have a big impact on our City's carbon sequestration goals.
We are creating a video for Earth Day that will show how members of our community are helping us get climate ready, and we want to feature you! Send a short video clip showing us one action you're taking in your home, workplace, or on your commute, that helps the environment. Anyone who submits will receive a Climate Ready 2030 lawn sign!
We will compile submissions into a short video we will present to our City Council on Earth Day and share on our website and through our social media channels. Video submissions must be received by April 1, 2021.
Thank you for supporting us on the road to carbon neutrality. We can't wait to see what you're up to!
CLICK HERE for more information.
"PG&E" CALLING? MAKE SURE IT'S NOT A SCAM!
 Throughout the COVID-19 pandemic, scammers have gotten deceptively creative with increased calls, texts, emails, and in-person tactics and are contacting electric and gas customers asking for immediate payment to avoid service disconnection. These impostors can be convincing and often target those who are most vulnerable, including senior citizens and low-income communities. They also aim their scams at small business owners during busy customer service hours. However, with the right information, customers can learn to detect and report these predatory scams.
PG&E will never contact a customer for the first time within one hour of a service disconnection, and will never ask customers to make payments with a pre-paid debit card, gift card, any form of cryptocurrency, or third-party digital payment mobile applications.
CLICK HERE for more scam prevention tips.
WHAT'S IN OUR FUTURE?
To learn more about how Petaluma is planning for our future, check out PlanPetaluma.org.
The City of Petaluma is looking for talented people to join our team! Please click the links below for more information about our open positions. CLICK HERE for a full list of career opportunities.
Part Time Assistant City Attorney
Police Officer (Current Academy Attendees & Graduates)
UPCOMING MEETINGS
The City of Petaluma is hard at work for our community. Please check out our upcoming meetings and click on the links below for more information:
March 24, 6:30pm – Regular Joint Transit Advisory and Pedestrian & Bicycle Advisory Subcommittee
March 25, 6pm – Public Art Committee
April 1, 4pm – Transit Advisory Committee
April 1, 6pm – Airport Commission
Check for upcoming meetings, agendas, and how to participate on the City's meeting webpage: https://cityofpetaluma.org/meetings/