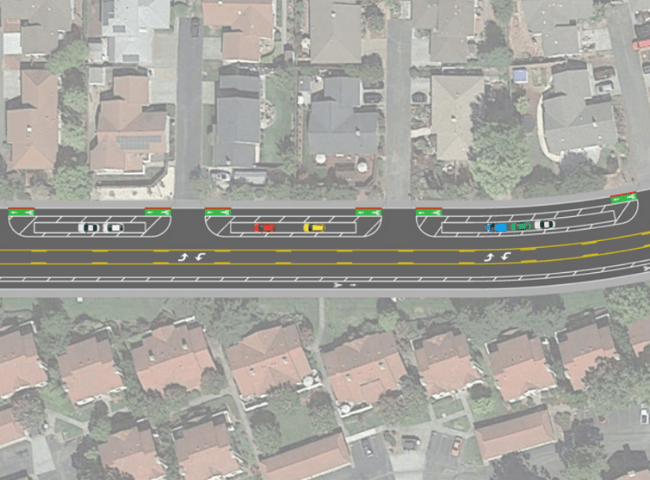 Hello, Petaluma –
The cold wind this week has us ready for summer – luckily, it's right around the corner! We have lots of exciting news to share this week about the future of our Fairgrounds, our work to create Safe Streets, our journey to achieve carbon neutrality by the year 2030, and much more. Please enjoy, share with friends, and have a lovely evening. We'll see you in your inbox next Wednesday!
IMAGINE PETALUMA'S FAIRGROUNDS
The Petaluma Fairgrounds has provided a place for fun, learning, special occasions, respite, and refuge during crises, as well as many lasting memories for Petalumans, County residents, and visitors. Through a lease, the 4th District Agricultural Association (4th DAA) has managed the property for the past 50 years and determined the Fairgrounds property uses. The current lease will expire December 31, 2023.
This timeline provides us the opportunity to listen to our community, understand what this special place means to them, and determine how we might we use the city's fairgrounds property to create the experience, activities, resources, and places that our community needs and desires now and for the foreseeable future.
There will be several opportunities for you to weigh in and share your thoughts over the coming months.  The first way is to fill out this survey.  Please share this with your friends, neighbors, and family so we can hear from all parts of our community.
PETALUMA FAIRGROUNDS ADVISORY PANEL TO MEET THIS WEEKEND
The Petaluma Fairgrounds Advisory Panel will have their first session this weekend: May 13-15th.
Healthy Democracy
– the nonpartisan, nonprofit designing and coordinating the
Lottery-Selected Panel
, selected a representative group of Petaluma residents to spend 100+ hours considering the future of the Petaluma Fairgrounds.
Want to watch them work? All large group sessions will be shown on Healthy Democracy's
YouTube channel
and all sessions will have a public observer's gallery. Much like the visitor's gallery at a state legislature or in a courtroom, observers will be able to watch the Panel in action but won't be able to participate or interrupt the proceedings. The number of those allowed into the visitor gallery will be limited by the size of the room and Covid protocols.
Members of the public are encouraged to participate in Healthy Democracy's
Community Exchange on June 4th
.
This event will bring together a balanced group of community members and key stakeholders to share their thoughts on the future of the fairgrounds with the Fairgrounds Advisory Panel.
CLICK HERE
to learn more.
HARD AT WORK CREATING SAFE STREETS
The City of Petaluma is committed to making our streets safer for all who travel them. We are hard at work on projects all over town and look forward to updating you on our progress as we go. Check out what we've been up to below!
Rainier Avenue Paving & Traffic Calming Upgrades 
On Rainier Avenue from January 1, 2017 to February 8, 2021, there have been 15 reported collisions, 9 of which resulted in injuries and were caused by excessive speeds, automobile right-of-way violations, and improper turning.
Creating safer streets is top priority for us here at the City. Since September 2021, we have been seeking community input on ways to make Rainier safer. Our outreach has included mailers, a virtual community workshop, an online feedback form, and updates through our Community Update Newsletter and social media channels.
Thank you to all who took the time to engage in this crucial conversation with us. Rainier is an important road in Petaluma and our goal is to make it the best it can be for all users and residents.
We will be moving forward with a demonstration project on Rainier which will include temporary elements like paint and rubber barriers. Demonstration projects such as this one give the community a chance to experience a proposed change, then provide feedback. The City can then use this feedback to help determine if it makes sense to move forward with a more permanent solution. The demonstration will be up for a minimum of 3 months at which time we will review the feedback and determine how the changes are working for the neighborhood.
North McDowell Blvd. Complete Streets Project Update 
McDowell is one of the most traveled roadways in Petaluma and our goal is to make it the best it can be for all users. Earlier this year, we held a virtual workshop to share our ideas and gather feedback from the community.
We were pleased to have over 50 community members attend the meeting and share their concerns, ideas, and hopes for the project. We have taken this important feedback into consideration and have updated our designs to reflect many of your ideas.
We have presented these designs to the Pedestrian and Bicycle Advisory Committee. We will continue to refine them and look forward to sharing the final designs with you soon. Thank you to all who took the time to engage in this crucial conversation with us!
EVERYONE IS WELCOME TO JOIN THE FIRST COOL PETALUMA EXPO!
Wednesday, May 25 from 5:30-7:30 pm – Lagunitas Taproom
Cool Petaluma is very excited to be bringing you face-to-face with many of the amazing local resources our community has that can help us on our journey to carbon neutrality by 2030. We will have tables set up to cover all of our Cool Block topics with subject matter experts there to answer your questions and provide information from start up through all 8 topics.
It's going to be a fantastic evening for connecting and sharing. Everyone is invited to check it out! You need not be a Cool Block participant to attend.
MAY GENERAL PLAN ADVISORY COMMITTEE SESSION
May 19, 2022, 6:30 PM – 9:00 PM on Zoom
Since late 2020 the City of Petaluma has been working on updating its General Plan, the road map that will shape the future of the city for the next 20 – 30 years.
The May 2022 General Plan Advisory Committee (GPAC) Session moves this process forward with an overview and discussion of the Climate Action and Adaptation Plan (CAAP), our city's plan to reach the 2030 Climate Neutrality Goal. This will be followed by a special presentation from the Sustainable Design Assessment Team (SDAT) on their efforts to support community sustainability.
Then, we will check in with GPAC Working Groups to hear more about their efforts alongside other community members on issues that include housing, climate action, equity, open space, mobility, sense of place, and economic development.
In addition to these primary objectives, the session will share updates on various related City initiatives including the City Council's top priorities, the 6th Cycle Housing Element, the Fairgrounds Community Visioning Process, and flood and sea level rise modeling.
To learn more about past GPAC meetings, the General Plan Update, and the 6th Cycle Housing Element Update please visit the project website at
www.planpetaluma.org
and view the agenda on the
City meeting website
.
DEPARTMENT SNEAK PEAK: FIRE
It takes many departments and skill sets to keep our City running. We want to share this work with you so you know what is happening in your city.  Our first sneak peek is of our Fire Department. Our Fire Department is on duty 24 hours a day, responding to emergencies all over town.  A few fun facts you may not know about our Fire team:
Our Fire Marshal, Jessica Power, oversees many programs to keep us safe.  She and her team review all new building plans to make sure they meet fire code, inspect businesses to be sure they are safe, and monitor all hazardous materials stored in town. This, behind the scenes work, is meant to prevent fires before they start and injuries before they happen.
Our Fire Department responded to over 2,500 calls for service in the first four months of this year. This is an average of over 640 calls per month.
Our Fire Chief, Jeff Schach, won the annual Cow Chip Throwing contest at this year's Butter and Egg's Day event.
Following Jeff Schach's promotion to Fire Chief, Chad Costa was promoted to Assistant Fire Chief.  Congrats Assistant Chief Costa!
Stay tuned to learn more fun facts about other City departments!
PETALUMA HEALTH CARE DISTRICT INTRODUCES "BLUE ZONES"
Petaluma Health Care District (PHCD) is thrilled to introduce the Blue Zones team to Petaluma. Please join us at the Kick-Off to hear the Blue Zones story and meet members from the Blue Zones expert team as they begin their work in our community. 
What is the Blue Zone Initiative? 
Blue Zones is a community-wide, well-being improvement initiative designed to make healthy choices easier. This is done by encouraging sustainable changes in the built environment, building environments and social networks, often suggesting policy changes throughout a community including such places as worksites, schools, restaurants, grocery stores, faith–based communities, convenience stores and neighborhoods.      
Informed by their research of the world's longest-lived cultures and their work in over 50 cities across the country, Blue Zones helps communities live better and longer by improving their environment. Participating cities and counties have seen double digit drops in obesity, smoking, and stress, along with significant improvements in workplace productivity, healthcare costs, and civic engagement. 
Join us on Tuesday, May 17th, at New Life Christian Fellowship from 5:00 p.m. to 7:00 p.m. (check-in begins at 4:30 p.m.) for an evening event to learn more about Blue Zones and what to expect in the months ahead. Their team will be calling on community leaders to learn more about the Petaluma area and collaborate to build a plan for change. 
RSVP HERE to the event. 
More information can be found on the Blue Zones Activate Petaluma web page here. 
JOIN OUR PETALUMA TEAM!
The City of Petaluma is looking for talented people to join our team! Please click the links below for more information about our open positions. CLICK HERE for a full list of career opportunities.
UPCOMING MEETINGS
The City of Petaluma is hard at work for our community. Please check out our upcoming meetings and click on the links below for more information:
May 18, 3:30pm – Tree Advisory Committee 
May 18, 5pm – Airport Projects Subcommittee 
May 18, 6pm – Recreation, Music and Parks Commission 
May 19, 4pm – Airport Operations / Master Plan Subcommittee 
May 19, 6:30 – General Plan Advisory Committee
Check for upcoming meetings, agendas, and how to participate on the City's meeting webpage: https://cityofpetaluma.org/meetings/