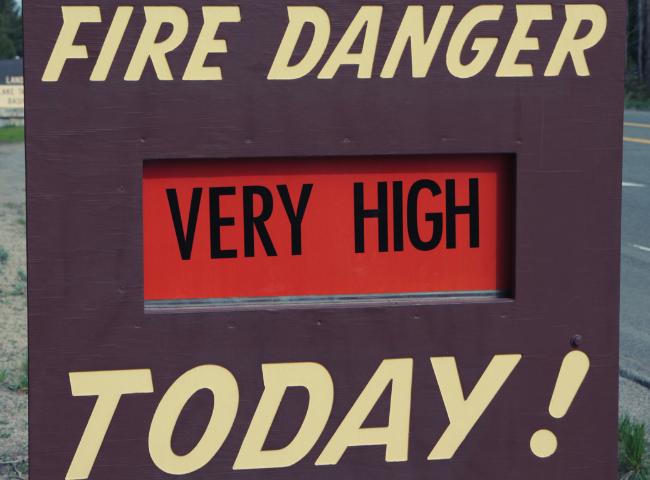 Good Evening, Petaluma –
The drought coupled with this week's Red Flag Warning had many of us feeling the weight of the new year-round fire season. Pandemic aside, our community has been through a lot over the past few years. The wildfires are a sobering reminder of the power of nature and a call for all of us to be as prepared as possible. Rest assured, Petaluma, our team has worked hard since the 2017 fires to make sure we are ready and able to support you and our neighboring communities should disaster strike again.
In tonight's email, we'll share some of the work we have done along with things you can do to prepare for fire season, a COVID update, City news, reminders about important meetings regarding equity and the future of our community, and more. Please enjoy, share with friends, and have a lovely evening. We'll see you in your inbox next Wednesday!
COVID-19 UPDATE
Please take a moment to check out these important COVID-19 resources and updates from the County of Sonoma:
Vaccinations
The County's vaccine website, SoCoEmergency.org/Vaccine, is continually updated, giving the public information about vaccination rollout, safety, and how the vaccine is being disseminated in Sonoma County.
Just a few weeks ago, vaccine appointments were hard to come by. Now, they are plentiful, and anyone who wants one can get an appointment at one of the many clinics, pharmacies, or health centers in the County – often the same day. Many are also accepting walk-in patients. Just go to MyTurn.ca.gov to find an appointment that works for you.
Residents who need help making an appointment are encouraged to call the County COVID-19 hotline at 707-565-4667 in English and Spanish.
Please Get Tested to Keep Our Community Safe
Testing remains a crucial piece of keeping our community safe and maintaining our forward momentum on the road to reopening.
County health officials recommend that those who go out into the public get tested at least once per month and those who regularly interact with the public get tested twice each month.
CLICK HERE to learn more.
RED FLAG WARNING THIS WEEK
Earlier this week, the National Weather Service issued a Red Flag Warning due to continued dry and breezy conditions. Dry conditions will persist during the current drought, so it's important to understand what a Red Flag Warning is and what it means for activities.
For instance, did you know Cal Fire recommends never mowing or trimming dry grass on a Red Flag Warning day? On days like these, even a simple spark can cause a major wildfire.
CLICK HERE to learn more about Red Flag Warnings and how to stay safe.
TRIM THOSE WEEDS BY MAY 31, PETALUMA!
During the dry days of drought, fires pose a very real threat to our safety here in Sonoma County. We encourage all Petaluma residents to follow the fire prevention practices recommended by our Fire Department, including weed abatement.
Weed abatement is the process of removing dead vegetation to create a "defensible space" that will improve a structure's chance of surviving a wildfire and also help fires from spreading from open space areas to homes and other structures.
The City is requiring all private property owners to cut their weeds prior to May 31, 2021. If weeds are not cut by this date, the City will do it then send a bill to the property owner.
The City of Petaluma has an official Weed Abatement program that involves the Fire Protection Bureau and the Neighborhood Preservation team. For more details on this program, please CLICK HERE.
PETALUMA LEARNS FROM THE PAST AND PREPARES FOR FUTURE FIRES
As we officially enter the drought and dry conditions become the norm, wildfire worries are beginning to surface, once again, in our community. As a city, we have come together over the past few fire years, learning important lessons from experience and preparing for the possibility of future fires.
Emergency Operations Center
Did you know, when a State of Emergency is declared, there is an immediate shift in how City government operates? We launch our Emergency Operations Center (EOC) which implements plans and procedures – and coordinates with other cities, counties, and agencies – to ensure we are responding as seamlessly as possible to the needs of our community. Now that we have been through a few fires, our City is well-versed in getting our EOC up and running quickly and efficiently.
CLICK HERE to learn more about the Emergency Operations Center.
Gathering Volunteers Early
Petaluma People's Services Center is currently in search of "strike team" volunteers – the first people who will be called if disaster strikes and who will staff shelters for the first 24 hours of an event. They would also like to be prepared with a list of people who can help with medical, animal, and bilingual needs.
If you are interested in volunteering, please fill out the form found HERE.
CITY COUNCIL NEWS: RECAP & UPCOMING TOPICS
This past Monday, the City Council held a workshop to review the proposed budget for the coming fiscal year that begins July 2021. After over a decade of limited funding, this proposed budget represents a balanced investment in decaying City infrastructure, aging facilities, as well as an expansion of programs and services while also investing in our staff. This coming year will be one of transformation, where we will offer more community engagement, easier access to City services through expanded online options, and timely and accurate information about City events and activities. We also plan to invest in programs that address our climate crisis as well as increase our diversity, inclusivity, and equity for our communities of color. The budget will be reviewed again by the City Council on June 7, 2021.
CLICK HERE to review the City's proposed budget –
On Monday May 17, the City Council will hold a workshop to learn about the current state of affordable housing in Petaluma and discuss options for increasing housing affordability moving forward. The workshop will discuss State requirements for affordable housing, share best practices from other jurisdictions that have successfully increased affordable housing options, and discuss available funding for local affordable housing development. Finally, staff will present current policy trends that the City will need to consider and options for engaging the community in decision-making about affordable housing policies.
REPORT LEAKS TO HELP CONSERVE WATER
The drought is here and we are so #PetalumaProud of your efforts to conserve water! Another great way to help is letting us know when you see water waste happening. Things like broken irrigation and run-off might go unnoticed if a building is vacant. Contact us to let us know!
707-778-4507 (report water waste from irrigation leaks, etc.)
707-778-4546 (report large leaks and water emergencies)
MARK YOUR CALENDARS FOR THESE UPCOMING MEETINGS
We've got some important meetings coming up that address equity, inclusion, our environment, and the future of our City. Please mark your calendars and attend if you can. All meetings will be held virtually via Zoom. Please click the links below for more information or check our Meetings page for information as it becomes available.
Serves as a forum for the consideration, analysis, and coordination of climate action related to City policies and advises the City on matters referred by City departments and other City-appointed bodies.
Discuss the current state of affordable housing in Petaluma and explores options for increasing housing affordability moving forward.
Ad Hoc Community Advisory Committee – May 18, 6pm
Studies and discusses issues contributing to community members not feeling safe or welcome in Petaluma and develops recommendations to improve diversity, equity, and inclusion in our city. Those recommendations will then be considered when the City Council reviews citywide and police policies.
General Plan Advisory Committee – May 20, 6:30pm
Helps shape our General Plan, our City's roadmap for growth for the next 15 years. This group offers diverse perspectives, giving input on decisions around housing, land use, the environment, community character, and more.
HELP BUILD A GREAT COMMUNITY TOGETHER
Would you like to help guide our community by giving input on decisions around technology, senior services, youth, history and culture, pedestrian and bicycle issues, public art, and more? The City is now accepting applications to fill vacancies on various committees, commissions, and boards.
CLICK HERE to learn more.
GET MOVING WITH PARKS & REC AND THE PETALUMA HEALTH CARE DISTRICT
Have you checked out the month-long health and wellness virtual event that our Parks and Recreation Department and the Petaluma Health Care District are offering?
"May Your Health Move Forward: Petaluma Walking Day Reimagined" is featuring a variety of activities and interactive challenges aimed at improving mental and physical health, including utilizing our City parks and open spaces.
For more information, visit the official Facebook event page HERE.
WE'RE HIRING
The City of Petaluma is looking for talented people to join our team! Please click the links below for more information about our open positions. CLICK HERE for a full list of career opportunities.
Part Time Assistant City Attorney
Police Officer (Current Academy Attendees & Graduates)
Senior Transit Planner/Grants Manager
UPCOMING MEETINGS
The City of Petaluma is hard at work for our community. Please check out our upcoming meetings and click on the links below for more information:
May 13, 8:30am – Senior Advisory Committee
May 13, 5:30pm – Climate Action Commission
May 17, 6:30PM – Meeting of the Petaluma City Council and Petaluma Community Development Successor Agency
May 18, 6:00pm – Ad Hoc Community Advisory Committee
May 19, 3:30pm – Tree Advisory Committee
May 19, 5pm – Airport Projects Subcommittee
May 19, 7pm – Recreation, Music and Parks Commission
May 20, 4pm – Airport Operations / Master Plan Subcommittee
May 20, 6:30pm – General Plan Advisory Committee
Check for upcoming meetings, agendas, and how to participate on the City's meeting webpage: https://cityofpetaluma.org/meetings/