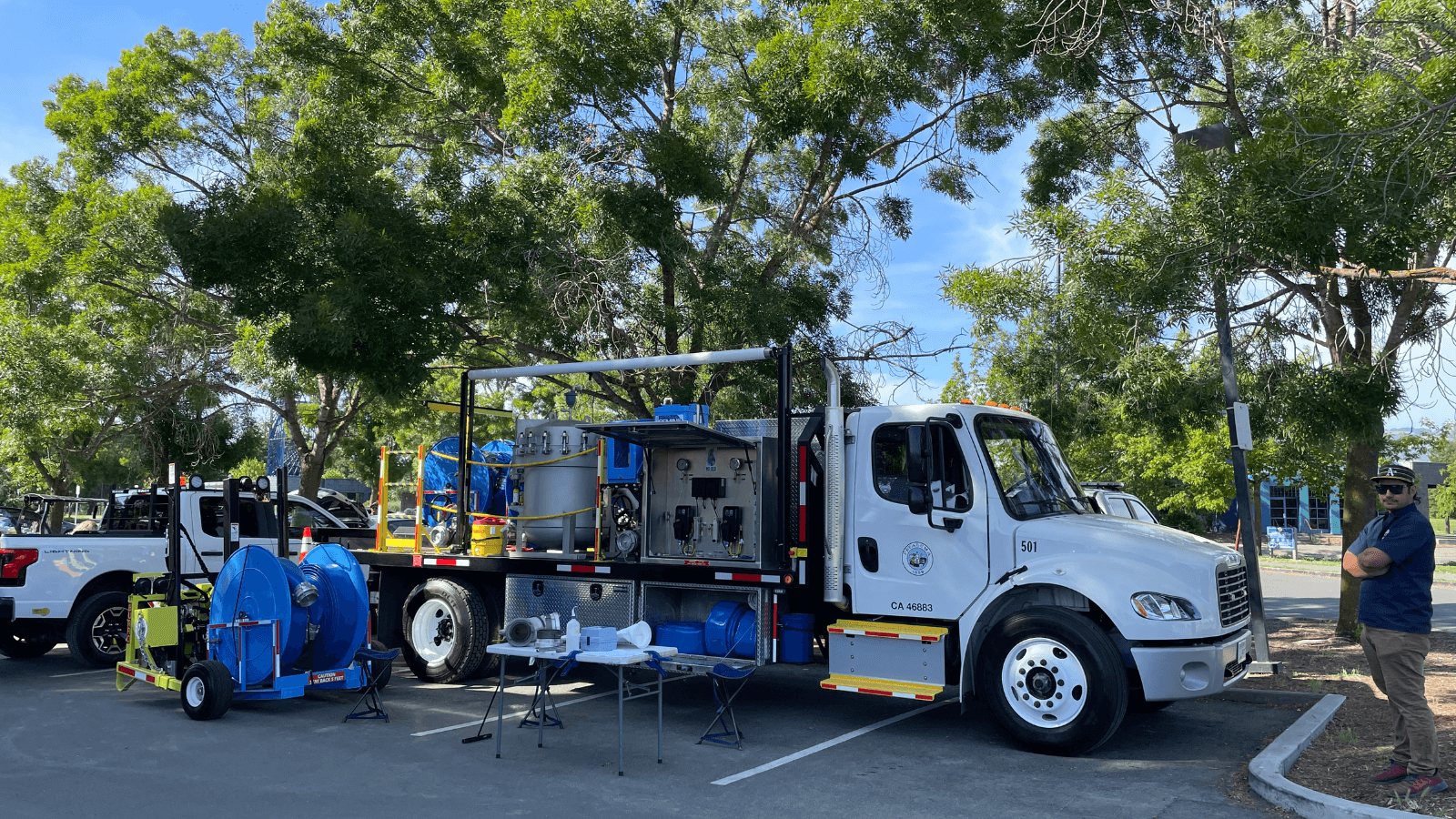 Happy Friday, Petaluma!
If you missed Monday's Cool Petaluma Expo at the Community Center, you missed some fantastic and free resources to help make your home more efficient (and your bills more affordable!). But don't worry, below you'll find links to much of the information we shared at the event with a few pictures of our staff at work. 
This issue also celebrates the hard work of our Public Works & Utilities team (among other staff), as this week is National Public Works Week across the country. Below you'll see a few of the climate initiatives that PW&U is working on to help us reach our goal of being carbon neutral by 2030. We are so grateful to all of our incredible team members who make Petaluma both a full-service city and a wonderful place to call home!
Thanks for reading, Petaluma! We'll see you in your inboxes again in June!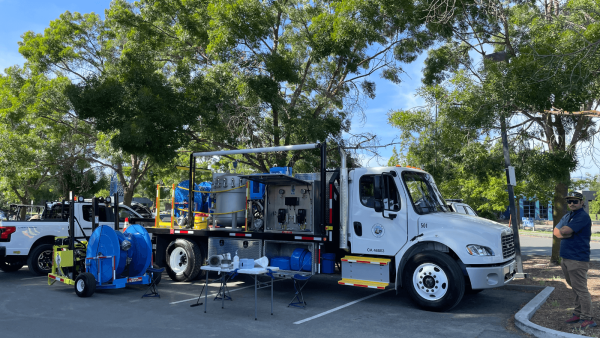 BIG COOL TRUCK SAVES WATER
Every so often, our Public Works Department clears our public water mains of the debris or sediment that collects in the pipes. In past years, we would have to open up a fire hydrant to clear the mains, with the tremendous water pressure helping to blast debris out of the system. Needless to say, this method wasted millions of gallons of water and did not endear our Public Works staff to the neighbors! But now, our NO-DES flushing truck helps us do the job without wasting water by linking two hydrants and flushing the water between them. The sediment and debris gets filtered out by the truck, and clean water is returned to the system. ("NO-DES" stands for Neutral Output-Discharge Elimination System). We brought our NO-DES truck to the Expo on Monday, but if you didn't get a chance to see it, visit our page HERE and keep an eye out in your neighborhood!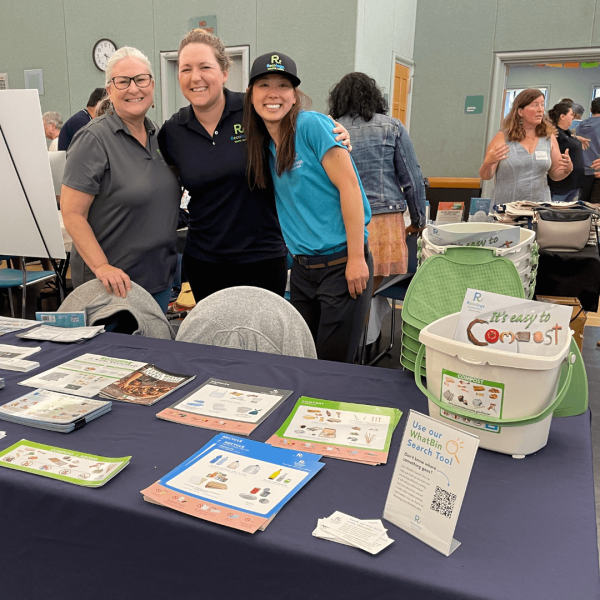 PICK UP YOUR COMPOST PAIL
The City has partnered with Recology to hand out compost pails to residents for your green waste. The Recology team brought a few to the Expo, and they are now available for pickup at various locations around Petaluma. 
Keeping compostable materials out of landfills is one of the easiest actions you can take to reduce your carbon footprint. By placing your food scraps, uncoated soiled paper, and plant trimmings in your compost cart, you are putting nutrients back in the soil and reducing greenhouse gas emissions from landfills. Learn more about the benefits of composting at Recology.com/SB1383.
Free compost pails available for pickup at: 
Water Field Office, 202 N McDowell Blvd. 

Petaluma City Hall, 11 English St. 

Ellis Creek Water Recycling Facility, 3890 Cypress Dr,

Petaluma Community Center, 320 N McDowell Blvd.

Petaluma Regional Library, 100 Fairgrounds Dr.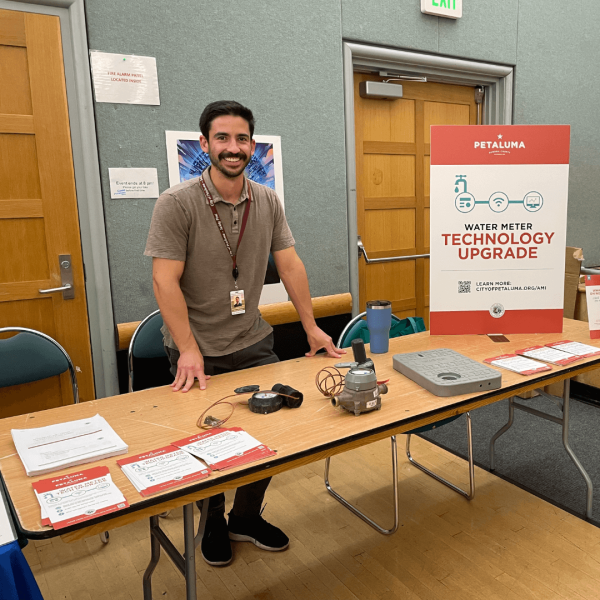 ADVANCED METERING INFRASTRUCTURE (AMI)
Petaluma is upgrading our water meter technology to help us – and you – save water. Lucas with Public Works brought out examples of the old and new water meters to show Expo attendees the difference and explain how the new technology works. Your AMI will:
Show you your water use in real time through an online  portal (Eye on Water)

Alert you to water leaks

Help you identify water use trends
If you're interested in more details about AMI, including a video of the virtual meeting we held in March, visit our AMI website HERE.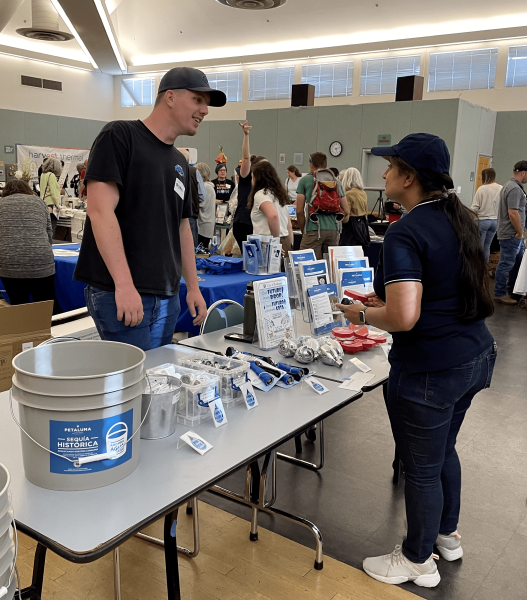 FREE WATER CONSERVATION DEVICES
While we're officially out of the drought, we also know that wasting water is still a bad idea in California. That's why Ryan with Petaluma Water brought a ton of water saving devices to the Expo for people to grab. And even if you couldn't make it out on Monday night, these tools are still available for FREE to residents who'd like to cut down their water use and utility bills. Visit our page HERE to find out how to pick up your free:
Shower heads

Faucet aerators

Hose nozzles

Toilet leak detection tabs

And more!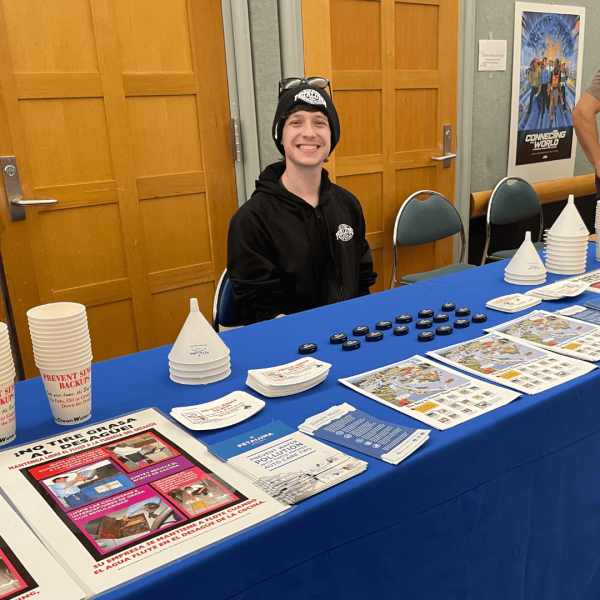 PREVENT WATER POLLUTION
With the summer grilling season on the way, Drew from Petaluma Water brought a ton of information to the Expo on keeping oil and grease out of our sewers. Some fun kitchen swag included a grease-scraper, funnel, and containment cup to help keep your skillets and our sewers clean!
Regular car maintenance can also help keep our waterways clean. Automotive leaks or spills wash into creeks or rivers and can harm fish and wildlife. And water treatment plants aren't designed to remove most of these chemicals. By keeping cooking oil, grease, and auto fluids contained, you can help keep our Petaluma watershed healthy for the next generation.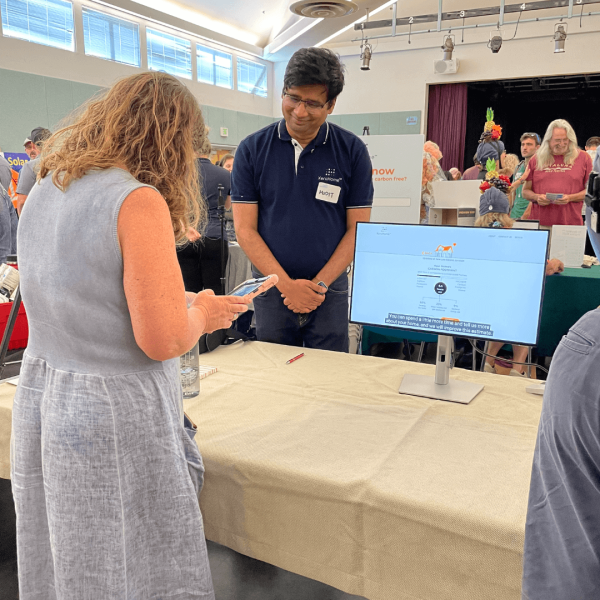 CLIMATE ACTION PARTNER SPOTLIGHT: XEROHOME
In April, Petaluma launched a partnership with XeroHome, a program for residents to identify ways to reduce your home energy bill and lower your carbon footprint. Mudit from XeroHome came out to the Expo to give attendees a demonstration and help them find their home on the app. The tool will help you develop a personalized plan to make your home more energy efficient and show you which local, state, and federal rebates are available to make these updates possible. XeroHome is available to Petaluma residents for FREE THROUGH APRIL 2024. Learn more at xerohome.com.
And speaking of rebates, the City of Petaluma offers a range of rebates for both residential and commercial water customers to become more water-efficient, as well as save money. Learn more about all of the below rebates at cityofpetaluma.org/rebates.
NEW! 

Laundry to Landscape Greywater Rebate

NEW!

Pool & Spa Cover Rebate 

High-Efficiency Toilet Rebate 

High-Efficiency Clothes Washer Rebate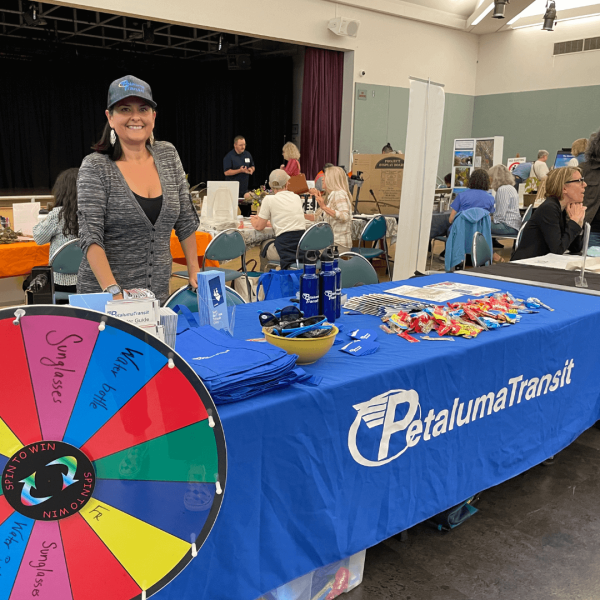 PETALUMA TRANSIT IS FREE TO KIDS ALL SUMMER
Maria from Petaluma Transit brought lots of treats, timetables, and prizes – plus information about this summer's "Youth Ride Free Program"! Youth in grades K-12 ride free on public transit throughout June, July and August in Sonoma and Marin! Just present a valid school or government ID. Adventure awaits!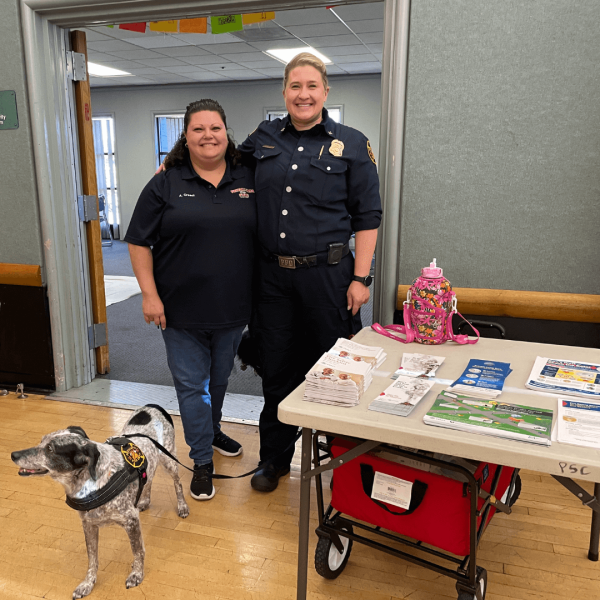 FIRE PREVENTION
Last but never least, Jessica and Ali brought our Fire Department therapy dogs for free head scratches plus great information on fire prevention from FEMA. You can find plenty of useful safety tips HERE, including information for vulnerable populations and advice for different rooms and parts of a home.
Thank you so much to all the Petaluma City staff who shared more about their work to help us reach our climate goal of becoming carbon neutral by 2030! We are also grateful to our partners at Cool Petaluma for organizing such a fantastic event – and to all the organizations who hosted booths and shared their work. We feel so lucky to live and work in this community! 
JOIN A COMMITTEE OR COMMISSION!
The City Council is seeking participation from its diverse and widely experienced residents and encourages all residents to apply to fill the vacancies listed below. Applications must be submitted to the City Clerk's Office by Wednesday, May 31, 2023. Apply online at www.cityofpetaluma.org/ccbs. The City Council will review the applications and make appointments at the City Council Regular Meeting on Monday, June 19, 2023.
AIRPORT COMMISSION (2 Regular Members + 1 Petaluma Area Pilots Association Representative)
CLIMATE ACTION COMMISSION (3 Regular Members)
GROUNDWATER SUSTAINABILITY ADVISORY COMMITTEE (1 Regular Member)
HISTORIC AND CULTURAL PRESERVATION COMMITTEE (1 PMA/HHLC Representative)
MEASURE U OVERSIGHT COMMITTEE (2 Regular Members)
PEDESTRIAN AND BICYCLE ADVISORY COMMITTEE (3 Regular Members)
PLANNING COMMISSION (1 Regular Member)
PUBLIC ART COMMITTEE (1 Regular Member)
RECREATION, MUSIC, AND PARKS COMMISSION (2 Regular Members)
SENIOR ADVISORY COMMITTEE (5 Regular Members)
TECHNOLOGY ADVISORY COMMITTEE (2 Regular Members)
TRANSIT ADVISORY COMMITTEE (4 Regular Members)
TREE ADVISORY COMMITTEE (3 Regular Members)
YOUTH COMMISSION (6 Adult Members and 16 Youth Members)
OAK HILL WELL 2ND COMMUNITY MEETING THURSDAY JUNE 1, 6PM 
Thank you to all in our community who took the time to provide feedback for the Oak Hill Well project. Construction of the underground well is anticipated to begin later this year and we look forward to collaborating with the community on the design of the visible project elements (well house, etc..).
We will be hosting a second community meeting virtually via zoom on Thursday, June 1 to:
Review the construction schedule
Discuss visual elements of the well
Explore next steps for Oak Hill
Address questions and concerns
Please join us to learn more and share your input!
Where: https://us06web.zoom.us/j/83059653523
When: Thursday, June 1, 2023 | 6-8pm
Spanish translation is available upon request. To arrange for translation, please email [email protected].org.
If you have questions, feedback, or concerns in advance of the meeting, please call or email project manager, Dan Herrera: DHerrera@cityofpetaluma.org, 707-778-4589.
Learn more at cityofpetaluma.org/oakhillwell.
JOIN OUR PETALUMA TEAM! 
The City of Petaluma is looking for talented people to join our team! Please click the links below for more information about our open positions.CLICK HERE for a full list of career opportunities.
Firefighter/Paramedic – Lateral
Part Time Administrative Intern
Police Officer (Current Academy Attendees & Graduates)
Police Records Technician I/II
Public Safety Dispatcher – Lateral
Street Maintenance Worker I/II
UPCOMING MEETINGS
The City of Petaluma is hard at work for our community. Please check out our upcoming meetings and click on the links below for more information:
June 5, 6:30pm – City Council/PCDSA Special Meeting
June 7, 6:30pm – Pedestrian & Bicycle Advisory Committee Meeting
June 13, 7:00pm – Planning Commission Meeting
June 19, 6:30pm – City Council/PCDSA Special Meeting
June 21, 6:00pm – Recreation, Music & Parks Commission Meeting
Check for upcoming meetings, agendas, and how to participate on the City's meeting webpage: https://cityofpetaluma.org/meetings/