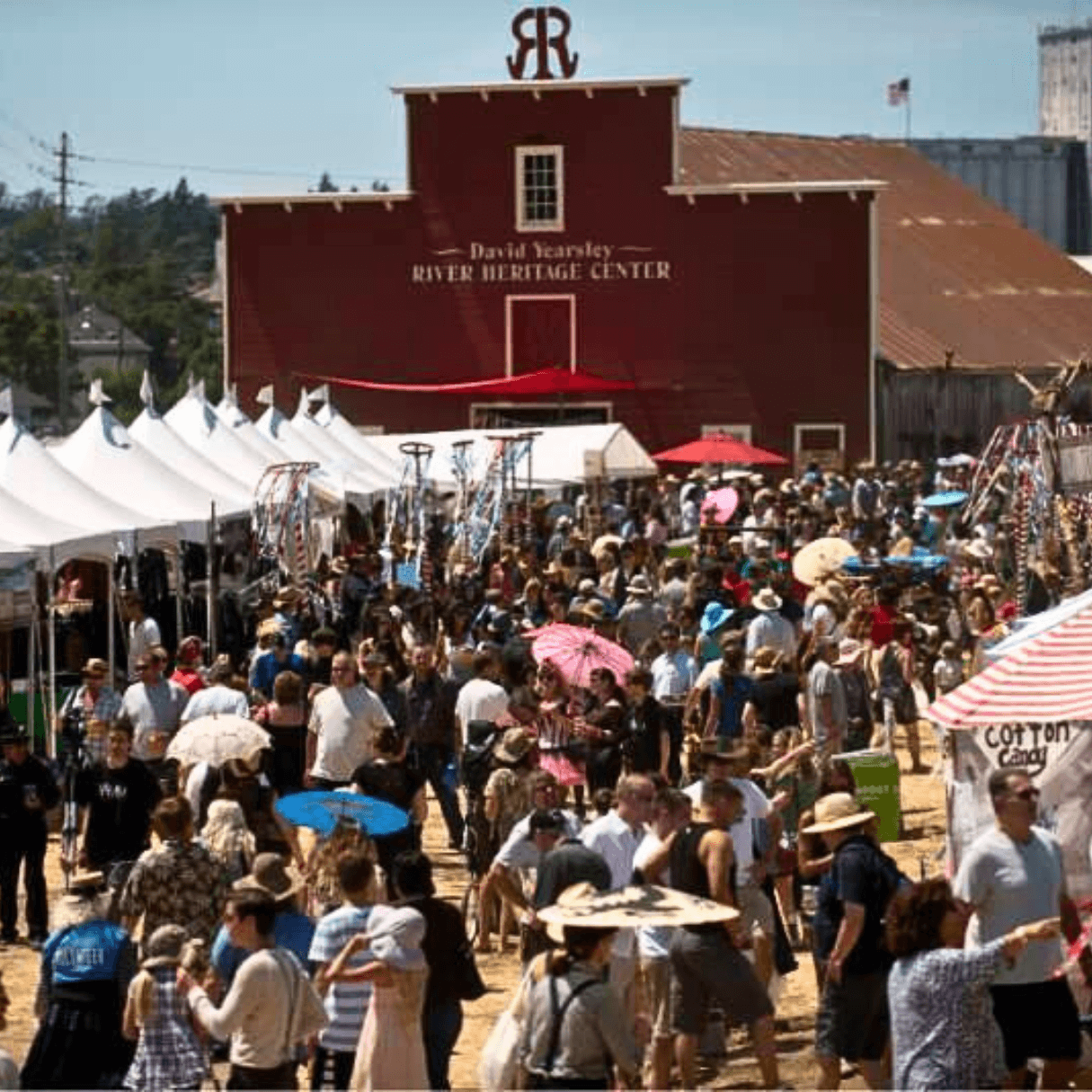 Happy summer, Petaluma!
We hope you enjoyed a wonderful 4th of July holiday this week celebrating with friends and family. We had a blast with everyone who came out to the Community Center for our Stars & Stripes & Dogs & Bikes event, and are so grateful to Petaluma's stellar Parks & Recreation Department for their hard work organizing the daytime festivities along with the high-elevation fireworks show after dark!
With summer in full swing, this issue is dedicated to the many other ways you can get out and about in Petaluma this month. There are tons of outdoor events, from live music to big and small ways to engage with our arts community. And what would summer in Petaluma be without a community forum on downtown zoning? We invite you to join us for any and all of the events below and find delight in our amazing community.
Thanks for reading, and we'll see you in your inboxes later this month.
BANDS ON THE BASIN
The Floathouse
Saturday, July 8, 1-7 p.m.
Rent a kayak, canoe, paddleboard, and more to float on the Petaluma River while listening to music all afternoon long! The weather should be perfect for the annual Floathouse fundraiser, featuring live bands and great summer vibes. You can also watch from one of the many restaurants and bars near the water, like Taps, Ayawaska, the River Front Cafe, Adobe Road Winery, or Grand Central Cafe. 
ART & GARDEN FESTIVAL
Kentucky Street, 4th Street, B Street, A Street Parking Lot
Sunday, July 9, 11 a.m. – 5 p.m.
The 20th Annual Art & Garden festival is one of Petaluma's most loved events! Local crafters, artisans, gardeners, live music on two stages, and an array of local wineries, breweries, restaurants, and fine food purveyors will be participating. With over 100 booths of unusual, unique, handmade items, this event has something for everyone's taste and budget.
Experts will be on hand to answer gardening questions about how to grow vegetables in tricky Petaluma adobe soil and what makes a garden organic. While parents are eating and dancing, kids can enjoy the children's corner, with jumpy, face painting, FREE hands-on arts and crafts, and more!
PETALUMA URBAN CHAT
Know Before You Grow: Downtown Overlay District 
Petaluma Women's Club
Wednesday, July 12, 7-9 p.m.
Know Before You Grow is pleased to present a community-organized forum on the Petaluma Building Form Overlay District being brought forward by Petaluma Planning. The Building Form Overlay would increase the allowable building height, lot coverage, and floor space for fourteen blocks that include our historic downtown.
The upcoming General Plan update will likely include policies that support a sustainable, thriving, economically strong downtown area by encouraging new housing and commercial development to generate significant economic impacts. The Overlay has been brought forward now to align with a pending project. Join us in-person to learn more and ask questions of our presenters: Brian Oh, Petaluma Community Development Director, and Andrew Trippell, Petaluma Planning Manager. Learn more at the website HERE.
RESIDENTIAL SOLAR PANEL RECYCLING EVENT
Lucchesi Community Center
Friday, July 14, 9 a.m. – 5p.m.
Need to recycle your old solar panels? Join Zero Waste Sonoma, the Conservation Corps North Bay, and CalRecycle as they host a series of residential solar panel collection events! Panels must be generated by a resident (not a business) in Sonoma County. Residents can bring a maximum of 40 panels. Appointments are required, and you can schedule an appointment and learn more at https://zerowastesonoma.gov/materials/solar-panels. 
MOVIES IN THE PARK: "BACK TO THE FUTURE"
Lucchesi Community Center
Friday, July 14, 8 p.m.
Join us under the stars for our beloved Movies in the Park series! As always, these outdoor movie events are free and take place at Lucchesi Park in Petaluma on various Fridays during the Summer and Fall. Food and beverage vendors will be available at every movie and will be announced as each movie event gets closer.
To learn more about this event and other upcoming films in 2023, visit the website HERE.
ARTS ALIVE PETALUMA
Thursday, July 20, 5-8 p.m.
Various Locations
Arts Alive promotes and connects Petaluma's vibrant arts community from 5-8 p.m. on the third Thursday of every month. Visit their site HERE to find the list of host venues with activities for the whole family.
RIVERTOWN REVIVAL
David Yearsley River Heritage Center, McNear Landing
Saturday and Sunday, July 22-23, 12-8 p.m.
Rivertown Revival, a benefit for the Friends of the Petaluma River, returns  to the David Yearsley River Heritage Center on the McNear Peninsula. In its 12th year, this "more than a music festival" celebrates our community while showcasing the best in local music and art. Our 5 dollar weddings and giant seesaws will return as well as aerial acts, games and crafts for kids, and all kinds of "curioddities" for the whole family to enjoy. Buy tickets at their website HERE and help support the Greatest Slough on Earth!
You can also sign up to volunteer at the link HERE.
PETALUMA MUSIC FESTIVAL
Sonoma-Marin Fairgrounds (175 Fairgrounds Drive)
Saturday, July 29, 11:30 a.m. – 9:30 p.m.
The 16th Annual Petaluma Music Festival is a fundraiser supporting music education programs in our Petaluma area public schools. The event will feature 14 fantastic bands on 3 stages, including nationally recognized artists, plus a variety of specialty food, merchandise, and local business vendors, including beer from Lagunitas Brewing Company and Two Rock Brewing Company. Buy tickets and learn more about the event, including VIP seating options, at their website HERE.
Volunteer to help make the festival a Zero Waste event HERE. 
JOIN OUR PETALUMA TEAM! 
The City of Petaluma is looking for talented people to join our team! Please click the links below for more information about our open positions.CLICK HERE for a full list of career opportunities.
Associate/Senior Civil Engineer
Part Time Emergency Medical Technician
Police Officer (Current Academy Attendees & Graduates)
Public Safety Dispatcher – Lateral
Senior Management Analyst and Management Analyst I/II
Water Recycling Plant Operator Trainee I/II/III
UPCOMING MEETINGS
The City of Petaluma is hard at work for our community. Please check out our upcoming meetings and click on the links below for more information:
July 10, 6:30pm – City Council/PCDSA Regular Meeting
July 11, 6:00pm – Planning Commission Meeting
July 13, 8:30am – Senior Advisory Committee Meeting
July 13, 4:00pm – Transit Advisory Committee Meeting
July 13, 6:30pm – Climate Action Commission Meeting
July 17, 6:30pm – City Council/PCDSA Regular Meeting
July 19, 3:30pm – Tree Advisory Committee Meeting
July 19, 6:00pm – Recreation, Music & Parks Commission Meeting
July 20, 6:30pm – General Plan Advisory Committee Meeting
July 25, 6:00pm – Planning Commission Meeting
Check for upcoming meetings, agendas, and how to participate on the City's meeting webpage: https://cityofpetaluma.org/meetings/