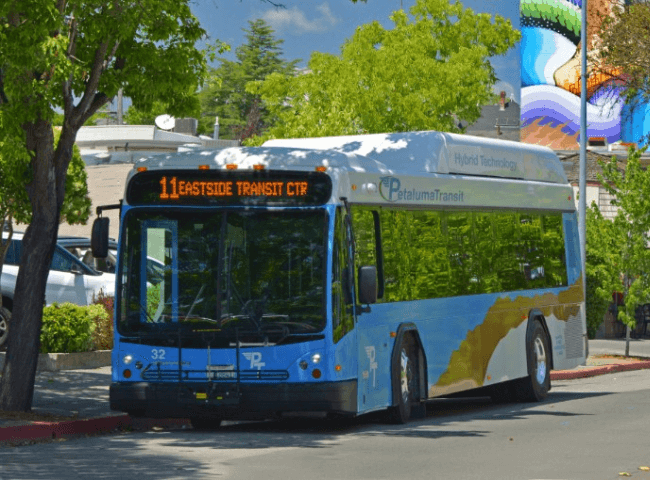 Happy Wednesday, Petaluma!
Now that it's November, the holiday season is upon us! We can't wait to see everyone out and about enjoying all our community has to offer this fall and winter. If you're looking for things to fill your schedule this season, don't forget to check out activities and events for the whole family to enjoy at visitpetaluma.org/events.
In today's update, we'll be sharing information about the upcoming election, ways to get involved and share input on City projects, art unveilings, trail closures, emergency preparedness tips, how to care for your trees this winter, and more.
Please enjoy, share with friends, and have a wonderful evening. We'll see you in your inbox next Wednesday! 
ARE YOU READY TO VOTE NOV. 8?
Next Tuesday, November 8, is Election Day! Below is information to help you prepare to place your vote.
1. Find Your District
Earlier this year, Petaluma was mapped into six districts of nearly equal population as part of our transition to district elections. Voters in each district will now vote for one eligible candidate to represent them on the City Council, as well as the at-large Mayor.
2022: Districts 1, 2, and 3 will be the first three districts to elect district representatives and will do so during this election. The Mayoral seat will continue as an at-large seat (elected by everyone) and is part of this election.

 

2024: Districts 4, 5, and 6, will then elect district representatives in 2024. The Mayoral seat will be part of the 2024 election, as well.
To learn your district and when your district will elect its next City Councilmember, visit cityofpetaluma.org/elections. 
2. Find Your Polling Center
Visit the Sonoma County Registrar of Voters website to find your closest polling center: sonomacounty.ca.gov/registrar-of-voters.
3. Review Your Voter Guide
If you are registered to vote, you should have received your voter guide. Make sure to give that a review.
To learn more about the upcoming election, visit cityofpetaluma.org/elections. 
Questions? Contact the City Clerk's Office at 707-778-4360 or [email protected]. 
JOIN THE 5TH STREET BIKE BOULEVARD WORKSHOP
We want to hear from you regarding a proposed "Bike Boulevard" on 5th Street!
5th Street has been identified as a safe, low-stress bicycling alternative to Petaluma Boulevard South and 6th Street due to lower traffic volumes and speed. This project proposes to make 5th Street even safer and more inviting by installing signage, striping, and other design and safety elements, to encourage people of all ages and abilities walking, bicycling and rolling.
Please join us for a virtual community workshop on Wednesday, November 9, 2022, from 6 PM to 8 PM to: 
Learn about the proposed project

 

Review existing conditions and feedback received to date

 

Explore design ideas

Share your input & questions
Spanish language interpretation services will be available.
Habrá servicios disponibles de interpretación al español.
Visit cityofpetaluma.org/5thStBikeBlvd to learn more about the project, access the link to the meeting, sign up for email updates, and provide feedback. 
SHARE YOUR THOUGHTS ON RUNNING A BUSINESS IN PETALUMA!
Petaluma's General Plan defines the City's long-term land use and economic development strategy, including how the City supports doing business in Petaluma. The City of Petaluma is in the process of updating our General Plan and we welcome input from the business community. Share your perspective via our Petaluma General Plan Update Business Survey, Available October 31 – November 16!
This brief survey, developed with the Petaluma Chamber of Commerce, will help us understand what we can do to meet our business' needs.
Access the survey in English and Spanish below:    
Participants are welcome to enter into a raffle for one of four $25 Shop Petaluma gift cards!
Learn more about the General Plan Update on our project website: https://www.planpetaluma.org/  
SONOMA COUNTY ECONOMIC DEVELOPMENT BOARD OFFERS SNAPSHOT OF PETALUMA
Curious about Petaluma's population, housing, income, and employment statistics? The Sonoma County Economic Development Board (SCEDB), in partnership with Sonoma County, Petaluma Area Chamber of Commerce, and City of Petaluma, has put together a snapshot graphic that offers a wealth of information about our community at a glance. Check it out HERE.
Looking for a job or thinking of starting a business? SCEDB has also put together in-depth reports for industries like construction, craft beverages and wine, outdoor recreation, health, and more. CLICK HERE to explore these valuable resources. 
ARE YOU EMERGENCY READY?
Disaster can strike unexpectedly and move fast. Planning ahead for yourself, your loved ones, and your neighbors is a crucial step in making it through the unexpected safely. In California, residents are often unprepared for natural disasters like earthquakes, wildfires, floods and more. With some simple preparation, your family can be ready to face these unexpected situations safely!
Sign Up for Emergency Alerts 
Want to find out about wildfires, floods, power shut offs and other emergencies as quickly as possible? CLICK HERE to learn how to sign up for emergency alerts.
Life-Saving Detection & Alarm Devices Installed 
On Saturday, October 15, Rebuilding Together Petaluma (RTP) in collaboration with the Petaluma Fire Department, hosted the Rebuilding Together Workday where volunteers hit the streets completing the installation of life-saving detection and alarm devices in thirty-seven low-income and senior residences in Petaluma. Additionally, the City's new Emergency Manager, in coordination with the local non-profit Emergency Prep Help, provided emergency and disaster preparedness training to roughly 50 local seniors.
What was accomplished: 
16 batteries were replaced to get those 16 smoke alarms working again

 

38 new smoke alarms were installed

24 new carbon monoxide (CO) alarms were installed

Roughly 50 seniors were trained in personal disaster preparedness and resiliency
For more information about Smoke and Carbon Monoxide Alarms, as well as other home fire safety tips, please visit: cityofpetaluma.org/home-fire-safety.
Click HERE to read the full press release.
JOIN THE MARIA DRIVE IMPROVEMENTS WORKSHOP
Maria Drive is a key connector serving schools, parks, residences, shopping and transit. The City of Petaluma plans to improve this important roadway via pavement rehabilitation in late 2023 – and we need your input! Pavement rehabilitation projects such as these present great opportunities to create safe and accessible streets for all road users.
Please join us for a virtual community workshop on Tuesday, November 15 from 6-8 PM to: 
Learn about the proposed project

 

Review existing conditions and feedback received to date

 

Explore design ideas

 

Share your feedback, ideas, & questions
Spanish language interpretation services will be available. Habrá servicios disponibles de interpretación al español.
Visit cityofpetaluma.org/MariaDriveImprovements to learn more about the project, access the link to the meeting, sign up for email updates, and provide feedback. 
CITY COUNCIL SUPPORTS SONOMA-MARIN FAIR AND OFFERS NEXT STEPS FOR FAIRGROUNDS PROPERTY 
On October 24, the City Council held a workshop to hear from the lottery selected panel and the community at large about what they would like to see and experience on the fairgrounds property. Staff also shared findings from several studies commissioned to understand the conditions of the buildings and soils on the property.
Based on the presentations and community input, the City Council directed staff to develop an approach that will support the annual fair and improve the property conditions. This will mean that the City will assume responsibility for managing and maintaining the property while providing space to, and support for, the annual fair to continue. The details of how this new arrangement will work are being developed by the City in partnership with the 4th District Agricultural Association (Fair Board) and will come back to Council in spring 2023 determined.
To learn more about the City Council direction, the community process, or the property conditions visit www.cityofpetaluma.org/fairgrounds. You can also sign up to stay informed on that webpage. 
LYNCH CREEK TRAIL CLOSURE NOVEMBER 7 – DECEMBER 2
As part of the Riverbend Development, Lynch Creek Trail will be closed from November 7, 2022 to December 2, 2022.
Lynch Creek Trail improvements will include constructing a 10' wide ADA-compliant concrete path and new solar-powered bollard-style lighting along the trail. In order to construct these improvements, Lynch Creek Trail needs to be closed for four weeks – weather permitting – from Edith Street to Lakeville Street. While the pathway is being constructed, Lynch Creek Trail users will be detoured down Edith St. to Madison St. and up to Lakeville St. where users can travel the new safe, ADA-compliant sidewalk that has been installed along Lakeville St. 
FREE YOUTH TRANSIT COMING IN JULY 2023
On October 25, the Sonoma County Board of Supervisors approved a pilot program that will provide fare-free transit on Petaluma Transit, Sonoma County Transit, and Santa Rosa City Bus for all youth riders.
The pilot program will provide free, unlimited ridership on all three transit systems for youth riders from July 2023 to July 2025. Funding for the program is part of a $10 million package of projects funded through the Sonoma County Climate Resiliency Fund and County General Fund towards Strategic Plan priories to help fulfill County climate action goals, with local match funding provided by all three participating agencies. 
NEW CREATIVE CROSSWALK ON KENTUCKY STREET
Need to brighten your day? Head down to Kentucky Street, where the crosswalk between Western Avenue and Washington Street has been painted to resemble the rainbow-colored LGBTQIA+ Pride Flag.
This transformation took place thanks to a partnership between the City and Amor Para Todos (APT), a Petaluma nonprofit whose mission is to cultivate more gender and LGBTQIA+-affirming environments for our youth. APT brought the idea to the City, which recognized both the desire for more installations and the need for guidelines. Working with input from the Public Art Committee and the Petaluma Downtown Association, staff developed a "Creative Crosswalks" program approved by City Council in August 2022.
The multi-hued crosswalk on Kentucky Street aligns with City goals related to the arts, bicycle and pedestrian safety, building partnerships with community organizations, and even economic development.  It's sure to add vibrancy to the Downtown while sending an uplifting and welcoming message to all community members and tourists visiting Petaluma. 
JOIN US TO UNVEIL NEW MAKING PROGRESS MURAL AT PETALUMA SWIM CENTER!
Help us welcome Petaluma's newest mural, Making Progress by local artists Rough Edge Collective, located at the Petaluma Swim Center! Join us on Saturday, November 12, from 4:00-6:00PM, at the Petaluma Regional Library for a public unveiling celebration!
Making Progress's design is a narrative read from left to right, intending to welcome the community and describe its self-growth in the composition. The artists describe Petaluma as a community in pursuit of similar passions and goals, which the mural content interprets in its elements as becoming friends, comrades, and even family building a second 'home' together.
Go to cityofpetaluma.org/making-progress-public-art to learn more about the project and the unveiling! 
SONOMA COUNTY LIBRARIES EXPANDING OPEN DAYS IN NOVEMBER
Starting November 6, all 12 regional libraries will be open on Sundays from 1 PM to 5 PM!
The library is utilizing funds from the voter-approved Measure Y sales tax, to increase services, access, and hours. Expanded hours, a growing collection of resources for all ages, and the modernization of aging library buildings have all been made possible by the sales tax. At this time, the small community libraries in Forestville and Occidental are not included in the Sunday expansion, nor is the History & Genealogy Library in Santa Rosa.
To learn more about the Sunday openings, click HERE! For all the library locations and information, visit ​​sonomalibrary.org. 
TAKE A HOME GARDEN TOUR WITH TRATHEN THIS SATURDAY!
Are you interested in a field trip? Saturday, November 5, from 10 AM – 12 PM, Cool Petaluma 2030 is teaming up with Daily Acts to host a Cavanagh Center & Trathen's Home Garden Tour & Social! Head out for a fun and informative morning at the Cavanagh Center (426 8th St, Petaluma, CA 94952) and get the chance to check out Daily Acts' very own Trathen Heckman's home garden across the street.
This is a special Cool Petaluma event open to everyone! Get the chance to learn about: 
Building healthy soil that sequesters carbon and retains water

Catching rainwater in gardens and barrels

Installing home grey water systems

Sheet mulching and lawn conversions

Planting food forests and pollinator gardens that create abundant habitat on little water
Bring your questions, and bring your neighbors! For more information, click HERE. 
HOW TO TAKE CARE OF TREES DURING A DROUGHT
Did you know it takes 30 – 120 years for a tree to mature and only 4 weeks for brown grass to be revived after going dormant? Please prioritize watering the trees around your home instead of your lawn and other plants.
Why save trees? 
Trees help sequester carbon and provide clean air to breathe.

 

Mature trees add to your home value and are expensive to replace.

 

Trees are home to various species, help reduce noise, and provide shade.
It's easy. Here's how: 
Water trees deeply once a week.

 

Let the lawn go. (It's easiest to revive or replace)

 

Give your trees the extra water captured from your shower (Tip: Place a bucket in your shower while the water warms up!)
Signs your tree is thirsty: 
Leaves are smaller, cupped, or discolored.

 

Branches growing without leaves.
Learn More: CityofPetaluma.org/SaveTrees 
Questions? Contact our Water Conservation team: [email protected] or 707-778-4507.
JOIN OUR PETALUMA TEAM!
Part Time Emergency Medical Technician
UPCOMING MEETINGS
The City of Petaluma is hard at work for our community. Please check out our upcoming meetings and click on the links below for more information: