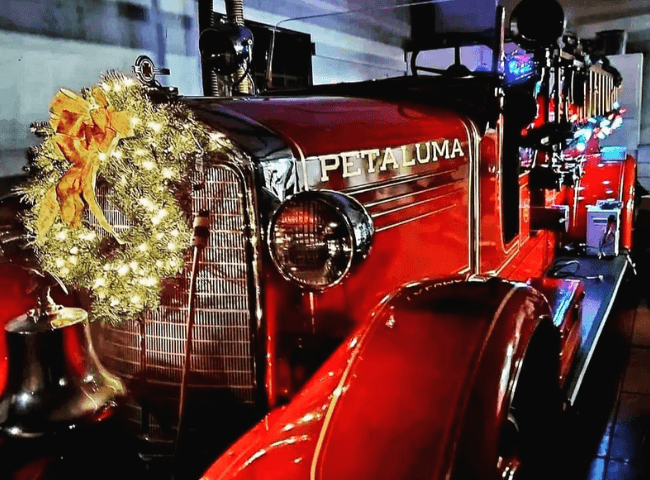 Happy Wednesday, Petaluma!
It's the most wonderful time of the year, and you are the most wonderful part of our city! However you are celebrating the holidays, we are proud to have a community that is helpful, kind, caring, and unique. Thank you for lending a hand whenever you can, being supportive of your fellow neighbor, and coming together to make our city the best it can be.
In tonight's update, get the information you need about upcoming events, how you can shop small and support local this year, and ways to practice home fire safety during the holiday season. Please enjoy, share with your friends, and have a wonderful evening. We'll see you in your inbox next Wednesday! 
SUPPORT LOCAL THIS SEASON WITH SHOP PETALUMA GIFT CARDS AND SMALL BUSINESS SATURDAY
This year, get your holiday shopping done early during Small Business Saturday! Skip Black Friday shopping and head down to your favorite local stores to support small Saturday, November 26th. 
The City celebrates our local small businesses and the contributions they make to our local economy by creating jobs and preserving our community. We urge the residents of Petaluma, and communities across the country, to support small businesses and merchants on Small Business Saturday and throughout the year. 
Get Your Loved Ones The Best Gift: Supporting Local Businesses! 
Another great way to support local year-round is with Shop Petaluma Gift Cards! The Shop Petaluma gift card can be used at over 60 participating Petaluma businesses and is a great way to show support to the local businesses that are such an essential part of our community.
Last year over 650 gift cards were purchased, and we were able to keep over $22K local during the holiday season. This has a huge impact on our local economy, and we are so proud of the support our community shows one another. Let's make that total even higher this year!
Click HERE to purchase a Shop Petaluma gift card today!
Want your business to be part of the program? It's easy and free! Learn more HERE. 
PETALUMA TURKEY TROT 2022
The Petaluma Turkey Trot is back IN PERSON this year, and we couldn't be more excited! Join us on Saturday, November 26th (the Saturday after Thanksgiving) at 8:30 AM at the Ellis Creek Wetlands, located at 3890 Cypress Drive in Petaluma. Note that parking for the event will be located in the Kaiser Permanente parking lot, located at 3900 Lakeville Highway in Petaluma.
This will be the 15th consecutive year of the Petaluma Turkey Trot, and it's always been healthy, family-friendly, and fun! There is no fee, registration is quick and easy, and there's an opportunity to win some fantastic raffle prizes by donating to the Redwood Empire Food Bank.
Visit petalumaturkeytrot.com for more information and to register. 
SANTA ARRIVES BY BOAT IN PETALUMA
Santa and Mrs. Claus make a uniquely Petaluma arrival when they sail up the Petaluma River on a tugboat and dock at River Plaza Shopping Center Saturday, November 26. Stay for photos, and be sure to bring your wish list and shopping list! Santa will arrive at 11:30 AM, but in order to hear from all the good children all over the world, he will have to be on his way to his next destination at 1:30 PM. Following your visit with Santa, you can make the short walk to historic downtown Petaluma for Shop Small special offers and activities.
For more information on Santa & Mrs. Claus' boat arrival, visit: petalumadowntown.com/holidays-in-petaluma 
LIGHT UP A LIFE 2022
Save the date for Light Up a Life 2022! The beloved community event returns to Walnut Park this year on Friday, December 2, at 6:00 PM.
This is an annual event, organized by Sonoma County Health Hospice, that takes place at Walnut Park in Downtown Petaluma each December, where our community gathers to illuminate one of the largest trees in the park in remembrance and celebration of the lives of those we have loved and lost during the past year.
For more information about Light Up a Life 2022, visit https://fb.me/e/1ZBTeQgIg. 
PETALUMA FIREFIGHTERS FOUNDATION SANTA PARADE 2022
Get ready, Petaluma! On the nights of December 5th, 6th, and 7th starting at 6:30 PM, Santa will be given a police-escorted tour of different parts of the city while riding in a vintage fire engine. The Santa Parade is a three-night event organized by the Petaluma Firefighters Foundation in partnership with the Petaluma Police and Fire Departments.
On December 5, Santa will start at Petaluma Valley Hospital and finish at Lucchesi Park.
On December 6 Santa will follow a different path, starting at Petaluma Fire Department Station 1, and returning to Fire Station 1 via 4th Street.
On December 7th, Santa will start on South McDowell Boulevard near La Azteca and finish on Calle Rancho Drive.
Follow the Petaluma Firefighters Foundation on Facebook and Instagram for more detailed route information, times, and more.
MARK YOUR CALENDARS FOR UPCOMING LOCAL EVENTS
The holidays are a time to spend with family and friends, making memories. In Petaluma, there are so many fun, family-friendly activities and events coming up, your calendar is sure to be full of memory-making good times. Head over to visitpetaluma.com/events for a complete list of upcoming events and activities the whole family will enjoy. We can't wait to see our community out and about, enjoying the fun together! 
ARE YOU EMERGENCY READY?
Disaster can strike unexpectedly and move fast. Planning ahead for yourself, your loved ones, and your neighbors is a crucial step in making it through the unexpected safely. Check out the helpful tips below to make sure you are prepared! 
Practice Proper Home Fire Safety This Holiday Season 
A house fire will undoubtedly take the joy out of celebrating the holidays, so take appropriate precautions to ensure the safety of your home and your guests. No matter what holidays you celebrate, consider these critical steps for staying safe and preventing fires.
Follow these simple practices in your home to prepare your family for a fire emergency: 
Stay vigilant while cooking holiday meals, and do not leave open flames unattended.

 

Test all lights and electrical decorations for faulty wiring before use.

 

Install smoke alarms and carbon monoxide detectors on every level of your home, inside bedrooms, and outside sleeping areas.

 
If a fire occurs in your home, GET OUT, STAY OUT and CALL FOR HELP. Never go back inside for anything or anyone.

 
To learn more about proper home fire safety, visit: cityofpetaluma.org/home-fire-safety.
JOIN OUR PETALUMA TEAM!
UPCOMING MEETINGS
The City of Petaluma is hard at work for our community. Please check out our upcoming meetings and click on the links below for more information: