Good Evening, Petaluma –
As we approach the Thanksgiving holiday, our minds turn to how much there is to be grateful for this year. Though 2020 has brought many unexpected challenges, it has also given us the opportunity to come together as a community in ways we haven't before. The support we have provided one another and the creativity that has gone into finding new ways to connect are things that make us truly #PetalumaProud. Thank you for your part in making our City the special place that it is.
This evening, we'll review the new statewide curfew, share guidance for safe holiday celebrations, announce an exciting new way to keep your holiday shopping dollars local, take a look at some fun upcoming community activities, and more.
Please enjoy, share with friends, and have a relaxing (and safe!) holiday weekend. We'll see you back in your inbox next Wednesday.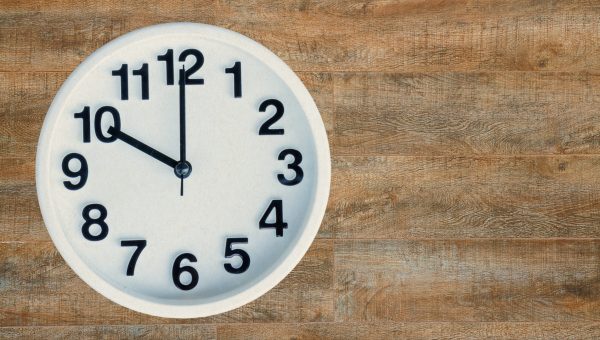 SONOMA COUNTY CURFEW
A message from the County of Sonoma:
Due to the recent unprecedented rate of increase of COVID-19 cases across California, a curfew has been ordered to prevent the spread of the virus.
This curfew order is effective November 21, 2020 at 10pm through December 21, 2020 at 5am.
All non-essential activities conducted outside the household are not permitted during these hours.
CLICK HERE to learn more and view answers to frequently asked questions.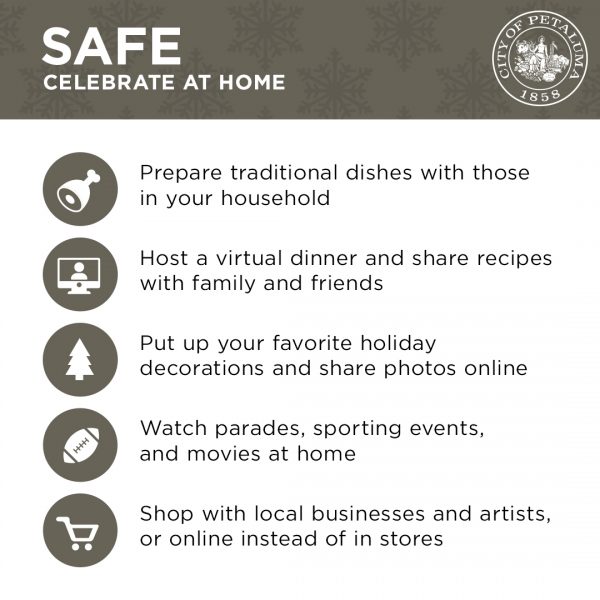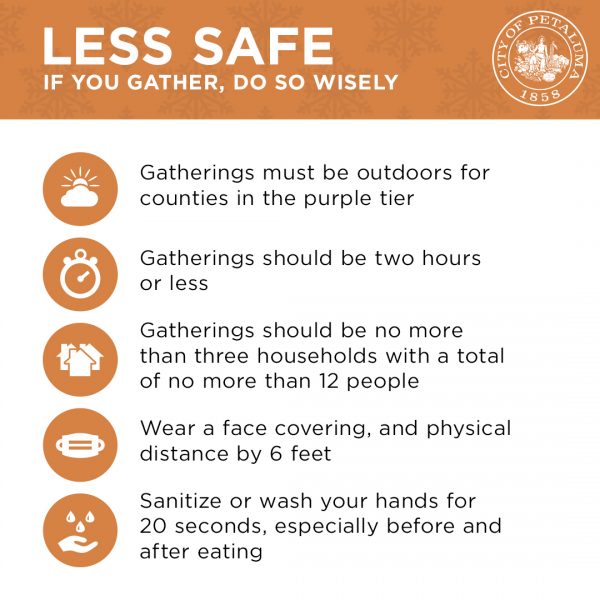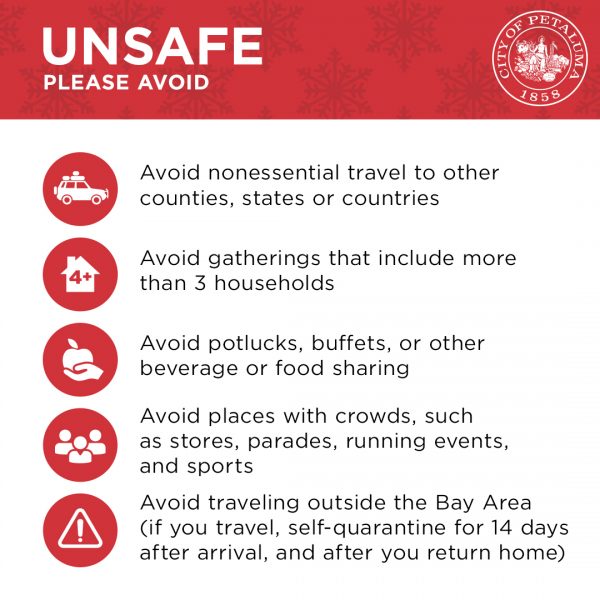 CELEBRATE SAFELY
Please keep these tips and guidelines from the CDC and the County of Sonoma in mind as you make holiday plans this year.
Holiday Celebrations and Small Gathering Information from the CDC
Recommendations for Staying Safe from COVID-19 During the Holidays from the County of Sonoma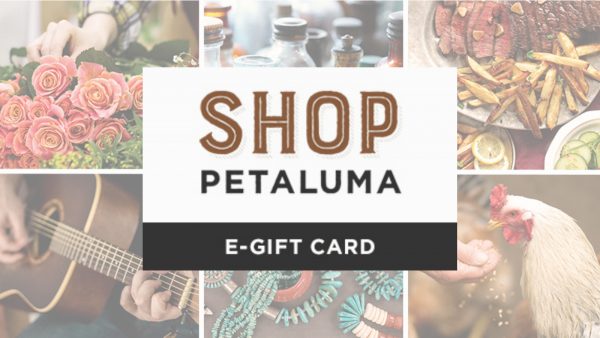 SUPPORT LOCAL THIS SEASON WITH THE SHOP PETALUMA GIFT CARD!
Looking for the perfect gift but want to keep it local? We've got you covered! The Shop Petaluma gift card can be redeemed at any participating shop, service provider, or restaurant in town. Your loved ones will appreciate the variety and you'll be helping support the businesses that give so much to our community. It's a win-win!
CLICK HERE to buy one today!
Want your business to be part of the program? CLICK HERE to learn more.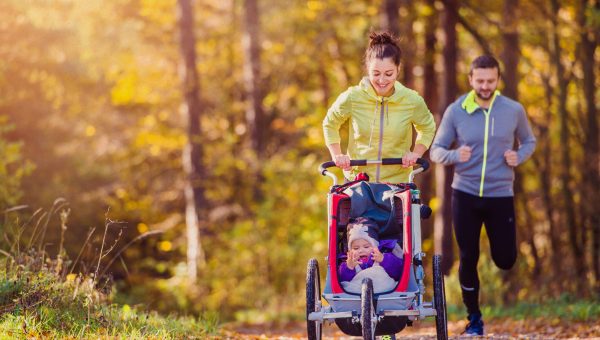 JOIN THE VIRTUAL TURKEY TROT
The Petaluma Turkey Trot is going virtual this year! While we are saddened to be unable to gather this year at Ellis Creek, we are excited to share this beloved Thanksgiving tradition for Petalumans is still taking place virtually.
For more information and to register for the 2020 Petaluma Turkey Trot, visit https://madarc.com/turkey-trot-2020/.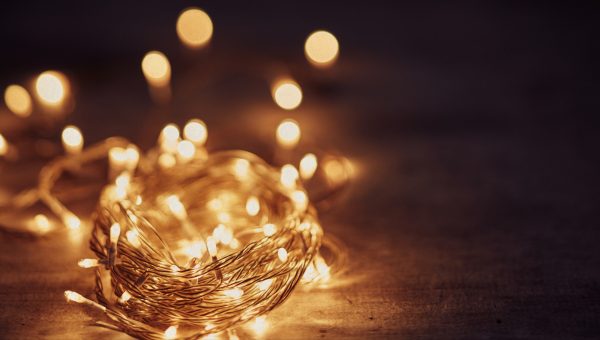 LIGHT UP A LIFE GOES VIRTUAL FOR 2020
Light Up a Life is Hospice of Sonoma County's annual community celebration of treasured memories. For the past 35 years, during the month of December hundreds of bright, clear lights have illuminated various Light Up a Life Trees, each light symbolizing the life, hopes, and dreams of a loved one. In Petaluma, the Light Up a Life tree can be found at Walnut Park.
Hospice of Sonoma County invites you to join them at www.sonomacountyhospice.org on Friday, December 4th at 6pm for their virtual tree lighting and remembrance ceremony. If you'd like to view the event at a later date, it will continue to be available through the end of the year.
If you would like to pick up a Light Up a Life candle to light at home, they are available during business hours at the following locations in Petaluma:
Hospice of Petaluma – 416 Payran Street, Petaluma
Sacks Hospice Thrift Store – 128 Liberty Street, Petaluma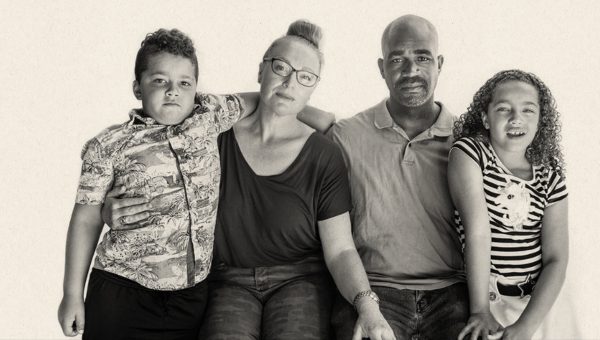 SHARE YOUR FAMILY STORY
The theme for Black History Month 2021 is family and the Petaluma Blacks for Community Development (PBCD) would like to share the celebration by inviting you to participate in their "Celebrating Family" exhibit.
Families come in all shapes and colors – traditional, gay, hetero, multi-ethnic, single parent family, multi-generational, gender expansive, friend and fur families. The PBCD is looking for families that would like to share some of their history with the community through pictures, family tree, stories, family heirlooms, or art.
Local photographer Paige Green is offering free family photo shoots every Saturday in December to participants.
If you would like to participate, have questions, or need additional information, please contact Faith Ross by December 9: [email protected]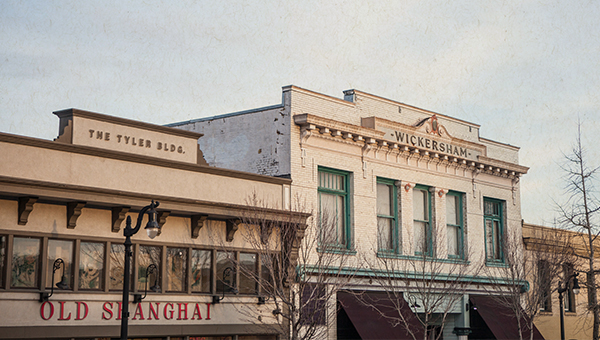 HELP SHAPE PETALUMA'S FUTURE!
Would you like to help shape the future of our community by giving input on decisions like housing, land use, the environment, community character, and more? Now is your chance to get involved!
We are looking for a group of 15 Petaluma residents to form our General Plan Advisory Committee – a group that will meet monthly through 2021 and 2022 to help shape our city's roadmap for growth for the next 15 years! We are seeking community members who can offer diverse perspectives.
Interested in joining us? Applications are being accepted now through December 7 – CLICK HERE for more information.
Don't forget the General Plan Community Survey is open through November 29! Participate at PlanPetaluma.org.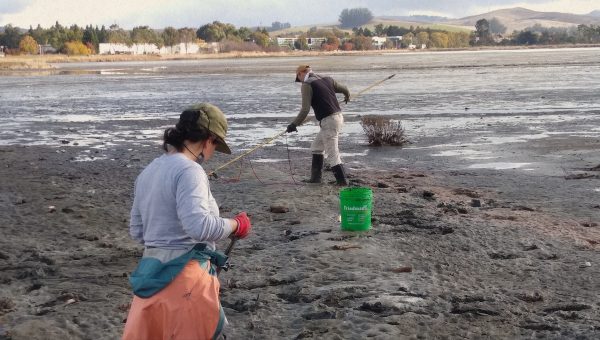 Photo credit: John Shribbs
COMMUNITY CLEAN UP A SUCCESS!
An unexpected benefit of the recent Petaluma River dredging has been the opportunity to clean trash that has been muddying our waters for years – and our community came together to do just that!
Over a 2 week period, more than 150 volunteers gathered an estimated 10 pickup truck loads worth of trash. Way to go, Petaluma!
Interesting to note, most of the trash was small plastic pieces, plastic bottles, and bottle tops. A great reminder of the importance of proper recycling and reducing the use of single use plastics. It truly has an impact on our local environment and wildlife.
More is expected to be available for cleanup next spring after the rains reveal more buried trash. Mark your calendars!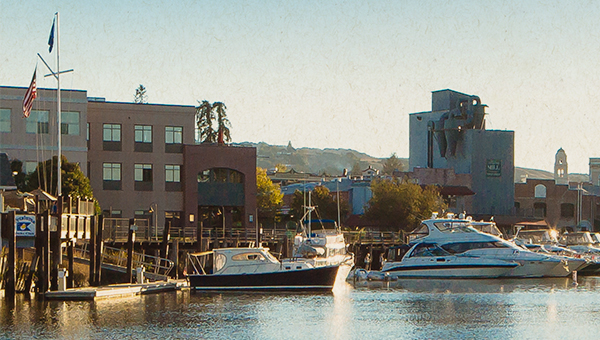 WE'RE HIRING
The City of Petaluma is looking for talented people to join our team! Please click the links below for more information about our open positions. CLICK HERE for a full list of career opportunities.
Accounting Assistant II
Assistant City Attorney
Associate/Senior Civil Engineer
Mechanical and Electrical Maintenance Supervisor
Police Officer (Current Academy Attendees & Graduates)
Police Officer – Lateral
UPCOMING MEETINGS
The City of Petaluma is hard at work for our community. Please check out our upcoming meetings and click on the links below for more information:
December 1, 6pm – Public Art Committee
December 2, 6:30pm – Pedestrian & Bicycle Advisory Committee
December 3, 4pm – Transit Advisory Committee
December 3, 6pm – Airport Commission
Check for upcoming meetings, agendas, and how to participate on the City's meeting webpage: https://cityofpetaluma.org/meetings/