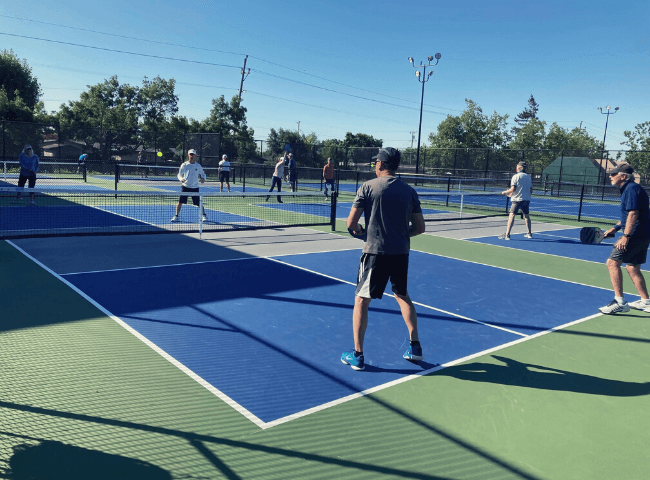 Hello, Petaluma –  
We're officially in fall and loving the sights and smells of the season around town. Crisp air, falling leaves, and festive decorations all make this a special time of year in our little city.  
Today we're sharing news of new criteria that must be met in order to lift our current indoor masking requirements, a guide for when to get tested for COVID-19, a cool new fire safety resource, upcoming webinars, ball court renovations, ways to commemorate loved ones for Dia de los Muertos, and more. 
Please enjoy, share with friends, and have a lovely evening. We'll see you in your inbox next Wednesday! 
COVID-19 UPDATE
Please take a moment to check out these important COVID-19 resources and updates from the County of Sonoma: 
Requirements for Lifting Indoor Masking 
As decisions to vaccinate and wear face coverings indoors drive down COVID-19 case rates and hospitalizations, Health Officers for the nine Bay Area jurisdictions that require face coverings in most indoor public spaces have reached consensus on criteria to lift those Health Orders. 
The nine jurisdictions will lift the indoor masking requirement in public spaces not subject to state masking rules when all the following occur: 
The jurisdiction reaches the moderate (yellow) COVID-19 transmission tier, as defined by the Centers for Disease Control & Prevention (CDC), and remains there for at least three weeks; AND

 
COVID-19 hospitalizations in the jurisdiction are low and stable, in the judgment of the health officer; AND

 

80% of the jurisdiction's total population is fully vaccinated with two doses of Pfizer or Moderna or one dose of Johnson & Johnson (booster doses not considered) OR eight weeks have passed since a COVID-19 vaccine has been authorized for emergency use by federal and state authorities for 5- to 11-year-olds

 
CLICK HERE to learn more. 
Wondering when/if you should get tested for COVID-19? 
The California Department of Public Health (CDPH) has created a new fact sheet to help Californians understand when they should get tested for COVID-19.  
According to CDPH, you should immediately get tested for COVID-19 if you are feeling any symptoms – regardless of your vaccination status. COVID-19 symptoms can feel like a common cold (including just "the sniffles"), seasonal allergies, or flu. COVID testing in California is free to anyone who needs it.  
If you've been exposed to COVID-19 and are not fully vaccinated, get tested right away. If you test negative, retest 5-7 days after your exposure date. Those who are unvaccinated should also test before and 3-5 days after any high-risk events.

 

If you were fully vaccinated when exposed, you should get tested 3-5 days after close contact with someone who has recently tested positive. 

 
CLICK HERE to learn more. 
If you are in need of a COVID-19 test, please visit one of the County-approved testing sites found HERE. 
ALERTWILDFIRE CAMERAS INSTALLED IN PETALUMA
The Petaluma Fire Department has coordinated the installation of 2 ALERTWildfire cameras to provide a 360° view of Petaluma and the surrounding areas. The cameras are located on the Hayes Lane water towers and are designed to help firefighters and first responders: 
Discover/locate/confirm fire ignition

Quickly scale fire resources up or down appropriately

Monitor fire behavior through containment

During firestorms, help evacuations through enhanced situational awareness

Ensure contained fires are monitored properly 

 
CLICK HERE to view the cameras (listed as Petaluma 1 and Petaluma 2). These cameras can be remotely adjusted and zoomed by authorized personnel and are always available for viewing by the public to increase their situational awareness during a fire or other event. 
During the past six fire seasons ALERTWildfire has provided critical information for over 1500 fires. In late 2017, the devastating North Bay Complex and Thomas Fire brought the need to quickly expand coverage across the western US into sharp focus. Two years later, the ALERT North Bay network provided real-time monitoring of the Kincade Fire from inception and helped provide an environment where no lives were lost nor injuries in the first 24 hours of the fire during wide-spread evacuations—a first for a large, wind-driven fire in California. 
Learn more HERE. 
MAKING SONOMA COUNTY'S STREETS SAFER FOR EVERYONE
Last year, 200 people were killed or seriously injured on Sonoma County roads. We can end that. That's why the Sonoma County Department of Health Services and the Sonoma County Transportation Authority are teaming up to create Sonoma County Vision Zero—to bring traffic deaths and injuries down to zero. 
You can help! They have created a short survey for people to show where (and how) we should focus our efforts to make our streets safe for bikers, walkers, rollers, drivers—everyone! 
Share your ideas, and share the survey with folks you know! 
CLICK HERE to take the survey. 
MARK YOUR CALENDAR: FREE FIRE SAFE SONOMA PROGRAM
Fire Safe Sonoma is holding a free Wildland Fire Assessment Program. This 2-session virtual course is open to anyone wishing to learn more about wildfire home assessments. The course will include local communities, fire department personnel, Citizens Organized and Prepared for Emergencies (COPE), homeowners' associations (HOAs), FireWise Communities, and Fire Safe Councils.  
Classes will be held: 
October 27 & November 3, 2021 
5:30-8:30 PM 
CLICK HERE to register for session 1. 
RENOVATED BALL COURTS AVAILABLE AT MCNEAR, LUCCHESI, & DEL ORO PARKS!
We are excited to announce the re-opening of the newly renovated tennis, handball, & pickleball courts at McNear, Lucchesi, and Del Oro Parks!  
Courts are open and ready for play! Please bring your rackets, balls and get ready to enjoy the smooth surface, new nets, led lights, refurbished fencing and the newly blue courts at Lucchesi and Del Oro, and freshly green courts at McNear! Lucchesi and Del Oro courts are for tennis & pickle ball use only while McNear courts are for tennis only. All are available on a first come first SERVE basis to all community members.  
In order to keep courts in the best possible condition in the years to come please adhere to all posted signage at the courts. 
Thank you to Measure M and all the feedback and support from our community for making the refurbishment of our courts possible. CLICK HERE to learn more about Measure M. 
See a great video overview HERE. 
PETALUMANS INVITED TO COMMEMORATE DIA DE LOS MUERTOS
For the past 21 years, our community has been commemorating the lives of departed loved ones in an annual community celebration, El Día de los Muertos. A celebration of life and death from the Aztec culture of Mexico and other areas of Latin America, El Día de los Muertos provides us with a chance to come together in our shared loss and heal both the pains of lost loved ones and, currently, the loss and isolation resulting from the pandemic. 
We invite you to join us in celebrating those who have died from COVID-19 by placing a remembrance of your loved one on our Día de los Muertos altar at the Petaluma Art Center. You may add a photo, a favorite poem, or memento to acknowledge your loved one. We will have a basket and a tree that can be used to simply add a name if you choose. 
We hope that celebrating those we have lost as a community will help remind us of what binds us together and of all that we share with our friends and neighbors. 
Día de los Muertos altars will be up at the Petaluma Art Center, and around the community, from Oct. 9 until Nov. 3. 
CLICK HERE to learn more. 
UPDATE FROM THE CLIMATE ACTION COMMISSION
This Monday was Indigenous Peoples' Day, an alternative to Columbus Day, which honors the beautiful cultures, traditions, and lives of indigenous people around the world. We respectfully acknowledge we reside on the ancestral land of the Southern Pomo and Coast Miwok people. Our climate work in Petaluma (and beyond) will include climate justice for Native Americans and other BIPOC residents, as well as respecting and learning from indigenous wisdom in relation to the land and its creatures. Read more about Indigenous Peoples' Day on NationalGeographic.com and about indigenous land management practices in Yes magazine. 
An excellent (and short!) but sobering read: George Monbiot – "Green Growth Doesn't Exist – Less of Everything is the Only Way to Avert Catastrophe." 
The end of this month marks the start of the 26th UN Climate Change Conference (COP26) in Glasgow, Scotland (October 31 – November 12). Climate Action Commissioner Kailea Frederick will be there representing Indigenous Climate Action. In the lead-up to COP26, ICA is offering a series of webinars — watch one of ICA's webinars here. Stay tuned for Kailea's reports on progress next month.  
The Climate Action Commission meeting this week has been canceled. We'll be meeting in November, but not on the 2nd Thursday, because it's a holiday. The new date will be scheduled soon.  
ECO-FRIENDLY PEST & DISEASE MANAGEMENT WORKSHOP
Join Suzanne Bontempo, Our Water Our World Integrated Pest Management Specialist, for advice on how to handle common fall and winter weeds, pests, and plant diseases using a holistic, less toxic approach.  
Learn to Manage: 
Ants

Weeds

Rats & Mice

Common Plant Diseases

 
The workshop will be held on Zoom, Tuesday, October 19, 5-6pm. 
CLICK HERE to register.  
WE'RE HIRING
The City of Petaluma is looking for talented people to join our team! Please click the links below for more information about our open positions. CLICK HERE for a full list of career opportunities. 
Part Time Parking Enforcement Officer 
Police Officer (Current Academy Attendees & Graduates)
UPCOMING MEETINGS
The City of Petaluma is hard at work for our community. Please check out our upcoming meetings and click on the links below for more information: 
October 13, 6:30pm – Regular Joint Transit Advisory and Pedestrian & Bicycle Advisory Subcommittee 
October 14, 4pm – Transit Advisory Committee 
October 18, 5:30pm – Meeting of the Petaluma City Council and Petaluma Community Development Successor Agency 
October 19, 6pm – Ad Hoc Community Advisory Committee 
October 20, 3:30pm – Tree Advisory Committee 
October 20, 5pm – Airport Projects Subcommittee 
October 20, 7pm – Recreation, Music and Parks Commission 
October 21, 4pm – Airport Operations / Master Plan Subcommittee 
October 21, 6:30p – General Plan Advisory Committee 
Check for upcoming meetings, agendas, and how to participate on the City's meeting webpage: https://cityofpetaluma.org/meetings/