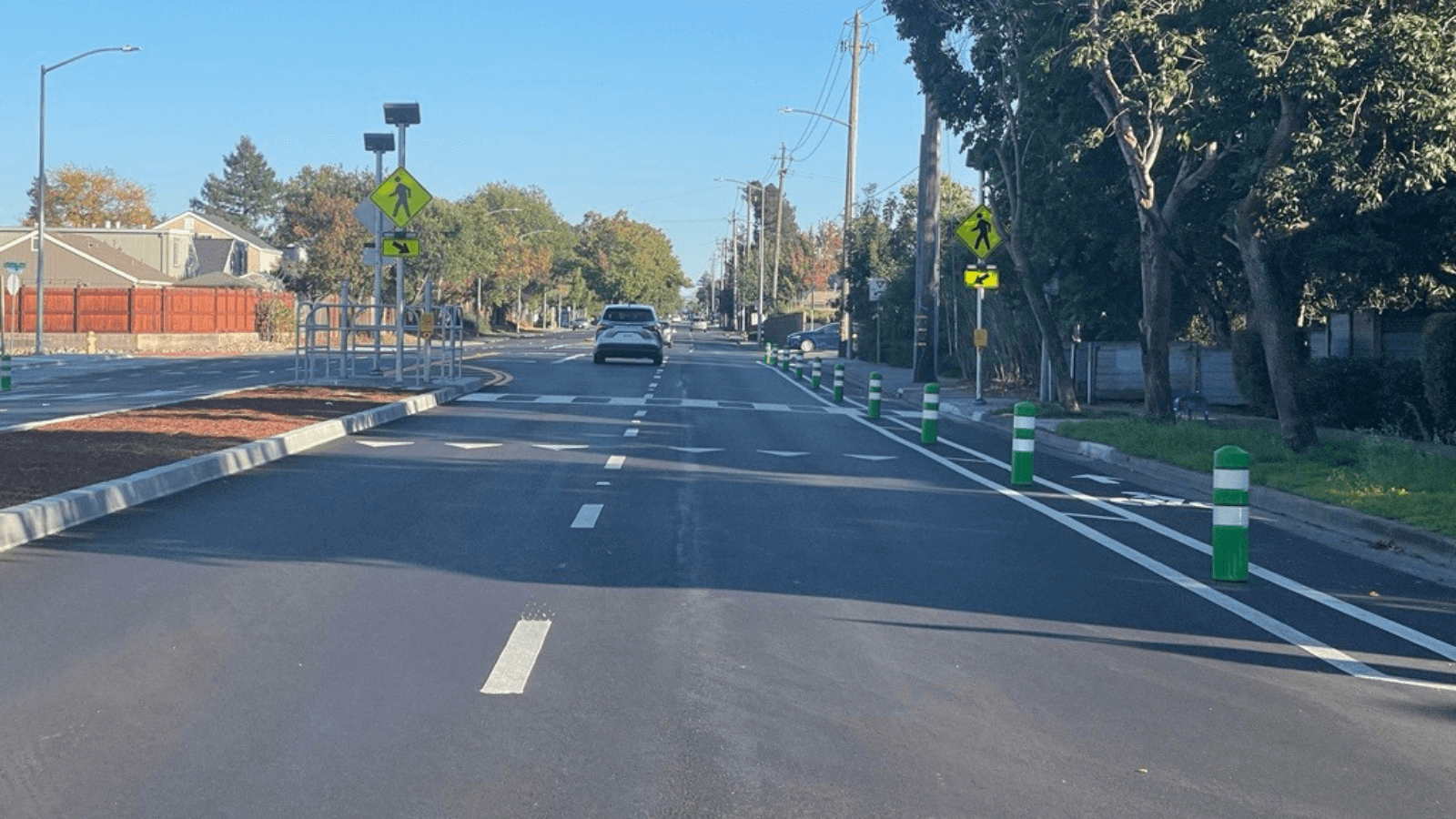 Happy Friday, Petaluma!
As we make our way into spooky season, we are hard at work ensuring that our city's infrastructure won't cause a fright! From improving our streets and cross-town travel to taking action in the climate crisis, the City of Petaluma is busy laying the foundation for a safer future for all Petalumans — and we need your help! 
If there is one thing the people of Petaluma know how to do, it's support our community and make change happen. There are plenty of opportunities to get involved and have your voice heard on impactful projects all around town. Read on and see what catches your eye. We look forward to seeing you at a meeting or hearing from you on some of these topics soon!
City Council Meetings: New Public Comment Policy
For the past few years, City Council meetings have been held in a hybrid format, allowing both in-person participation and virtual observation. This hybrid format has increased accessibility for our community and deepened debate on important issues. However, at our most recent Council meeting, the virtual public comment portion was overtaken by anonymous speakers who derailed the meeting with antisemitic, homophobic, and white-supremacist language.
The City of Petaluma stands strong against hate in all its forms and will not tolerate the targeted harassment of our residents. The next City Council meeting on Oct. 16 will include a Resolution declaring our stance, and we have prepared a statement on our website HERE. 
The City is also temporarily suspending virtual participation (comments) by Zoom at City Council meetings and will re-evaluate at a future date. Members of the public attending through Zoom will be able to observe the meeting only and will not be able to provide comments through Zoom. Members of the public who are unable to attend in-person, but who still wish to comment on items may submit their comments to the City Clerk at [email protected].
This policy is intended to keep City Council meetings safe and productive for all our residents. Please plan to attend in person if you'd like to make a verbal comment about an item on any future Agenda. We will keep you posted about any future changes.
Safe Streets Nomination Program
We're on a mission to make Petaluma's streets safer and more welcoming for everyone, and we need your help! We're thrilled to roll out our Safe Streets Nomination Program, a unique chance for all Petalumans to play a part in reshaping our streets.
Wondering how? With your keen insights and our assembled data, we can pinpoint, rank, and upgrade areas that need upgrades to slow traffic down and make our streets safer. We know that fast cars and safe streets don't mix. In fact, high speeds are the cause behind most traffic collisions in Petaluma.
So, Petalumans, ready to co-pilot this transformation with us? Fill out THIS FORM to nominate your street.  We will review nominations submitted by August 31 of each year to determine which projects will be implemented and when that work will occur. Find out more about our project selection process at our website HERE.
The Turning Basin Docks Are Returning!
Great news, Petaluma! The docks at the Petaluma River Turning Basin are coming back and they're going to be better than ever. 
As you may know, the aging docks, located within the Turning Basin on the river between the back of the River Plaza shopping center and Weller Street, were removed in 2022 to allow for dredging. This necessary removal has given us an opportunity to replace the aging docks with new ones that will provide: 
Increased river access for our community  

Pedestrian access between River Plaza and Weller Street

A public launch area for small craft, such as kayaks and paddleboards

Docking space for visiting boaters

Access to potable water and power

Increased safety via a new fire suppression system 
Construction of the new docks will begin in mid-October and will continue through January 2024. During this time, please be aware: 
Traffic delays may occur.

The D Street drawbridge will be lifted periodically in October and November to allow construction equipment to be brought in on barges.

Noise and vibration may be experienced in the area in mid-late November as dock piles are installed.

For safety reasons, the Turning Basin will be closed to recreational boaters and bridge opening requests may not be possible during certain construction activities. 
To learn more about the project, please visit cityofpetaluma.org/turningbasin.
North McDowell Improvements are Nearly Complete
Have you noticed a smoother surface and safer walking/biking conditions on N. McDowell lately? We are pleased to report our North McDowell Improvement project is nearly complete! In the nearly 10 months since construction began, we have created the following on N. McDowell Blvd. from Sunrise Parkway to Old Redwood Highway:
A safer, smoother roadway surface

Improved traffic flow and safety

Elements designed to reduce traffic speed

Enhanced sidewalks, curbs, & pedestrian crossings

Upgraded bike lanes

Better access to transit

Drought-tolerant landscaping and trees
Our contractor, Team Ghilotti, Inc., is currently working on finishing the road striping and finalizing traffic signal improvements. These finishing touches may require periodic lane closures over the next few weeks.
This project was made possible, in part, by funding from Measure U — a voter-supported tax initiative. Thank you, Petaluma, for making these amazing improvements possible! 
To learn more, visit: cityofpetaluma.org/mcdowell.
Blueprint for Carbon Neutrality
In case you missed last week's email, the City is proud to have launched the draft of our Blueprint for Carbon Neutrality, the climate action plan we hope will get us to our goal of becoming Carbon Neutral by 2030.
The Blueprint provides an overview of the greatest challenge that we, as a community, have ever had to face: climate change. Petalumans have already begun to address this challenge through progressive actions that have established our City as both a regional and national climate leader.
We have prepared a brief summary HERE that we hope helps to simplify the what, why, and how of this crucial guiding document. We invite all our residents to read the full 112-page Blueprint for Carbon Neutrality at our General Plan website HERE.
We also invite you to help us refine our Blueprint during the coming weeks. We invite you to provide your feedback on the plan before it goes to City Council later this year. Check out our online feedback form HERE, from now until October 28th.
To learn more, visit cityofpetaluma.org/climateready.
The Great Shakeout — Oct. 19
Next week, the City of Petaluma is participating in the Great ShakeOut, when millions of people worldwide will participate in earthquake drills at work, school, or home!
At 10:19 am on Thurs., 10/19, you can join millions of people across California practicing earthquake safety. Everyone is invited to participate and find useful tips at shakeout.org/california.
Already have other plans on Oct. 19th? You can still register your ShakeOut drill for any day of the year, and drill at a time of your choice. (And please do register, it helps build metrics on how the program is growing and supports funding for this no-cost program.) You can also include people in multiple locations through video conferencing. Let's make sure everyone in our community knows the safest way to Drop/Lock, Cover, and Hold on!
Upcoming City Meetings
Our City staff is continually working to improve our community – whether it's making much-needed upgrades to our roads, redesigning community parks, or planning for the future needs of Petalumans – and your input is an essential part of our process! Read on for opportunities to have your voice heard (or simply learn more about) some projects that are currently underway.
Safety, Skateboards, and Active Transportation @ City Council, October 16

Monday, October 16 at 6:30pm
Where: City Hall (11 English Street), or virtually via Zoom.
Click here for agenda and materials (see Item #9)
On Monday, October 16, City Council will host a workshop to get an update on our efforts regarding "active transportation" – any form of car-free mobility like walking, biking, scooting, and boarding. City staff will lead focused discussions on some important topics like the D Street Traffic Calming project, the 5th Street Neighborhood Greenway, and the Rainier Avenue Paving and Traffic Calming Upgrades. 
As a separate discussion item, the City Council will review and consider the much-anticipated Lucchesi Skatepark concept plan for a new 23,000 square foot skatepark designed in collaboration with Petaluma's skating community. 
Thank you to all in our community who have shared feedback on recent projects. We invite you to learn more about our next steps to support active transportation in Petaluma.
You're Invited! Help Design the New Caulfield Bridge October 17
We're building a bridge, Petaluma! The Caulfield Bridge Crosstown Connector Project will create a new 500-foot moveable bridge (like the D Street bridge) over the Petaluma River connecting east and west Petaluma via Caulfield Lane to Petaluma Boulevard South. 
This bridge will provide a safe, convenient route for people walking, bicycling, and driving across town and will help to reduce traffic congestion on existing crosstown connectors. We want to design the bridge in a way that best serves the needs of the community.
PLEASE JOIN US FOR AN OPEN HOUSE OCTOBER 17  TO:
Learn more about the project 

Share your input on the bridge design 

Weigh in on overall look and feel (materials, colors, shapes, and art) 

Discuss amenities and bicycle/pedestrian accommodations 

Discuss accessibility components (benches, lighting, and bike lanes) 
WHEN: Tuesday, October 17, 6pm – 8pm
WHERE: Petaluma Community Center, 320 N. McDowell Blvd. 
Spanish interpretation is available upon request. To arrange for interpretation, please email: [email protected].
To RSVP and learn more about the project, please click here or visit the website cityofpetaluma.org/caulfieldbridge.
Community Events
With so many exciting community events going on this fall, the City is now hosting a Community Events calendar with films, gatherings, and more hosted by our nonprofit and community partners. CLICK HERE to see what's going on in Petaluma and how you can get involved!
Have an event that you'd like to submit for consideration? The City promotes events from our direct partner organizations, like ReLeaf Petaluma, Daily Acts, and more. Email [email protected] to find out if your event qualifies – and don't forget that the Downtown Association also hosts an event calendar at visitpetaluma.org!
JOIN OUR PETALUMA TEAM! 
The City of Petaluma is looking for talented people to join our team! Please click the links below for more information about our open positions. CLICK HERE for a full list of career opportunities.
Associate/Senior Civil Engineer
Environmental Compliance Inspector
Firefighter/Paramedic – Lateral
Police Officer (Current Academy Attendees and Graduates)
Public Safety Dispatcher – Lateral
Senior Administrative Assistant
Senior Transit Planner (Grants Management) / Transit Planner II
UPCOMING MEETINGS
The City of Petaluma is hard at work for our community. Please check out our upcoming meetings and click on the links below for more information:
October 16, 6:30pm – City Council/PCDSA Regular Meeting
October 18, 3:30pm – Tree Advisory Committee Meeting
October 18, 6:00pm – Recreation, Music & Parks Commission Meeting
October 19, 6:30pm – General Plan Advisory Committee Meeting
October 24, 6:00pm – Planning Commission Meeting
November 1, 6:30pm – Pedestrian & Bicycle Advisory Committee Meeting
November 2, 6:00pm – Airport Commission Meeting
Check for upcoming meetings, agendas, and how to participate on the City's meeting webpage: https://cityofpetaluma.org/meetings/