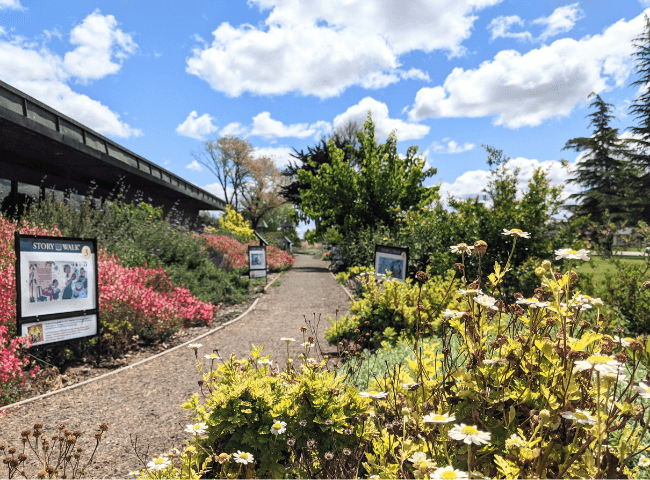 Happy Wednesday, Petaluma!
Halloween is right around the corner and we love seeing our community getting into the fall spirit with festivities and decorations! As more holidays quickly approach, make sure to mark your calendars for local events and happenings the whole family will enjoy. You can see a full list of upcoming activities by visiting: visitpetaluma.org/events.
This evening, we're sharing an update from the fire department, opportunities to weigh in on multiple City projects, information about a new security camera program, and much more. Please enjoy, share with your friends, and have a wonderful evening. We'll see you in your inbox next Wednesday! 
FALL FIRE DEPARTMENT HAPPENINGS UPDATE
In the past few weeks, there have been three separate grass fires in Petaluma. When it comes to emergencies, staying informed is critical. Please make a note of the following places to monitor wildfires:
To stay informed about Petaluma Fire Department, view recent reports, live service calls, and news, CLICK HERE. 
OCTOBER GENERAL PLAN ADVISORY COMMITTEE SESSION  
Since late 2020, the City of Petaluma has been working on updating its General Plan, the road map that will shape the future of the city for the next 20 – 30 years.
Join us virtually on October 20, 2022, 6:30 PM – 9:00 PM for the October General Plan Advisory Committee (GPAC) session! Zoom link available on the City's Meeting Website: cityofpetaluma.org/meetings/.
The October GPAC Session will give us the opportunity to delve into more detailed conversations on: 
Transportation

 

Economic Development

Arts and Culture

Parks and Recreation
The session will include brief overviews of key issues and questions related to each topic area followed by small group discussions with GPAC and community members.
To review more background documents, and learn more about past GPAC meetings and the General Plan Update please access the project website HERE and view the agenda on the City meeting website, HERE. 
SHARE YOUR INPUT THURSDAY AT THE KENILWORTH PARK WORKSHOP
We're revitalizing Kenilworth Park and we look forward to working with YOU to understand which experiences you feel would best create a diverse, equitable, and inclusive space to serve our community's growing needs!
Please join us for a Community Workshop tomorrow, Thursday October 20, 2022 to:
Learn more about the project

 

Explore community needs for the park

Gather input and ideas for park experiences

Engage in conversation with interested neighbors and residents

Share your questions and comments with City staff
We invite you to join us for a casual dinner from 5:30 PM – 6 PM in Kenilworth Park. The workshop will be held from 6 PM – 8 PM in the Kenilworth Teen Center adjacent to the park (150 Fairgrounds Dr.). You are welcome to join for whichever portion of the workshop your schedule allows.
Visit cityofpetaluma.org/kenilworthpark to learn more about the project and provide feedback via the community input survey.
Spanish language interpretation services will be available. Habrá servicios disponibles de interpretación al español. 
CITY COUNCIL TO DISCUSS THE FUTURE OF THE PETALUMA FAIRGROUNDS  
Please join us Monday, October 24, 2022, at 6 PM for a City Council workshop to discuss the future of the Petaluma fairgrounds.  This workshop comes after almost a year of community outreach and research about the property's condition.  You will hear from the lottery-selected panel who spent many hours learning about and envisioning possible uses for the fairgrounds. You will also learn about the property's existing conditions, and hear about the robust community-wide engagement that occurred in addition to the work completed by the lottery-selected panel.
The purpose of the workshop is to share information, allow for public comment, and ask City Council to provide direction on how best to work with the 4th District Agricultural Association (4th DAA) to preserve the annual fair while providing year-round public access for a safe, and enjoyable environment.
Check out the video above to learn more about the lottery-selected panel and their process for learning about, and envisioning, a future for our fairgrounds.  Thanks to all the panelists for their hard work and dedication to our City!
Video Link:  https://www.youtube.com/watch?v=a2lR8oIeUYE 
CREATIVE CROSSWALK COMING TO KENTUCKY STREET 
Heads up – from October 24 through October 27, the local nonprofit Amor Para Todos will be painting the crosswalk on Kentucky Street between Western Avenue and Washington Street. Some parking spots near the crosswalk will be closed during this time, but the City will try to minimize the parking spaces impacted.
This is a public art project and part of the "Creative Crosswalk" program approved by City Council earlier this year. It is the second public art crosswalk in Petaluma!
Incorporating rainbow colors, the transformed crosswalk will add vibrancy to the Downtown while sending an uplifting and welcoming message to all community members and tourists visiting Petaluma.
Thank you in advance for your flexibility and patience during the painting and drying process. We are excited to see the end-product and hope you will be too! 
CITY OF PETALUMA SEPTEMBER 2022 MONTHLY UPDATE NOW AVAILABLE!
The City of Petaluma is pleased to let you know that the September 2022 Monthly Update is complete and available on the Monthly Updates Webpage!
The Monthly Update reflects key City projects and initiatives happening in Petaluma. Although it is not an exhaustive list, each of these projects is significant in impact, resources, and importance to our community. Each reflects specific Council priorities in our Council's Goals and Priorities. Make sure to check our revamped City Goals & Priorities page which now includes more information on our Top 10 Priorities.
Check out the September 2022 Monthly Update and past monthly updates HERE. 
PLANT A TREE IN BOND AND GLENBROOK PARKS ON OCTOBER 29
Join ReLeaf Petaluma as they kick off phase 1 of their Six Parks Tree Planting program which will plant new trees in 6 eastside parks! 140 new native trees will be planted with funding from California ReLeaf, Cal Fire, and California Climate Investments. This project is in partnership with Rebuilding Together Petaluma and the City of Petaluma, with the City augering the holes and ReLeaf supplying the tools and trees! 
The first tree planting events will take place on October 29 at Bond and Glenbrook parks. Two sessions are available, please join for one or both as your schedule allows. Coffee and lunch will be provided. 
Morning session: 8:30 AM – 12:30 PM
Afternoon session: 1:00 PM – 3:00 PM 
Gather a group of friends, your family, or head over solo to help make a difference in Petaluma! 
Please sign up at releafpetaluma.org or HERE. 
HOW TO DESIGN, INSTALL, AND BENEFIT FROM A RAIN GARDEN
You're invited to a Daily Acts Workshop on Wednesday, November 2.
During these times of drought and climate crisis, rain gardens serve as an important design tool to help conserve our precious water resource. You're invited to join our community partner, Daily Acts, for a free program on Wednesday, November 2 to learn how to design and install your own rain garden to help recharge groundwater and reduce pollution by minimizing runoff from your landscape. Rain gardens also provide habitat for butterflies, birds, and other pollinators while building soil health.
This event will be in-person, but you can also tune in online. For those who attend in person, there will be a tour of the Petaluma Library Rain Garden from 5:30 – 6:00 PM and the presentation for both in-person and online guests will be from 6:00 – 7:00 PM.
To register to attend, click here. 
CITY FLEET CONTINUES TO ADD ELECTRIC VEHICLES
The City of Petaluma is excited to announce that a third Ford Lightning was added to the Parks Maintenance fleet this week! This addition is the fifth all-electric vehicle that has been added to the Petaluma fleet this year as we work towards full electrification of our city maintenance vehicles. Keep your eyes open for these new vehicles while you're out and about! 
JOIN US FOR THE FINAL MOVIES IN THE PARK!
Get those broomsticks and cauldrons ready… the original "Hocus Pocus" is the feature presentation this Friday, October 21 for our final Movies in the Park event of the year at Lucchesi Park!
The movie will begin at dusk, around 7:00 PM, although movie viewers are encouraged to arrive early for pre-movie entertainment and to grab some goodies from several food and beverage vendors attending the event.
Also, don't forget that Bike Petaluma is offering a FREE bike valet at all our Movies in the Park events, so biking is highly encouraged!
For more information, visit cityofpetaluma.org/movies-in-the-park-2022. 
JOIN OUR PETALUMA TEAM!
Part Time Emergency Medical Technician
UPCOMING MEETINGS
The City of Petaluma is hard at work for our community. Please check out our upcoming meetings and click on the links below for more information: