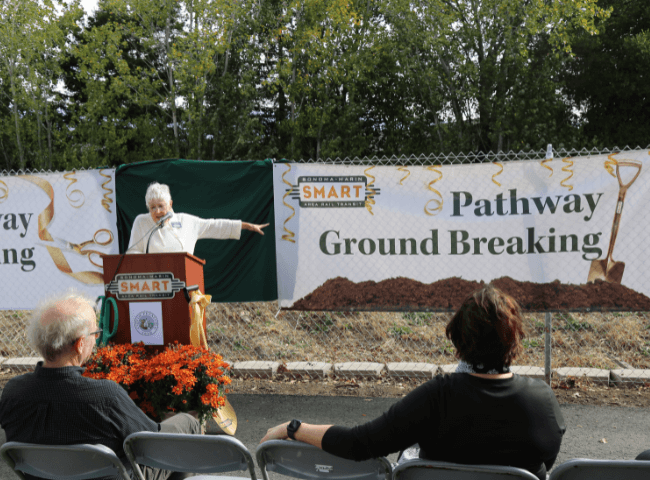 Happy Halloween, Petaluma!
We're looking forward to a fun Halloween weekend! We can't wait to see everyone in costume enjoying a safe, spooky holiday fun. Whatever your plans this Halloween, please remember to exercise caution when driving and practice safe drinking habits. We appreciate your care for our community and your fellow neighbors.
In today's update, we'll be sharing information about ways to get involved and share input on City projects, a new mobile shower program, the completion of outdoor pathway projects in our city, emergency preparedness tips, an upcoming tree planting event, and more.
Please enjoy, share with friends, and have a wonderful evening. We'll see you in your inbox next Wednesday! 
AVOID THE REAL-LIFE DANGERS OF DRUNK DRIVING THIS HALLOWEEN
Halloween is full of tales about haunted houses, spooky music, and scary movies. But don't turn the scares into real-life dangers by getting behind the wheel after drinking!
The Petaluma Police Department is partnering with the Office of Traffic Safety to warn the community about the dangers of buzzed and drunk driving. In 2021, the PPD had the most DUIs over the Halloween holiday since 2014.
So, don't get behind the wheel if you're sipping a potion, drinking something boo-zy, or indulging in a witch's brew. Instead, call a sober friend, rideshare, or taxi – they'll get you home 
safely and ensure your Halloween fun doesn't end in a nightmare. And remember, buzzed driving is drunk driving! 
NEW MOBILE SHOWER PROGRAM LAUNCHES AS PART OF PATHWAY TO HOUSING
As part of our Pathway to Housing program, the City of Petaluma is launching a mobile shower program for those experiencing homelessness in Petaluma. This is part of a comprehensive program to help our unhoused community get the services and support they need. The mobile showers offer our most vulnerable residents a vital opportunity to connect with Downtown Streets Team (DST) staff and get hygiene kits. DST staff work with our unhoused to remove barriers to housing and support our most vulnerable on their journey to permanent employment and housing.
The mobile showers will rotate among various town sites and operate two to four times per week. Initially, the showers will be available at:
Tuesdays: 9 AM to 11:30 AM. Salvation Army, 721 S McDowell Blvd.

Fridays: 10 AM to 1 PM. Committee on the Shelterless, 900 Hopper Street.
To learn more, call 707-495-0379. 
JOIN THE 5TH STREET BIKE BLVD WORKSHOP
The City of Petaluma is excited to seek your feedback on the proposed 5th Street Bike Boulevard! 5th Street has been identified as a potential safe, low-stress bicycling alternative to Petaluma Boulevard South and 6th Street due to lower traffic volume and speed. This project aims to make 5th Street safe and inviting by installing signage, striping, and other design elements, so people of all ages and abilities feel comfortable walking, bicycling and rolling. 
Please join us for a virtual community workshop on Wednesday, November 9, 2022, from 6 PM to 8 PM to: 
Learn about the proposed project

Review existing conditions and feedback received to date

Explore design ideas

Share your input & questions
Spanish language interpretation services will be available.
Habrá servicios disponibles de interpretación al español.
Visit cityofpetaluma.org/5thStBikeBlvd to learn more about the project, access the link to the meeting, sign up for email updates, and provide feedback. 
COMMUNITY INPUT INFORMS D STREET TRAFFIC CALMING PROJECT
Thank you to all who took the time to attend our virtual D Street Traffic Calming Community Workshop on October 18. We are grateful to have received such valuable community input regarding important improvements on this historic street. Our team is integrating the feedback received into our design plans and we look forward to sharing our progress at a second community meeting in the coming weeks. Please stay tuned to cityofpetaluma.org/DStreetTrafficCalming for information on the upcoming meeting. While you're there, don't forget to take our survey and sign up to receive project updates!
Didn't make it to the workshop? There is still time to share your thoughts: 
CLICK HERE

to watch a recording of the workshop

CLICK HERE

to take our survey

Attend the November 2 meeting of the Pedestrian & Bicycle Advisory Committee (information will be posted

HERE

when available)
Thank you for working with us to make Petaluma roads safe for all road users. 
ARE YOU PREPARED FOR AN EMERGENCY SITUATION?
Disaster can strike unexpectedly and move fast. Planning ahead for yourself, your loved ones, and your neighbors is a crucial step in making it through the unexpected safely. In California, two major disasters that residents are often unprepared for are floods and earthquakes. With some simple preparation, your family can be ready to face these unexpected situations safely!
Learn How to Handle an Unexpected Flood During Flood Preparedness Week 
The 11th annual California Flood Preparedness Week (CFPW) is being held from October 22 – 29, 2022! Federal, state, and local agencies are joining together to inform Californians about the threat flooding poses and share actions to reduce flood risk exposure.
More than 7 million California residents are at risk of flooding, and many don't realize it. Floods can occur throughout the state and bring devastating impacts to regions. The worst part? No one can predict when and where floods will occur.
It is crucial for people to prepare for flooding by following three basic steps: 
Be aware of your risk: Know whether your home is in a flood zone, pay attention to weather forecasts, and listen to local authorities. To check if your home is in a flood zone, click

HERE

.

 

Be prepared: Always have an emergency evacuation kit ready, be prepared to evacuate early, have a household inventory with copies of critical documents, and have a plan for where you will go in an emergency and what to do with your pets.

 

Take action: Evacuate immediately when advised to. Homeowners' insurance does not cover damage due to flooding, so consider purchasing flood insurance. You can learn more

HERE

.

 
To learn more about California Flood Preparedness Week and what to do in the event of a flood, click HERE! 
Register now for the EBB Grant Initiative! 
Registration is now OPEN for Earthquake Brace + Bolt!
Earthquake Brace + Bolt (EBB) is a California Residential Mitigation Program (CRMP) grant initiative that provides eligible California homeowners up to $3,000 toward a residential seismic retrofit. To be eligible for the program, homeowners must live in the home, be located in one of the EBB program areas, and meet other program requirements.
To learn more about EBB and determine your household's eligibility, click HERE! 
PLANT A TREE IN BOND AND GLENBROOK PARKS ON OCTOBER 29
Join ReLeaf Petaluma as they kick off phase 1 of their Six Parks Tree Planting program, which will plant new trees in 6 eastside parks! 140 new native trees will be planted with funding from California ReLeaf, Cal Fire, and California Climate Investments. This project is in partnership with Rebuilding Together Petaluma and the City of Petaluma, with the City augering the holes and ReLeaf supplying the tools and trees! 
The first tree planting events will take place on October 29 at Bond and Glenbrook parks. Two sessions are available. Please join for one or both as your schedule allows. Coffee and lunch will be provided. 
Morning session: 8:30 AM – 12:30 PM
Afternoon session: 1:00 PM – 3:00 PM 
Gather a group of friends, your family, or head over solo to help make a difference in Petaluma! 
Please sign up at releafpetaluma.org or HERE. 
HOW TO DESIGN, INSTALL, AND BENEFIT FROM A RAIN GARDEN
You're invited to a Daily Acts Workshop on Wednesday, November 2.
During these times of drought and climate crisis, rain gardens serve as an important design tool to help conserve our precious water resource. You're invited to join our community partner, Daily Acts, for a free program on Wednesday, November 2, to learn how to design and install your own rain garden to help recharge groundwater and reduce pollution by minimizing runoff from your landscape. Rain gardens also provide habitat for butterflies, birds, and other pollinators while building soil health.
This event will be in-person, but you can also tune in online. For those who attend in person, there will be a tour of the Petaluma Library Rain Garden from 5:30 – 6:00 PM, and the presentation for both in-person and online guests will be from 6:00 – 7:00 PM.
To register to attend, click here.
PPD HOSTING PRESCRIPTION DRUG TAKE-BACK EVENT OCTOBER 29
The Petaluma Police Department (PPD) will participate in the DEA National Prescription Drug Take-Back Day by hosting a local drop-off event on Saturday, October 29, 2022. PPD's goal is to exceed last year's total collection of 354.50 lbs. We hope community members will take advantage of this safe prescription disposal opportunity.
The drop-off location will be at the Petaluma Police Department, 969 Petaluma Blvd North, between 10 AM and 2 PM. Drivers can pull up, do not have to exit their vehicles, and can quickly hand off their unused or expired prescription medications. COVID safety precautions will be in place for safe drop-offs. Needles or liquids will not be accepted; however, vape pens or other e-cigarette devices will be accepted if the batteries are removed.
For community members who cannot attend the event, the Petaluma PD Safe Prescription Disposal Box is available in the Petaluma PD lobby Mondays through Thursdays, 8 AM – 5 PM. The PPD lobby disposal box is only equipped to receive medications that have been removed from their original packaging and sealed in plastic bags.
For more information on year-round additional disposal locations in Sonoma County, check out these drop-off locators: 
DEA Drop-off Locator
CA Gov Drop off Locator  
PETALUMA POLICE DEPARTMENT SECURITY CAMERA REGISTRY PROGRAM
Have you ever wanted to help with investigations in your community? The Petaluma Police Department is launching the Security Camera Registry Program. The program is voluntary, and you can register your home or business security cameras to assist investigating police officers. Once registered, your cameras will be included based on location, so if the police need surveillance footage for a case in your area, they know who to contact.
When your cameras are registered with the program: 
Police will never have access to your camera feed or equipment.

It's always voluntary to provide footage, never required.

Police will only contact you if it is believed that your camera may have captured relevant footage.
To register your cameras, sign up here. 
PETALUMA UNVEILS NEW OUTDOOR PATH UPDATES
The City of Petaluma is always working to make our outdoor spaces better for our community to enjoy. This month, we have completed renovations on and unveiled two outdoor paths that allow for safe pedestrian & bike travel for all our citizens to use. 
Westridge Park Trail  
The City of Petaluma is excited to announce the Westridge Park trail repairs are complete! Additionally, the new asphalt surface is properly graded and meets the Americans with Disabilities Act (ADA) standards, allowing even more members of our community to enjoy the trail safely.
To learn more about the Westridge Park Trail, visit cityofpetaluma.org/westridge-trail 
SMART Pathway 
Thank you to everyone who joined us for the grand opening of the new SMART trail connecting east and west Petaluma from Payran Street to Southpoint Boulevard! The trail is a Sonoma-Marin Area Rail Transit District (SMART) project – created in partnership with the City of Petaluma – meant to provide pedestrians and bicyclists with a method of easy cross-town travel, creating more opportunities for active transportation.
To learn more about the project, visit sonomamarintrain.org/construction-updates 
THANKS TO ALL WHO JOINED OUR KENILWORTH PARK WORKSHOP!
Thanks to all who came to our community workshop on October 20 to share their vision for the future of Kenilworth Park. Our team is hard at work organizing the feedback collected. We look forward to sharing the workshop summary and the project's next steps in the coming weeks. Stay tuned to cityofpetaluma.org/kenilworth for information. 
If you did not have the opportunity to participate in the workshop, it's not too late to provide your input! CLICK HERE to share your ideas through our survey. The survey is open until October 31, 2022.
JOIN OUR PETALUMA TEAM!
Part Time Emergency Medical Technician
UPCOMING MEETINGS
The City of Petaluma is hard at work for our community. Please check out our upcoming meetings and click on the links below for more information: