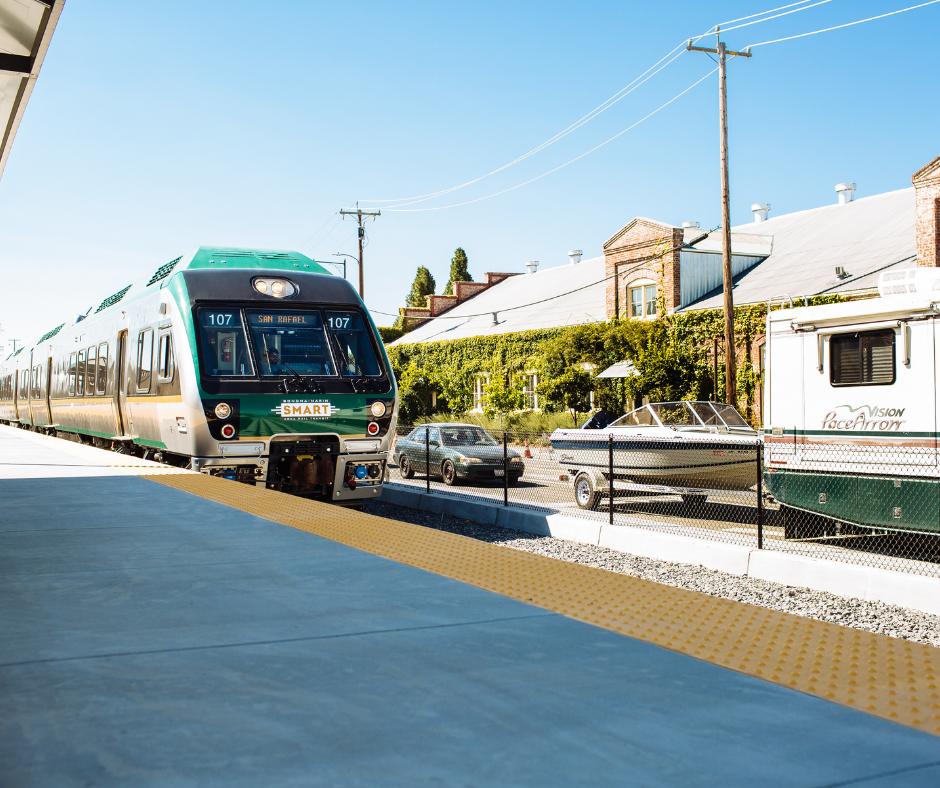 Happy Friday, Petaluma!
We're thinking a lot about how we get around our City. Read below for news about Petaluma's next SMART station, our Safe Streets Nomination Program, and a new campaign to encourage everyone to Slow the Fast Down. (We live in the best little city in the world, after all — let's all take the time to enjoy it!).
We also have some flood preparedness tips below, and a survey to share your thoughts on a new concept for Kenilworth Park. Nearly 500 people have filled out the survey so far, so make sure your voice is among them! 
As always, thank you for reading. We love helping to make this City a great place to live with you alongside us.
Petaluma North Station Groundbreaking

Thursday, November 9, 2023
12:00 – 2:00 p.m.
320 Corona Road in Petaluma
SMART and the City of Petaluma invite you to the Groundbreaking of the Petaluma North Station. This long-awaited second SMART station in Petaluma represents our commitment to sustainability, enhanced mobility, and environmental responsibility, underscoring our dedication to a greener future.
The Petaluma North Station will feature vehicle and bicycle parking, as well as electric vehicle charging stations. The project also includes construction of a 3-mile segment of the SMART Pathway, which is part of the Great Redwood Trail. The pathway will provide a link between Downtown Petaluma and Main Street Penngrove, enhancing bicycle and pedestrian connectivity in the area.
With the Downtown Petaluma Station being SMART's busiest, we anticipate the new Petaluma North Station will have high ridership, serving as a vital transportation link. In addition to its transportation benefits, the project will also support 131 new affordable housing units adjacent to the station.
Construction of the station and pathway will commence in November 2023 with an expected completion date in late 2024. The construction will be led by Stacy and Witbeck, Inc./Ghilotti Brothers, Inc., a Joint Venture. Join us in celebrating this exciting milestone as we work towards a brighter and more sustainable future for Petaluma and the entire North Bay.
PARKING
Parking will be available at the site, enter from Corona Road.
GRAVEL LOT
The site of the groundbreaking is a dirt and gravel lot. Please wear comfortable shoes for walking on an unpaved surface.
Slow the Fast Down, Petaluma!
Join us in the slow lane! It's not about how fast you get there in Petaluma, but how you arrive. "Slow the Fast Down" is our campaign to ensure every drive is a safe one. A slower drive means: 
Safety for All: Reduced speeds decrease accident risks and keep drivers, passengers, and pedestrians safe. 

Better Fuel Efficiency: Slower driving uses less fuel, leading to savings at the pump and a greener Petaluma.  

More Time for Split-Second Decisions: The faster we drive, the less time we have to react to unexpected events on the road. 

Less Stress, More Calm: Enjoy the view and reduce your daily stress.  
Join us and pledge to "Slow the Fast Down" at cityofpetaluma.org/slowthefastdown. Embrace the beauty of every drive, acknowledge fellow drivers with a nod or wave, and arrive safely every time. 
Then, nominate your street for safety improvements HERE!
Safe Streets Nomination Program
We're on a mission to make Petaluma's streets safer and more welcoming for everyone, and we need your help! We're thrilled to roll out our Safe Streets Nomination Program, a unique chance for all Petalumans to play a part in reshaping our streets.
Wondering how? With your keen insights and our assembled data, we can pinpoint, rank, and upgrade areas that need upgrades to slow traffic down and make our streets safer. We know that fast cars and safe streets don't mix. In fact, high speeds are the cause behind most traffic collisions in Petaluma.
So, Petalumans, ready to co-pilot this transformation with us? Fill out THIS FORM to nominate your street.  We will review nominations submitted by August 31 of each year to determine which projects will be implemented and when that work will occur. Find out more about our project selection process at our website HERE.
Flood Preparedness Week, Oct. 21-28
With seasonal rains (hopefully!) just over the horizon, we are celebrating Flood Preparedness Week here at the City. It's the perfect time to make sure you're winter ready! You can find a range of tips at our website HERE – both to prepare for floods in advance AND when a flood is imminent. 
While the weather is nice, we encourage you to clear your gutters and storm drains regularly (so they don't clog up when it rains), and think about gathering some emergency supplies like batteries for your flashlight, bottled water, a first aid kit and more. And save the numbers below to report problems and hazards whenever you need them.
REPORT PROBLEMS AND HAZARDS
Report roadway flooding, dangerous road conditions, obstructions, or fallen power lines to the Petaluma Police –

707-762-2727

Report blocked storm drains or culverts to Public Works & Utilities –

707-778-4546

To turn off gas or electricity call PG&E –

1-800-743-5000
More of an app person? Download our EngagEPetaluma app for Apple or Android to report issues to our Public Works Department right away! 
New Kenilworth Park Concept! 
The City of Petaluma is looking for your feedback on a new design concept for Kenilworth Park! This design will feature new elements that include input we've heard from the community including better access, multi-generational uses, interactive art features, and natural play. We welcome your feedback as we look to create a design that serves all ages and supports a healthy, sustainable, and connected Petaluma.
The survey will take about 10 minutes. All ages are welcome to participate! For ages 12 and under, parents are encouraged to help their children complete the survey.  
This survey will remain open until November 30, 2023. (Nearly 500 people have taken the Survey so far, so make sure your voice is heard!)
Oak Hill Well Meetings
Our Oak Hill Well journey continues! We are pleased to announce Well Industries Inc. has been selected to create the well for us. They have experience in drilling groundwater wells throughout California and we look forward to them helping us make this important project a reality. 
Join us to learn about the upcoming work and construction schedule. The construction team will join us to answer your questions.
Virtual Community Meeting 
On-Site Walking Tour 
WHEN: Thursday November 2 at 5:15pm 

WHERE: Oak Hill Park at the picnic tables near the playground 
For questions and concerns ahead of the meetings, please call or email project manager, Dan Herrera: [email protected], 707-778-4589. Learn more at cityofpetaluma.org/oakhillwell.
Reminder: Shollenberger Park Closed, M-F through Jan. 2024
This fall, PG&E is repairing and upgrading gas lines that run underneath Shollenberger Park. The Park will be closed Monday through Fridays from October 2023-January 2024 (but open on weekends and holidays).
You can learn more about gas pipeline safety by visiting PG&E online at pge.com/gas or by calling 1-800-743-5000. For questions regarding this project, please call 707-321-8430 or email [email protected]. Thank you for your patience while PG&E works as quickly and safely as possible.
Repair Fair Petaluma
Saturday, November 4, 2023
1:00 PM – 4:00 PM
Petaluma Regional Library
100 Fairgrounds Drive
Don't despair, repair! Bring your lamps, small appliances, textiles, and bikes in need of repair (if you can carry it in, we will do our best to fix it!) to the Petaluma Library on Saturday, November 4th from 1-4pm. At the Repair Fair volunteers and specialized repair professionals will be on hand to repair your items. We ask that you stay with your item while it's being fixed, so you can learn tips for future maintenance, how to shop for repairable goods, and even how to repair things yourself!
If you'd like to bring an item to repair, you can register it at this LINK. Registro en español: LINK
Does fixing things sound like a fun way to spend a Saturday afternoon? Or want to help out in other ways? We need you! Email [email protected] or sign up at this link to get involved!
This is a free public event.
*We cannot guarantee your item(s) will be repaired, depending on the existing damage or breakage, ability of volunteer fixers, and availability of materials for repair.
JOIN OUR PETALUMA TEAM! 
The City of Petaluma is looking for talented people to join our team! Please click the links below for more information about our open positions. CLICK HERE for a full list of career opportunities.
Associate/Senior Civil Engineer
Deputy Director of Parks and Recreation
Environmental Compliance Inspector
Firefighter/Paramedic – Lateral
Part Time Emergency Medical Technician
Police Officer (Current Academy Attendees and Graduates)
Public Safety Dispatcher – Lateral
Senior Transit Planner (Grants Management) / Transit Planner II
UPCOMING MEETINGS
The City of Petaluma is hard at work for our community. Please check out our upcoming meetings and click on the links below for more information:
November 1, 6:30pm – Joint Pedestrian & Bicycle Advisory Committee & Tree Advisory Committee Meeting
November 2, 6:00pm – Airport Commission Meeting
November 6, 6:30pm – City Council/PCDSA Regular Meeting
November 7, 4:00pm – Historic & Cultural Preservation Committee Meeting
November 8, 4:30pm – Climate Action Commission SPECIAL Meeting
November 9, 4:00pm – Transit Advisory Committee Meeting
Check for upcoming meetings, agendas, and how to participate on the City's meeting webpage: https://cityofpetaluma.org/meetings/