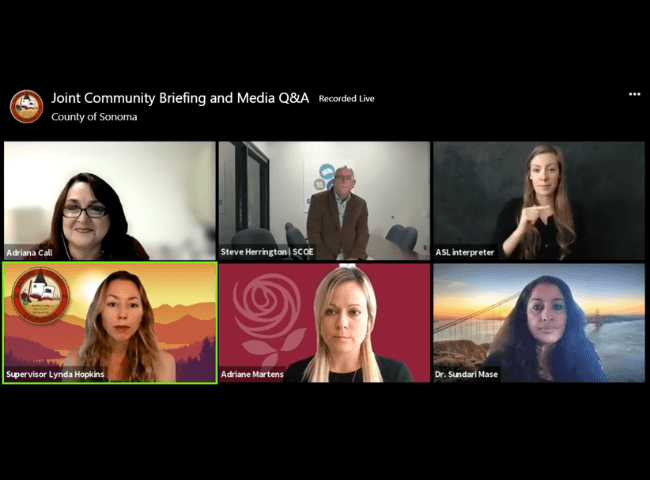 Good Evening, Petaluma –
It's hard to believe Labor Day weekend – the signaling of the end of summer for many – is just a few short days away. Along with a change in season, this also marks our second summer spent in the midst of a pandemic. We'd like to give kudos to you, our beloved community, for being strong and adapting to the challenges COVID has presented. We've watched you maintain some sense of normalcy and a sincere compassion for one another while navigating these strange times. We are so grateful the heart of our community has shone through. Thank you!
In tonight's email, we'll cover COVID updates for the County of Sonoma, direct you to a new emergency prep guide we've created, share news on the drought, climate, and happenings around town, and offer an opportunity to local artists.
Please enjoy, share with friends, and have a lovely holiday weekend. Please remember to continue to use caution and wear masks as required. We'll see you in your inbox next Wednesday!
COVID-19 UPDATE
Please take a moment to check out these important COVID-19 resources and updates from the County of Sonoma:
County Resumes Weekly COVID-19 Community Briefings
The County of Sonoma has returned to holding weekly community briefings in response to the rise in COVID cases. The briefings with health officials will periodically include other agencies, including the County Office of Education.
The briefings in English will be streamed live on Facebook Wednesdays at 4pm and repeated in Spanish at 4pm every Thursday.
The briefings will be recorded and quickly made available for viewing on the County's YouTube channel in English and Spanish.
Recent Increases in Cases and Hospitalizations
Sonoma County is experiencing new cases, hospitalizations, and deaths at levels not seen since February of this year. This surge in COVID-19 cases coincides with the arrival of the Delta variant.
Younger, unvaccinated residents now account for a growing number of new cases. Dr. Sundari Mase, County Health Officer, says unvaccinated residents are putting themselves and others at risk.
But, there is good news. The rate of new cases appears to have leveled off and hospitalizations have dropped after reaching the 80s two weeks ago. Our County's testing positivity rate also is declining.
CLICK HERE to learn how and where to receive a COVID-19 vaccination.
Update on Start of In-Person School
As in-person instruction resumes in schools across Sonoma County, the county, in collaboration with the Sonoma County Office of Education, is implementing measures to keep our schools as safe as possible.
The Association of Bay Area Health Officials, including Sonoma County Health Officer Dr. Sundari Mase, on Aug. 26 said the harm of halting in-class teaching and reverting to online education outweighs the current health threat. Health officials said measures such as masks, distancing and vaccinations should stop the spread of the virus on school campuses.
Community COVID-19 briefings on Aug. 25 and Aug. 26 included an update on school reopening that offered parents the opportunity to ask questions. The Aug. 26 webinar was in Spanish. The webinars were recorded and are available on the County's YouTube page in English and Spanish.
CLICK HERE to view the California Department of Public Health's fact sheet to help keep students and schools safer this year.
GET READY WITH OUR NEW EMERGENCY PREP GUIDE
Fire season is back and our hearts are with all those impacted by the recent devastating wildfires. Emergency preparations are now more important than ever. As we have learned, disaster can strike unexpectedly and move fast. Planning ahead for yourself, your loved ones, and your neighbors is a crucial step in making it through the unexpected safely.
Visit cityofpetaluma.org/emergencyprep for tips, resources, and printable guides to help you get ready.
While you're there, be sure to check out our:
"Go Bag" Checklist
Know Your Zone Guide to Petaluma's Evacuation Zones
Guide to Emergency Alerts
Important Information on How to Prepare
Emergency Resources
CLICK HERE to learn more.
SAVE WATER WITH US – SET YOUR WATER SAVINGS GOAL
As the drought continues, our efforts to save water are becoming more and more essential. Understanding your current use is a great starting point to set a savings goal for the coming months.
We have created a calculator for you to better understand your water bill and current water use. Grab your water bill and head over to cityofpetaluma.org/mywateruse to see where you stand. After calculating your use, set a goal of how you can start or continue to save water.
Note: Indoor household water needs can typically be met using 25-50 gallons per person per day.
During the summer months, water use can double due to outdoor irrigation so we encourage you to visit our Water Conservation webpage to learn how to save water both indoors and outdoors.
BROWN IS THE NEW GREEN! PICK UP YOUR LAWN SIGN TODAY
Did you know up to 50% of residential water is used outdoors during the summer months? Many Petalumans, including us here at the City and the schools around town, are opting to let lawns go brown in an effort to save precious water during the current historic drought.
Have you let your lawn go? Swing by and pick up a FREE Brown is the New Green lawn sign to let others know you are doing your part to conserve water!
FREE lawn signs are available at the following locations, Tuesdays & Thursdays, 10am – 2pm:
City Hall – 11 English Street
Water Field Office – 202 N. McDowell Blvd.
If you're thinking of replacing your water-guzzling lawn, check out our Mulch Madness program. We offer FREE mulch, compost, cardboard, and an irrigation converting kit to qualified customers. Learn more HERE.
Looking to learn more about the drought and how you can save water at home? Visit cityofpetaluma.org/drought today!
CLIMATE ACTION UPDATE
Fire concerns? Join the Climate Action Commission on Thursday, September 9, at 6:30pm for a short presentation with practical solutions and Q&A on home wildfire safety by national expert Dr. Steven Quarles, who helped write the state's wildland-urban interface (WUI) standards.
Visit our meetings page for details on how to attend.
DEADLINE IS TODAY to sign on as a Cool Block leader or Community Partner for the City's bid for a $1M grant in the Cool City Challenge. The grant will help Petalumans identify ways to prepare for emergencies and reduce their carbon footprints with customized local resources and checklists. We need Cool Block leaders in order to win this award, and it's a great opportunity to get to know your neighbors and improve our community resilience. We know how important it is to strengthen our community web! Sign up HERE.
CITY PERMITTING GOES DIGITAL STARTING SEPT 13!
The City of Petaluma is launching a new, all-digital permits and planning system on September 13, 2021! No permits will be processed September 8-12 while we switch systems.
This change has been in the works for almost two years, and we are excited about the way it will help us deliver better service to the community.
The transition to the new system will require us to shut down our permitting functions temporarily and may cause some processing delays. Please note the following and plan your permit and inspection activities accordingly:
No permits will be processed September 8-12 while we switch systems.
Until the new system is fully up, inspections for currently open Building permits will continue to be scheduled by calling 707-778-4479 or via email (

[email protected]

).
Public access to the new system starts September 13, 2021.
The heart of this new system will be our Permits & Planning Hub, accessible via the City's website (cityofpetaluma.org/permits).
See you online!
THE NEW PARKS AND RECREATION ACTIVITY GUIDE IS HERE!
Have you checked out the new Parks and Recreation Activity Guide yet? It includes a large variety of programs and classes being offered this Fall and Winter.
CLICK HERE to view the guide.
LAST CALL FOR FALL SOFTBALL
Last call for Petaluma's Fall Adult Softball League! Team registration closes this Friday, September 3rd, so don't delay!
CLICK HERE for more information and to register.
LOCAL ROAD SAFETY PLAN UNDERWAY
Did you know, according to the Federal Highway Administration (FHWA) crash statistics, at least 40% of all vehicle fatalities are on local roads? That is an alarming number, and surprisingly three-times higher than interstate systems. The Local Road Safety Plan (LRSP) provides targeted solutions to address roadway safety needs within our community.
The City of Petaluma is developing a LRSP to establish the framework and process for identifying, analyzing, and prioritizing roadway safety improvements on the City of Petaluma's streets. This safety plan and report are prepared in compliance with the State and Federal guidelines for eligibility to apply for Highway Safety Improvement Program funding (HSIP) and provide the necessary data to support current and future applications for the recommended projects.
CLICK HERE to learn more.
PETALUMA CALL TO ARTISTS: SMALL ARTWORK COMMISSION 2021
The Petaluma Public Art Committee has released a call to California artists for outdoor public artwork proposals in Petaluma. This year, the Small Artwork Commission looks to East Petaluma for proposed artwork sites and accepts all types of artwork themes, mediums, and concepts.
The project's budget is up to $25,000 and aims for completion in twelve (12) months or less from signing of the contract. The deadline for submissions is Thursday, September 30, 2021 at 5:00PM (PST).
CLICK HERE to read the full project description and apply for this opportunity.
ARPA COMMUNITY WORK GROUP
The Sonoma County Office of Equity is receiving applications for the ARPA Community Work Group through September 6, 2021.
The ARPA Community Work Group will support the equitable distribution of American Rescue Plan Act (ARPA) funds by elevating the experiences and needs of the low income communities and communities of color most disproportionately impacted by COVID-19.
Deadline: Sept 6, 2021
Click HERE to view the application process and for more details on who should apply.
A review committee comprised of County staff will review and score applications, and announce appointments during the September 14 Board of Supervisors meeting. Please send all questions and inquiries to [email protected].
WE'RE HIRING
The City of Petaluma is looking for talented people to join our team! Please click the links below for more information about our open positions. CLICK HERE for a full list of career opportunities.
Part Time Emergency Medical Technician
Police Officer (Current Academy Attendees & Graduates)
Senior Transit Planner/Grants Management
UPCOMING MEETINGS
The City of Petaluma is hard at work for our community. Please check out our upcoming meetings and click on the links below for more information:
September 1, 6:30pm – Pedestrian & Bicycle Advisory Committee
September 2, 6pm – Airport Commission
September 9, 8:30am – Senior Advisory Committee
September 9, 4pm – Transit Advisory Committee
September 9, 6:30pm – Climate Action Commission
Check for upcoming meetings, agendas, and how to participate on the City's meeting webpage: https://cityofpetaluma.org/meetings/.