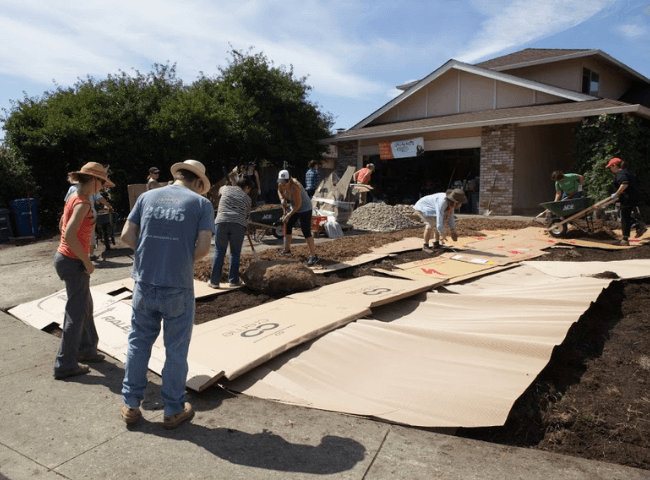 Hello Petaluma —
We hope you're looking forward to the long holiday weekend! With many events happening and people celebrating the extra day off, please be aware that temperatures will be high and heat-related injuries are possible. Make sure you are following heat-safe practices, staying hydrated, and, most importantly, staying cool!
In tonight's update, we will be sharing information about this weekend's heat warning, a reminder about the upcoming Fairgrounds community workshop, an update regarding Petaluma's Housing Element Draft & survey, an opportunity for student artists, this weekend's downtown events, and more.
Please enjoy, share with friends, and have a wonderful evening. We'll see you in your inbox next Wednesday! 
EXTREME HEAT WARNING FOR 2022 LABOR DAY WEEKEND
The National Weather Service has issued a Heat Warning for the 2022 Labor Day Weekend. Temperatures are expected to reach 90° – 100° F beginning Friday and lasting through Tuesday.
To be prepared for the heat and safely enjoy your holiday weekend, please remember to wear light, loose-fitting clothing, protect yourself from sun exposure with a wide-brimmed hat, and drink plenty of water.  
Just like humans, pets can experience health effects from extreme heat too. With the hot weather ahead, make sure to:
Watch the humidity levels

 

Limit exercise on hot days

 

Provide ample shade and water

 

Don't rely on a fan

Limit exposure to hot pavement

 
For more resources regarding staying safe during excessive heat, please visit: https://cityofpetaluma.org/heat 
WANT TO GET INVOLVED IN COMMITTEES, COMMISSIONS, AND BOARDS?
Looking to become more involved in all things Petaluma? Applications for Committees, Commissions, and Boards are now being accepted for open positions. For more information, head to: cityofpetaluma.org/joinccb. 
DON'T MISS THE FAIRGROUNDS COMMUNITY WORKSHOP SEPTEMBER 10!
Don't miss your chance to help shape the future of the Fairgrounds! Join us for the Fairgrounds Community Workshop Saturday, September 10 to share information and hear feedback from the community about this iconic Petaluma location. Your input will inform the City Council as they determine the next steps for the Fairgrounds property.
Visit the Petaluma Regional Library, located at 100 Fairgrounds Drive in Petaluma, Saturday, September 10 anytime between 10 AM – 1 PM to:
Learn what is currently happening on the property – from existing uses to site studies

 

Share what the Fairgrounds means to you through the Community Storytelling Exhibit

 

Help shape the future of the Fairgrounds
Attendees will be able to enter a raffle for Shop Petaluma gift cards, join in on some art activities, and learn more at the information booths. 
Spanish translation will be provided.
Learn more at cityofpetaluma.org/fairgrounds 
HOUSING ELEMENT PUBLIC DRAFT FEEDBACK SURVEY & VIRTUAL OPEN HOUSE
The City of Petaluma is excited to share the Public Draft of the Housing Element! The Housing Element addresses Petaluma's housing needs for the next 8 years, identifies opportunities to support the development of needed housing, and establishes clear goals and policies to inform future housing decisions.
The purpose of the Housing Element is to facilitate the production of a variety of housing types for different income levels, households, and family types. The Housing Element seeks to support housing production, improve and preserve existing housing in the community, and promote fair housing.
Since 2020, the City of Petaluma has been engaging the community to develop this policy document required by the State of California. To continue this, we want to hear more from you! Please take a moment to review the Draft and let us know your thoughts via the Housing Element Draft Survey available from 8/29 – 9/28/2022.  Both the Draft and Survey can be found here: www.planpetaluma.org  
Mark Your Calendars!  
Housing Element Public Draft Open House   
Tuesday, September 20, 2022 – 6:00 PM   
The City will also be hosting a Housing Element Public Draft Open House during which we will: 
Discuss how we developed the Public Draft of the Housing Element

 

Inform the community about housing needs, sites identified for housing, and the many tools the City will use to support housing for our community 

 

Receive input from community members
After registering, you will receive a confirmation email containing information about joining the meeting. Spanish language interpretation will be available. 
SENIORS FARMERS MARKET BONUS BUCKS OFFERED BY PPSC
Are you 60 years or older and have an annual income of less than:  
$25,142 for 1 person

 

$33,874 for 2 people

 

$42,606 for 3 people
Take advantage of a one-time-only opportunity to receive $50.00 in vouchers to use at a Petaluma Authorized Farmers Market! 
You can get your voucher at  
September 3: Visit the Market Manager's Information Booth at the Walnut Park Farmers Market (Saturdays 2 PM – 5PM)

 

September 6 & 13: Visit PPSC Aging Well Staff at the information desk during the Tuesday Market at Lucchesi Park (10:00 AM – 1:30 PM)

 

September 1, 8, & 15: Visit PPSC Aging Well Staff at the information desk during the Thursday Market in the Fairgrounds Parking lot (3:00 PM – 7:00 PM) 

 

Visit PPSC Senior Café at the Senior Center in Lucchesi Park on September 1, 8, 15, or 22 from 12:30 PM – 2:00 PM
The program ends on November 30, 2022.  
STUDENT ARTISTS: SUBMIT YOUR TRANSIT BUS-SHELTER MURAL APPLICATION!
The City of Petaluma's Climate Ready campaign and the Petaluma Arts Center (PAC) are seeking student artists and/or artist teams to create artwork for up to 6 existing bus shelters throughout the city. This project will adapt bus shelters into canvases highlighting art that showcases the hope of what communities and cities could be like in a world where people live harmoniously with the environment.
In order for submitted artwork to be selected and featured, the piece must be climate-related or themed after the Climate Ready Campaign's focus on active transportation (active transportation includes cycling, public transit, skateboarding, etc.). No professional artist experience is required for this project. This competition is open to artists from all Petaluma high schools and middle schools.
Each artist or team of artists will be paid $800 for their work on this project, thanks to a grant offered by the Petaluma Public Art Advisory Committee, and a materials reimbursement not to exceed $500 with the submission of a scope of work detailing the use of materials and receipts for materials. Petaluma Transit will be funding all materials for the bus shelter.
All high school and middle school students in Petaluma are encouraged to submit their work. Applications are due by Friday, October 14, 2022 by 5 PM. Applicants must provide a sketch or drawing of their proposed city bus shelter art and complete this Google Form: Bus Shelter Art Application. 
TRANSFORM YOUR THIRSTY LAWN WITH OUR MULCH MADNESS PROGRAM!
The City of Petaluma is dedicated to helping water customers save water year-round. By transforming your lawn into a drought-tolerant mulched landscape, you can greatly lower your annual water use. Mulch Madness is a free turf conversion program for residents and businesses who want to sheet mulch over their lawns. This program includes free sheet mulching supplies (compost, cardboard, mulch) and delivery. Qualified customers can also set up a free 1-2 hour garden consultation with our community partner, Daily Acts, to help set a plan for a water-wise mulched landscape.
For information on how to qualify, visit our Mulch Madness webpage, cityofpetaluma.org/mulch, or contact us: [email protected] | (707) 778-4507. 
UPCOMING EVENTS & ACTIVITIES
Whether it's shopping at the Farmers Market, joining a docent-led walking tour of downtown Petaluma, or attending fundraisers and festivals to enjoy great music, delicious food, and local beverages, there's always something to do in Petaluma.
Labor Day weekend kicks off a September loaded with special events such as Bands on the Basin (Sept. 3), Petaluma River Craft Beer Festival (Sept. 10), Fall Antique Faire (Sept. 23), and more. Go to VisitPetaluma.com to find activities for the month ahead!
JOIN OUR PETALUMA TEAM!
UPCOMING MEETINGS
The City of Petaluma is hard at work for our community. Please check out our upcoming meetings and click on the links below for more information: