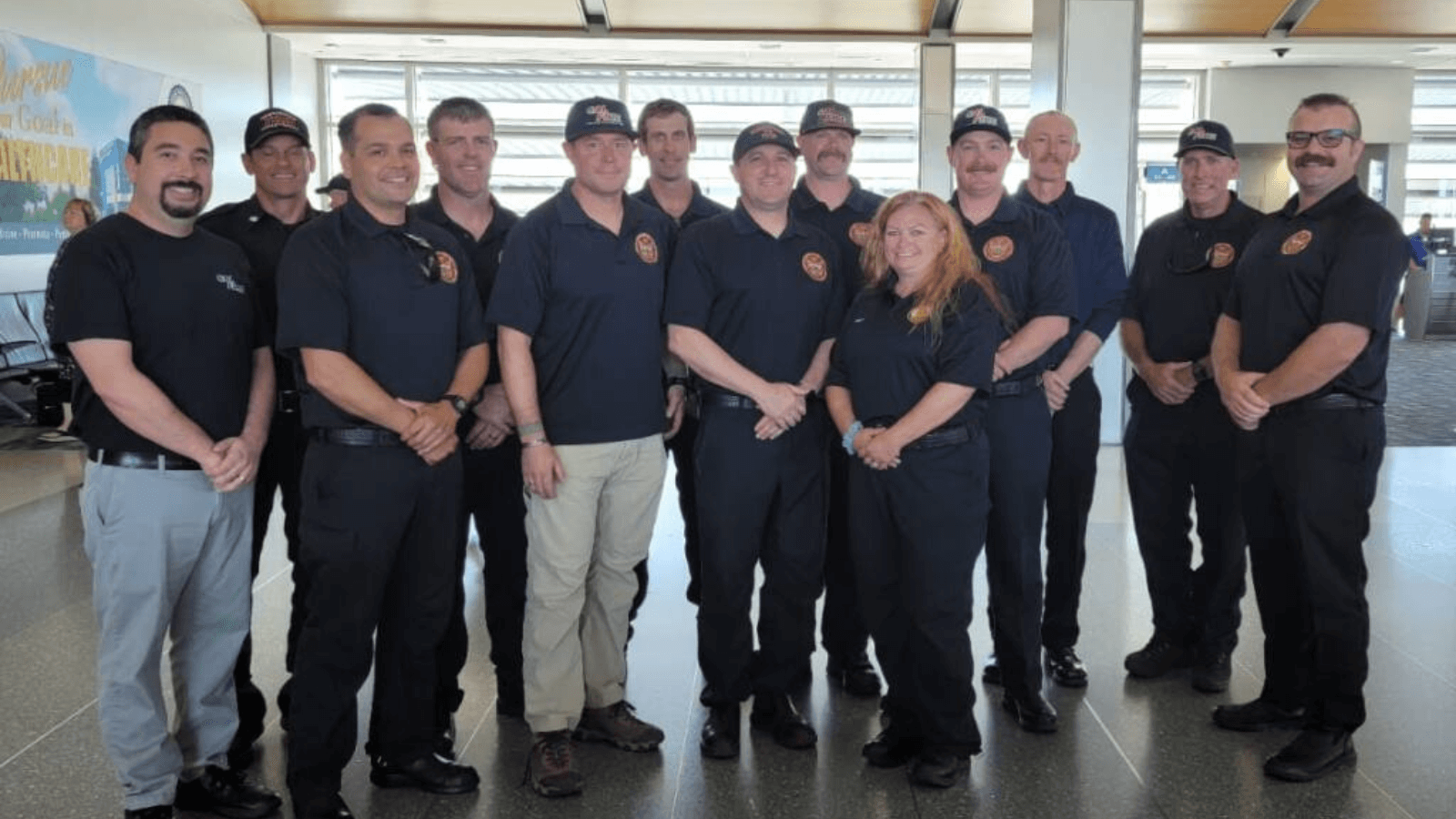 Happy Labor Day Weekend, Petaluma!
With a little smoke in the air this week, we wanted to focus our Community Update on some helpful emergency preparation tips for residents. At the same time, your City staff is busy behind the scenes preparing for emergencies in a lot of different ways! Below you'll find a short report on some of our recent activities – followed by some tips to help you and your loved ones stay safe in the event of an emergency.
Thanks for reading, Petaluma – and don't forget to visit our Emergency Prep page HERE for more resources!
Petaluma Preparedness: City Departments at Work
If you saw last week's article in the Argus-Courier about Petaluma's firefighters being deployed to help out other jurisdictions from Shasta to Maui, then you know that our first responders are doing amazing work. But the relationships they're building in other Counties are reciprocal: so when Sonoma County needs help, first responders from around the state will have our backs too. This is part of a state-wide Mutual Aid Plan which outlines when and how emergency personnel work together to keep Californians safe. Because teamwork makes the dream work!
Later this week, Tom Jordan, Petaluma's Emergency Manager, is holding a mini-seminar with Petaluma school Superintendents and the County Office of Education to keep them informed of our growing emergency management program and deepen our partnerships to best utilize  emergency preparedness opportunities for our schools. 
And earlier this month, staff members from PFD, PPD, Petaluma Transit, City Communications, and Emergency Management met to discuss how we share information when an emergency strikes, to better ensure that our messages to the community are clear, concise, and timely. 
Our shared goal is to be ready – and to help our community be ready – whenever we get that emergency alert. 
It's Only a Test! – Oct 4th
The Federal Emergency Management Agency (FEMA) will be testing the Emergency Alert System and Wireless Emergency Alerts at 11:20 a.m. Pacific time on Oct. 4. Mobile phones will be sent a test message if your phone is "switched on, within range of an active cell tower, and your wireless provider participates in WEA," per FEMA. Your message will be in either English or Spanish, depending on which language setting you have on your phone. The message will start with "THIS IS A TEST," and let you know that "no action is needed."
The Great Shakeout – Oct. 19
This year, the City of Petaluma is participating in the Great ShakeOut, when millions of people worldwide will participate in earthquake drills at work, school, or home!
At 10:19 am on Thurs., 10/19, you can join millions of people across California practicing earthquake safety. Tom Jordan, Petaluma's Emergency Manager, has been working with schools and senior groups to organize drills around Petaluma to help some of our community's most vulnerable members prepare for an earthquake. But everyone is invited to participate and find useful tips at shakeout.org/california.
Already have other plans on Oct. 19th? You can still register your ShakeOut drill for any day of the year, and drill at a time of your choice. (And please do register, it helps build metrics on how the program is growing and supports funding for this no-cost program.) You can also include people in multiple locations through video conferencing. Let's make sure everyone in our community knows the safest way to Drop/Lock, Cover, and Hold on!
Know Your Zone
Pop Quiz, Petaluma: What is your home's evacuation zone? Bonus question: If you work outside the home, what is your workplace evacuation zone? Don't worry, it's an open book test, and you can find the answer HERE!
Our county-wide evacuation map is managed by the County of Sonoma and identifies areas that are under threat either by fire, flood, earthquake, or power outage.  The map includes zones for areas inside Petaluma as well as areas in other cities and unincorporated County areas.  The map will indicate any current evacuation warnings or orders. 
And after you learn your zone code, take a moment to figure out your options for evacuation. Take the same route to the market each time? Change it up and familiarize yourself with alternate ways out of your neighborhood.
Sign Up for Emergency Alerts Before You Need Them!
We know you already probably get way too many text messages. But if there is a potential threat to the City of Petaluma, you can receive an alert or warning that lets you know what to do by subscribing to Nixle or SoCo Alerts. This service is free to the community, and is only used when necessary to public safety. 
To subscribe to Nixle, text your Zip code to 888777. We also encourage all of our community members to also sign up for SoCo Alerts if they have not already done so. Please also help us to spread the word to your friends, family, and neighbors!
Bonus apps:
Want to get an alert when there's a fire nearby? Our Fire Department recommends Watch Duty: Wildfire Maps. Tom Jordan, Emergency Manager, also recommends MyShake, which can give you notice right before an earthquake hits (plus tips about how to prepare, survive, and recover).
Now, Pack or Check Your Go Bag
Petaluma Preppers know that a basic Go Bag could be essential in an evacuation. We've made packing easier with our helpful checklist! 
If you've already got a Go Bag ready, take a moment this weekend to check your supplies: did those snacks you packed last winter expire? How about your medications? Is your  personal identification and insurance documentation up to date? Do those extra clothes still fit, and are they right for the season? 
And if you're packing for kids or pets, don't forget to supplement the packing list above with supplies for the little ones in your life. The CDC has a good resource HERE. (Hint: treats are on the list for both!)
Emergency Prep Help for Seniors Preparedness Social
Tues., Sept. 12, 4-7 p.m.
Petaluma Women's Club
Join us for a fun event where you can ramp up your preparedness for yourself and loved ones. 
Learn about

Emergency Prep Help

, a local program that strengthens senior resiliency.

Hear from first responders and other pros on staying safe in natural disasters. 

Meet and greet with emergency experts and community partners. 
RSVP by Sept. 8 to [email protected] or 707-241-3280.
Cool Petaluma: Climate Action Leadership Training
Sun., Sept. 17, 2023, 1-5 pm
The Lodge at Mary Collins School at Cherry Valley
or
Sun., Oct. 15, 2023, 1-5 pm
Cram Hall at St John's Episcopal Church
This fall, Cool Petaluma is hosting two Climate Action Leadership Trainings to inform residents about their Block Leader program. Cool Petaluma Block Leaders learn how to develop:
Stronger relationships

More resilience during emergencies

Better resource conservation

Healthier ecosystems
These free half-day trainings will teach you how to take climate action as an individual and as a community. RSVP at the link HERE.
11th Annual Petaluma Community Emergency Preparedness Fair & BBQ Lunch
Sun., Sept. 24, 2023, 11:00am‐3:00pm
Walnut Park (Petaluma Blvd and D Street) 
This all-community event will offer first aid kits, emergency survival kits, and a free emergency gift for the first 100 families. There will also be free hands-on demonstrations of CPR, First Aid, emergency survival camping, and dutch oven cooking. 
Featuring: Petaluma Fire and Police Departments, FEMA, DHS, Red Cross, US Coast Guard, Sonoma County Sheriff's Office, CHP, VFW / American Legion, local Girl and BSA Scouts   
Hosted by: Scouts BSA Troop 9, Elim Lutheran Church, Petaluma Fire Department, Emergency Manager & the Mayor's Office 
Public Meeting: Senior Mobile Home Overlay District
Thurs., September 7th, 6pm
Petaluma Community Center, 320 N McDowell Blvd, Petaluma, CA 94954
To preserve affordable, mobile home housing options for our seniors, the City of Petaluma is proposing to establish a district that would require at least 80% of units in a designated mobilehome park to be occupied by at least one person 55+. The proposed district would apply to Leisure Lake, Petaluma Estates, Royal Oaks, Cottages of Petaluma, and Youngstown mobile home parks that are self-designated as senior parks. Learn more at our website HERE.
Free transportation will be available for park residents. Contact Maria Arce, Petaluma Transit, for information at [email protected] or 707-778-4506. 
Howard Street Improvement Meeting
Weds., Sept. 13, 6pm
City Hall, 11 English Street, Petaluma
Join Us Wednesday Sept. 13 to help Improve Howard Street!
Howard Street is a busy road connecting Petalumans to City Hall, the downtown area, schools, churches, and more. In the coming months, we will be making upgrades on Howard and some nearby side streets. Our goal is to improve safety and accessibility for all road users while smoothing the surface of the roadway.
PLEASE JOIN US FOR A MEETING TO:
Share your thoughts & suggestions for enhancing Howard Street

Learn what we've heard so far

Explore options to improve safety & accessibility
Spanish translation is available upon request. To arrange for translation, please email: [email protected]
Visit cityofpetaluma.org/howardstreet to learn more and sign up to receive project updates.
JOIN OUR PETALUMA TEAM!
The City of Petaluma is looking for talented people to join our team! Please click the links below for more information about our open positions. CLICK HERE for a full list of career opportunities.
Associate/Senior Civil Engineer
Police Officer (Current Academy Attendees and Graduates)
Public Safety Dispatcher – Lateral
Senior Transit Planner (Grants Management) / Transit Planner II
UPCOMING MEETINGS
The City of Petaluma is hard at work for our community. Please check out our upcoming meetings and click on the links below for more information:
September 5, 4:00pm – Historic & Cultural Preservation Committee Meeting
September 6, 6:30pm – Pedestrian & Bicycle Advisory Committee Meeting
September 7, 6:00pm – Airport Commission Meeting
September 11, 6:30pm – City Council/PCDSA Regular Meeting
September 12, 6:00pm – Planning Commission Meeting
September 14, 9:00am – Senior Advisory Committee Meeting
September 14, 4:00pm – Transit Advisory Committee Meeting
September 14, 6:30pm – Climate Action Commission Meeting
Check for upcoming meetings, agendas, and how to participate on the City's meeting webpage: https://cityofpetaluma.org/meetings/