Good Evening, Petaluma –
It's hard to believe Labor Day is nearly here! This summer (and spring) has been highly unusual, to say the least. While we mourned the loss of beloved traditions like parades, fairs, and parties, we also found a new level of connection with one another as we navigated the uncharted territory of a global pandemic together. The recent fires have further rekindled our sense of strength and community. We feel so grateful to live in a city full of such caring, supportive, and resourceful people. Times may be tough, but we are tougher! #PetalumaProud
In this week's email, we'll review the recent update to the Health Order (time to schedule a haircut!), explore the State's new color system for safe reopening, give an update on the fires, look at ways to protect ourselves when the air quality is poor, share some details on the upcoming river dredging, and more.
We'll see you back in your inbox next Wednesday. Have a wonderful week and holiday weekend!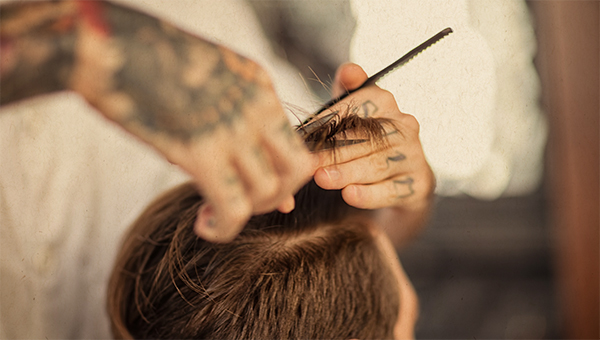 HEALTH ORDER UPDATE
Barber shops, hair salons, and malls in Sonoma County were given the green light to resume indoor operations with modifications on Monday August 31 due to revised health orders issued by Governor Gavin Newsom on Friday and confirmed by Sonoma County Public Health Officers Dr. Sundari Mase.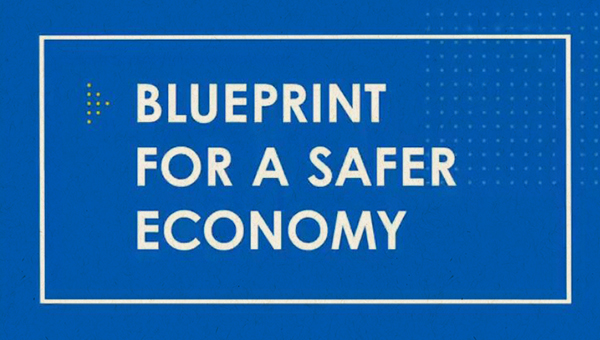 NEW REOPENING PLAN FROM THE STATE
The State of California has rolled out a new plan for managing COVID-19 transmission and determining allowable activities, county by county. The new plan consists of a color tier system and revised criteria for loosening and tightening restrictions on activities.
Every county in California is assigned to a tier based on its test positivity and adjusted case rate for tier assignment including metrics from the last 3 weeks. The colors reflect the number of new COVID-19 cases, and how it is spreading and impacting businesses. At a minimum, counties must remain in a tier for at least 3 weeks before moving forward. Data is reviewed weekly and tiers are updated on Tuesdays. Sonoma County is currently in the top tier titled "Widespread".
Watch this video for a simple explanation of how the new system works.
CLICK HERE for more information.
GRATEFUL FOR OUR FIRST RESPONDERS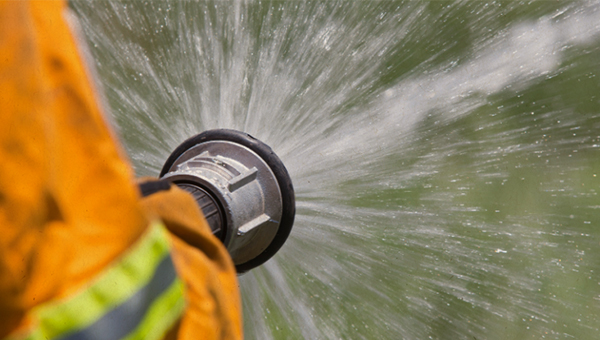 FIRE UPDATE
Please see below for fire information from the County of Sonoma as of 7am today, September 2, 20202.
Wallbridge Fire (Merged with Stewarts Fire: West of Healdsburg. The fire is currently 54,940 acres and 85% contained.
Meyers Fire: North of Jenner. The fire is currently 2,360 acres and 100% contained.
CalFire has released a map of properties damaged and destroyed in the Wallbridge and Meyers fires. All data is preliminary and numerous sites still require confirmation.
Woodward Fire: West of Olema in Marin County, the fire was 4,465 acres and 25% contained as of Tuesday September 1, as reported by the Marin Independent Journal.
AIR QUALITY
It has been a smokey couple of weeks here in Petaluma! Respiratory health is top of mind for all of us during the pandemic, so it's important to take steps to avoid unhealthy air. Follow the tips in the graphic below to help limit your exposure.
CLICK HERE for further information about how to protect yourself from unhealthy air.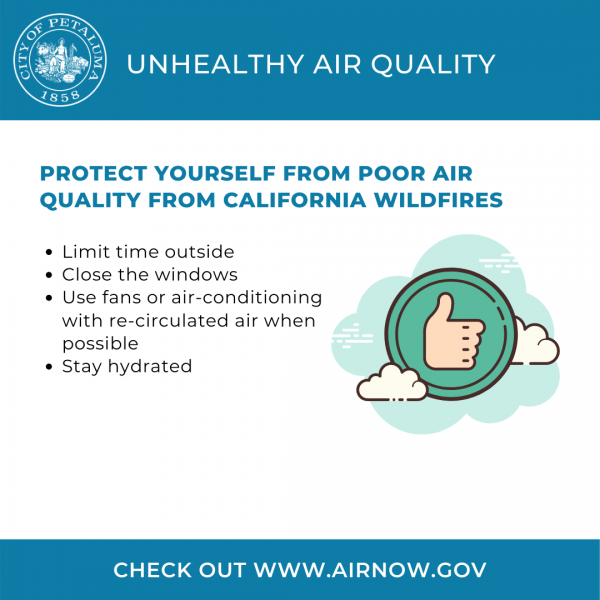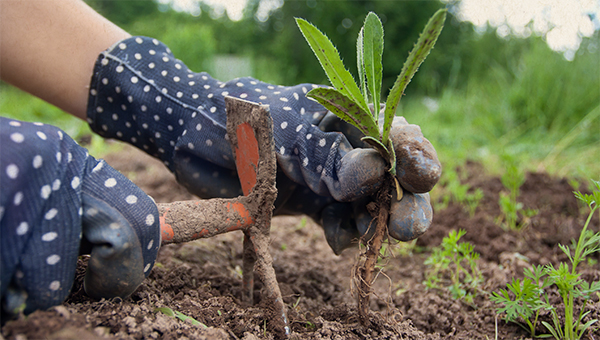 TAKE ACTION! FILL OUT OUR CLIMATE ACTION SURVEY
Petaluma is taking action against climate change – and so can you! Please take a few moments to fill out THIS SURVEY, which will help influence the development of the City's Climate Emergency Framework. This document will determine the City's program and policy priorities.
CLICK HERE to learn more.

GET READY TO DREDGE
The much anticipated Petaluma River Dredging project starts September 4! These efforts will increase river depth – resulting in better flood protection, more recreation opportunities, the return of river events, and a revitalized riverfront experience.
What to expect:
Project runs August 31 – November 1*
Work will happen 24 HOURS A DAY, 7 DAYS A WEEK
Increased noise is possible for those who live /work near the river
Traffic delays on D Street due to bridge opening/closing (estimated Oct 10 – 21)
Shollenberger Park CLOSED and river access LIMITED through November 1
Questions? Contact Jonathan Sanglerat: [email protected]
CLICK HERE to learn more.
Thank you for your patience as we work to restore full use of our beloved river!
*This is a US Army Corps of Engineers project. The City does not manage the process or hours of operation.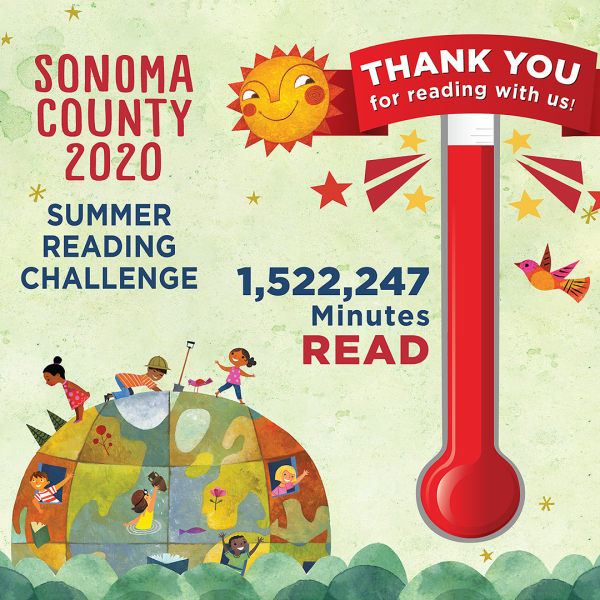 SUMMER READING PROGRAM RECAP & LOOKING FORWARD
The numbers are in! The Sonoma County Library announced Sonoma County read a total of 1,523,147 minutes during the Summer Reading Program! The library has put together a list of ways for people to keep reading now that the summer program is over:
Stay tuned for future reading challenges at SonomaLibrary.org!

WE'RE HIRING!
The City of Petaluma is looking for talented people to join our team! Please click the links below for more information about our open positions. CLICK HERE for a full list of career opportunities.
Assistant City Attorney
Associate/Senior Civil Engineer
Police Officer (Current Academy Attendees & Graduates)
Police Officer – Lateral
UPCOMING MEETINGS
The City of Petaluma is hard at work for our community. Please check out our upcoming meetings and click on the links below for more information:
September 2, 6:30pm – Pedestrian & Bicycle Advisory Committee
September 8, 6:30pm – Youth Commissio
September 9, 6:30pm – Regular Joint Transit Advisory and Pedestrian & Bicycle Advisory Subcommittee
September 10, 8:30am – Senior Advisory Committee
September 10, 6:30pm – Climate Action Commission
Check for upcoming meetings, agendas, and how to participate on the City's meeting webpage: https://cityofpetaluma.org/meetings/