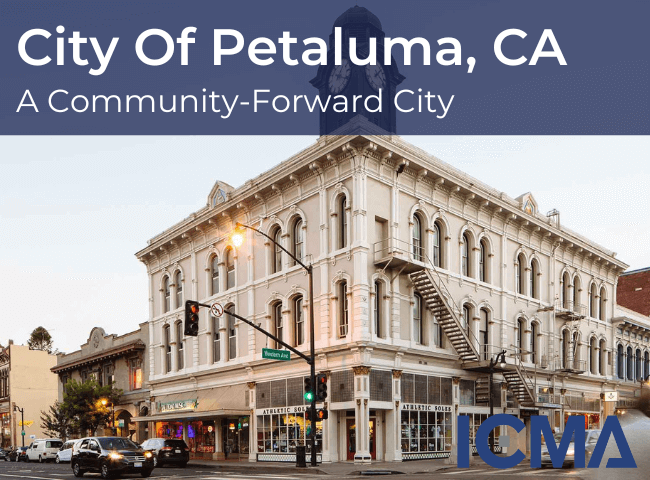 Happy Wednesday, Petaluma! 
As the days get shorter and the temperature begins to cool down, it's really starting to feel like fall. With the new season upon us, get ready for the fall events that promise family fun, shopping, and more.
In tonight's update, we have information regarding an upcoming emergency preparedness fair, CalTrans Highway 101 work, dock and bridge closures for river improvements, a North McDowell Boulevard Improvement Project meeting, ways to join guided hikes at Lafferty Ranch Open Space, a ReLeaf Petaluma community input meeting, upcoming downtown events, and more
Please enjoy, share with friends, and have a wonderful evening. We'll see you in your inbox next Wednesday! 
UPCOMING DOCK & D STREET BRIDGE CLOSURES
Our community benefited from the Petaluma River dredging project in 2020. Now it's time for the next phase – dredging the Turning Basin and renovating City docks and trails on the north end of the Basin.
The Turning Basin dredging will start October 3, 2022 and will end October 18, 2022. Here's what to expect during this project:
D Street Bridge Closure:

The D Street Bridge will be closed to cars, bikes, and pedestrians, Monday-Friday, October 3 – October 18. The Bridge will reopen on weekends during that time frame.

 
Dock Closures:

The floating docks and gangway on the northwest side of the Turning Basin will not be available from October 3 – October 18. The floating dock and gangway on the northeast side of the Turning Basin (along Weller Street) will be removed on October 3 and reinstalled during a different project in Fall 2023. The northeast trail will also be closed from October 3, 2022 – Fall 2023.

 

Turning Basin Closure:

The Turning Basin will be closed to boat traffic from September 26 – October 18, 2022, for safety reasons.
Thank you for your patience as we work toward our ultimate goal – a better Petaluma River!
For more info, please go to the project page HERE. 
ANNUAL BOY SCOUT TROOP #9 EMERGENCY PREPAREDNESS FAIR
Are you ready for an emergency? If you're not sure, or would like help planning, check out the Boy Scout of America Troop #9 annual emergency preparedness event. Petaluma's Fire and local first responder agencies will be there to answer questions, provide tips, and help you get prepared.
Come learn about how to be ready for a disaster with essential resources, tips, and life-saving tools. Safety demonstrations, free prizes, and food will be available.
Date: Sunday, September 25
Time: 11:00 AM to 3:00 PM
Location: Walnut Park, Petaluma
The first 100 families will receive a FREE survival kit. For more information about the fair, CLICK HERE. 
HIGHWAY 101 RAMP CLOSURES THROUGH NOVEMBER
Heads up, Petaluma! There will be periodic land and ramp closures through November as Caltrans paves, paints, and installs drainage to the Highway 101 freeway expansion underway through town.
The work will be taking place between Lakeville Highway and Old Redwood Highway, with most closures of off- and on-ramps occurring overnight. Occasional daytime ramp closures may be required, but all closures will be clearly signed regardless of time. Caltrans will add a final layer of open-graded pavement, providing better traction during wet weather.
During closures, one lane will always remain open on the freeway in each direction. 
Mainline closures, as needed:  
NB101 – Hwy 116/Lakeville to north of Corona Rd, 6 PM to 2 PM
SB101 – North Petaluma Blvd to Lakeville Hwy 116, 5 PM to 11 AM 
Ramps that may be occasionally closed:  
NB101 Offramp to East Washington, 10 PM to 8 AM 
NB101 – Loop Onramp from East Washington, 11 PM to 8 AM 
NB101 – Diagonal Onramp from East Washington, 11 PM to 8 AM 
SB101 – Diagonal Onramp from North Petaluma Blvd, 7 PM to 6 AM 
SB101 – Offramp to East Washington, 11 PM to 7 AM 
SB101 – Onramp from East Washington, 8 PM to 8 AM 
SB101 – Offramp to Hwy 116/Lakeville, 11 PM to 7 AM 
For 24/7 traffic updates, go to 511.org 
You can also get real-time information on all State Highways in California on the Caltrans Quick Map: http://quickmap.dot.ca.gov 
NORTH MCDOWELL BLVD VIRTUAL COMMUNITY INFORMATIONAL MEETING
You've been asking for it, Petaluma, and we can't wait to share our plans for the North McDowell Boulevard Improvement Project!
Join us for a Virtual Informational Meeting on September 28, 2022 from 6 PM – 8 PM to review:
An overview of the project and planned improvements.

 

How community feedback is factored into our final design.

 

What to expect in regard to construction and traffic impacts.

 

Answers to community questions and addressing concerns.
See you online September 28!
Visit cityofpetaluma.org/mcdowell to learn more about the project and for details on how to attend the meeting. Spanish language interpretations will be available. 
JOIN US FOR A GUIDED HIKE AT LAFFERTY RANCH OPEN SPACE
Have you heard of Lafferty Ranch Open Space? Rising more than 2,000 feet, this 270-acre property on the western face of Sonoma Mountain offers thrilling views of four counties, San Francisco Bay, the Pacific Ocean, timeless Adobe Creek, abundant wildlife, and unmatched natural beauty. Mountain top properties are rare, and Lafferty has been called an irreplaceable public treasure, the crown jewel of Sonoma Mountain, the city's best-kept secret, and even Petaluma's Mt.
Ready to see for yourself? The City of Petaluma offers free, guided hikes at this idyllic location for members of the public through our partnership with LandPaths, a local conservation non-profit.
"What an important achievement for our community," says Petaluma Mayor Teresa Barrett. "I couldn't be prouder that we are preparing to welcome people to this spectacular, public open space. This land is very special and belongs to the residents of Petaluma."
Learn more about Lafferty Ranch Open Space at cityofpetaluma.org/laffertyranch.  
Read Sept. 2022 Press Democrat story HERE.  
Sign up HERE for the fall hiking series on Lafferty, be sure to check back frequently as new hikes are being added all the time! 
PETALUMA FEATURED BY THE INTERNATIONAL CITY MANAGER'S ASSOCIATION
The City of Petaluma is being featured at the International City Manager's Association this week! A five-minute documentary style video was created to highlight the strong relationships between Petaluma's city government and community organizations. These partnerships have made it possible to collaborate on initiatives that move the whole city forward and we are thrilled to be able to highlight them for the International City Managers Association.
View the video HERE, you may see someone you know doing great things for our community! 
WALK, BIKE, OR ROLL TO MAKE A DIFFERENCE 
Petaluma is taking action against the climate crisis with our commitment to becoming a carbon neutral city by the year 2030.
Want to help? Consider choosing active transportation methods such as walking, biking, or rolling on a scooter, when you can. Let's work together to lower the greenhouse emissions in our city!
Visit cityofpetaluma.org/climateready to learn more ways to help. 
RELEAF PETALUMA COMMUNITY PARK TREE PLANTINGS
ReLeaf Petaluma is planting 300 native trees in several City parks in the coming months. This native tree planting will help further ReLeaf Petaluma's efforts to address climate change locally and make Petaluma more sustainable and resilient.
ReLeaf Petaluma is holding a Zoom community input meeting on September 29, from 6 PM – 7 PM.
Contact [email protected] for more information. 
JOIN US FOR FALL EVENTS AROUND TOWN!
There's always something to do in Petaluma, whether it's shopping at the Farmers Market, joining a docent-led walking tour of downtown Petaluma, or attending fundraisers and festivals to enjoy great music, delicious food, and local beverages. Make the most of the fall season and head Downtown to enjoy events that will be fun for the whole family!
Petaluma Fall Antique Faire: Sunday, September 25 from 8 AM – 4 PM

Antique and collectible lovers throughout the Bay Area are welcome to come browse and shop at the 36th Annual Petaluma Fall Antique Faire Sunday, September 25! Admission is free. The Faire will be located on Kentucky Street, Fourth Street, in the A Street parking lot, and on Western Avenue.

 
PBCD Community Health Fair: Saturday, October 1 from 1 PM – 4 PM

Petaluma Blacks for Community Development is partnering with the Petaluma Health Center to provide a free health fair to the community! Over 17 organizations will be present offering resources and/or information regarding health and wellness issues. There will be COVID testing, prizes, games, and more. Located in the parking lot of the Petaluma Health Center.

 
Check out visitpetaluma.com to see a full list of upcoming events and activities!
JOIN OUR PETALUMA TEAM!
UPCOMING MEETINGS
The City of Petaluma is hard at work for our community. Please check out our upcoming meetings and click on the links below for more information: